*Perspecta 8--Yale University Architectural Magazine. 'Transparancy' by Colin Rowe and Robert Slutzky. Professors Rowe dnd Slutzky present a remarkable study in depth on the subject of flat space in architecture.
In order to fully understand the implication of spatial views incorporated within the Center, one must look at the workings of the Cubist canvas; in particular, the synthesization by Juan Gris. The architectural ramifications are answers to the new Center's mysteries, Before entering this sacred field, it is in order to say that the ideas scattered throughout the Center have been encased within a time-bomb set in Paris during the early 1920's, and finally exploded at Cambridge, Massachusetts in 1963. The detonator did not realize that another bomb was fired with a smaller, stronger, and more devastating discharge in the form of Le Corbusier's Villa Garches, and Mondrian's Victory Boogie-Woogie. Perhaps it is necessary to throw bombs back into time in order to effect a future liberation. Since the first setting, the dialectic has continued with painstaking exercises and fulfillment upon the canvases of Piet Mondrian.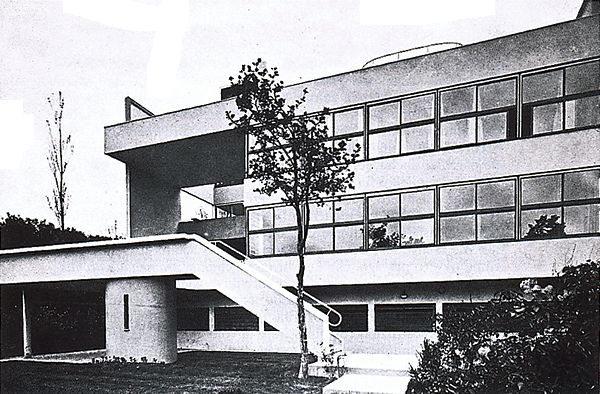 Le Corbusier is well aware of the Cubist and the Neo-Plasticist points of view. His architecture is the pendulum between the two poles of spatial magnetism. Today the weight seems to be in favor of the Cubist vision; although the seduction of the spartan, flattened, taut, shallow depth formulation"* holds its grasp. Villa Garches was the pinnacle of the Cartesian instigator; it remains the classic contender in the new world of architectural space.

The Cyclops of brute force is again challenging. The stimuli for further spatial conflicts exist. The composition entitled Guitar, Glasses and Bottle by Juan Gris will be used as a prototype for investigation. Violin and Newspaper can equally be viewed as a generator.

The field comes first. As with most Cubist canvases, the field worked upon is usually directional; it either has a vertical or horizontal preference, perpendicular to the observer's vision. In the above paintings the field is vertically disposed. Rarely did the Cubist use a square canvas. The foundation had an a priori directional orientation. In contrast, the canvases of Mondrian are usually square; a non-directional field. His first bias is one of equilibrium. The Carpenter Center favors the Cubist vision of field.