2003.05.01 12:21
Re: Wedge of Light is a SHADOW
John Young wrote:
The WTC pit is the ur-skyscraper experience, reminder of the sunken plaza so beloved in the 60s for hi-rises which offered more rentable space below ground level. That Libeskind wants to glamorize the aesthetics of the slurry wall, indeed is working with the structural engineer who designed it, shows what landmarking can be used for. The glazing over the sacred wall is a nice Damien Hirst sliced cow rip-off.
lauf-s replied:
And speaking of a "Damien Hirst sliced cow rip-off," how's this for something completely pre-Damien Hirst? It's even 1984!


if ever there were wedges...
2003.05.01 16:40
Re: The Future of War Aesthetics, Politics, Technologies
Perhaps all that is really happening is that many humans (especially the younger human element on this planet) have succumb to believing that if it isn't on a screen it just isn't real enough anymore.
When the Apostles asked Christ when Jerusalem would come to an end, He answered "when the desecration of desecration stands where it ought not." Thus, when a statue of Caesar was placed within the Temple precinct, the subsequent Hebrew revolt ended with the Fall of Jerusalem. Then, when the Apostles asked Christ when the world would come to an end, He answered, "Watch." Could it be that what Christ meant is that the world will end when everyone in the world will be doing nothing but watching a screen, and that the Second Coming will occur via Christ taking over all electro-magnetic planetary communications whether plugs are pulled or not?
At least not in my lifetime.
2006.05.01 14:33
paris 2054
The dead Piranesi likes Philadelphia because of the design of the Benjamin Franklin Parkway.
Plus, almost 240 years after Piranesi secretly changed the Ichnographia Campus Martius into a second state, the two versions of the large plan were finally discovered in Philadelphia. Piranesi made the secret changes only to see who would ultimately discover them.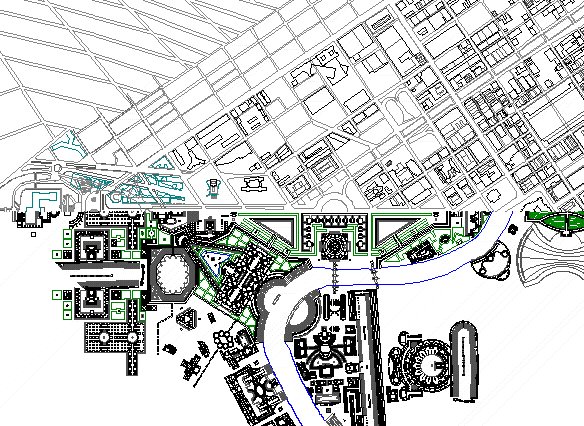 2008.05.01 10:07
the state of drawing in education
In terms of drawing tool evolution then:
CAD offers an abundance of drawing tools and drawing capabilities.
The (so-called) inbuilt tendencies of CAD drawing tools are abundantly customizable.
The drawing field within CAD is also abundantly customizable.
CAD drawing data is fluid, easily manipulated, easily reproduced (thus making changes easily recordable, etc.).
It probably helps to have a fluid drawing/designing mindset to then optimally utilize the abundant capabilities of computer aided design/drawing.
Is it yet an inbuilt tendency for educators to instruct customization?


14050101 Schizophrenic Fold 6 plan 22002 context 2307i28
14050102 Infringment Complex plan 22002 context 2308i03
14050103 House for Otto 3 plan 22002 context 2309i04
14050104 House for Otto 4 plan 22002 context 2310i02
14050105 House for Otto 5 plan 22002 context 2311i02
14050106 House for Otto 6 plan 22002 context 2312i01
14050107 House for Otto 7 plan 22002 context 2313i02
14050108 House for Otto 8 plan 22002 context 2314i02
14050109 House for Otto 9 plan 22002 context 2315i03
14050110 House for Otto 10 plan 22002 context 2316i02


15050102 deLapuerta Asensio Campo El Porvenir Housing Towers Sevilla


17050101 Elding Oscarson M20 Museum Berlin


19050101 ICM IQQ19 plans 2110i146
19050102 ICM IQQ20 plans 2110i147
19050103 ICM IQQ22 extra 01 plans 2110i148
19050104 ICM IQQ22 extra 02 plans 2110i149
19050105 ICM IQQ23 extra 01 plans 2110i150
19050106 ICM IQQ23 extra 02 plans 2110i151
19050107 ICM IQQ24 plans 2110i152
19050108 ICM IQQ27 plans 2110i153
19050109 Novel Architecturale iqq19 plan development 2481i01


20050101 GAUA block 003 base model work bldg 006 107 2429i395
20050102 GAUA block 004 base model work Sober House 1 2429i396
20050103 GAUA block 005 base model bldg 042 2429i397
20050104 GAUA block 006 base model Courthouse Plus Ultra 2429i398
20050105 GAUA block 007 base model Custom House etc. 2429i399