2016.03.31 21:03
31 March
from Architect magazine, 06:2000...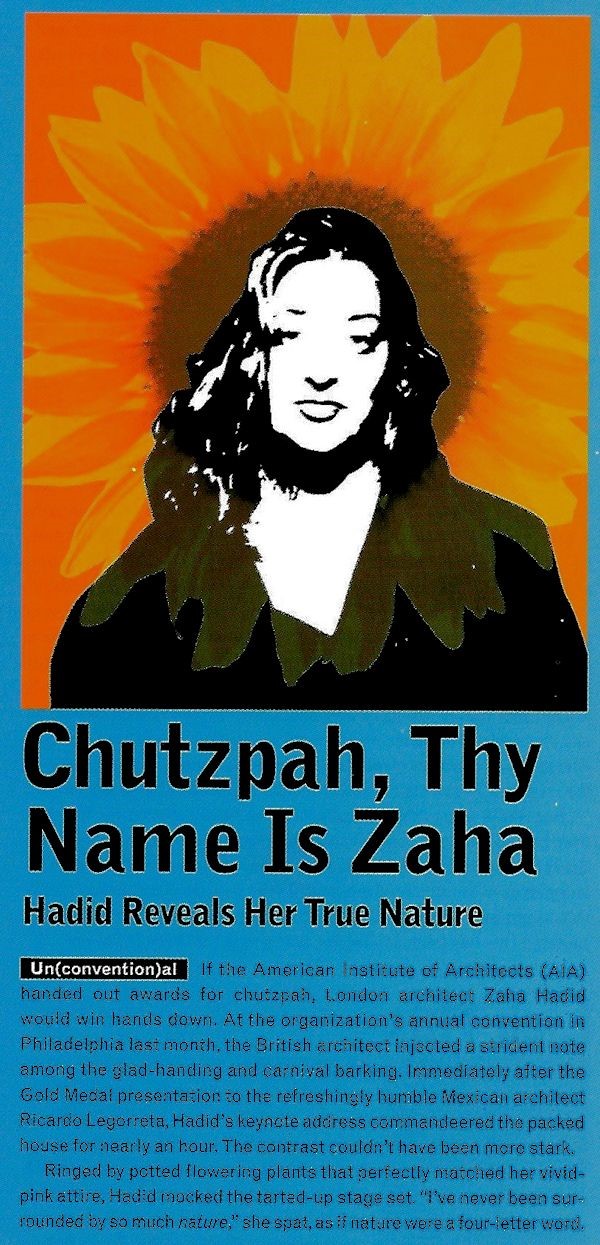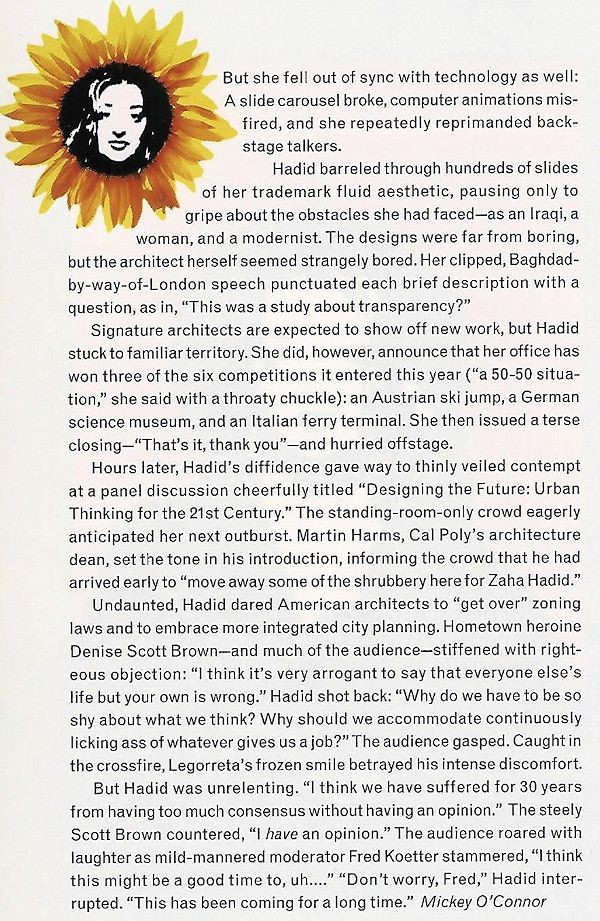 Delirious Philadelphia, indeed.
2016.04.02 11:41
Rem Koolhaas to deliver keynote on day 3 of AIA National Conference
2005.03.15 12:15
Re: facadism
I can understand the ire at what these 'false' facades represent, as well. Nonetheless, the images (for me at least) evoke memories of the free standing, screen facades that Mitchell/Giurgola Architects incorporated into a fair numbers of their designs mostly during the 1970s (--John, I'm sure you know the M/G building at Columbia U., got any tales to tell?), and I'll collect what images I have and publish them at Q soon. I think the immediate precedent for this practice was Kahn's notion of "wrapping ruins around buildings," which (I think) was said in regard to the Library at Exeter (1965-72), but it may have been said in reference to the Meeting House at Salk (1961-62, unexecuted) or even the US Consulate, Luanda, Angola (1959-62, unexecuted).
This past Sunday afternoon (when this thread started), I was having spot portions of my home's back facade repointed--lots of little mortar pieces fell out this past winter due to much moist weather and more than occasional extreme temperature changes from day to day. On Saturday the workmen were doing my Haitian neighbor's back wall across the driveway, and I got them to do mine, so they came back Sunday. These workmen have "day jobs" and they do these smaller jobs "cheaper" on the weekends. Anyway, after the work, the guy whose scaffolding it was, another Haitian and friend to my neighbor and someone I chatted with out back on a hot night this past July, told me about all the work they're doing around South Street and Bainbridge Street near Graduate Hospital. He said, "They are buying the homes from the Black people, then they take all the inside out, make it all new inside, then the White people buy the homes for $600,000 and $700,000 dollars."
In the summertime, I got a real kick out of telling these three Haitian guys about all the Philadelphia streets that were first "Indian" trails. These guys could really relate because they actually know Philadelphia's streets pretty well--I think they were all taxi drivers when they first came here. Finally, the "scaffolding" guy asked, "When was all this?" I said, "Like more than 300 years ago." Then he said, "Oh my God, that's old!" And then they all laughed, and we kind of shook our heads in wonderment.


2016.04.02 17:34
Rem Koolhaas to deliver keynote on day 3 of AIA National Conference
2007.12.12 15:37
Farmadelphia
"Sell" much of North Philadelphia back to the Lenni Lenape, who could open a few casinos, and sell the rest of "their" land to Mexico on the condition that Mexico use the land as farms, hence employing and giving legal residence to their own citizens who actually know all the work involved with farming. Call it de-colonization.
Let's be contemporarily honest, isn't that close to what's already happening anyway?