2007.03.28 13:05
...and speaking of random tangents
10:43 EST Some sort of hawk or eagle gliding over Quondam Ury.
Remember to look for any references to John James Audubon in Miers Fisher's 1804 journal.
Coincidental reading this morning: "Female separatists want to destroy the social contract between men and women and replace it with nothing; they seem to believe that all penetrative sex is rape, if a wife loves her husband she's exhibiting a slave mentality. How do you cope with that sort of fanaticism? Satire seems one way."
--J.G. Ballard, KGB (1995).
So it turns out that Miers Fisher did know William Penn IV--a great grandson of Philadelphia founder William Penn. All I know so far though is that Miers shared a coach with Penn and his wife between Doylestown and Abington mid 1812. Perhaps a great-grandson or two of founder William Penn were once at Ury after all.
Finished digitizing a 1839 map of what is now Northeast Philadelphia. There are more 'Indian' trails around here than I prevously thought, and I hadn't realized before that Indian trail-Oxford Ave is a fairly consistant exact north-south trajectory. And Cottman Ave. and Castor Ave. correspond directly to lines on the 1687 map of Pennsylvania--their orthagonal intersection even makes a kind of cardo and decumanus. There's an aerial view of Cottman and Castor in Harvard Design School Guide to Shopping, p. 780 toward the upper left, Bustleton Avenue along the botton of the page is an old Indian trail.
Once you study them, you find that the "Indian" trails within Philadelphia are not random tangents at all. Certainly not as random as the lines on the 1687 map of Pennsylvania. (Cottman Ave. is the parallel line to the left of the planned Susquehanna Road.)


2007.04.23 15:41
Featured Discussion: Volume
It seems to make sense that de-territiorialization ultimately registers a re-territorialization, but it is the effect of de-territorialization (on one's thinking) that is the most important aspect here. And I guess you could say that new mode of thinking is what then shapes the new "territory".
I have no idea if this is so, but I wonder if this composition might be an example of de-territorialized architecture.


2007.04.23 17:08
Featured Discussion: Volume
Firminy church by Le Corbusier
Hurva synagogue by Kahn
composition 1a : the act or action of composing : the formation of a whole especially by different things being put together
To confuse or not to confuse, that is de-territorialization?
The church/synagogue composition came as a result of seeing how the plan of the church fit almost perfectly within the sanctuary(?) of the synagogue. And, since I had a model of both buildings, I just wanted to see the superimposition in 3D. And upon seeing that I thought, "Gosh, that kinda looks like a mosque." Trust me, de-territorialized thinking isn't necessarily brilliant, although for the most part uninhibited.
Anyway, back to Volume....The reporter on the radio just said, "Heavy volume on Passyunk Aveune..." Hey, traffic would make a great theme for a heavy issue. Trafficking in Architecture--I wanna write about stolen goods.
I think Passyunk is an old 'Indian trail'. Wow, Philadelphia's Indian trails, talk about de-territorialization.
2007.10.12 11:17
Negative notes
In Goldhagen's Louis Kahn's Situated Modernism we read:
"In 1951, the Adath Jeshurun] synagogue's leaders purchased a large polygonal site in Elkins Park, where many of its members were moving. The short end of the lot faced a major thoroughfare, and the remainder sloped back into a more pastoral setting that was bisected diagonally by a small stream (Fig. 4.1)."
And the caption of Fig. 4.1 reads: Sketch of the Elkins Park site for the Adath Jeshurun synagogue, 1954. From the Kahn Collection.
These citings convey misinformation. Kahn's design for Adath Jeshurun was sited on Old York Road within Philadelphia. Kahn's design was never executed, but Adath Jeshurun did ultimately build a new synagogue on a site (within a more pastoral setting) further north up Old York Road in Elkins Park. [This site misinformation is also conveyed within Louis I. Kahn: Complete Works 1935-1974.]
Goldhagen also mentions Wright's Beth Shalom [sic] synagogue. Beth Sholom is about a mile further north up Old York Road from the current Adath Jeshurun and about two miles north of Kahn's site for Adath Jeshurun.
Just coincidently, Kahn's first independent build work, the quondam Ahavath Israel synagogue, is about a half mile away from the Philadelphia site of Adath Jeshurun. And Kahn's Oser House is practically across the street from the bult Adath Jeshurun in Elkins Park. And Trumbauer built three Elkins' mansions for which Elkins Park is named. It's like a little architectural mecca along an ancient Indian trail.


2007.12.12 15:37
Farmadelphia
"Sell" much of North Philadelphia back to the Lenni Lenape, who could open a few casinos, and sell the rest of "their" land to Mexico on the condition that Mexico use the land as farms, hence employing and giving legal residence to their own citizens who actually know all the work involved with farming. Call it de-colonialization.
Let's be contemporarily honest, isn't that close to what's already happening anyway?


2012.01.07 10:20
Ury, now quondam, exactly 200 years ago
2012.01.06 Friday
Collected virtually all the Circus of Hadrian data. Pat called and asked if I would come look at her seemingly broken garage door--one of the springs snapped. Dinnertime as usual. Accuweather forecasts a high of 57° tomorrow. Took George to see Warhorse. Our dad was a cavalry soldier, the whole of WWII, both fronts even. I've only seen him on a horse once though, at a large 4th of July picnic on a farm in South Jersey, back in the late 1960s. After an afternoon of playing cards, some of the men decided to try out some horseback riding. So pretty much the whole rest of the picnic watched as the various, probably slightly tipsy fathers, got up on horses and started stepping around here and there. Then my father made this sound and suddenly he and his horse charged clear across the field. I and everyone else just gasped in amazement.
We go to the Hiway theater in Jenkintown almost every time there's a new movie playing. I go down the valley to Shady Lane to Fox Chase Road to its end at Meetinghouse Road then a little bit of Jenkintown Road and turn into the first block and we're right behind the theater. Where Fox Chase Road ends at Meetinghouse Road is Abington Friends; that's where Miers Fisher went to Meeting practically every Sunday, and even sometimes during the week. By the looks of it, the Meetinghouse there now may indeed still be the same one Miers went to. I don't think Miers took the Shady Lane route as you have to go down 175' and then up 175', but I have no doubt that he and I follow(ed) the same exact path when on Fox Chase Road. Today, there's still a small but sizable horse farm at Fox Chase Road and Cedar Avenue, where, weather permitting, practically any day of the year you can see about ten horses grazing in the field.
--------
1812.01.07 Tuesday
Morning clear, wind draws to SW, therm. 27°. I go to town this forenoon. The wind continues from SW. The air moderated, the street in the sun thawed. I dined in Mulberry Street [today's Arch Street], paid many visits. Saw J, Winthrop, he is better, but yet very ill. Drank tea at D. Russer[?], had a pleasant conversation with his son James; he is acquainted with James McRac__ who sent me a Copy of his Bible by him.
--------
I'm pretty sure I know how Miers got to town--just two roads: Oxford Road (now Avenue which terminates at what was the Fox Chase Inn) all the way to its beginning at Frankford Road (now Avenue) and then down Frankford to its beginning at the Delaware River (right at Penn Treaty Park) and then a short bit along the river to Olde City where Miers still had a house on Mulberry Street (today Arch Street--I believe Miers' house was on the same block as today's Constitution Center). Before the first European settlers here 360 years ago, Frankford Road and Oxford Road were "Indian" trails, hence pathways now who knows how old.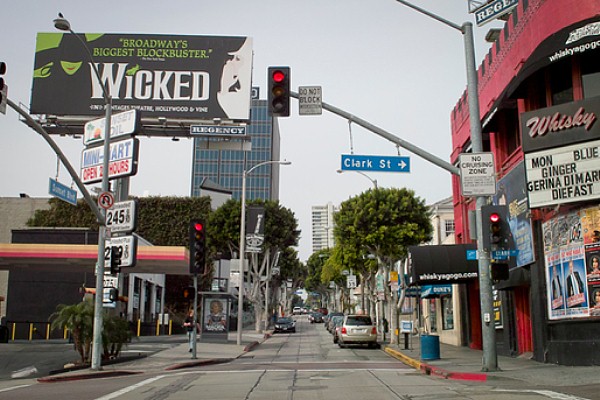 2012.08.01 10:53
Narrow Streets Los Angeles
I wouldn't call Yoon's project an exercise in fiction, rather an exercise in virtuality. Unfortunately, "Narrow Streets Los Angeles" follows the all-too-common notion of blurring the real and the virtual. After finally looking at the selection of narrowed streets, I understand what Eric means by "make it all seem cute"--there is indeed a distinct Los Angeles urbanity lost when the streets are no longer the width of almost rivers. The intersection of Cottman and Bustleton Avenues in Northeast Philadelphia actually reminds me a lot of LA (pictured on page 780 of The Harvard Design School Guide to Shopping), and, while surrounded by a plethora of narrow domestic streets, the busy intersection has a quite comfortable large scale fitting to its current nodal function.
Incidentally, Bustleton Avenue has its origin as an 'ancient' Indian trail, while Cottman Avenue started as a straight property line on the 1687 map of Pennsylvania.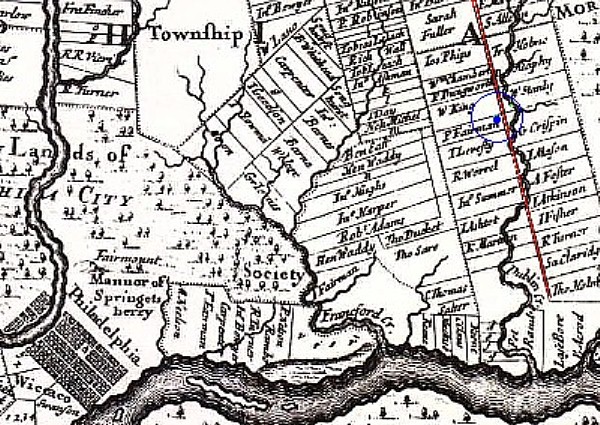 Cottman Avenue is the line parallel and left of the red line above. The blue dot is where I'm sitting right now, and the meander either side of the red line is Pennypack Creek.
Regarding exercises in virtuality, I prefer it when the virtual is held more distinct from the real. For example, taking LA streets and mixing one side of a street with the side of another street, and either playing with the width or not, seems more interesting.