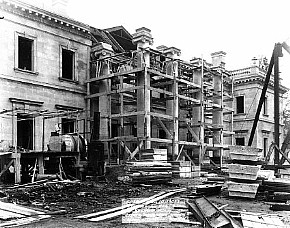 Horace Trumbauer, Whitemarsh Hall (Wyndmoor, PA: under construction, 1917.10.12)


2005.10.12 09:19
Jimmy Venturi's new website...
Funny how A View from the Campidoglio is rarely, if ever, remembered. Taken literally, the view from the Campidoglio is indeed the Campo Marzio.


2005.10.12 12:12
Jimmy Venturi's new website...
...the whole notion of "being allowed" is what makes me think "how pedantic." Who do you think "allowed" the post-World War II Italian architects "to look to the past for guidance and inspiration" and hence whose built designs influenced the young, pre-C&C Venturi? Likewise, who "allowed" the architects of Las Vegas that V,SB&I learned from?
2005.10.12 17:46
Jimmy Venturi's new website...
...like, is it all conscious or sub-conscious, or osmotic even. I like it too because the 'artifacts', the designs, speak for themselves within a much larger architectural continuum.
...and seeing No. 9 again here made me think of the early Gehry three-in-a-row houses in Santa Monica(?), and then a lot of the "glass/wall boxy" houses designed now. And a couple of weeks ago the "pitched roof house" thread and seeing the Vanna Venturi House among the contemporary stuff also brought a perception to my eyes that wasn't there before.
I'll go for the continuum idea as to where architecture is really at.


2007.10.12 11:17
Negative notes
In Goldhagen's Louis Kahn's Situated Modernism we read:
"In 1951, the [Adath Jeshurun] synagogue's leaders purchased a large polygonal site in Elkins Park, where many of its members were moving. The short end of the lot faced a major thoroughfare, and the remainder sloped back into a more pastoral setting that was bisected diagonally by a small stream (Fig. 4.1)."
And the caption of Fig. 4.1 reads: Sketch of the Elkins Park site for the Adath Jeshurun synagogue, 1954. From the Kahn Collection.
These citings convey misinformation. Kahn's design for Adath Jeshurun was sited on Old York Road within Philadelphia. Kahn's design was never executed, but Adath Jeshurun did ultimately build a new synagogue on a site (within a more pastoral setting) further north up Old York Road in Elkins Park. [This site misinformation is also conveyed within Louis I. Kahn: Complete Works 1935-1974.]
Goldhagen also mentions Wright's Beth Shalom [sic] synagogue. Beth Sholom is about a mile further north up Old York Road from the current Adath Jeshurun and about two miles north of Kahn's site for Adath Jeshurun.
Just coincidently, Kahn's first independent build work, the quondam Ahavath Israel synagogue, is about a half mile away from the Philadelphia site of Adath Jeshurun. And Kahn's Oser House is practically across the street from the bult Adath Jeshurun in Elkins Park. And Trumbauer built three Elkins' mansions for which Elkins Park is named. It's like a little architectural mecca along an ancient Indian trail.
2013.10.12 12:27
12 October
Because the stage set of the Palais des Congrès is an amalgam of Maison Dom-ino and the parloirs of La Tourette, I've been finishing up a redrawing of La Tourette's level 3 plan. Thus I've been also looking closely at the images of La Tourette within OC vol. 7. Seeing the outside of the parloirs, you also see the studio of Hejduk's Wall House 2. And then there's the church of La Tourette, and then you realize that most of Hejduk's church designs from the 1990s are indeed elaborations of the church of La Tourette. Some of Adjusting Foundations and whole sections of Pewter Wings Golden Horns Stone Veils have now opened up...


13101201 novel architecturale plans 206fi16


15101201 Museum for Nordrhein Westfalen site plan Roma Interrotta Sector IV San Pietro Montorio Tempietto plans 2226i25 b c


16101201 MVRDV Xili Sports and Cultural Centre Shenzhen
17101201 Maison Dom-ino Maison du Peintre Ozenfant Villa Stein de Monzie Villa à Garches Single House Weissenhof plans elevations 2140i15
17101202 Villa à Garches plan elevation 2151i11
17101203 Single House Weissenhof plans elevations sections 2153i02


17101201 OMA Umm Abirieh Farm Doha


18101201 IQ15 hyperarchitecturism Analogous Museum of Architecture Acropolis of Contemporary Art ASouq Neighborhoods House for Karl Friedrich Schinkel 004 House for Karl Friedrich Schinkel 001 Dresdner Bank Housing for La Villette Wallraf-Richartz Museum Breslauer Platz Florey Building Cambridge History Faculty Building Leicester University Engineering Building Ichnographia Campus Martius Philadelphia Tempietto Baths of Constantine Stonehenge plans 247bi07
18101202 Cambridge History Faculty Building Building Roma Interrotta Sector IV IQ15 plans image 2192i03


19101201 iq39 Cubist ICM 2436i77
19101202 House II wireframe work 2211i06
19101203 Pruitt-Igoe Housing iq58 4400x3300 base plan 217ai11
19101204 Pruitt-Igoe Housing iq58 model play 217ai12