990922a Villa Savoye Heidi Weber Pavilion perspectives 2156i07
99092202 Capital Park West model 2250i00
99092203 Capital Park West perspectives 2250i01
99092204 Capital Park West perspectives plan, elevations 2250i02
99092205 St. Pierre at Firminy Vert model site plan 2189i00
99092206 St. Pierre at Firminy Vert plans sections elevations perspectives axonometrics site plan 2189i01
99092207 Villa Savoye Maison l'Homme Sober House 1 perspectives 2156i08
99092208 Palais des Congrès model &nbsp 2198i05 2199i01
99092209 Palais des Congrès model level 4 2198i06
99092210 Palais des Congrès plans elevations 2198i07
99092211 Palais des Congrès perspective, axonometrics 2198i08
99092212 Retreat House model plan 2237i01
99092213 Retreat House Goldenberg House Hurva Synagogue plans 2179i00
99092214 Wagner House model 2238i01
99092215 Wagner House plans elevations 2238i02
020922a Wallraf-Richartz Museum plans elevations axonometrics perspectives 2227i03
020922b Museum for Nordrhine Westfalen plans elevations axonometrics perspectives 2226i10


2003.09.22 12:29
Re: evolution and aesthetics
P. asks: But where is the principle in architecture which is equivalent to that of mathematics? If there had been one - why would we have styles which change throughout history. Where is this constant here? How does it show itself in history?
S. replies: Earth's gravity is for sure a constant [force] that all architecture has to contend with. For example, although styles change, the predominant notion of floors being level doesn't. [How does an arch best resist gravity? Via it being rounded or via it being pointed?]
Another constant [force] that architecture always (has to) deal with is climate, and the fact that climate varies significantly dependent on location may well explain why (for most of its history) architecture (style) varies significantly dependent on location. Odd/funny how a great many of the buildings designed and executed today strive to have a constant climate inside regardless of where the building is outside.
"What climate does the inside of your building reenact?"
"I love how your design pointedly reenacts a resistance to gravity."
Perhaps Disney's greatest achievement is the making of lots of money reenacting reenactments.
"What New Urbanism is doing is great. We should reenact that reenactment here."
"This is my greatest design yet! It reenacts both evolution and aesthetics!"
07092201 Courthouse with Garage axonometrics perspectives 2160i02
2007.09.22
Old School of New Thinking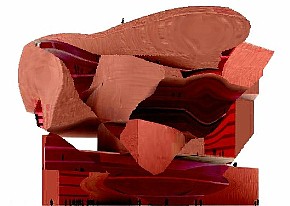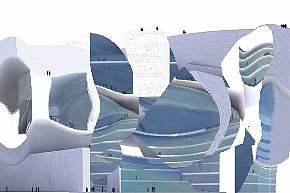 13092201 Pantheon within IQ Philadelphia street grid and building footprints plans 206fi07
13092202 Pantheon within IQ Infringement Complex plans 206fi08


15092201 Hess/Talhof/Kusmierz Bauhaus Museum Dessau


18092201 Jean Nouvel Ordino's Querola Andorra


19092201 Das Canoas House plan section 217oi01
19092202 Casa de Vidro plan elevation working data 217pi02


20092201 Maze House site maze plan model work 229li14


22092201 ancient circuses Ludus Flora Basilica of St. Agnes Mausoleum of Constantina plans 206qi02