2007.08.21 12:22
"...a shift into spontaneous mode,
Marketing an architectural firm and designing to generate publicity are not the same thing.


2007.09.06
as architecture once was
I thought yesterday that Quondam could begin delivering its content as architecture once was. I have a whole collection of prints and books that show architecture as it once was, so I can start using them to exhibit architecture as it once was. And, of course, "quondam" actually means "once was".
The flip side is to also exhibit what architecture is going to be. Yet even the recent past is now architecture as it once was. I guess it's worth it to keep this idea as an ongoing agenda for Quondam, one of several agendas from now on.


2007.09.22
Old School of New Thinking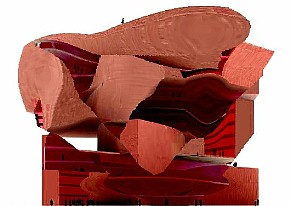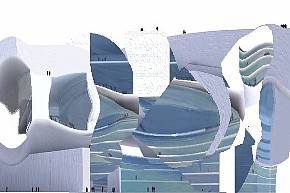 2007.10.02 21:40
innovative program
Figure out a way to make the new arrivals famous for 15 minutes. Perhaps ongoing guest spots on a perpetual reality NYC/TV show with lots of sink or swim competitions and flash-in-the-pan stuff. Fleeting fame really is the new normality.
2007.10.03 08:04
Looking for a Lebbeus Woods drawing ...
In the future, everyone will be a self link, with absolutely nothing to be sorry about. Self link architects will be all the rage, even.
And guilt will be the new mythology.


2007.10.03 08:16
thesis
I suggest you pursue all three topics in one--a marine architecture hi tech airport designed to make everyone feel like they're on stage. Throughout this great hybrid machine of notoriety are virtually infinite opportunities to globally link oneself.


2007.10.03 09:09
thesis
Perhaps you should design some kind of institution where architects can go to become less bitchy about petty things and in turn more ideas oriented. I see franchise opportunities--a Pride-Aid on corners everywhere.


2007.10.03 15:23
Looking for a Lebbeus Woods drawing ...
I don't doubt that Woods is a nice person, but architecturally I find the work old-fashioned, futuristic in a late-nineteenth century kind of way (like Dubai is futuristic in a mid-twentieth century kind of way). The angst-ridden designs remain frozen in artificiality due primarily to a virtually complete lack of human investment.


2007.10.03 15:43
Apocalyptic Urbanism
Just wait:
Due to global warming Greenland becomes prime real estate. As a result Denmark becomes one of the northern hemisphere's big oil-rich nations. Jet-setters winter in Dubai and summer in Greenland.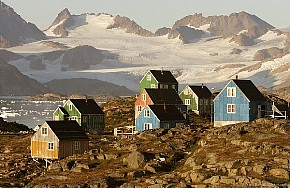 I've never set foot on Greenland, but I have been there (back in 1963). Our plane needed fuel, so we landed somewhere in Greenland. It was night, so you couldn't see much, but I distinctly remember a single light burning over the door of a small building next to the runway. I remained enchanted.
2007.10.04 13:13
Apocalyptic Urbanism
How much of New York City 1807 still exists today? How much of New York City 2007 will still exist in 2207?


2007.10.04 16:18
Apocalyptic Urbanism
Catastrophic urbanism might be a better term, and indeed New Orleans during and post hurricane Katrina provides an ample textbook on the subject. Pockets of civilization may well succumb to catatrophes, but the rest of civilization does just go on. At least that's the situation now, and probably for some time to come. Even the Great Tsunami 2004 had widespread effect, but still on only a small portion of civilization at large.
It's probably more worthwhile to contemplate catastrophic urbanism than to conjecture apocalyptic urbanism.


2007.10.08
strange architecture idea
I have this vague idea of how to generate virtual architecture via Quondam, and it has to do with "creating" buildings that relate to my letters and notes. It's sort of a mnemonic devise, but also a form of design inspiration as if the various texts were the programs of the buildings. I have no idea of how this approach would be implemented, but I see it as a means to create an environment where all my material connects together.
Part of this idea is also to just start using Quondam as an art/experiment project (as opposed to the archive that it now is). Plus I want the cad graphics to become completely integrated.


2007.10.14 17:52
Negative notes
"In Modern architecture we have operated too long under the restrictions of unbending rectangular forms supposed to have grown out of the technical requirements of the frame and the mass-produced curtain wall. In contrasting Mies' and Johnson's Seagram Building with Kahn's project for an office tower in Philadelphia it can be seen that Mies and Johnson reject all contradictions of diagonal wind-bracing in favor of an expression of a rectilinear frame. Kahn once said that the Seagram Building was like a beautiful lady with hidden corsets. Kahn, in contrast, expresses the wind-bracing--but at an expense of such vertical elements as the elevator and, indeed of the spaces for people."
--Robert Venturi, Complexity and Contradiction in Architecture (New York, MoMA, 1966), p. 56.
"Yet in City Tower, Kahn no more succeeded in making strides in architectural structure than he had in the Art Gallery at Yale. He erroneously discussed the project in tectonics terms, justifying City Tower's form by arguing that it best expressed buttressing against wind stresses: "The mind envisions a construction of a building growing from a base crossing its members as it rises against the forces of the wind." Yet neither Tyng nor Kahn checked their wind-stress argument with a structural engineer, who would have told them that because of the forces of gravity, a tower rising in a more-or-less straight vertical is dramatically more efficient."
--Sarah Williams Goldhagen, Louis Kahn's Situated Modernism (New Haven, Yale University Press, 2001), p. 78.
"Yes, architects sometimes used to make stuff up just to justify (the shape) their designs."
"What do you mean 'used to'?"
2007.10.27 13:40
Collage Architecture
I remember those collages in Education of an Architect I from back in the late 1970s; had no idea who did them back then, and vaguely recall later learning they were by Libeskind. I could probably find some very old "xerox" copies if I looked hard enough. Now, in retrospect, I'd say they had a strong, albeit subliminal, influence on some of my operations. And add to that an early CAD training (1983), the whole 'cut and paste' ethos of computer processing, along with the overall ease of data manipulation, then opened a whole new field with respect to architectural drawing.