1998.11.16 10:03
phase1.1?
...the space station fits precisely within the realm of extremity architecture. No question the space station is essentially as extreme as architecure can be today.


991116a former dtm00-perspective views of surface data 2302i07
991116b former dtm000-3D surface data 2302i08
991116c former dtm001-3D surface data 2302i09
991116d former dtm001-3D surface data 2302i10
991116e former dtm002-3D surface data 2302i11
991116f former dtm004-3D surface data 2302i12


2005.11.16 09:52
Las Vegas: An Unconventional History
Anyone else watch AMERICAN EXPERIENCE - Las Vegas: An Unconventional History? I was surprised at how much I learned from this 3 hour program. It was like "Learning from the City of Antithesis" -- very "if it's no where else, it's here."
Sin City and Bust! Talk about having your cake and eating it too!
Do you think above-ground nuclear bomb testing will ever be revived for it's tourist attraction fall-out?
Did that veteran showgirl really say that Vegas during the disco era was the best?!? Gosh, you learn something new everyday.
2005.11.16 10:32
Las Vegas: An Unconventional History
The first 90 minutes are very worthwhile in that how Las Vegas started and continued to happen (against the odds) is presented clearly and engagingly. I never really knew how Las Vegas was like the exact opposite of all other American cities in that what was illegal everywhere else (including citizens) were, like magic almost, legal in Las Vegas. It's like "who was kidding who?" As if all other American cities were bastions of morality, even.
Las Vegas as capital of Native America?


08111601 schematic ICM in register with schematic Antichità Rome 2390i13
08111602 Antichità Roman forum in register with IQ 2390i14
08111603 Antichità Roman forum in register with IQ raw final 2390i15


2009.11.16 09:55
The current state of Architecture Theory
"The ability of the computer to locate every point on a carved surface does away with the need for rational comprehension on the part of the designer in conceiving, or the observer in perceiving, a building. Thanks to the computer, pure empiricism has no longer any practical need for the mediating grasp of the intellect. The maximum of an empirical nominalism coexists with the maximum of abstraction. The space between nominalism and abstraction is left void. The mind no longer needs to understand itself. After a long evolutionary detour, human thought returns to its primitive instinctual roots."
Colquhoun (2005)
"...I was entranced by the work of James Gamble Rogers, the architect who designed most of Yale's Gothic and Georgian architecture in the 1920s and 1930s. Roger's determinedly nonideological stance, his avoidance of theory in favor of what can only be called intuitive design, was liberating. It was alright for architecture to be about feeling good, I suddenly realized; stage sets were not immoral. It was the perfect epiphany for a twenty-year-old who was just beginning to learn about empirical experience and only starting to trust his eye."
Goldberger (2009)
2009.11.16 15:25
The current state of Architecture Theory
Jargon aside, it is now progressively easier for intuitive design intentions to become reality.


09111601 ICM Domus Pincii Via Flaminia 2110i71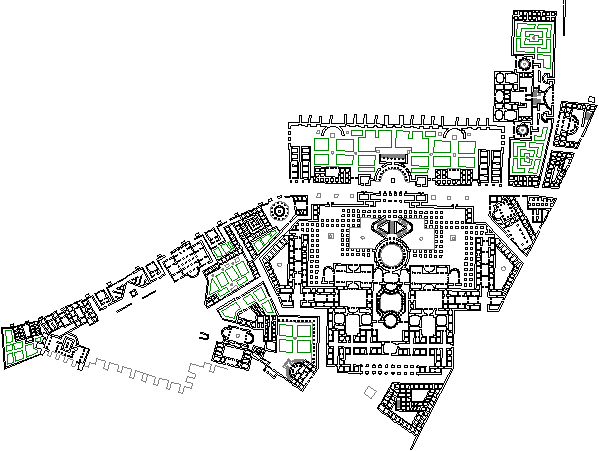 09111601


11111601 circle/square man Villa Rotunda elevations plans 2080i16


12111601 clean wireframe & opaque mesh surfaces 2402i14 b
12111602 mesh surfaces cubed (roughly 50 x 50 grid) 2402i15
12111603 mesh surfaces cubed within IQ3 Philadelphia grid 240ai01 b
2013.11.16 21:18
Street naming logic
The older parts of Philadelphia (streets) have the most logic.
The original plan, today's Center City, has north-south streets numbered going east to west starting at the Delaware River: the river at Water Street, Front Street, 2nd Street, 3rd Street, etc., going at least into the 60s in West Philadelphia. The (major) east-west streets are named for trees, from north to south: Vine Street, Sassafras Street (now Race Street), Mulberry Street (now Arch Street), Cherry Street, Chestnut Street, Walnut Street, Locust Street, Spruce Street, Pine Street.
The number streets extend north and south to the city limits. The (mostly major) east-west streets of North Philadelphia are named for Pennsylvania counties: Columbia, Berks, Susquehanna, Dauphin, York, Cumberland, Huntingdon, Lehigh, Somerset, Cambria, Indiana, Clearfield, Allegheny, Westmoreland, Tioga, Venango, Erie, Butler, Pike, Luzerne, Lycoming, Wyoming.
Philadelphia's land also reaches northeast, and those north-south streets east of Front Street are alphabetical, going west to east: A Street, B Street, etc.
Many of the 'destination' streets are also original 'Indian' trails: Germantown Avenue, Frankford Avenue, Oxford Avenue, Old York Road, Baltimore Pike(?)
There is even a book: Mermaids, Monasteries, Cherokees and Custer: the stories behind Philadelphia street names (1990).


2013.11.16 21:28
Street naming logic
Forgot to mention:
The reason perhaps for naming streets after trees in the original part of Philadelphia is that Pennsylvania itself is Latin for (William) Penn's Woods. There must have just been trees (and deer) everywhere, along with the Swedish colonials who were here even before Penn became owner of the whole place. I'm not sure if there are any Swedish name streets in Philadelphia.


14111601 Herzog & de Meuron Tour Triangle Paris
14111602 Frank Gehry Architects Dr Chau Chak Wing Building Sydney


18111601 IQ15 hyperarchitecturism plans base model work 2468i08
18111602 IQ15 hyperarchitecturism Plus All Three House Analogous Museum of Architecture Acropolis of Contemporary Art Altes Box Museum Maisons Dom-ino 2018 House for Karl Friedrich Schinkel 008 New Atheneum Mies van der Hejduk Quondam House Section House ASouq Neighborhoods ASouq 005 ASouq 004 ASouq 003 ASouq 002 Mat-Slab-Blob Complex Maison l'Homme + Wall House 2 NeuHaus 10 der Künste Complex Religious House for Karl Friedrich Schinkel 004 House for Karl Friedrich Schinkel 001 Neue Staatsgalerie Dresdner Bank Housing for La Villette UNEP Headquarters Wallraf-Richartz Museum Breslauer Platz Olivetti Headquarters Milton Keynes Florey Building Cambridge History Faculty Building Leicester University Engineering Building Ichnographia Campus Martius Philadelphia Tempietto Baths of Constantine Stonehenge plans 2468i09


20111601 iqq14 plan work 2468i111