Pagan - Christian - Triumphal Way
3123h 3123i 3123j 3123k
1999.11.21




Basilica of St. Peter's is absent...
2001.03.06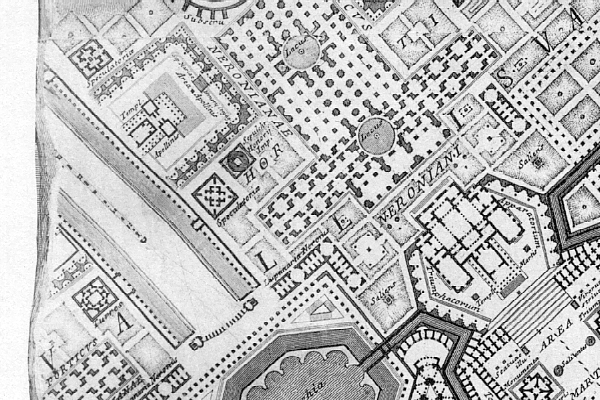 Although the Basilica of St. Peter's is absent from the Ichnographia Campus Martius, the sepulchers of Maria and Honorius are nonetheless in close proximity to a basilican shaped building, namely the Porticus Neronianae whose specific shape is that of a Latin cross. Furthermore, a superimposition of the Ichnographia's Garden of Nero with Nolli's plan of St. Peter's Basilica and Square registered in exact scale and location, renders the Porticus Neronianae as an inversion of the real St. Peter's, hence the presence of a Christian entity within the Ichnographia is again covert in its disclosure and likewise a product of inversion.
Maria, wife of the emperor Honorius...
2002.02.21




Will Your Work Be Remembered?
2005.08.05 14:36

Since memory is really a mental reenactment, perhaps the better question is, "Will your work will be reenacted?"

Be careful though, because reenactment without giving credit to the source is plagiarism.

A bit of my work was 'remembered' by David R. Marshall in "Piranesi, Juvarra, and the Triumphal Bridge Tradition" (in The Art Bulletin, June 2003) when in footnote 155 Marshall states, "...but the Area Martis through to the Nympheum Neronis, including the Templum Martis is a hieroglyph of St. Peter's, to which it corresponds topographically." Marshall does not name the 1998.05.10 source of this information, however. Furthermore, Marshall's note is misinformation in that the Porticus Neroniani and not the Nympheum Neronis forms part of the 'hieroglyph'.




Lost's ending
2009.01.29

I now suspect, after seeing the third episode of Lost season 5 last night, that Lost will end with all of its original cast alive and together. This is how I see the current time traveling coming to a conclusion. It will be like Finnegans Wake and like Il Campo Marzio. Too bad Bloomer didn't make this vital connection.

So now it's exploration of the possibilities of the space-time continuum. Like Proust was a neuroscientist, was Piranesi, with the Ichnographia Campus Martius, a scientist of the fourth dimension? (Here is where I have to review Dixon's "Ichnographia as Uchronia".) Is Ichnographia Quondam also a study/experiment of architecture (and urbanism) in the fourth dimension? For IQ the time continuum connection is the Axis of Life/Parkway connection, which comes after Piranesi's own Porticus Neronianus/St. Peter's connection.