2000.01.31 16:30
evocation is truth, not a virtuality myth
Rick,
an evocation is an evocation, is an evocation.
C 12:15 7/28/84
2 B squared sounds mathematical and I taste like nothing. I the it look non-grammatical and I don't stink. 2 feel me is to B me. You the one who reads probably didn't know (most architects don't) that the point at giza is very close to the titty tip of St. Peter's, the Vatican one. 1 is alive 1 is dead 1 = red 1 = lead That's all. Nothing more to explain. I assume that you can think from here on. I brought up a color shot that can be seen. What does it mean? That funny (short) historian wants to tell you. Does he know? NO! Do I know? AY! Flat pants enhance but it is not modern and I mean medieval. Of that you will never know. You are most likely not here, and I mean HERE, for the first time. Get it. . .someone else first. Even someone second makes sense. (Being not like most of you): this is my first time. I just found out last week. Actually, before, I never really thought about the fact that if you believe in reincarnation, reincarnation means that someone has to be the first one for the rest to follow. Only the ones that come after can say that they were here before and only the ones that are the first ones can say that everyone else comes after . So......if reincarnation is a TRUE then I am a first one and if reincarnation is a FALSE then I am a first and only. At least I am a first. At the most I am a first and only. I may then conclude that no matter what I am not confused. Today RED, tomorrow DEAD, after that it is whatever color you want on whatever day you want it. Being hilly is somewhat silly and in winter it's also chilly. If I were a square squared I'd be in the fourth dimension. auga AUGA I'm really trying. I will be written once and that is it. The rest will either be a 2 a 3 a 4 or a 5. See I'm the one that counts...from the beginning. I always want to see myself before I am done. But my self-control has been excellent of late and I already know I look good and oh so o.k. without the help of seeing myself. Being a piece of white [screen] with some black dots on it means I have/behold no emotions myself.
C 16:30 7/28/84
2018.03.09 13:41
guess the plan [building]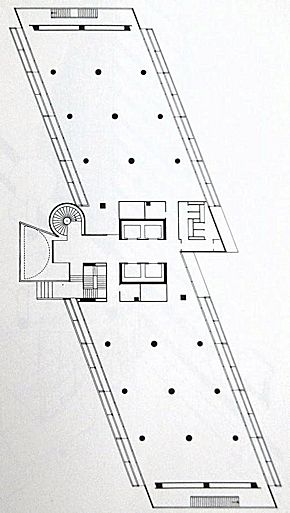 After Le Corbusier, and even after Leon Krier, but, in all three cases, never built.


2018.03.16 18:39
guess the plan [building]
Le Corbusier-Berlin . . . Krier-modern junktown anywhere . . . this plan somewhere in Spain . . . . . . . . although this plan comes after Le Corbusier and Krier, the architect actually fits nicely between Le Corbusier and Krier
2018.03.17 14:51
guess the plan [building]
The project is more extensively published within: Architectural Monographs No 32: James Stirling + Michael Wilford and within James Stirling and Michael Wilford 1975-1992 (the white book). All the drawings are now within the Stirling collection of the CCA but images of the drawings are as yet not available on the CCA website.


2018.03.17 15:06
guess the plan [building]
The project is from 1988 (just 4 years before Sirling died). If you're familiar with the late work of Stirling/Wilford and familiar with Wilford's individual works, then you can more plainly see the aspect of the Seville tower(s) plan which you attribute as 'pre-postmodern' is actually an instance of more Wilford than Stirling.



(Stirling's) Urban Components
1976-1988
Within Leon Krier's diagram of Urban Components of 1976 there are a few not so subtle references to the architecture of James Stirling, and, therefore, the overall negative tone of Krier's drawing is also an indirect critique of Stirling's modernist architectural style. Krier was once closely associated with Stirling's architectural practice, and indeed was the delineator of many Stirling designs. The association ended on less than positive terms, however, and therefore Krier's diagram may also be a reflection of that unfortunate occurrance. Stirling, on the other hand and not to be outdone, twelve years later takes one of the buildings within Krier's diagram and applies it to his Seville Stadium Development design of 1988, thereby adding an ambiguous symbioses between precedent and inspiration.
Stephen Lauf, Inspiration XI (Quondam: seeking precedents... ...finding inspiration revised exhibit, 1998.11.03).