24 January 1778 Saturday
Vases, Candelabra, Grave Stones, Sarcophagi. Tripods, Lamps and Ancient Ornaments volume I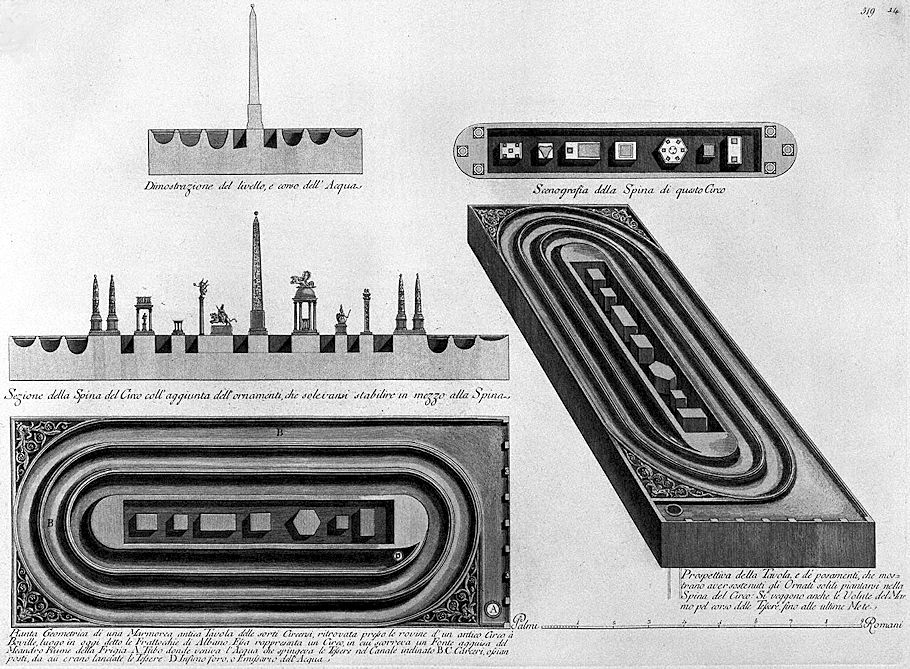 Demonstration of an ancient marble tablet of the form of a circus.
Demonstration of the level, and course of the Water
Scenography of the Spina of this Circus
Section of the spine of the circus with the addition of the ornaments which used to be established in the middle of the spine
Geometric plan of an ancient marble tablet of the form of the circus, found near the ruins of an ancient circus in Boville, a place now known as the Frattocchie di Albano. It represents a Circus, in which a Fonte aguisa of the Meander River of Phrygia flowed. A. Pipe from which the Water came that pushed the Tiles into the inclined Canal B. C. Prisons, i.e. places, from which the Tiles were launched D. Bottom hole, or Emissary of the Water
Perspective of the Table, and placements, which show that they supported the Ornati usually planted in the Spina del Circo: The Marble Volutes can also be seen along the course of the Tesserae, up to the last Meta
[Francesco Piranesi]


24 January 1812 Friday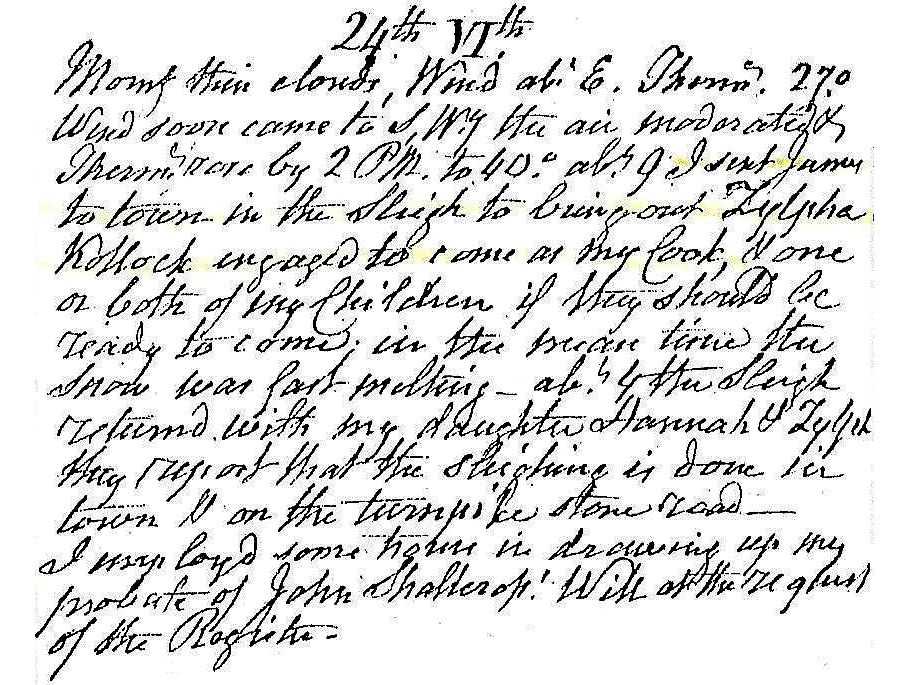 Morning thin clouds, wind about E. Therm. 27°. Wind soon came to SWerly, the air moderated and therm. rose by 2 PM to 40°. About 9 I sent James to town in the sleigh to bring out Zylpha Kollock engaged to come as my cook and one or both of my children if they should be ready to come. In the meantime, the snow was fast melting. About 4 the sleigh returned with my daughter Hannah and Zylpha. They report that the sleighing is done in town and on the turnpike stone road. I employed some hours in drawing up my probate of John Shallcross' Will at the request of the Register.


24 January 2003
Re: Favorite Artist?
I like exploring limits via (my) art. I seem to have touched upon some of your tolerance. While finding your tolerance is not exactly my objective, I now have more data about limits, especially within this corner of the art world. I could be clever and say "sad little self promotions" is my form of self abjection, and in some ways that's true. But, on the other hand, my self promotion is not so little, and your attention helps to confirm that.
In defense of the links I've posted here, I'd say almost all of them have been fairly specific to the issue being responded to. For example, the issue of car-jackings was brought up and thus I responded with a story I wrote that centered around a car-jacking. Della Francesca was brought up, and I responded with a large portrayal of Helena Augusta, the woman credited with actually finding the True Cross because The Legend of the True Cross is della Francesca's largest work.
Extremes are interesting because they involve both the wholly outer and the wholly inner. All and nothing are both extreme cases.
Finally, besides exploring extremes, I participate in online forums as a (personal) art project. I like TALKBACK because it is so art scene-centric. You should try the late-antiquity list. I took things so far there right after 9-11 that some came to essentially ask that I be damnatio memoriae-ed. I'm rather proud of accomplishing the trek into that territory because damnatio memoriae was a quintessential late-antiquity practice. Mind you, I raised legitimate late antique issues, particularly the dating of Helena Augusta's death and the correct chronological sequence of Eusebius' Vita Constantini Book III, which shook up some otherwise staid thinking.
I favor Piranesi because he treated historiography as art, the same way he treated archaeology as art. What he did came right before the distinct rise of science, and it's separation from 'art'. I want to learn how to do such work again, thus I've been working at reenacting Piranesi for almost 15 years now. Piranesi primarily utilized two mediums, etching/engraving and publishing. I too utilize publishing as a medium, but in conjunction with html.


24 January 2007
Audubon not in love
Letters were forwarded by them to my father's agent, Miers Fisher of Philadelphia, of whom I have more to say hereafter. He came for me in his carriage and removed me to his villa, at a short distance from Philadelphia and on the road toward Trenton. There I would have found myself quite comfortable had not incidents taken place which are so connected with the change in my life as to call immediate attention to them.
Miers Fisher had been my father's trusted agent for about eighteen years, and the old gentlemen entertained great mutual friendship; indeed it would seem that Mr. Fisher was actually desirous that I should become a member of his family, and this was evinced within a few days by the manner in which the good Quaker presented me to a daughter of no mean appearance, but toward whom I happened to take an unconquerable dislike. Then he was opposed to music of all descriptions, as well as to dancing, could not bear me to carry a gun, or fishing-rod, and, indeed, condemned most of my amusements. All these things were difficulties toward accomplishing a plan which, for aught I know to the contrary, had been premeditated between him and my father, and rankled the heart of the kindly, if somewhat strict Quaker. They troubled me much also; at times I wished myself anywhere but under the roof of Miers Fisher, and at last I reminded him that it was his duty to install me on the estate to which my father had sent me.
One morning, therefore, I was told that the carriage was ready to carry me there, and toward my future home he and I went.
--excerpt from John James Audubon, "Myself" (within Audubon and His Journals).
The Susquehanna Road
1926.10.22
Evening Public Ledger
HISTORIC ESTATE SOLD
Fox Chase Property, Owned by Crawford Family, Changes Hands
Announcement is made of the sale of forty-two acres of "Ury," the Crawford estate on Verree Road, Foxchase. The purchase was made by Thad S. Krause from Harriet C. Crawford.
The land is a part of the 80-acre estate in the Crawford family for more than 100 years [sic]. The mansion was erected on the site of the old Swedish trading post founded there in 1685 [sic]. The Susquehanna Road, planned by William Penn's surveyors [Thomas Holme] as a great highway between the Susquehanna and Delaware Rivers, was to have passed through the estate.
=====


Portion of the 1687 Holme plan of Pennsylvania
In the 1687 plan of Pennsylvania, the planned Susquehanna Road (marked in red above) runs along the course of Dublin Creek (today's Pennypack Creek). The only portion of Susquehanna Road that exists today within Philadelphia proper runs along the northern edge of the Ury Estate (marked in blue above). A fair stretch of Susquehanna Road exists, however, through Montgomery County, immediately west of the Ury Estate. Interestingly, Susquehanna Road in Philadelphia and Susquehanna Road in Montgomery County do not align exactly, yet their respective trajectories run parallel with about a thousand foot gap between.
The age of technological revolution is 100 years dead
"In the future, your whole life will be a phone call."


24 January 2011
what is our current architectural style called
Architecture style is no longer defined by space, rather by time.
"Their house is the epitome of 2002 style."
"Design me something early 1840s. I'm feeling immediate-post-Schinkel lately."
"In the year 2525, when architecture is finally alive..."


24 January 2023 Tuesday

19:44 SL
Well Andrew, I'm fortunate being able to do this with you. There literally is no one in the creative fields that I even really talk with, and certainly not in the way we do. And what makes it even better is that we don't even really know each other, but we know each other's work. That's very special to me.