26 July 1778 Sunday
. . . . . .


Artifacts of the Bianconi vs Piranesi 'Circus of Caracalla' affair 1772-1789
Giovanni Lodovico Bianconi's "Elogio Storico del Cavaliere Giovanni Battista Piranesi Celebre Antiquario ed Incisore de Roma" (1779)
paragraph thirteen
He [Piranesi] was also recently doing some research on the ruins of the circus known as Caracalla, which can be seen two miles outside the Porta Capena, ruins all the more worthy of the public, given that this circus is the only one we know of in the whole world, of which sufficient vestiges remain to give us an idea of the circus architecture more composed than hitherto believed. Strange thing, that Vitruvius does not mention circuses. Having some amateurs of the ancient arts and acquaintances of ours also made indefatigable searches on these ruins, we would be happy to do justice to Piranesi's studies here, if there hadn't been a mystery about them.

I, at least, get the feeling that Bianconi is here being much more sarcastic than truthful about there having been a mystery about Piranesi's Circus of Caracalla work. It is most likely true that Piranesi's family was silent about the Circus of Caracalla work after Piranesi's death, but it is also most likely true that Bianconi believed the silence surrounding Piranesi's Circus of Caracalla work was due to there having been no author found to write an explanatory text.


46 y.o. Francesco Piranesi 1804
Le Antichità della Magna Grecia Parte I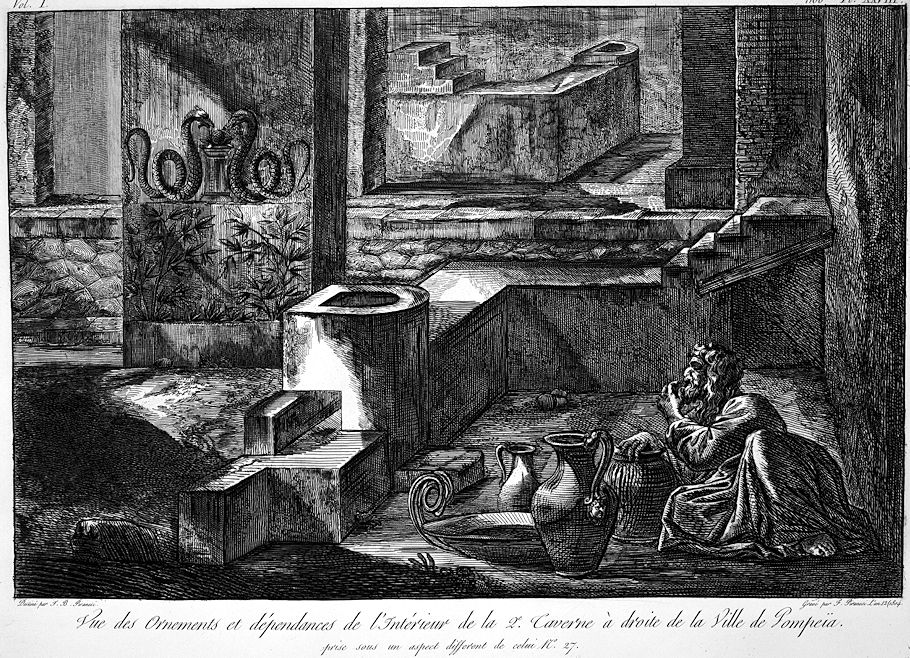 View of the Ornaments and dependencies of the Interior of the 2nd Tavern to the right of the City of Pompeii. Taken under a different aspect from No. 27.
Drawn by G.B. Piranesi
Engraved by F. Piranesi Year 12 (1804)


26 July 1812 Sunday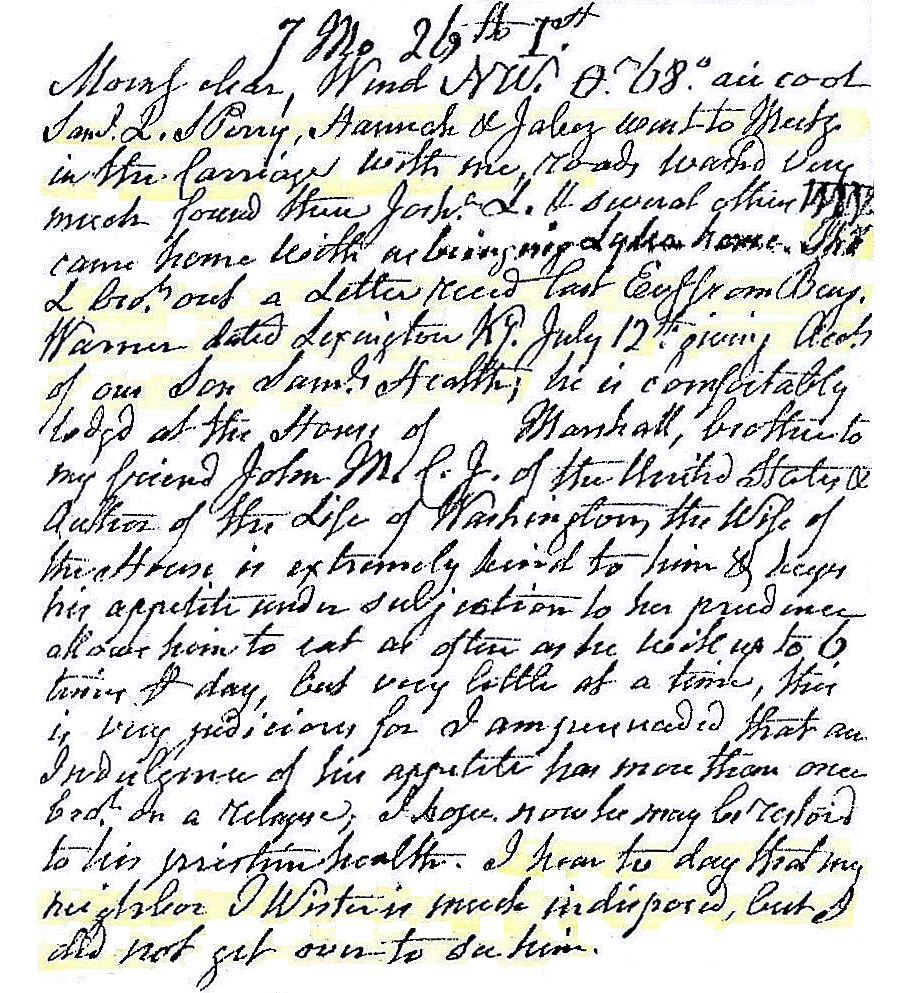 Morning clear, wind NW, temperature 68°, air cool. Saml L, S Perry, Hannah and Jabez went to Meeting in the carriage with me. Roads washed very much found there. Joshua L and several others came home with us bringing Lydia home. Saml L brought out a letter read last evening from Beus.[?] Warner dated from Lexington Ky. July 12th giving accounts of our son Samuel's health; he is comfortably lodged at the house of [blank] Marshall, brother to my friend John M, C. J. [Chief Justice?] of the United States and author of the Life of Washington. The wife of the house is extremely kind to him and keeps his appetite under subjection of her prudence allows him to eat as often as he will up to 6 times per day, but very little at a time. This is very judicious for I am persuaded that an indulgence of his appetite has more than once brought on a relapse. I hope now he may be restored to his pristine health. I hear today that my neighbor T Wister is much indisposed, but I did not get over to see him.


26 July 2003
sources re a law of silence
[snip]
ps 2003.07.26 Until recently, I have remained curious as to how a law of silence was actually issued, yet I never expected to actually see the workings of a "law of silence" first hand. I seems that laws of silence are simply instituted via forbidding any further discussion of a given subject.


26 July 2004
suicide reenactment
So when did Fausta commit suicide? Was it really on her husband's 20th anniversary as Roman emperor and within 24 hours of her mother-in-law's death?
Last night between 8 and 8:30 I received a phone call from someone I hadn't seen or heard from in over half a year--a crying voice, "I feel horrible. I'd like to commit suicide."


26 July 2005
abracadabra, faia
Land of Reenactionary Architecturism
two days of silence 2005[--archinect.com was not online for two days]
death of Flavia Julia Helena Augusta
24-25 July 326


26 July 2023 Wednesday
. . . . . .