2012.01.17 14:32
CONTOURS: The Divisions that Bind Us
Guy, the heart of the issue here is that you are still offering a solution that has no basis. How exactly can you substantiate "If the public did value architecture more, the way they value law and other services, then architecture could command higher fees without causing protest."?
The problem here is not about some imagined polarization between the public and architects, rather it is the (still) fictional notion that a-somehow-newly-engaged-public is going to raise architectural fees.
A new public that comes to value architecture more highly does not at the same time mean that this same new public then has more money in its pockets to spend on architecture or even that they then want to spend what money they have on architecture.
It looks to me that the real elephant in the room is that engaging general culture/the public is not a solution to putting more money into the architecture field.


2012.01.17 11:41
CONTOURS: The Divisions that Bind Us
What exactly are the indicators that "increas[ing] the value (in all senses) of architecture within the general culture" will indeed lead to architects being paid better?
It seems to me that you're presenting a solution to the problem of architect's low pay that is based on an assumption that lacks any real backing.
Right now I can't remember exactly what thread from like 4-5 years ago this same sort of assumed solution was presented... Did a google check and found something else from exactly 5 years ago yesterday: Why do architects make so little money?
Here's what I remember:
And the assumption that "an informed public makes the space for architecture more possible" is based on what exactly?
Is the desire for "public discourse" really just a euphemism for "expanded client base?"
2007.07.19 11:54


2012.01.16 13:20
Dynamism in Architecture
Rudolf Arnheim, The Dynamics of Architectural Form (Berkeley: University of California Press, 1977).
Based on the 1975 Mary Duke Biddle lectures at The Cooper Union.
A book I've owned since May 1978, and read completely circa 1984, and maybe it's time to read it all again.


2012.01.08 10:54
Ury, now quondam, exactly 200 years ago
2012.01.07 Saturday
Lunch with Rosa. Gorgeous day; gorgeous ride--Pine Road, Byberry Road, along Pennypack Trust, Terwood Road, Fitzwatertown Road, Susquehanna Road, Meetinghouse Road, Fox Chase Road, Shady Lane. TV with Rosa. Started compiling material for /docs.
------
1812.01.08 Wednesday
Wind came again from NW in the night. Morning clear, clouds ______ up and it was cold. I dined in Mulberry Street, left town at 4, stopped to see Dr. Hunt but he was abroad. Reached home about 6pm. Therm. here am 33° rose to 39°.
2012.01.07 12:33
Spread Eagle Doorway in The Old Parsonage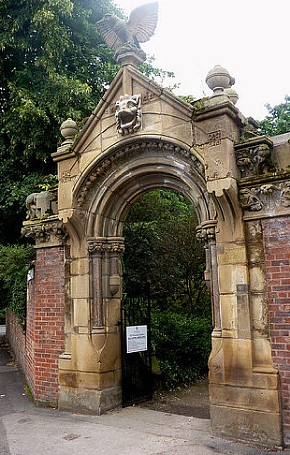 The arch is Romanesque Revival style. The whole gate is a circa 1880s stylistic concoction.


2012.01.07 10:20
Ury, now quondam, exactly 200 years ago
2012.01.06 Friday
Collected virtually all the Circus of Hadrian data. Pat called and asked if I would come look at her seemingly broken garage door--one of the springs snapped. Dinnertime as usual. Accuweather forecasts a high of 57° tomorrow. Took George to see Warhorse. Our dad was a cavalry soldier, the whole of WWII, both fronts even. I've only seen him on a horse once though, at a large 4th of July picnic on a farm in South Jersey, back in the late 1960s. After an afternoon of playing cards, some of the men decided to try out some horseback riding. So pretty much the whole rest of the picnic watched as the various, probably slightly tipsy fathers, got up on horses and started stepping around here and there. Then my father made this sound and suddenly he and his horse charged clear across the field. I and everyone else just gasped in amazement.
We go to the Hiway theater in Jenkintown almost every time there's a new movie playing. I go down the valley to Shady Lane to Fox Chase Road to its end at Meetinghouse Road then a little bit of Jenkintown Road and turn into the first block and we're right behind the theater. Where Fox Chase Road ends at Meetinghouse Road is Abington Friends; that's where Miers Fisher went to Meeting practically every Sunday, and even sometimes during the week. By the looks of it, the Meetinghouse there now may indeed still be the same one Miers went to. I don't think Miers took the Shady Lane route as you have to go down 175' and then up 175', but I have no doubt that he and I follow(ed) the same exact path when on Fox Chase Road. Today, there's still a small but sizable horse farm at Fox Chase Road and Cedar Avenue, where, weather permitting, practically any day of the year you can see about ten horses grazing in the field.
--------
1812.01.07 Tuesday
Morning clear, wind draws to SW, therm. 27°. I go to town this forenoon. The wind continues from SW. The air moderated, the street in the sun thawed. I dined in Mulberry Street [today's Arch Street], paid many visits. Saw J, Winthrop, he is better, but yet very ill. Drank tea at D. Russer[?], had a pleasant conversation with his son James; he is acquainted with James McRac__ who sent me a Copy of his Bible by him.
--------
I'm pretty sure I know how Miers got to town--just two roads: Oxford Road (now Avenue which terminates at what was the Fox Chase Inn) all the way to its beginning at Frankford Road (now Avenue) and then down Frankford to its beginning at the Delaware River (right at Penn Treaty Park) and then a short bit along the river to Olde City where Miers still had a house on Mulberry Street (today Arch Street--I believe Miers' house was on the same block as today's Constitution Center). Before the first European settlers here 360 years ago, Frankford Road and Oxford Road were "Indian" trails, hence pathways now who knows how old.
2012.01.06 09:43
Ury, now quondam, exactly 200 years ago
Oh give me a home where the buffalo roam[ed]. Who knew?
Why do I get the feeling that all this slaughtering happened in what's now my back yard?


2012.01.06 09:33
Ury, now quondam, exactly 200 years ago
2012.01.05 Thursday
Finsihed chapter 3 of Whispering City: Rome and its Histories. Called Pat and we're tentatively set for Saturday, the 21st. Scan/dxf of Basilica Marcellus & Peter, Circus of Maxentius, Circus Varianus/Santa Croce, Basilica at Santa Costanza, Basilica of St. Laurence, Basilica of St. Sebastian. So far just seeing the plans at the same scale relative to each other and relative to plans of other 4th century/Constantinian buildings has made the effort worthwhile. Stopped at the mailbox before heading to Rosa. As George got out of the Jeep to deposit the letter, I turned to my left to look at where Ury House once was. There's absolutely nothing there now to relate to regarding Miers Fisher, but I nonetheless tried to concentrate on the fact that exactly 200 years ago Miers was right there with sore eyes, probably didn't go out of the house all day (except to check the temperature and wind), and passed the time reading letters and newspapers. At night I (re)read "The Iconography of the Emperor Maxentius' Buildings in Via Appia." Again, there seems to be no knowledge of the Circus of Hadrian (at Rome). It's now clear that "De Spectaculis II" begins with collecting all I can on the Circus of Hadrian.
--------
1812.01.06 Monday
Morning was clear and nearly calm. Air from W. Therm. 32° rose to 39°. The wind drew from the Northern to WSW. The ground thawed where the sun rays shone; evidently a S or SW current intermixed in the air. We had our buffalo killed Friday last cut up today; J. Hamilton and James Simon assisting D. Davis. Killed our hogs today to be disected[?] tomorrow. The inflamation in my eye much abated. James Wallace came hither with a note of J[?] and TG to be ____, which I did in the firm. I and M___ bought ______ newspapers of yesterday and they __ a very mournful relations of the distress of Richmond.


2012.01.05 11:51
Ury, now quondam, exactly 200 years ago
2012.01.04 Wednesday
Made a quick trip to the Fox Chase Bank; took the same exact route that Miers did when he "test drove" a new horse 2 January 1812.
1812.01.02 Thursday
The wind blew with violence most of the night. Morning fair with dark clouds to _____ in the SE, but the therm. was not as low as I expected. Morning 35°, ground hard frozen, I believe down to the former frost. None of yesterday's snow left. Therm rose to near 37° and began to fall about 2. John Wait bid[?] here and offered me a horse 6 years old. A very exact match for my old carriage horse and one that would go well with _____ of mine. I had him put into the carriage and rode to the Fox Chase [Inn] and back. I liked him and on my return agreed to give him M_______ which I bought last summer for 40 dollars (now worth 100) and 60 dollars in cash for his, which I now call L_______ for one white foot. Employed the evening writing to my sons, till 11 o'clock.
Took George to the library; picked up the Alvar Aalto Houses book and even a Max Headroom dvd. Went to dinner with Rosa; told Mary Ellen that Helmine died on Christmas--she did know Helmine too. In the news: an empty hand grenade was found at King of Prussia mall; a third of the mall evacuated. Employed a couple hours transcribing Miers' journal, a slow and tedious process. Having doubts as to whether this project should be presented where it now is. Read the passages in Halloway regarding the "circus" reenactment theory; I'm going to start piecing together the exposition soon.
--------
1812.01.05 Sunday
Wind moderated. Morning fair, Therm. 32° rose to 37°. My eyes too much inflamed to go out. My wife and Hannah went to Meeting where Dr. Lukus gave them a packet from SL containing letters and newspapers, he [SL] and my son Samuel are both indisposed. In the papers we have several meloncholy details from several quarters. The gale wind in the night of 23/24th ___[?] have done great damage by sea and land. __ ____ to the eastward have stopped the _____ for several days, ____ Boston many vessels and lives lost in Long Island Sound, Delaware & Chesapeak Bays, etc. On the 26th the theater at Richmond took fire, during the afterpiece[?] 6 or 700 principal people of the city and vicinity in it, of whom it is supposed 200 were burnt or killed in attempts to escape thru high windows, etc. A very distressful scene as described in several letters published. The inhabitants have bought the ground on which it stood to erect a church upon, and have resloved to attend no more spectacles for the space of four months! Alarming earthquakes have terrified the inhabitants on the 16th and 17th ____[?] from Charleston SC and other places near the sea coast, as far westward as Chilicothe and Zansburgh, State of Ohio. While in both Houses of Congress war is called for by apparently large majorities of both houses. This has been the stillest day here since 23rd ____[?]. We dined alone.