2012.01.04 12:51
Ury, now quondam, exactly 200 years ago
2012.01.03 Wednesday
Very cold and windy, much like 1812. Spent all morning and half the afternoon doing errands. Was able to still have a short visit with Magda, however. George and I visited Rosa at dinner. Henry told me that Helmine also died; Adelyn said it was on Christmas. (Marie died on New Yearís Eve.) Helmine had the cutest girlish laugh, and we all laughed that time she asked if Rosa and I were married. At night I finally found that photocopy I know existed somewhere--ĒMensa-Coemeterium-MartyriumĒ. Feeling accomplished, I looked at the photocopy of Miers Fisherís 1812 journal also there on the desk and decided to go ahead with the 1812-2012 project. Itís now started online.
--------
1812.01.04 Saturday
Wind violent all the night with clouds; morning the ground slightly covered with snow. Therm. 30 rose to 36. The wind has fluctuated from W to NW in violent flows; I suppose there is a strong SW current mingled with another from NNW. Otherwise it is difficult to account for the therm. continuing so high after high winds for so long a time. My eyes were mainly[?] closed this morning by an inflammation in the lids occasioned by a cold taken yesterday and several inches of late writing. I have spared them somewhat today and used sarafin[?] from Marilage[?] with a little ___ water with some terrible benefit. D. Moore paid us a very acceptable visit and took dinner with us.
--------
Miers Fisher (Miers is pronounced Mayerís as in Oscar Mayerís) was a prominent Philadelphia lawyer before and after the American Revolution. Among many, many other things, he collected the rent money for the house that President George Washington lived in when Philadelphia was the US capital. President Washington was even a dinner guest of Miersí at least once. Miers purchased a country estate in the late 1790s, formally retired in 1805 and moved to the estate. He called the house Ury. I now live on what once was the Ury estate/farm. Miers kept a daily journal for all the years of his retirement. In 1818, Miers moved back to Philadelphia and died at his residence on Arch Street on March 14, 1819 at the age of 72. In 1812 Miers turned 65 and on March 20, 2012 Iíll be 56.
All of Miers Fisherís journals are now at the Friends Historical Library of Swarthmore College. Iíve had a photocopy set of the 1812 journal since 2007.
This 1812-2012 project is about the same place in parallel times, something like an experiment in synchronous bilocation, albeit divided by exactly 200 years. A fitting subject, I think, for a virtual museum of architecture.


2012.01.03 09:23
Ury, now quondam, exactly 200 years ago
[I'll explain more later, but what's written below was first written 200 years ago at the same place that I'm writing this right now.]
1812 &nbspp 1st Mo 3rd VIth [Friday]
Wind high all night, morning some NW clouds; Therm. 28 rose to 32. Sun shone and the surface of the ground where his rays fall thawd considerably. Having myself fitted a new ____ to my ________ last _____ (the old one being lost by _______). My people with the aid of John Hamilton were employed with killing 2 Bison this day, one weighed 710 lbs W. B_______ 4 quarter[?], the other 585 lbs. I was again employed till 9 P.M. in writing to my Sons. Therm. fallen to 24, wind yet blowing very fresh[?] from W to WNW in heavy squalls with dark clouds spitting snow


2011.12.27 09:35
What is Architecture nowadays?
Modern Post [and Beam]
[Ph]D Construction
Envelope of the Politics
Mini-Meism
"Brother have you got a dime-a-dozen?"
not want, not waste, thinking wishful
Theory is death backwards.


2011.12.18 12:29
Frank Gehry
ohnokono, how many times in the last 10 days have you looked at all the pictures within Frank O. Gehry: The Complete Works?
"Just look at all the pictures (cover to cover) several times a week for like maybe two months. If you have any architectural aptitude, I'm sure you'll learn much more about Gehry's theory/practice than you expect."
Remember?
2011.12.18 12:26
Is Parametricism really the new unified style!!!
Isn't "parametricism [as] the newunfield style of the future" actually an architectural theory?
CSI Clueless: Professor Aplumb with the wrench in the Drawing Room.
Architectural theory is dead! Long live architectural theory!


2011.12.18 11:48
Architecture as Art: Good Idea or Very Bad Idea?
Sounds a lot like a virtual museum of architecture, albeit with a very specific (hopefully not too trendy) curatorial mission.
Do people still remember the first time they sat down to read a novel?
AD[vocating] PUBLICITY
self link: the future
2007.10.03
"In the future, everyone will be a self link, with absolutely nothing to be sorry about. Self link architects will be all the rage, even."
"I suggest you pursue all three topics in one--a marine architecture hi tech airport designed to make everyone feel like they're on stage. Throughout this great hybrid machine of notoriety are virtually infinite opportunities to globally link oneself."
"Perhaps you should design some kind of institution where architects can go to become less bitchy about petty things and in turn more ideas oriented. I see franchise opportunities--a Pride-Aid on corners everywhere."
"Just wait:
Due to global warming Greenland becomes prime real estate. As a result Denmark becomes one of the northern hemisphere's big oil-rich nations. Jet-setters winter in Dubai and summer in Greenland.
I've never set foot on Greenland, but I have been there (back in 1963). Our plane needed fuel, so we landed somewhere in Greenland. It was night, so you couldn't see much, but I distinctly remember a single light burning over the door of a small building next to the runway. I remained enchanted."


2011.12.07 15:16
Frank Gehry
ohnokono, don't worry about anything I write here, In fact , don't bother to read anything about Gehry at all.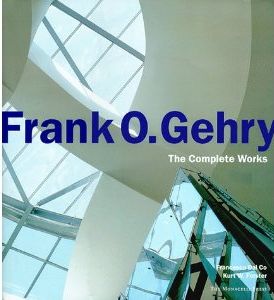 Just look at all the pictures (cover to cover) several times a week for like maybe two months. If you have any architectural aptitude, I'm sure you'll learn much more about Gehry's theory/practice than you expect.
2011.12.07 12:24
Frank Gehry
...you are correct, I do not mean "pliability/pliancy only in literal surface-curving manner," but more of a "yielding readily" (like the varying aspects of the plan of the Wagner House which is on a sloped site). Perhaps it is uncannily (or even appropriately) ironic that the Venturi and Rauch peeling wall detail yields from an actual bending wall.
I (re)read about 75% of Lynn's essay last night, and there one sees "the pliant" more in the sense of literal bending and folding, plus also more in concert with suppleness and smoothness--although here too Gehry's architecture is most often used as example. (I feel my reading last night suffered a bit due to no illustrations accompanying this latest version of the essay.)
...the pliancy of the Palace of Ottopia is more a demonstration of the drawing pliancy that "laissez-faire" CAD manipulation allows. Yes, the Danteum is there, but so is Hejduk's Bye House, a bit of Perruzzi's Palazzo Massimo and a little bit of myself. Also, the gemmating Danteum plans allude to Eisenman (Aronoff).
Interestingly, within the studies for the palace of Ottopia (010808a.db) there are some (pliant CAD) manipulations of Gehry's Wagner House--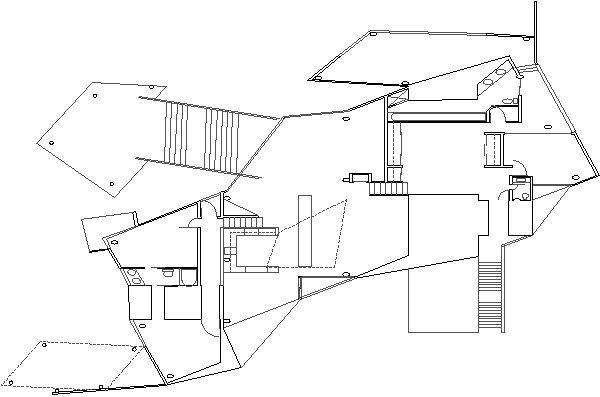 --which eventally became House for Otto 4.