2010.08.17 04:16
Free Sammich!
The great unspoken motto of life:
Eat when you're hungry, and when you get the chance.
[And there's no stopping you when both happen at the same time.]
Cucumber Slices, Cavier and 'Sociables' Crackers


2010.08.16 17:43
So, How's Architecture These Days?
Architecture in Critical Condition
[sic]
To ERr with SuperGlue
Bilocation Syndrome
Going into Eclectic Shock/Therapy
Surgical Double Theater
Waiting Room: Anxious, Reading, Liszt
Operation a Success; Patient Dead
Malpractice Case: Houses Eternal Wrest


2010.08.14 18:04
So, How's Architecture These Days?
OMA | NEWS: 13 August
Repairs begin on TVCC
After a fire in February 2009 and subsequent structural and safety assessments, repairs have begun on OMA's Television Cultural Centre in Beijing. The Beijing Urban Construction Group is restoring the building according to OMA's original design. Adjacent to the China Central Television headquarters (also designed by OMA), TVCC will include a hotel, theatre, exhibition and conference space.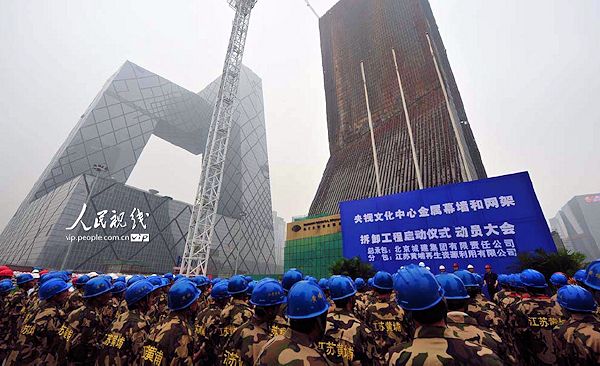 Is it actually possible to ask a very broad question directly?
2010.06.13 15:45
www.quondam.com ??
Medit,
I 'reacted' because of the expressed abuse shay's question received. Otherwise, I would not have answered shay's question at all because I can't say that I'm overly interested in responding to any Archinect/forum queries.
I have already expressed the desire to unregister all five of my architect memberships, and I still hold that desire. (The notion of unregistering an Archinect membership, however, seems to be beyond Archinect's capabilities.)
For the record, the original screen name of 'one' was indeed 'quondam'. The original screen name of 'two' was 'Rita Novel' (which was a whole other design project).
Stephen Lauf


2010.06.13 8:32
www.quondam.com ??
shay,
The model you're asking about was created by Oliver Schürer and Michael Seidel, and offered freely via one of the earliest architecture web pages ever. The model came into Quondam's collection through a free download almost 14 years ago.
Since Schürer and Seidel no longer offer the free dxf download, I am not in a position to give away the model data freely. You might pursue Schürer and Seidel and let them know who you are and what your intentions for use of the model are.
Stephen Lauf
ps
Schürer and Seidel will as of today be given proper credit for the model at Quondam, and thank you for bringing something long forgotten back to my attention.


2010.05.12 16:24
Neil Denari vs. Diller Scofido Renfro vs.
House 10:Museum (Hejduk), 1963-67
Palais des Congres a Strasbourg (Le Corbusier), 1964
Palm Bay Congres Center, Agadir (OMA), 1990
Palais des Congres a Strasbourg analysis (Arcadia), 1991
Deux Bibliotheques Jussieu (OMA), 1992
Educatorium (OMA), 1993-97
VPRO (MVRDV), 1993-97
Azadi Cineplex (FOA), 1996
Virtual House (FOA), 1997
Hypostyle
I have a copy of the final court statement clearing Koolhaas of any plagiarism of a student design backed-up on some CD somewhere.


2010.05.12 13:13
Neil Denari vs. Diller Scofido Renfro vs.
In summer 1991, Harvard's Loeb Library purchased a drawings and slides analysis of Le Corbusier's Palais des Congrès à Strasbourg.
3121d-3122o
3122q*
*uncanny
2009.12.26 20:17
Soliciting Course Proposals over email
And just so you don't think I being paranoid or flaky, in 1997 I received grant money from the Graham Foundation, and again in 1998.


2009.12.26 20:10
Soliciting Course Proposals over email
I/Quondam already have a cad model of Hurva Synagogue, and indeed there is reason to believe that Kent Larson got the idea to construct computer models [of unexecuted building designs] from me--I had submitted a grant proposal to the Graham Foundation in 1991 involving the building of computer models of unbuilt designs [including Hurva Sysnagogue]. I did not receive the grant, but Kent Larson did receive a grant from the Graham foundation the following year for the same type of proposal [which included building a computer model of Hurva Sysnagogue]. Beyond that, also in 1991, I published slides and drawings of Le Corbusier's Palais des Congres (unbuilt 1964) and offered them for sale to academic architecture libraries. Harvard, U of Oregon, Berkeley and Miami U, Ohio bought the slides, and Harvard also bought the drawings. Is it just coincidence that www . greatbuildings . com began out of U. of Oregon?
2002.08.09
designBandit, (how ironic) design ideas are stolen all the time.


2009.12.17 09:17
Tradition_ Stasis or Dynamic
In terms of single-family housing, don't discount the link between "traditional" and "securing property value". For the most part, a single-family home is an investment asset, and staying traditional is a significant way of securing the asset's value.
For example, non-traditional single-family homes are not particularly easy sells.


2009.12.17 09:41
Diller Scofidio and Renfro blob up the Hirshhorn, yay!
765, it just so happens that exactly 10 years ago I sent an email entitled "Reenactionary Architectures" to Roger Conover, the architecture editor at MIT Press. So, in the spirit of reenactment, here it is again:
To: conover @ mit . edu
Subject: Reenactionary Architectures
Date: Fri, 17 Dec 1999 11:24:48 -0500
Roger Conover:
I am writing to inquire whether a book proposal for Reenactionary Architectures would be of interest to The MIT Press. As a series of individual yet thematically connected essays, Reenactionary Architectures explores the notion of reenactment throughout architectural history while also recognizing the pervasive role of reenactment in architecture today. The central text of Reenactionary Architectures is "Inside the Density of G.B. Piranesi's Ichnographia Campi Martii," a paper I delivered this past November at the Network for Theory, History and Criticism of Architecture's (NeTHCA) INSIDE DENSITY colloquium in Brussels, Belgium that is currently available online at (links no longer active)*. The last section of this paper, 'reenactment architectures', provides a loose outline of what Reenactionary Architectures is about. (Note: the 'reenactment architectures' section comprises four web pages, and a hypelink at the bottom of each page connects to the next page. Additionally, the abstract to "Inside the Density..." is attached as an addendum to this email.)
You may recall that we briefly corresponded via email over two years ago with regard to a proposed book on Piranesi's Campo Marzio. Reenactionary Architectures is now the major (albeit unexpected) thesis to have come from my Campo Marzio work. If you are interested in receiving a full book proposal, please inform me as to the acceptable submission protocol, e.g., would you accept a Microsoft WORD document sent via email, or should all proposal material be sent as hardcopy via regular post?
Thank you for your consideration, and I look forward to hearing from you soon.
Sincerely,
Stephen Lauf
* 1460 1461 1462 1463 (Museumpeace)
I don't recall having heard back from Conover, but I have published extended notes of "reenactionary architectures" within A Quondam Banquet of Virtual Sachlichkeit: Part III (2006), specifically "The Speeches" pages 180-242.
a study in/of degrees of separation
more riff-off than rip-off
nomad
gypsy
circus
Archigram
"kinetic architecture"
now look who's reenacting
OMA Serpentine Pavilion
OMA Prada Pavilion (in Korea)
SD&R Hirshhorn
aside:
FAT is very much a reenactionary architecturism practice.
2009.12.16 12:39
Diller Scofidio and Renfro blob up the Hirshhorn, yay!
LO-FAT-FREE Architecture


2009.12.16 10:16
Ugly Architecture (purposefully so)
Part II of Learning from Las Vegas is entitled "Ugly and Ordinary Architecture, or the Decorated Shed" with a specific essay therein entitled "Heroic and Original, or Ugly and Ordinary".
Regarding the architecture of FAT, the Gooding House* may be a major precedent.
*designed 1977, same year as the publication of The Language of Post-Modern Architecture where the image at the bottom of page 115 offers an interesting coincidence.


2009.12.15 11:54
Diller Scofidio and Renfro blob up the Hirshhorn, yay!
I can see it now...
BALLOON MEETS THE PRICK
behind the scenes