5 October 1778 Monday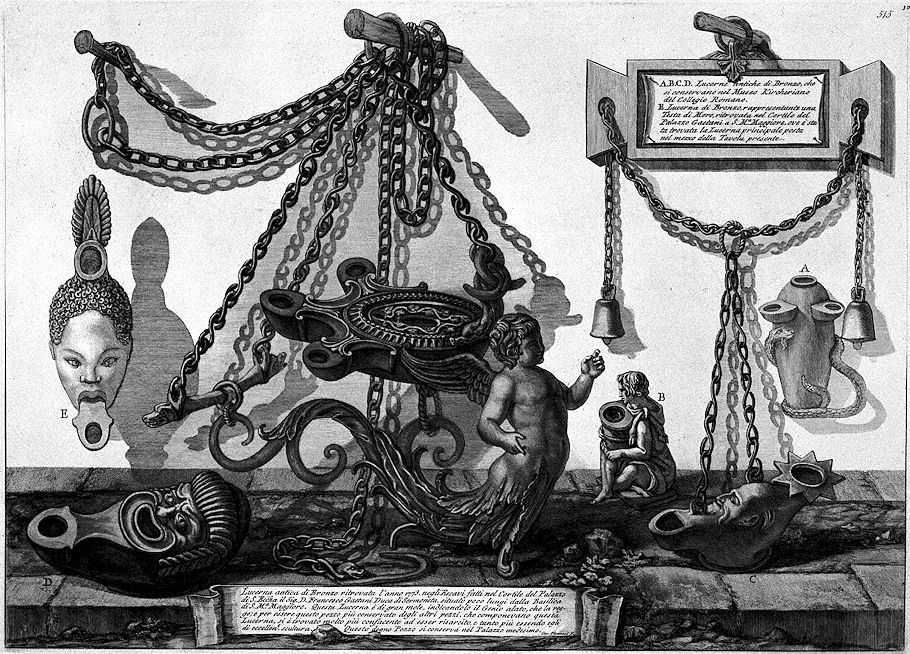 250 large drawings of the Trajan column, finished in black pencil, and a quantity of engravings by Voulet and other famous artists; more, 6 illuminated drawings by Després.




300 drawings of the city of Pompeii, the theater of Hercolanum and the museum of Portici, with plans and descriptions.




Various manuscripts enclosed in a box and forming 200 bundles, works of great erudition by Piranesi, which had cost him fifty years of work and which he had not yet published.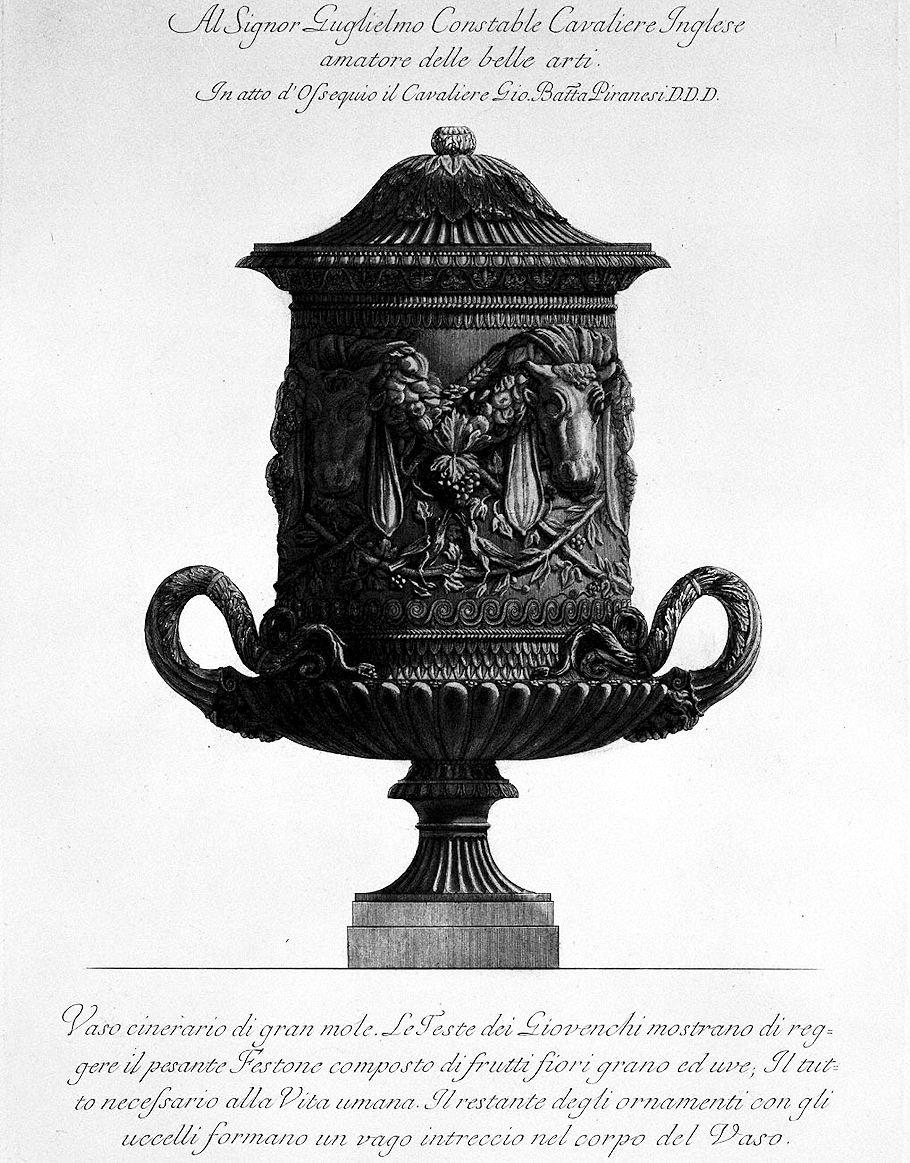 24 volumes of compositions, drawings of antiquities by Piranesi.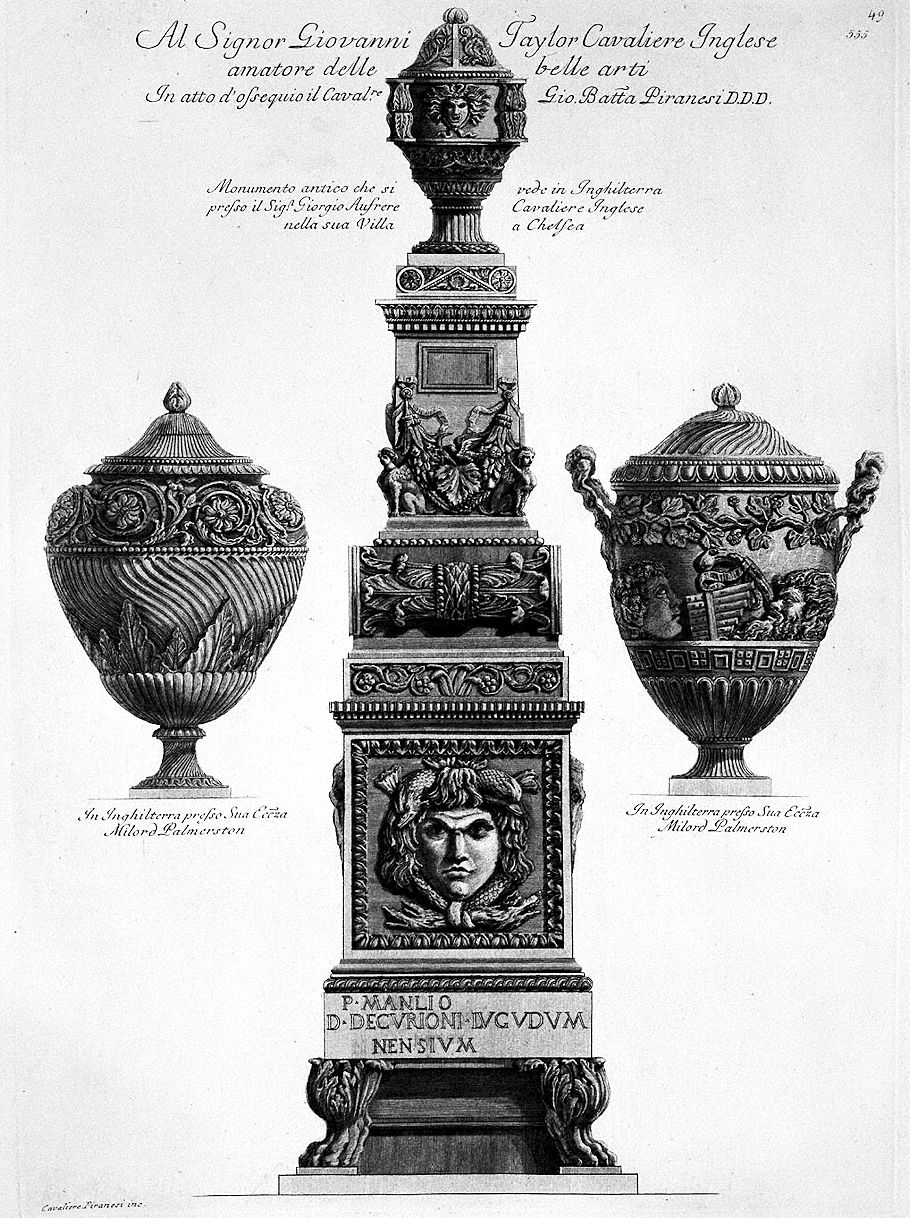 60 drawings of views of Rome, Tivoli and Frascati, and two large drawings by Philippe Ackert, of great merit.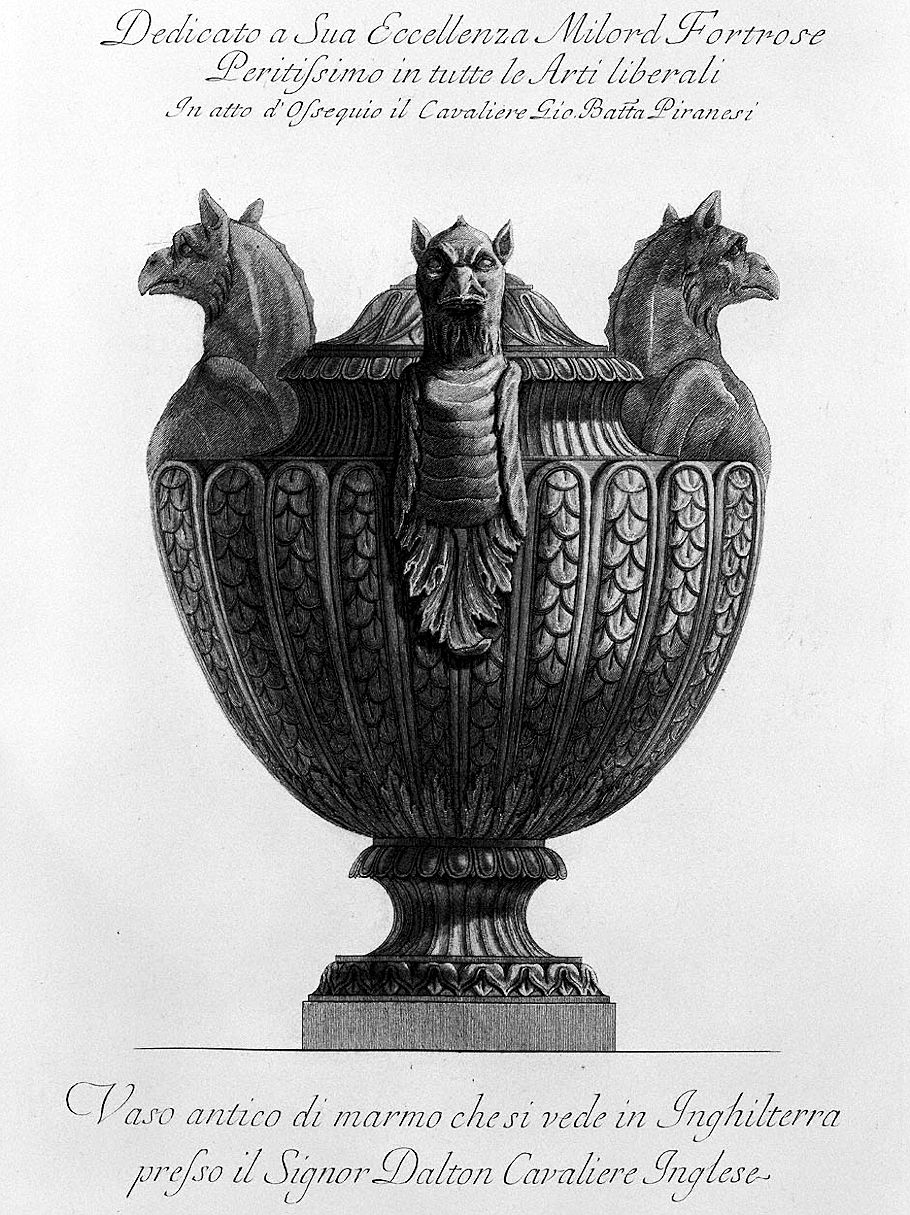 50 drawings of ancient statues of different sizes, by very renowned artists.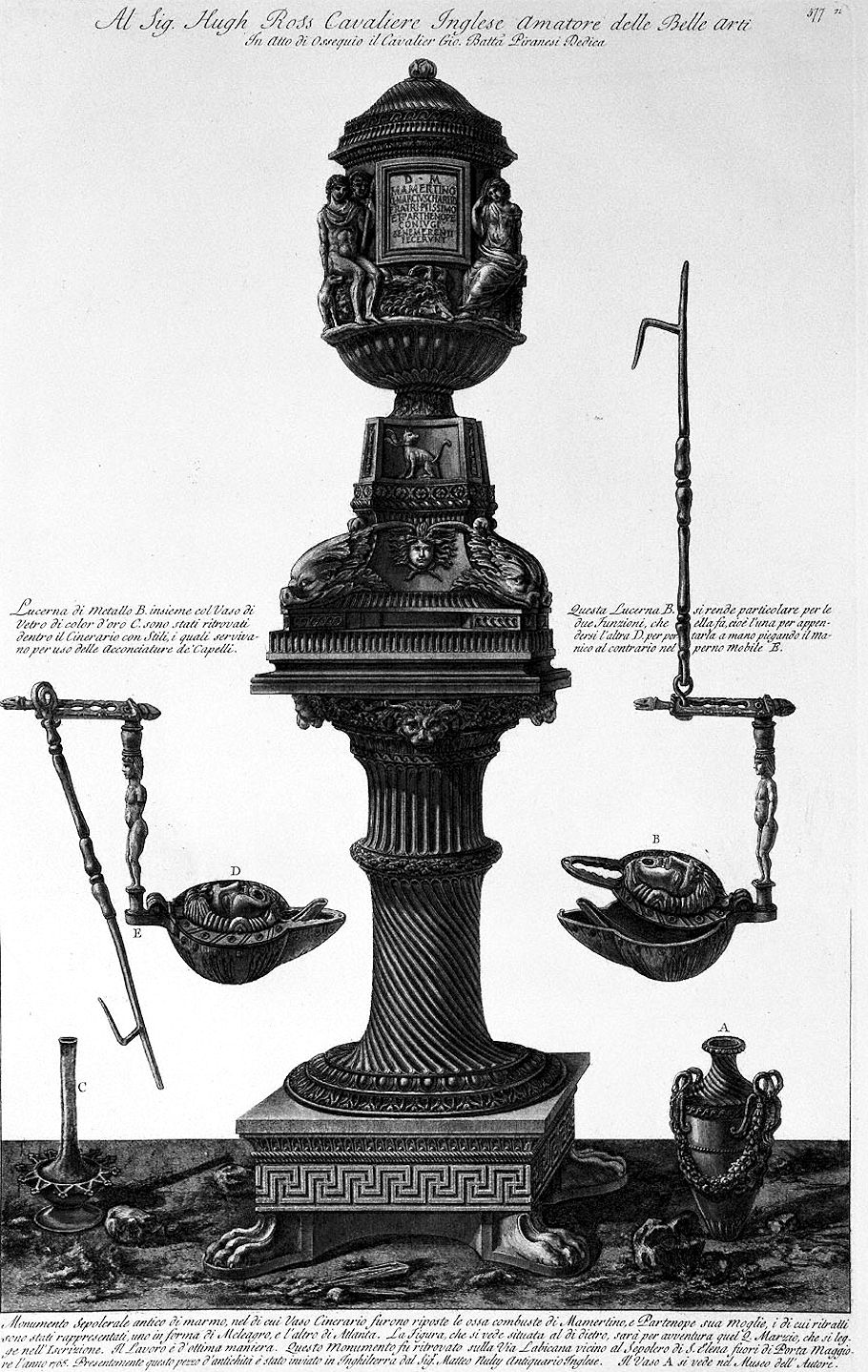 All the correspondence and other papers, for 40 years, which concerned the house and the calcography; a selected library of works interesting science, fine arts and diplomacy.




300 drawings of the excavations made in Rome for 40 years, with their elevations, which were to serve to provide a plan of the ancient city of Rome.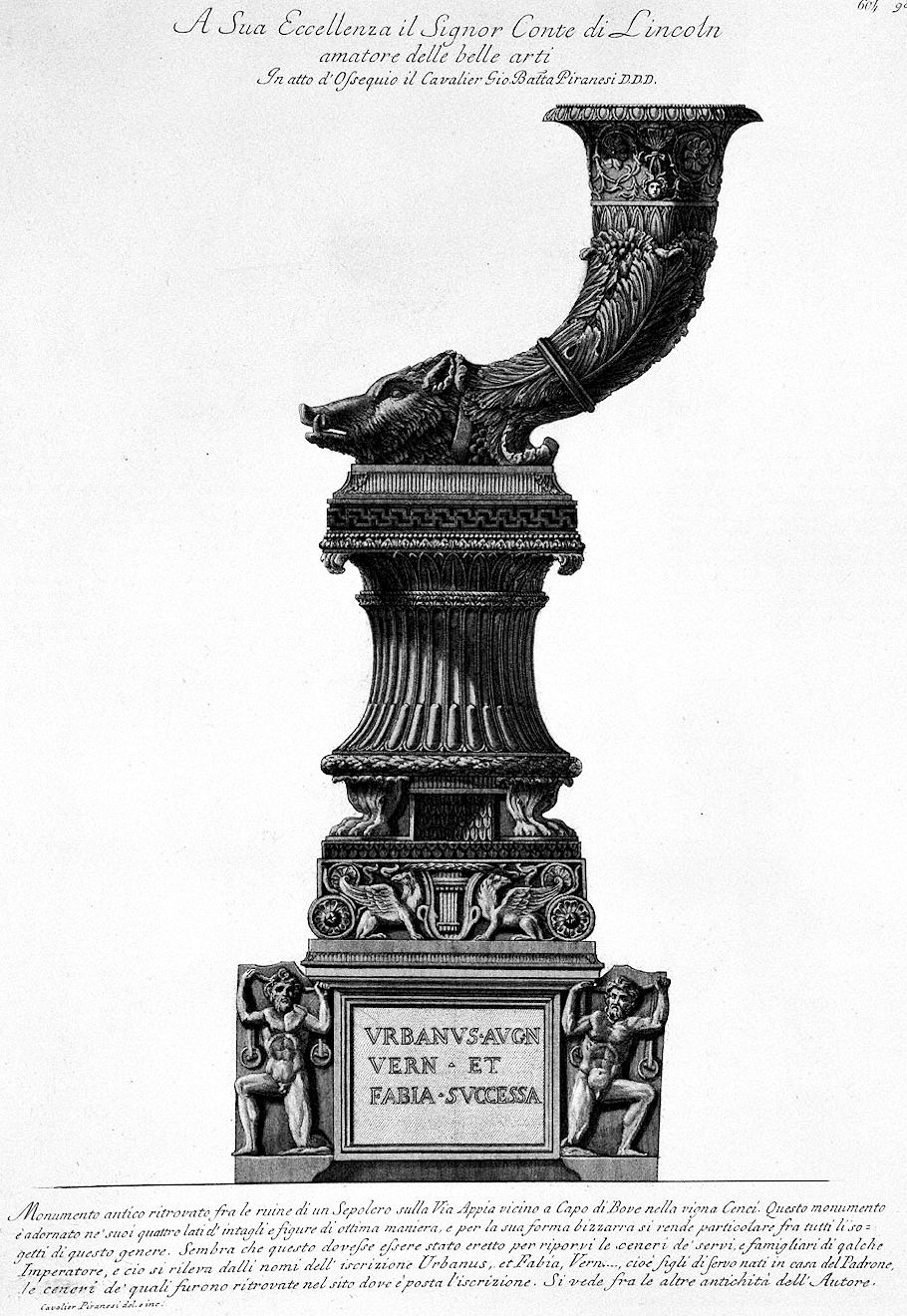 250 drawings of the plans with the elevations of the Villa Adriana, in Tivoli, by Giovanni Battista and Francesco Piranesi; 140 drawings of the plans and elevation of the Circus of Caracalla.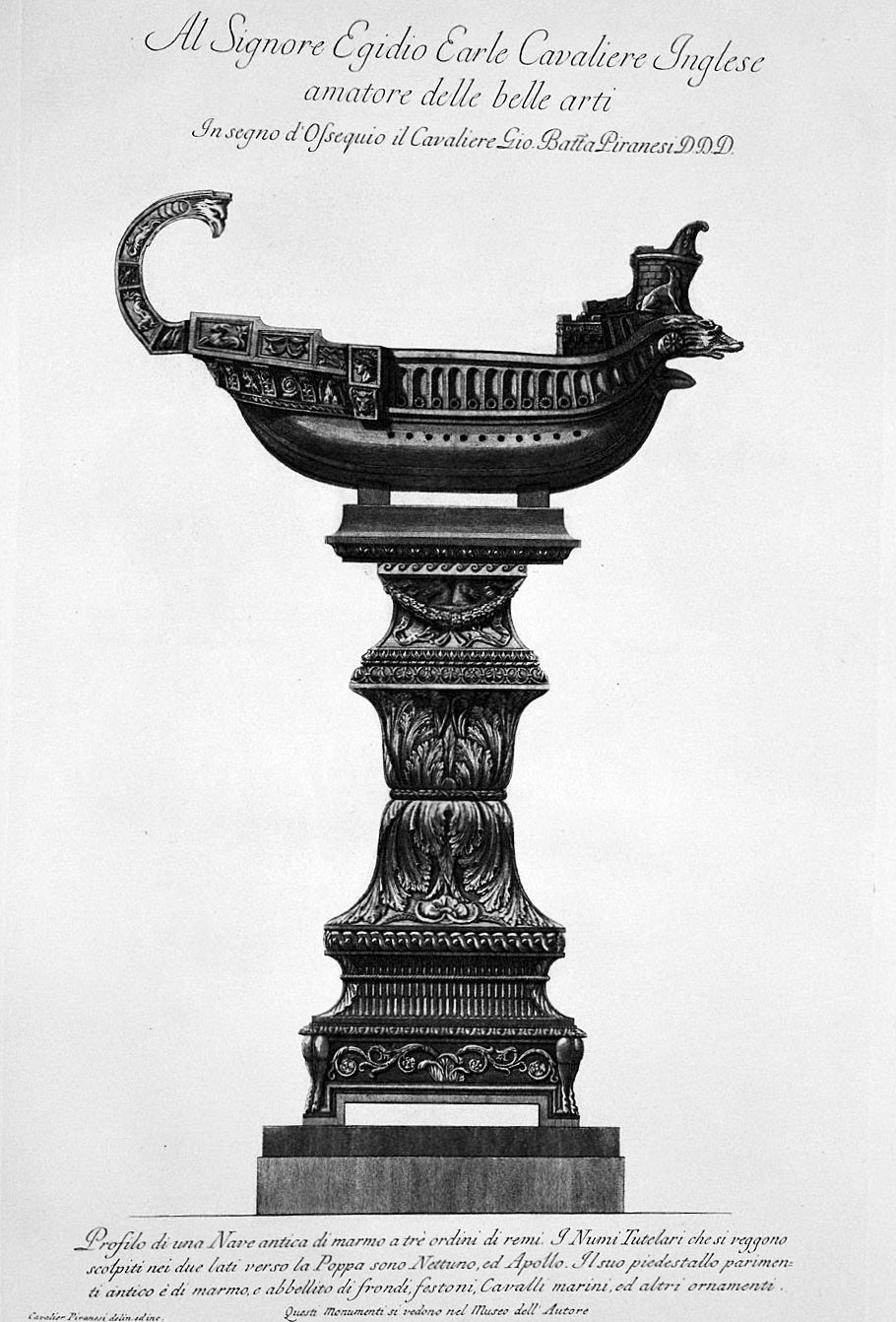 150 drawings of the Baths of Caracalla, Diocletian and Titus, with description; 60 drawings of ancient ships, with description; 12 drawings of Egyptian obelisks; 180 drawings of the most sought-after ornaments by the most famous artists; 25 drawings of Caprarola Castle, with plans and elevations.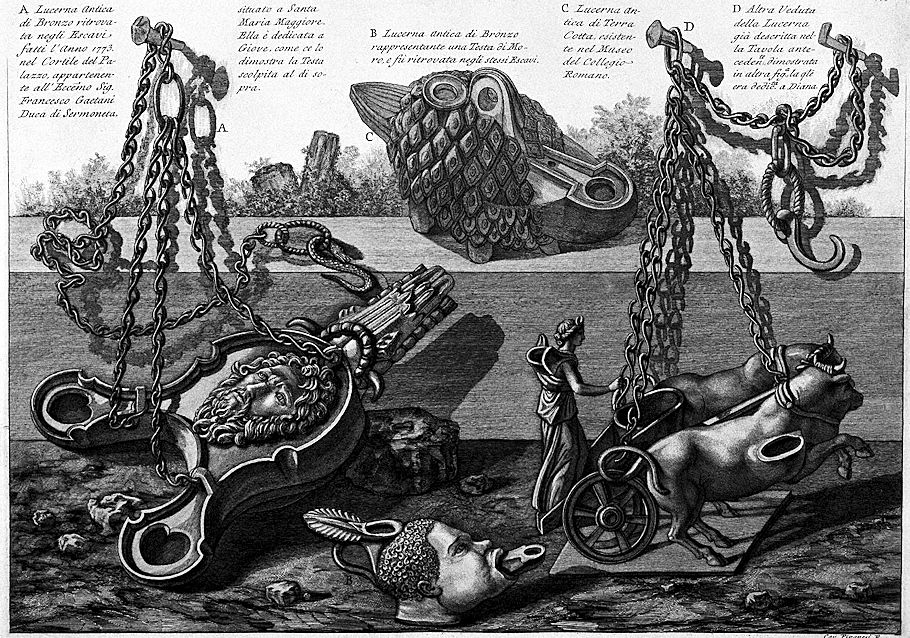 5 October 1803
Even though John James Audubon has been at Ury for over a month now, upon waking up each morning he still immediately goes out to the southeast field beyond the tree line to see what the buffalo are doing. Oh give me a home where the buffalo roam indeed.


5 October 1812 Monday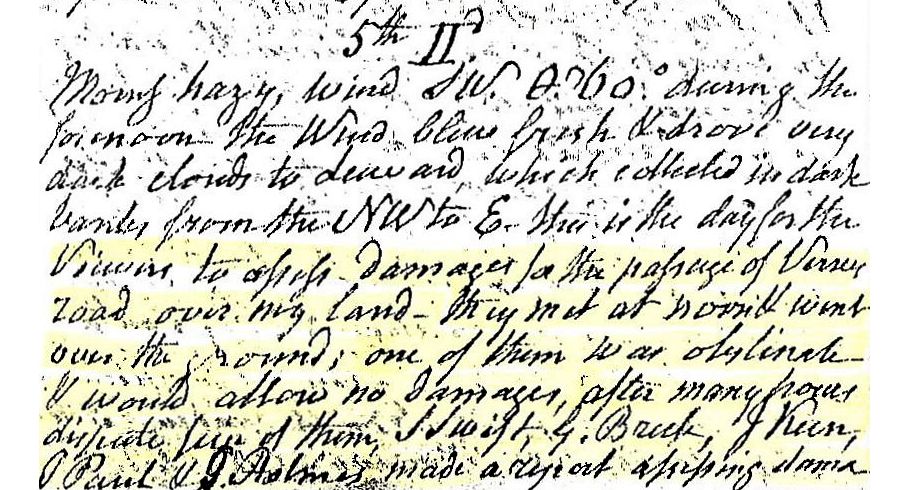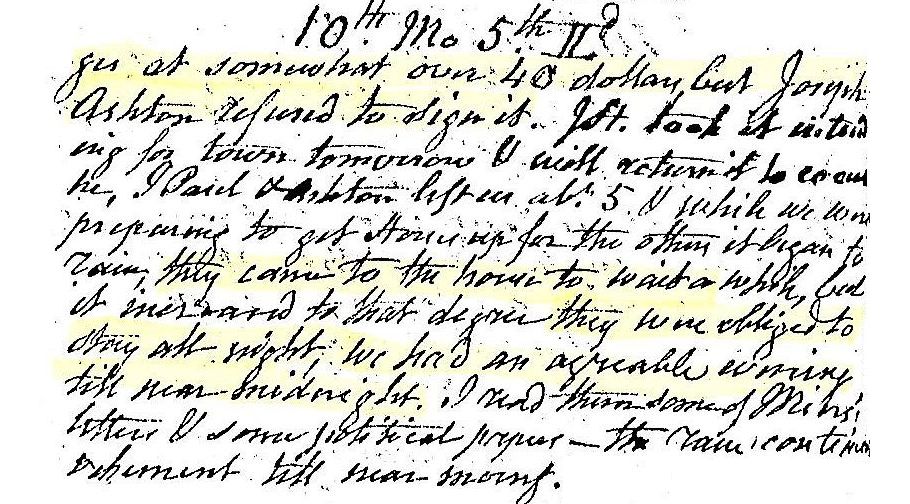 ...viewers to assess damages for the passage of Verree Road... J. Paul and Ashton left us about 5 & while we were preparing to get horses up for the others it began to rain, they came to the house to wait a while, but it in... to that degree they were obliged to stay all night. We had an agreeable evening till near midnight. I read them some of Miers [Jr.]'s letter and some political papers. The rain continued vehement till near morning.


5 October 1999
who's on first?
The following excerpt comes from Johan Huizinga's Homo Ludens - a study of the play element in culture:
"The player who trespasses against the rules or ignores them is a "spoil-sport". The spoil-sport is not the same as the false player, the cheat; for the latter pretends to be playing the game and, on the face of it, still acknowledges the magic circle. It is curious to note how much more lenient society is to the cheat than to the spoil-sport. This is because the spoil-sport shatters the play-world itself. By withdrawing from the game he reveals the relativity and fragility of the play-world in which he had temporarily shut himself with others. He robs play of its illusion -- a pregnant word which means literally "in-play" (from inlusio, illudere or inludere). Therefore he must be cast out, for he threatens the existence of the play-community. . . . In the world of high seriousness, too, the cheat and the hypocrite have always had an easier time of it than the spoil-sport, here called apostates, heretics, innovators, prophets, conscientious objectors, etc. It sometimes happens, however, that the spoil-sports in their turn make a new community with rules of its own. The outlaw, the revolutionary, the cabbalist or member of a secret society, indeed heretics of all kinds are of a highly associative if not sociable disposition, and a certain element of play is prominent in all their doings."


5 October 2000
Hebron (almost 1700 years ago)
Hebron is biblically famous for two sites, the place where an Angel of God first appeared and spoke with Abraham, and the place where Abraham and his family are buried. Both places were then called Marne.
At a later time (c. 324) when Helena Augusta (St. Helena, the mother of Constantine the Great) was building (the first) Christian churches at the sites of the Nativity (where Christ was born) and of the Ascension (where Christ rose into Heaven), Eutropia, Constantine's mother-in-law was restoring the sites at Hebron (which apparently were in complete disregard at that time). These obscure facts are recorded by Eusebius in his Life of Constantine.
The role of Eutropia as a Christian is quite remarkable because her husband, the (co-)emperor Maximian (ruler in the western Empire while Diocletian ruled the eastern empire) was perhaps the most notorious persecutor of Christians in the decades just prior to the rule of Constantine. Moreover, it is strange to consider that Helena and Eutropia may have been acting as a team. Eutropia was not only (second) mother-in-law to Constantine, but also the (second) mother-in-law of Constantine's father, Constantius, who after divorcing Helena married (Eutropia's daughter) Theodora. And finally, Eutropia's Christian mission would seem altogether most unlikely because her husband Maximian and her son, the usurptive emperor Maxentius, both died trying to resist Constantine.
I mention all this because I find it fascinating that after the leading men of the early fourth century Roman empire where busy fighting and killing each other, the leading women of the early fourth century Roman empire were busy building churches and restoring holy sites. Very metabolic.


5 October 2003
Re: the McMansion Effect ((space))
Re: test (poem?) by whomevers
Date: Sat, 17 Apr 1999 07:44:29
[architecture as interface comes with the architecture of schizophrenic interfacing...]
[buildings constantly move, doors can be windows, windows can be doors, stairs to Pilate are climbed annually on knees, walls may soon all talk, floors will mostly remain flat, ceilings with sprinklers are virtual skies that harbor emergency rain, roofs probably more than anything manifest architecture's shape, lights, camera, Africa, machines to create architecture with, furniture and painting as one, utilities that never fail (sic), plants, of course, grass gets high, sidewalk, siderun, sidecrawl, sidesit, sideroll-over, driveway complete with Jeep, garage sale as museum,..]
2003.10.05
..and then there's all the stuff that is now created and stored digitally, which sometimes gets put in digital museums.
Are the large homes and all their contents of today something like subliminal evocations of museums? "A man's home is his castle." And just look at how many actual castles and palaces are now actual museums.
"I want a McMuseum, hypersized."
Take a moment or two to count the 'collections' presently in your home.
[Could Quondam or Museumpeace get in the business of designing and executing museums for anyone that virtually wants one?]
joke from the early 1980s:
A: What comes after museum?
Q: pre-shrine
In terms of my personal aspiration to be both an architect and an artist, it is precisely via museums that my goals are fulfilled. I never imagined I'd then also become a hyper-writer in the process, however.


5 October 2004
critical regionalism
In September 2001, while seeing a display of quartz crystals (each labeled as to its geographic origin) compiled over 100 years ago, I thought it would be cool if the buildings of any global location started to match the formations of the local quartz. It was after seeing Harz Mountain quartz that the idea crystallized.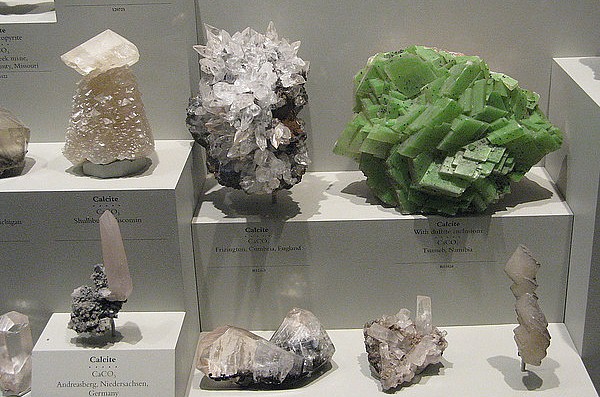 5 October 2008
Mixing Design Elements of Different Style Homes-Your Opinion
There's really nothing stopping you from mixing whatever you want. Unless, of course, you wear your education like a Playtex girdle.
I try to go into eclectic shock/therapy at least once a week. Recently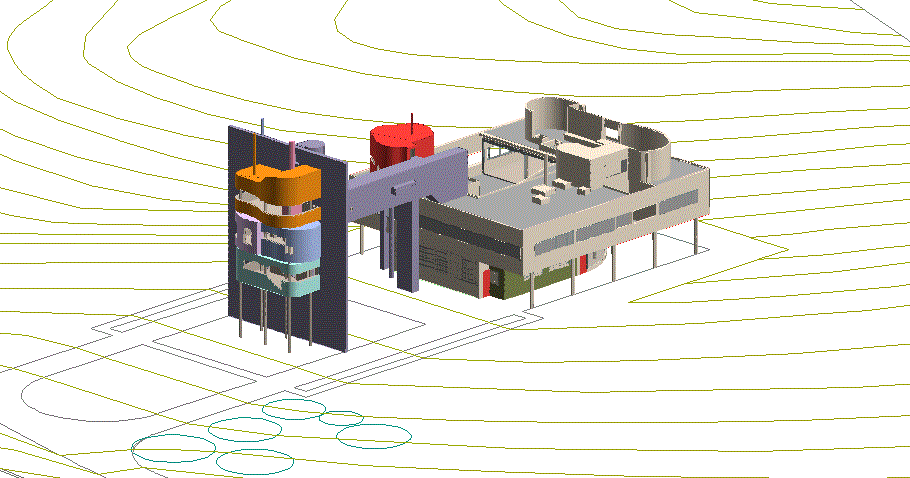 and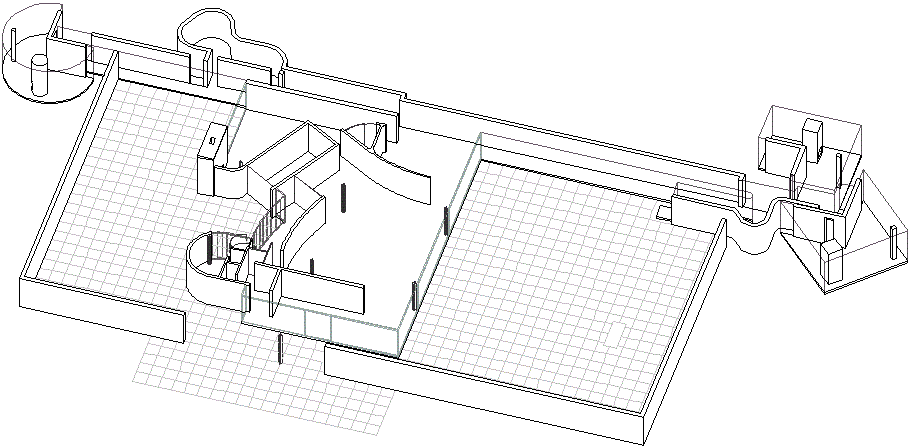 And I've been going into eclectic shock/therapy for 25 years now.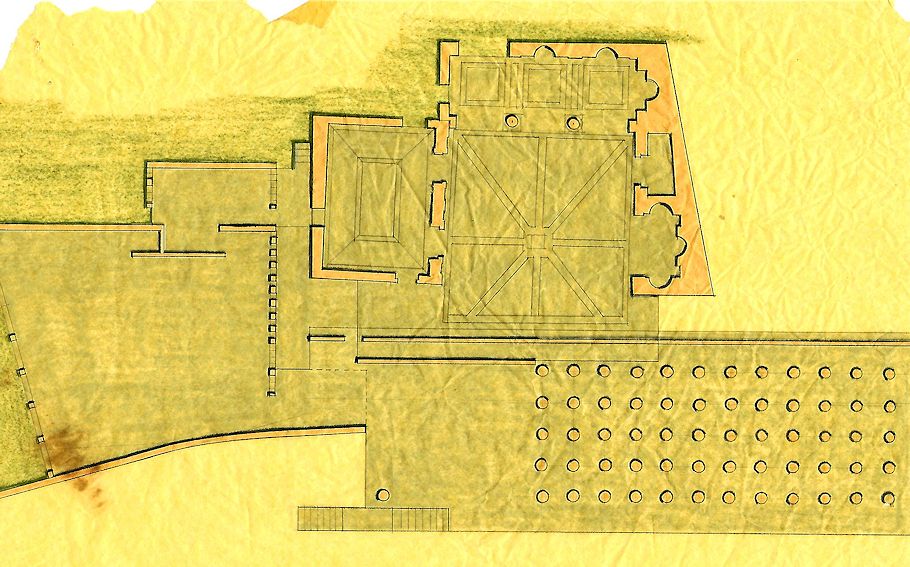 5 October 2018



[virtual] Museum Museum plans


5 October 2019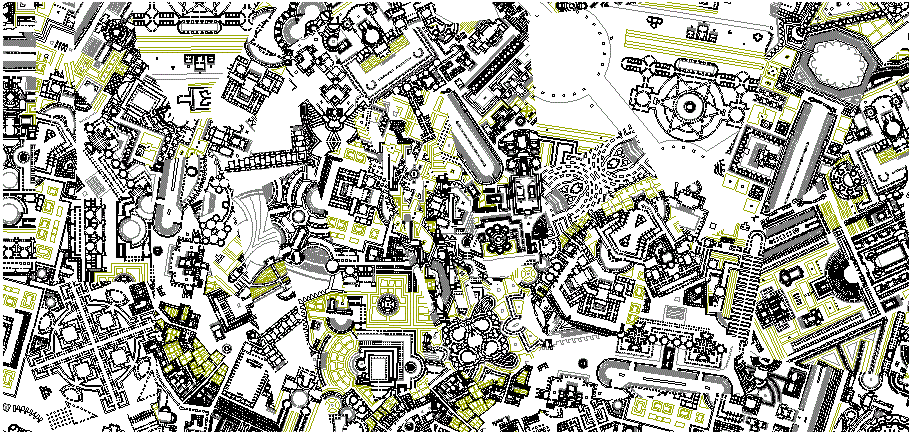 iq27 Cubist ICM plans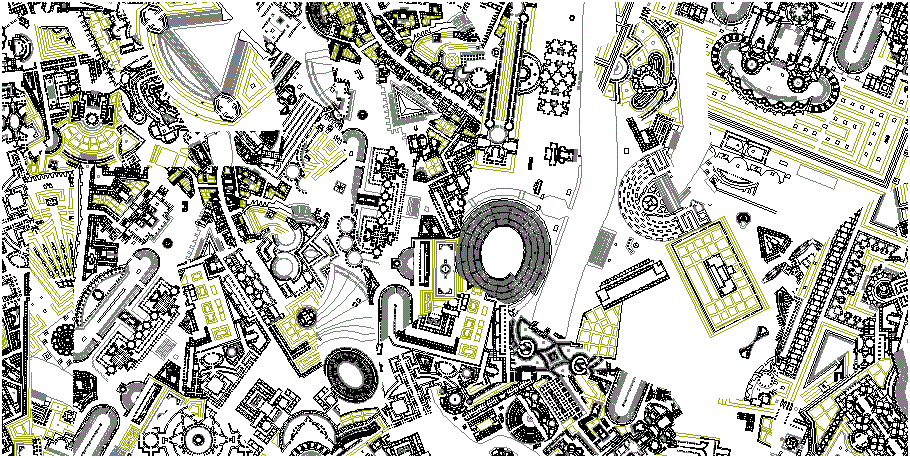 iq30 Cubist ICM plans


5 October 2022 Wednesday
Man arrested after attacking ancient sculptures at Vatican Museums in Italy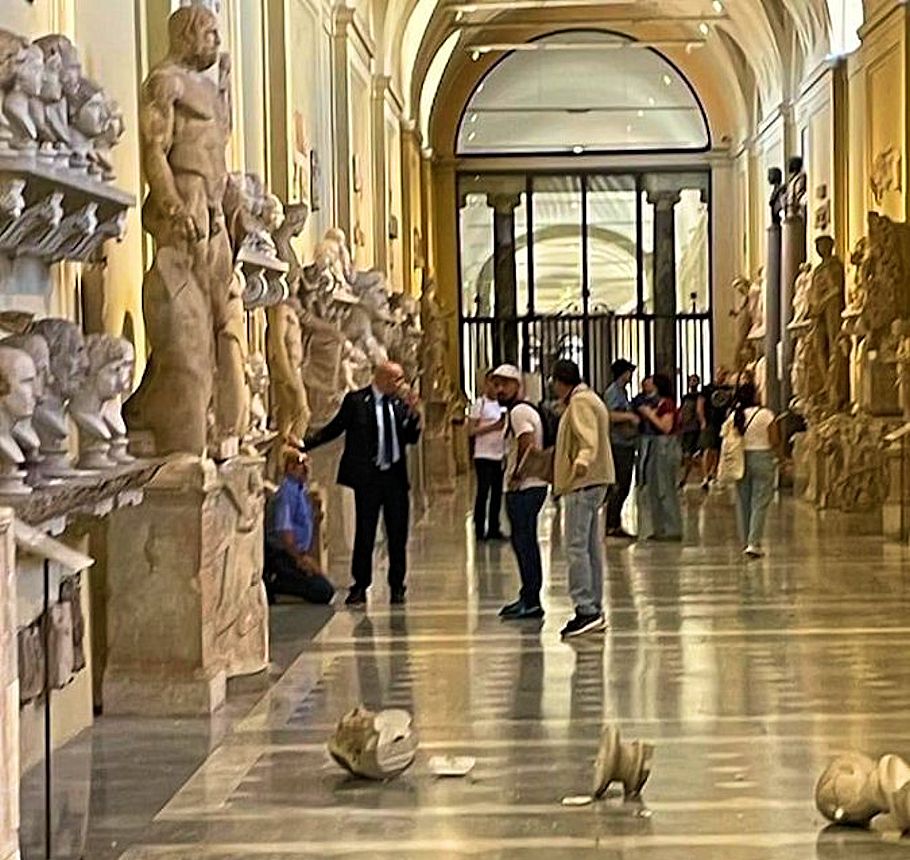 "A 65-year-old man has been arrested after toppling two ancient busts in the Vatican Museums on Wednesday. The artefacts have sustained moderate damage and have been taken to the museum's in-house restoration lab for repair... The man, an American citizen who was born in Egypt, was stopped by the Vatican police in the Chiaramonti Museum—a long corridor lined with statues and busts—shortly after he threw the busts to the ground... The visitor—who has previously been reprimanded in the US for gross indecency—was in Rome on a three-day trip and told officials that he wanted to see the Pope." --James Imam

This reminds me of Laszlo Toth's attack on Michelangelo's Pietà in St. Peter's Basilica 21 May 1972.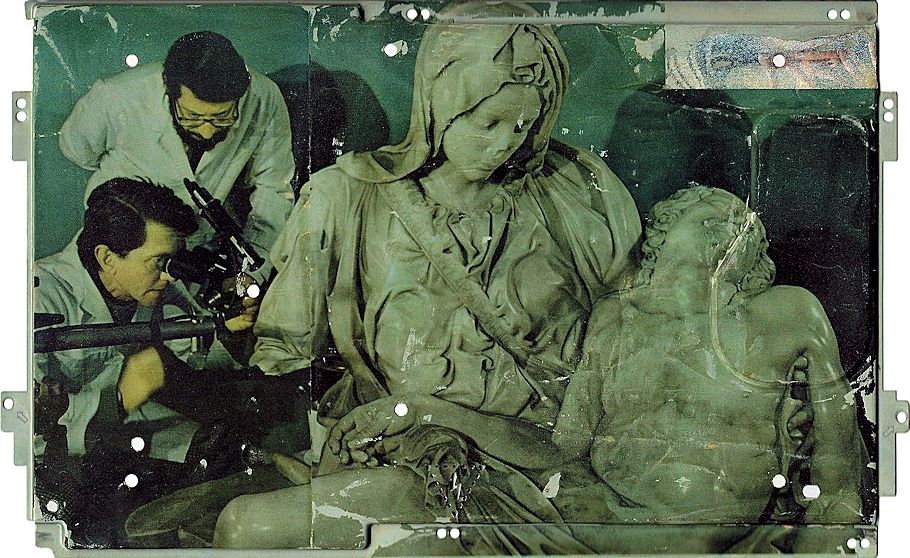 No Doubt the Artist Suffered as Well

"Generally Piranesi avoided dealing in statues or busts, the most competitive end of the trade, although he did, for instance sell Charles Towneley a large head of Hercules from Tivoli. Instead he concentrated on supplying urns, coffers, candelabra and other decorative items which could be freely exported. He ruthlessly cannibalized the decorative fragments which he bought quite cheaply to be made up into elaborate structures, tiered like wedding cakes, or to be cut into panels for his chimney pieces. These were all displayed in the museum which he laid out in some of the rooms of his house; it was an art gallery rather than a museum and most things were for sale. When an inventory was made shortly after his death over a hundred items were listed in his house and garden and a further two-hundred were kept in a warehouse in the Campo Vaccino. A few years after his death the whole collection was bought off Francesco by King Gustavus of Sweden in exchange for an annual pension of 630 zecchini and was shipped to Stockholm in 1783."
Jonathan Scott, Piranesi (London: Academy Editions, 1975), p. 253.