050130a Philadelphia model 2093i14 b


2006.01.30 14:17
Their house is a museum, when people come to see 'em
It only occurred to me recently that a couple of simple lyrics from the theme song of The Addams Family television show (1964-66) may well have subliminally inspired an aspiration I've subsequently held on to the rest of my life. I was eight years old when The Addams Family first aired, and it right away became one of my favorite shows. Aside from the kooky fun of it all--"Tish, you spoke French!"--it was the house that I loved most. It was, no doubt, my first (albeit unwitting) introduction to a cabinet of curiosities, the Wunderkammer.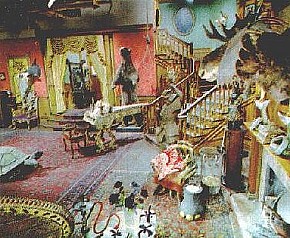 The real and/or virtual house as museum. Fascinating!
2008.01.30 12:17
who wants to poche?
"Strutture e Sequenze di Spazi"
Luigi Moretti
1952-1953
viz.
Guarino Guarini, Progetto per la chiesa di S. Maria della Divina Providenza in Lisbona, rappresentazione volumetrica degli spazi interni.
e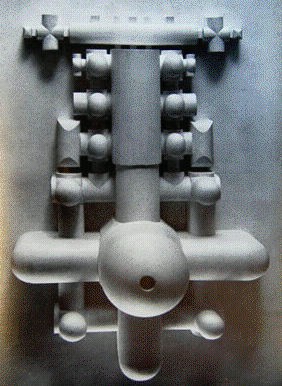 Basilica di S. Pietro in Vaticano.
2009.01.30 10:42
Venturi's Lieb (No. 9) House to be moved (or demolished)
Somol's "My Mother the House" really is a funny piece of architecture criticism. Funny in that it takes itself seriously as criticism while actually being very undercooked satire. Overall, what he accuses Scully's criticism of being, Somol then produces several times over--a magician who's tricks rely mainly on the likes of out-take editing. Very superficial and not surgical at all.
Two errors, one typical and sad, the other just strange. Again the Immaculate Conception was confused for the Incarnation, and Venturi did not "substitute the functionless TV antenna for the Madonna that he originally planned to place atop the Guild House." The Guild House was designed for a Quaker Institution.
What I see in the picture of the young Judy Lieb sitting on the steps with her kids is a bored housewife down the shore for the summer while Mr. Leib remains at work in the city and only comes down for the weekends.


2009.01.30 16:29
Venturi's Lieb (No. 9) House to be moved (or demolished)
My thoughts on Mrs. Lieb are in response to Somol's conjuring conjecture of the female figure replacing the automobile in the canonical depiction of modern architecture. (See what I mean by funny?) Granted, Mrs. Lieb may not have been bored in Loveladies, but it's not an unlikely circumstance. And, if the bordom actually was there, the context was more than a bit bleek, and I wonder if the architecture helped or hurt.
If nothing else, the Lieb House has a whole lot of story to tell, and it looks like more story still to come. I think that's pretty neat for a little box house.


2009.01.30 17:01
Venturi's Lieb (No. 9) House to be moved (or demolished)
Apparently, Vanna Venturi sitting in front of her house is an updated Annunciation painting, and the "Immaculate Conception" [sic] is happening.
I call Somol's criticism superficial because all he really talks about is pictures and not the architecture itself.
10013001 ICM Septa Julia Servian Wall
2110i75
10013002 ICM Campus Agrippa 2110i76


12013001 St. Peter's Basilica horizontal window Gooding House elevations scale comparisons 2236i02


2012.01.30 14:44
Narrative in architecture / landscape?
Ah yes, Rita Novel. What an apt name for such a paramount figure within the contemporary realm of narrative in architecture.
Regarding the Danteum, see how it fits within the overall sequential/narrative formula of the promenade architecturale: 3122z through to 3123l.
And there's Piranesi's Ichnographia Campus Martius--"While representing a reenacted plan of ancient Rome's Field of Mars, Piranesi ingeniously delineates two narratives--that of pagan Rome and that of Christian Rome--and at the same time offers an unprecedented lesson in urban design.
Within the Ichnographia Campus Martius there is the "Pagan - Christian Triumphal Way," which also fits within the sequential/narrative formula of the promenade architecturale noted above, and there is "Eros et Thanatos," starting at 2683 and going through to 2683l.
I'd also consider looking at John Hejduk's Adjusting Foundations--a somewhat more inscrutible narrative, but almost ceaselessly compelling nonetheless. It's a book I've yet to tire of "reading," although I rarely pay any attention to the words.
2013.01.30 11:48
Rem Koolhaas announces "Fundamentals" to be 2014's Venice Biennale theme
I haven't been able to find a list of the participating countries of the 14th architectural Biennale, but, of the 46 participating countries of the 10th architectural Biennale (2006), only 18 countries were not from Europe: Argentina, Armenia, Australia, Brazil, Canada, Chile, Colombia, Egypt, Georgia, Japan, Israel, Republic of South Africa, Republic of Korea, People's Republic of China, Russia, Singapore, United States of America, Uruguay. And half of those non-European countries began their histories as European colonies.


14013001 ancient Rome 002 scan plan IQ 2404i02


15013001 Bldg 9592i GAUA 1100x550 2429i33
15013002 Bldg 9592j GAUA 1100x550 2429i34
15013003 Bldg 9592k GAUA 1100x550 2429i35
15013004 St Pierre Firminy-Vert GAUA 1100x550 2189i09
15013005 Museum of Knowledge GAUA 1100x550 2185i12
15013006 Dominican Motherhouse GAUA 1100x550 2206i28
15013007 Governor's Palace GAUA 1100x550 2177i34
15013008 Parliament of West Pakistan GAUA 1100x550 2205i05
15013009 Palais des Congrès GAUA 1100x550 2198i23
15013010 Wallraf-Richartz Museum GAUA 1100x550 2227i16
15013011 John Wanamaker Store GAUA 1100x550 2137i02
15013012 PSFS Building GAUA 1100x550 2157i01


16013001 PSAoCRI IQ03 IQ09 IQ11 IQ12 IQ13 IQ15 IQ18 IQ19 IQ25 2392i127


16013001 Christian Kerez Cultural Center