1997.02.08
Inspiration XV
...the New Canaan Johnson estate (can be used as a segue in Inspiration VX as) an ideal setting and real museum of architecture. ...leads to (digital/virtual) Museum of Architectural Ideas as a virtual place/museum that is a free experiment in architecture.


1997.02.08
bibliography of Oppositions
...create a bibliography of all the articles in Oppositions and make it available online.


2001.02.08
more subject off the top
Mark:
I just can't imagine. Seems to me, the pile of rubble can't be contained. And how far will it be to the nearest dump? It's seems so impossible to me. So very expensive. More expensive than it cost to design and build. What do you think? Do architects ever think about these things?
John:
My advice, consider city buildings loaded guns, and be extremely careful of the gun owners who get all the backing they need for outlaw behavior from complicit city governments no matter what building, health and environmental laws falsely promise.
Lee:
You might have a reason for S P R A W L.
Gregory:
Many buildings are now beiling built utilizing the technology of post-tensioned concrete slabs. At some point, they are going to outlive their useful life span and they'll have to come down. How do you safely demolish a building which has such enormous internal stresses built into monolithic structure? If you just pop the tendons loose, the building will either explode and/or the cables will shoot off to do massive damage off site.
Brad:
...the one I often wonder about implied that there were TNT charges wired into the roof that could be detonated to some beneficial effect...
Anand:
In case of earthquakes, one designs buildings to resonate in synchronisation with the tremors, and I suppose explosives would come in handy in case of very violent jerks. It is all about controlled explosions which cause damage along predicted lines.
Steve:
Why do I get the feeling that there is something metabolic about all this? Especially in the last case where something destructive is utilized creatively.
2001.02.08
control
Another way of viewing the issue of planning/design via control is to see it as a metabolic activity, meaning, rather than just control being employed, what is really going on is that something is being destroyed in the guise of something being created.
This metabolic 'imagination' (in Western history) appears much earlier than the Renaissance, however. A careful study of the Roman Empire during the 4th century AD reveals a very systematic 'destruction' of Paganism in the guise of 'creating' Christianity. Is it just coincidence that the feast of St. Helena on 18 August is also the date of the Rape of the Sabine Women? Or that the dual feast of St. Constantine and St. Helena (son and mother) on 21 May is also the date of the second Agonalia, one of two feasts in honor of the 'two-faced' god Janus? Or that the first feast of the Agonalia on 9 January is in the Christian calendar likewise the feast of dual martyrs, the 'perpetually chaste' husband and wife Sts. Julian and Basilissa, who although today are doubted to have actually existed nonetheless bear some resemblance to Constantine and Helena and even more so to Christ and Mary? Or that Santa Croce in Gerusalemme, one of Rome's top seven churches and the continuation of the chapel that St. Helena built in her Roman home (the Sessorian Palace) which contains ground/dirt from Calvary which Helena brought back from the Holy Land, was dedicated on 20 March which was Pagan Rome's day of blood?
[It still seems necessary to point out that as of 28 October 312 Christianity was imperially sanctioned within the western half of the Roman Empire. That as of 324, when Constantine became sole ruler of the whole Empire, that then too Christianity was imperially sanctioned throughout the whole Empire. And that in 380, under the rule of the emperor Theodosius, Christianity then became the Roman Empire's official and sole religion, hence at the same time officially ending all Paganism throughout the empire.]
Interestingly, the first 'barbarian' invasion of the city of Rome circa 400 caused the subsequent resurgence of Paganism in Rome since the promised wonders of Christianity did not transpire in Rome, rather their seeming exact opposite. [Also interestingly, those first barbarian attackers were actually Christians!] This new rise of Paganism is what prompted St. Augustine to write The City of God Against the Pagans [yes, this is the same book more commonly known as simply The City of God, although its full title is much more to the point]. So, getting back to modern planning and 'control', perhaps it's all just a reenactment of what a bishop from North Africa published almost 1600 years ago.
2002.02.08 16:47
Cuban's fox(y shock?)
Here's a bit of a shock I want to share. I've read How Architecture Got Its Hump over the last Wednesday to Wednesday week, and in chapter 5, the last chapter, I was shocked to read on page 152:
"Are Gehry and Rauschenburg's binoculars in Los Angeles the upturned result of sculpture freed from a toothpaste image of softness? Just what have these installations got to do with architecture's own program?"
I'm thinking, what a shocking mistake, and what a disgrace for both the author, Roger Connah, and the editor at MIT Press. The binoculars are not Rauschenberg's, and I won't even bother to write the name of the binocular's correct artistic father. Isn't such a printed mistake from the most respected architectural editor of books something to be concerned about? Is it actually true that no one really reads these kind of architecture theory category books that for the most part are just words with very few images?
For a moment there, I was just in the mood to write How Architecture Got Its Lacunae, and every line in the book was going to be a big, fat, fucking mistake! Oh, I'm suddenly so overwhelmed.


2002.02.08
ideas
1. 88 houses of ill-repute; start with the Porticus Neronianae (circle/square); playful appositions.
12. ...refilling North Philadelphia with housing... ...stop the further suburbanization of North Philadelphia. ...introducing non-repetitive plot sizes and shapes, and an initial layer of "infrastructural ruins"--built elements that are meant to last for centuries, and that will accommodate any variety of "add-on" architecture.


2003.02.08 12:16
aesthetics preferences
Paul wrote:
Architects don't generally proceed from philosophical premises, but rather rationalize their aesthetic preferences after the fact.
Steve wonders:
If this is true (and perhaps Paul can verify this himself), then is it because of the way architects are taught?
My own architectural education began in 1970, when, as a freshman in high school, I used to read Fletcher's A History of Architecture on the Comparative Method during free study hall periods. Repeated visits to the decrepit Whitemarsh Hall during the same time added 'hands-on' lessons--Whitemarsh Hall allowed me to better envision the distant Kedleston Hall, my favorite building (plan) back then (as illustrated in Fletcher--English Renaissance rocked, in my opinion). By my senior year in high school (1974) I had read Complexity and Contradiction in Architecture. The summer before going to 'architecture school' (1975), I read The Fountainhead and The Architecture of Humanism, thus my aesthetic preferences were pretty well informed before my 'official' architectural education.
In retrospect, I'd say it isn't so much personal good taste that leads to good design(ing), rather it's a knowledge of (the history of) good taste that leads to good design(ing).
Strange, odd, and even funny how now, more than anything, it has, for me at least, all become virtual.
2006.02.08 15:10
Thesis Semester [blog] 25 years ago
Late Sunday afternoon I used my parallel rule and even a compass. The Admnistration Building at the Academy of the New Church is a reenactment of Kahn's Goldenberg House (which was designed for a site in Rydel, Pennsylvania, further south down Huntington Pike). The plan analysis of the Administration Building is still inconclusive, so now it's back to CAD.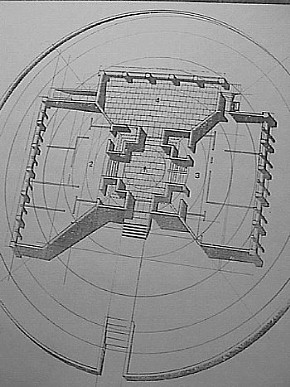 c0213
12020801 Houses Under a Common Roof plans in situ site plan revised elevations 2170i24 a


15020801 Wall House 2 + Maison l'Homme plans elevations 243ai01
15020802 Wall House 2 + Maison l'Homme model 243ai02
15020803 rems inside a box model work/experiment 243di01 b c d e


16020801 Mount Pleasant site plan Acadia National Park Headquarters Building site plan model IQ26 Fairmount Park image atached 2109i02 b c d e
16020802 Mount Pleasant site plan Acadia National Park Headquarters Building IQ26 2200x1100 2109i03


16020801 BIG The Spiral


18020801 Neue Nationalgalerie elevation 2191i01
18020802 Neue Nationalgalerie site plan ground floor plan 2191i02
18020803 Neue Nationalgalerie site plan basement plan 2191i03
18020804 Palace of Versailles Altes Museum IQ43 plans 2092i22
18020805 Whitemarsh Hall Philadelphia Museum of Art Villa Savoye Tugendhat House IQ44 plans 2141i09
18020806 Palace of Versailles Altes Museum Whitemarsh Hall Philadelphia Museum of Art Villa Savoye Tugendhat House plans 2141i10


20020801 iq62 Eutropia Versailles overlay plan 2413i65
20020802 Museum for Nordrhein Westfalen front perspective 2226i43