010213a Electronic Calculation Center Olivetti plan 231ai07


2002.02.13 10:13
a double [post-cinematic] theater?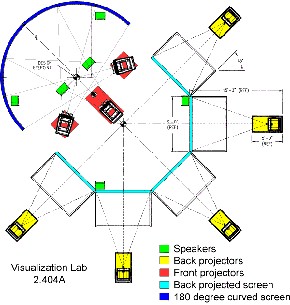 The plan displayed looks like an actual double theater of sorts.


2003.02.13 10:25
mixing things up
I wish museums mixed things up more. For example, I'd like to see Poons in a French period room, or Duchamp in a Ladies Room. Brancusi next to armour, why not? Museum as future-shock, sort of. Pick your destiny
Hold me! Thrill me! Kiss me! You're my pride and joy, etc. Now rearrange me.
2004.02.13 12:44
Re: of castles, fortifications, etc.
Great stuff.
New Jerusalem, Bryn Athyn Cathedral (or Church of the New Jerusalem), Academy of the New Church, Glencairn, Cairnwood--all local (to me) architecture built with Pitcairn (the local 'Rockefellers') money--for a few years now I call it "a little land of reenactment."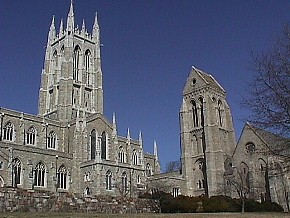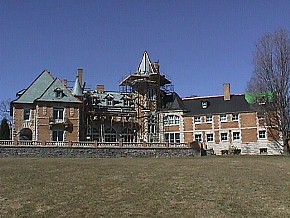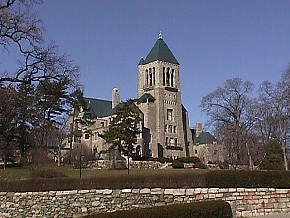 Bryn Athyn is indeed a true Gothic (constructed) Cathedral in that all the stones are held together with gravity alone, perhaps the only true Gothic Cathedral built entirely in the 20th century. Although still large, it is nonetheless somewhat diminutive in that its scale is something like 2/3rds or 3/5ths the average Gothic Cathedral. The overriding symbolism of this Church goes un-noticed by most--nothing in the design is straight, level or exact; column spacing is always slightly off, all walls slightly bow, there is a slight curve of everything, especially to whatever looks straight. Only God is perfect.
The administration building of the Academy of the New Church is a very early Mitchell/Giurgola building, whose design somewhat reenacts the design of Kahn's unexecuted Goldenberg House, which was to be build on a site just couple miles down from Bryn Athyn.
Louis Kahn's unexecuted Domincan Motherhouse of St. Catherine de Ricci is chock full of symbolism--today, 13 February, is the feast of St. Catherine de Ricci. I guess I'll visit Elstowe (for the first time) today, and then maybe go take pictures of the castle at the quondam Beaver College.
The Egyptian walls of hieroglyphics and the Berlin Wall of graffiti.
The metabolic urbanism of contemporary Israel.
The secret symbols of Piranesi's Ichnographia Campus Martius.
It's a real joy to still see cedar trees growing in a place long ago called Cedar Grove.
2006.02.13 14:22
Thread Central
It turns out I was at Metropolis Books 24 June 1988, and I do remember admiring the shelves.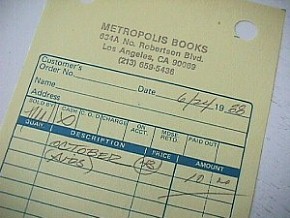 2006.02.13 17:41
Architecture As A Cult
The Horace Trumbauer Architecture Fan Club is definitely a cult, and a very exclusive one at that. There are people literally dying to get in it.


2006.02.13 18:14
Thread Central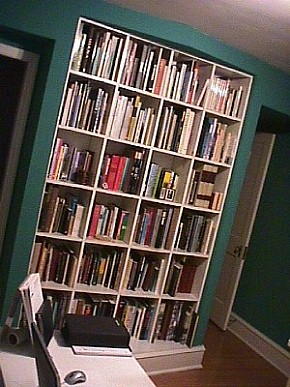 designed and built by myself 1985
door on right original, door on left added, as is everything inbetween
the current highlight...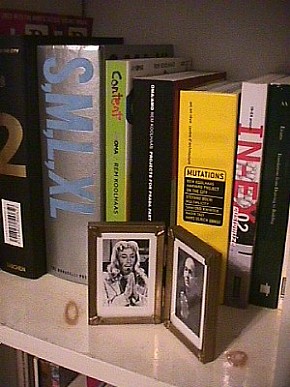 2007.02.13 13:05
Anyone support tearing it down?
I found the perfect replacement!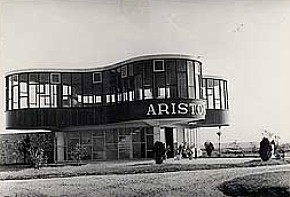 2007.02.13 14:16
Artificial islands from all around the world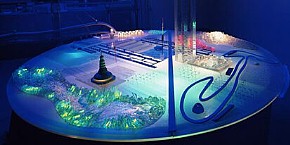 2009.02.13 08:24
pragmatists turning political?
Is any of what you wrote above closely related to "architecture as delivery of content"?
imaginative
scientific
fictive
Are there architectures that perform assimilatingly? metabolically? osmotically? electro-magnetically? ultra-frequently?
per..........form
re..........present
re..........enact
ars ludi


09021301 IQ B.F. Parkway landmarks plans 2392i80
09021302 IQ Acropolis Q Wallraf-Richartz Museum Breslauer Platz plans 2227i06
09021303 IQ St. Peter's Square Palace of Versailles Chandigarh Palais des Congrès ECCO 2091i03 2177i16


10021301 ICM 2110i77
14021301 New Not There City schematic plan in Northeast Philadelphia context Ury Farm 2090i06
14021302 New Not There City Northeast Philadelphia context Benjamin Franklin Parkway Pruitt Igoe Housing Ury Farm plans 217ai07
14021303 New Not There City Northeast Philadelphia context Karastan Ury Farm plans 2413i18
14021304 New Not There City Northeast Philadelphia context Ottopia, Ury Farm plans 2070i24
14021305 New Not There City Northeast Philadelphia context Eutropia Ury Farm plans 206bi15
14021306 New Not There City Northeast Philadelphia context Chandigarh Ury Farm plans 2175i20
14021307 New Not There City Northeast Philadelphia context the Philadelphia School Ury Farm plans 2237i09
14021308 New Not There City Northeast Philadelphia context District Q Ury Farm plans 2244i08a b
14021309 New Not There City Northeast Philadelphia context Campo Rovine Ury Farm plans 2413i19
14021310 Ury Farm in Northeast Philadelphia New Not There City context plans 206bi16 2090i07


15021301 Bldg 9593f @ GAUA 1100x550 2429i40
15021302 Bldg 9593g @ GAUA 1100x550 2429i41
15021303 Bldg 9593h @ GAUA 1100x550 2429i42
15021304 Bldg 9593i @ GAUA 1100x550 2429i43
15021305 Bldg 9593j @ GAUA 1100x550 2429i44
15021306 Bldg 9593k @ GAUA 1100x550 2429i45
15021307 Bldg 9593l @ GAUA 1100x550 2429i46
15021308 Bldg 9593m @ GAUA 1100x550 2429i47
15021309 Bldg 9593n @ GAUA 1100x550 2429i48
15021310 Bldg 9593o @ GAUA 1100x550 2429i49
15021311 Bldg 9593q @ GAUA 1100x550 2429i50
15021312 Bldg 9593r @ GAUA 1100x550 2429i51
15021313 Bldg 9593s @ GAUA 1100x550 2429i52
15021314 Bldg 9593p @ GAUA 1100x550 2429i53
15021315 Bldg 9593t @ GAUA 1100x550 2429i54
15021316 Bldg 9593u @ GAUA 1100x550 2429i55
15021317 Bldg 9593v @ GAUA 1100x550 2429i56


15021301 Serrano + Baquero Arquitectos Museo de la Etnografía


17021301 IQ49 Institute of Contemporary Art Acropolis Q Museum Annex Analogous Building Cut & Paste Museum Circle Squared Museum plans site plans 224ai08 b
17021302 IQ49 Institute of Contemporary Art Acropolis Q Museum Annex Analogous Building Cut & Paste Museum Circle Squared Museum Cubist ICM plans site plans 224ai09


19021301 Philadelphia IQ19 plan model working data 2093i85
19021302 Philadelphia IQ20 plan model working data 2093i86
19021303 Philadelphia IQ22 plan model working data 2093i87
19021304 Philadelphia IQ23 plan model working data 2093i88
19021305 Philadelphia IQ24 plan model working data 2093i89


21021301 lc1955 Maison Curutchet plan elevation 217ni09