2004.03.03 22:25
future of architecture
If you're an architect in 2104, and you're already over ten years old, and at this point you're still not famous, do yourself and the rest of the world a favor and stop designing inferior crap that then only makes the world more inferior.


2005.03.0314:24
Versailles, sigh
or Welcome to Suburbobliviopolis.
2006.03.03 10:18
Iconography, or the problem of representation
more reenactionary architecturism:
UN Studio in Artforum March 2006.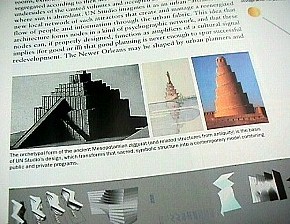 The archetypal form of the ancient Mesopotamian ziggurat (and related structures from antiquity) is the basis for UN Studio's design, which transforms that sacred, symbolic structure into a contemporary model combining public and private programs.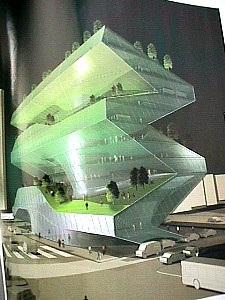 Hail Ziggurat!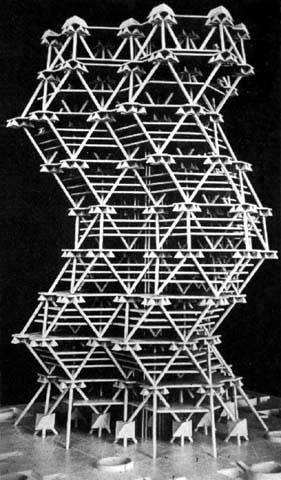 2006.03.03 11:08
Thesis Semester [blog] 25 years ago
I keep on forgetting to mention my project for advertising class. The professor doesn't seem to get it; he called it far-fetched, even. Anyway, for the rest of the semester (and probably beyond) I'll be implementing this subtle/not-so-subtle promotion/ad campaign for an architecture museum that doesn't really exist which is publishing a trilogy of books to mark it's forthcoming tenth anniversary.


2006.03.03 11:27
I want to write about architecture....How?
Ah, the design of a banquet...
A Preprandial Aperitif
Cucumber Slices, Caviar and 'Sociables' Crackers
Spinach and Mushroom Salad
A Glass of Blue Nun Wine
Sketches cum Napkins
A Trip to the Rest Room
Coquille St. Jacques
Pears Helene
The Speeches
Dried Fruit and Nuts
Australian Port and a Cigarette
The Ride Home
Plop Plop Fizz Fizz
I wonder how many others have figured out that the title of QBVS was initially inspired as antidote to Tafuri's "we end up with a kind of typological negation, an "architectural banquet of nausea," a semantic void created by an excess of visual noise."
2006.03.03 11:48
Has anyone read Platform?
I like how the real estate cliche "location, location, location" is expanded in the travel industry to "packaging, packaging, packaging."
Maybe that's the same metaphor/cliche for "star" architecture these days.
"In the future, everything will be an advertisement."
--Rita Novel
"So what then is architecture? Is it a hard, 'simple', 'natural' protective shell that enenders the continuation of life? Or is it a soft formlessness forever redesigning an applied shell it doesn't naturally have?"
--QBVS1, p. 148.
2006.03.03 12:05
God's will as urban planning?
"God's Will as urban planning?" asked the Roman Senators when they heard of Constantine's intention to found Constantinople as Christian Capital of the Roman Empire.
At least Constantine already had good architectural talent in his blood. With a mother like Helena, and even a mother-in-law like Eutropia, he at least knew what he was doing.
Just for fun, look up the city of "Eutropia" in Calvino's Invisible Cities.


2006.03.03 13:05
God's will as urban planning?
Careful on the pre-existing part. Constantine's Constantinople was very much a newly constructed city, founded 324 and dedicated 330. Yes there was Byzantium there first (which it would be interesting to know the history and urban fabric of), but Constantine did build a whole new city over (or beside?) Byzantium.
I'd also do a lot more research before making claims about Constantine's Constantinople being "inclusive/socioeconomically and culturally varied." My own curiosity asks just how much Latin was excluded in the new Greek capital.


2006.03.03 14:31
God's will as urban planning?
I'd guess it's fairly certain that any and all paganism was excluded from Constantine's Constantinople.
It's on record that, coinciding with the time Constantinople was being built, Constantine began outlawing certain pagan sects/cults, especially those where the priesthoods engaged in...


13030301 Burden House plan 217hi01


16030301 Mikveh Israel Synagogue plan site plan 4400x2200 IQ16/20 220ci08
16030302 House 10: Museum plan site pla 2200x1100 Campo Rovine IQ60 2197i16
16030303 Palais des Congrès plan site plan 4400x2200 Pantheon Paradigm IQ15/16 2198i27
16030304 Electronic Calculation Center Olivetti plan site plan 4400x2200 Pantheon Paradigm IQ15 2195i10


17030301 MVRDV Franklin Mitte Mannheim
17030302 OMA Faena Bazaar Miami


17030301 Working Title Museum 005 @ Pantheon Paradigm model work 2379i10
17030302 Villa dall'Ava plans elevations sections wireframes to scale 2276i06
17030303 Villa dall'Ava plans elevations sections model work 2276i07