2012.08.09 13:09
The Philadelphia School, deterritorialized
10 years ago today, etc.

2002.08.09 I revisited Ahavath Israel today, and sadly the facade has been changed, I was told circa 2000. The whole portion of the facade above the recessed entry is no longer brick, but now a salmon colored, textured CMU. This is yet another building to have changed since I last took pictures of it. The curse of Quondam I guess.
It dawned on me last night that both Wright's Beth Sholom and Kahn's Adath Jeshurun are hugely triangular in plan. Wright mailed the preliminary drawings to Rabbi Mortimer Cohen on 15 March 1954. Kahn's design is dated 1954-55. Since Beth Sholom and Adath Jeshurun are (next-door) neighboring congregations, it wouldn't surprise me at all if architectural rivalry between the congregations was going on, and that Kahn even saw the Wright plans before he came up with his design. Has anyone heard of this possible connection before?
I've been doing a lot of Kahn building photographing this week. I've never seen the Trenton Bath House before, and it was wonderful to see it. Today I was at Bryn Mawn College to photograph the Kahn dormitory exterior. The building is in the final stages of a full overhaul/restoration. The place was/is crawling with workmen, so I went in and found my way up to the roof. and what a great Kahnscape that is. Mill Creek Housing Project, Philadelphia is now completely abandoned and boarded up. Richards Medical Buildings, U of P, still looks good, but are hard to photograph because of tight quarters and lots of surrounding vegetation.

2012.08.09 It looks like I went to the furthest destination first and then worked my way back.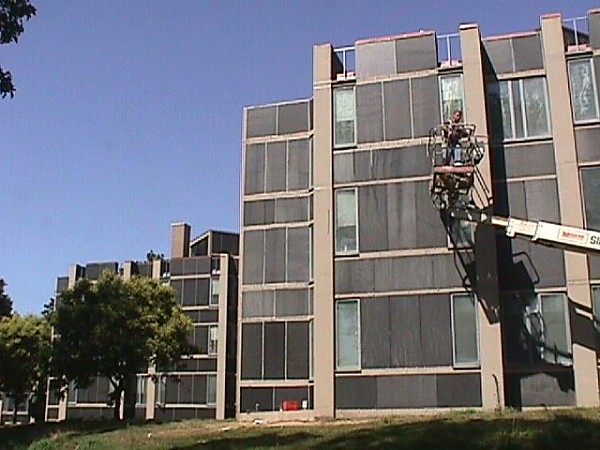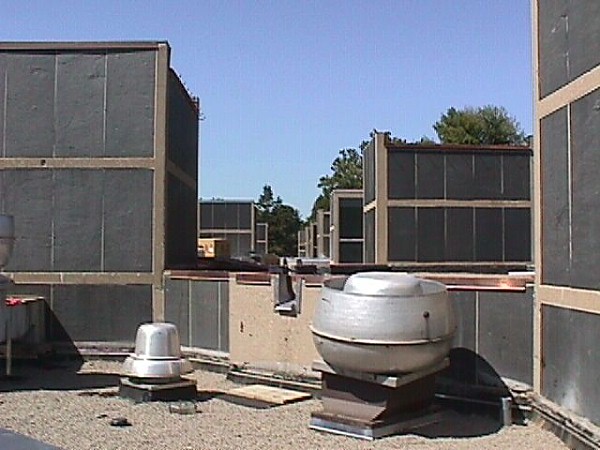 Erdman Hall (Bryn Mawr College, 1960-65). The view across the roof reminds me of that classic shot of the view across the court toward the horizon at Salk Institute.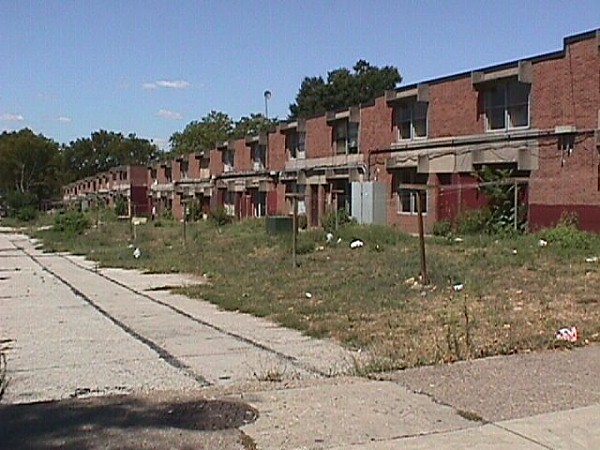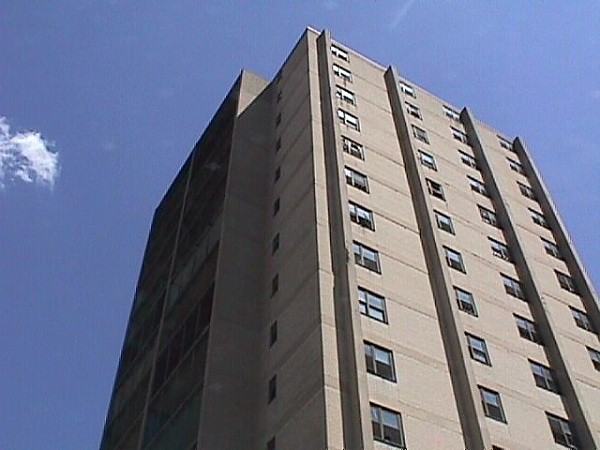 Mill Creek Housing Project (Philadelphia, 1951-56, 1956-63). The high-rise towers were imploded November 24, 2002.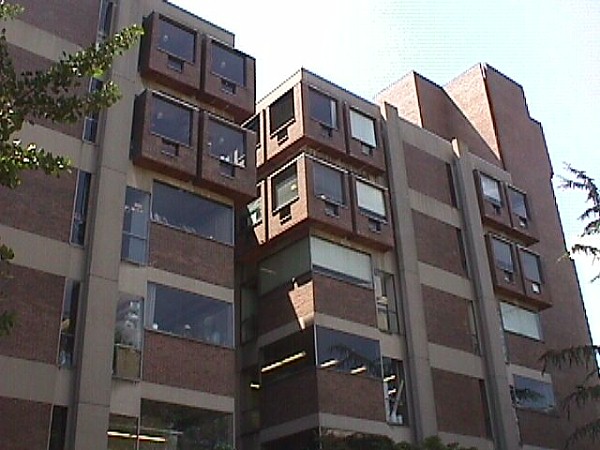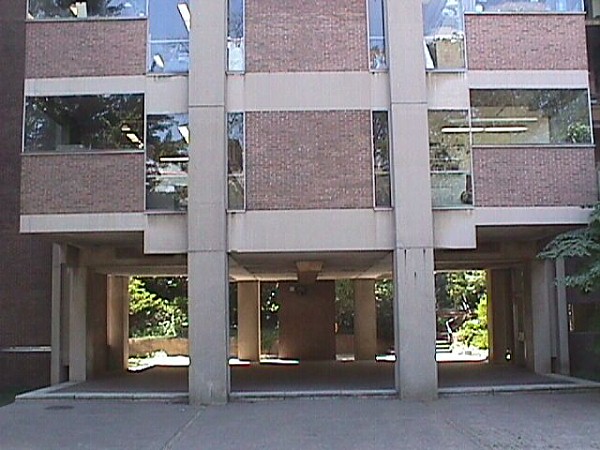 Alfred Newton Richards Medical Research Building and Biology Building (University of Pennsylvania, Philadelphia, 1957-65). Within the little 'jungle' behind the Medical Research buildings is a set of greenhouses, designed by Carles Vallhonrat in 1984. I drew the construction documents for this building, thus it is very likely the second building in Philadelphia designed and documented with the use of CAD.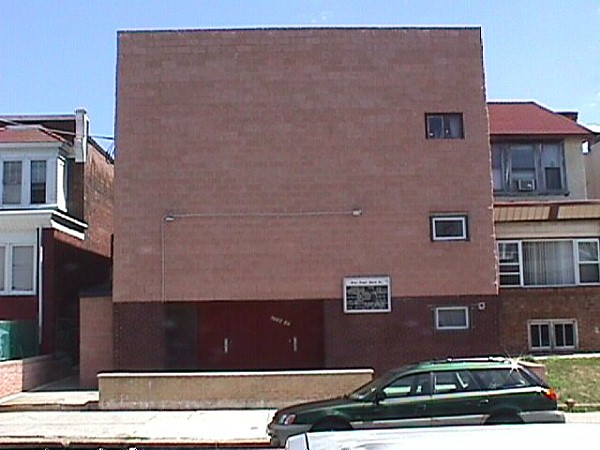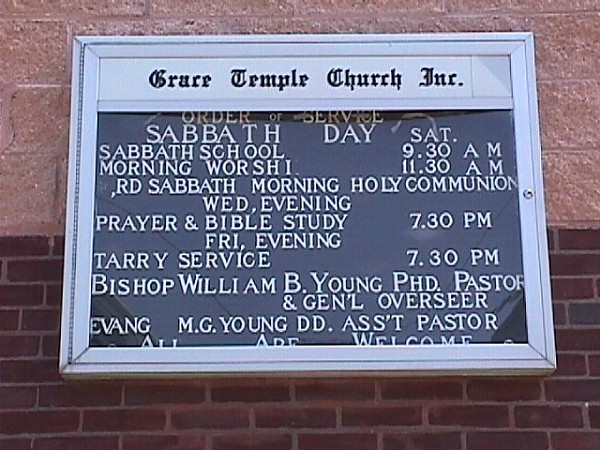 Congregation Ahavath Israel (Philadelphia, 1935-7) is now Grace Temple Church Inc. Talk about having it all!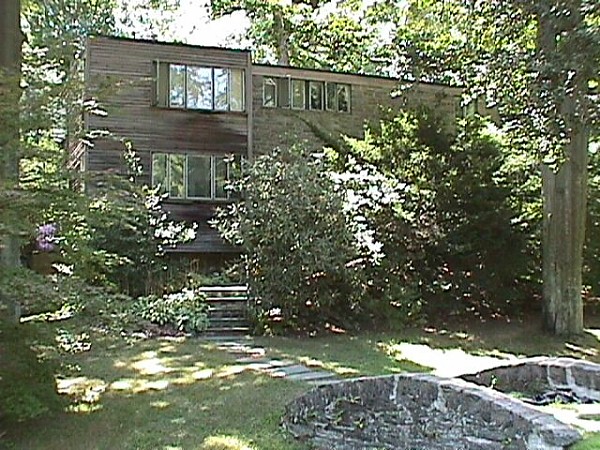 Mr. & Mrs. Jesse Oser House (Elkins Park, 1940-2).
Negative notes
2007.10.12 11:17
In Goldhagen's Louis Kahn's Situated Modernism we read: "In 1951, the [Adath Jeshurun] synagogue's leaders purchased a large polygonal site in Elkins Park, where many of its members were moving. The short end of the lot faced a major thoroughfare, and the remainder sloped back into a more pastoral setting that was bisected diagonally by a small stream (Fig. 4.1)."
And the caption of Fig. 4.1 reads: Sketch of the Elkins Park site for the Adath Jeshurun synagogue, 1954. From the Kahn Collection.
These citings convey misinformation. Kahn's design for Adath Jeshurun was sited on Old York Road within Philadelphia. Kahn's design was never executed, but Adath Jeshurun did ultimately build a new synagogue on a site (within a more pastoral setting) further north up Old York Road in Elkins Park. [This site misinformation is also conveyed within Louis I. Kahn: Complete Works 1935-1974.]
Goldhagen also mentions Wright's Beth Shalom [sic] synagogue. Beth Sholom is about a mile further north up Old York Road from the current Adath Jeshurun and about two miles north of Kahn's site for Adath Jeshurun.
Just coincidentally, Kahn's first independent build work, the quondam Ahavath Israel synagogue, is about a half mile away from the Philadelphia site of Adath Jeshurun. And Kahn's Oser House is practically across the street from the built Adath Jeshurun in Elkins Park. And Trumbauer built three Elkins' mansions for which Elkins Park is named. It's like a little architectural Mecca along an ancient Indian trail.

Back in 2003, in to see in Philly, a quondam thread at archinect/forum, I wrote, "There's more obscure early Kahn in the Philadelphia area, kind of like going on a treasure hunt." Since then, someone has actually gone on that "treasure hunt" and published the findings on flickr.