25 February 395
Meanwhile for the Emperor at Milan the sands were rapidly running out. The anxiety and fatigue of the recent campaign had proved too severe even for his strong constitution. He was taken ill with a dropsy. A spell of exceptionally inclement weather may have aggravated his malady. Earthquake shocks were felt, incessant fogs shrouded the city in gloom, and for weeks together the rain dripped monotonously. Amid this melancholy dusk and dampness Theodosius grew steadily weaker, and, recollecting the prophecy of John of Lycopolis, became convinced that he would not recover. His remaining energy was applied to the business of providing for the future of the Empire. He arranged that Arcadius should rule the Eastern part and Honorius the Western, and nominated Stilicho though not formally by a legal instrument--as guardian of the two inexperienced Augusti. For his sons he dictated an instruction, in which he earnestly admonished them to be zealous for religion; 'for it is by this,' he said, 'that wars are ended, victories are obtained, and peace is secured.' He gave directions for the proclamation of an amnesty to those who had taken arms against him in the recent war, and ordered the recession of a tax which he had promised, but had hitherto neglected, to abolish. By the time that these matters were settled, the Emperor's strength was almost exhausted. The pleasurable excitement of welcoming his younger son on his arrival in Milan produced a temporary rally. Indeed he felt so much better that he gave orders for an exhibition of games in the Hippodrome, and himself watched the morning races from the imperial box. After the dinner-interval, however, he became violently ill, and sent Honorius to represent him at the races in the afternoon. He died in the course of the ensuing night, on the 17th of January, A.D. 395, being then (as seems probable) only in the fiftieth year of his age, and having reigned sixteen years all but two days. Ambrose was with him at the end, and testifies that his last thoughts were for the welfare of the Churches.
It was decided that the corpse should be conveyed to Constantinople, and there interred in the ornate Church of the Apostles. [Here Theodosius was buried on the 8th of November.] First, however, it was embalmed, and for forty days lay in state on a lofty purple-draped couch in the atrium of the palace at Milan. On the fortieth day--Sunday the 25th of February, A.D. 395--a solemn Eucharist was celebrated in the cathedrals and, in the presence of Honorius and the general staff, Ambrose pronounced the funeral oration.
F. Homes Dudden, The Life and Times of St. Ambrose (Oxford: Clarendon Press, 1935), pp. 438-9.
De Obitu Theodosii is composed of 56 paragraphs, and paragraphs 40 through 51 are those that pertain to St. Helena and the finding of the True Cross.
St. Helena in "On the Death of Theodosius"
Now, Theodosius of august memory knows that he reigns, since he is in the kingdom of our Lord Jesus Christ, and contemplates his temple. Now, indeed, he is conscious of his kingship when he receives Gratian and Pulcheria, his sweetest children, whom he had lost here; when his Flacilla, a soul faithful to God, embraces him; when he rejoices that his father has been restored to him; and when he embraces Constantine. Although Constantine was in his last hours when he was freed by the grace of baptism from all sins, yet, since he was the first of the emperors to believe and left after him a heritage of faith to princes, he has found a place of great merit. Of his times the following prophecy. has been fulfilled., 'In that day that which is upon the bridle of the horse shall be holy, to the Lord Almighty.' This was revealed by the' great Helena of holy memory, who was inspired by the Spirit of God.
Blessed was Constantine with such a mother! At her son's command she sought the aid of divine favor in order that he might take part safely even in battles and not fear danger. Noble woman, who found much more to confer upon an emperor than she might receive from an emperor! The mother, solicitous for her son to whom the sovereignty of the Roman world had fallen, hastened to Jerusalem and explored the scene of the Lord's Passion.
It is claimed that she originally was hostess of an inn, and thus became acquainted with the elder Constantine, who afterwards obtained the imperial office. Good hostesses who so diligently searched for the manger of the Lord! Good hostess, who did not ignore that host who cared for the wounds of the man wounded by robbers! Good hostess, who preferred to be considered dung, to gain Christ! For that reason Christ raised her from dung to a kingdom, for it is written that 'He raised up the needy from the earth, and lifted up the poor out of the dunghill.'
Helena, then, came and began to visit the holy places. The Spirit inspired her to search for the wood of the Cross. She drew near to Golgotha and said: 'Behold the place of combat: where is thy victory? I seek the banner of salvation and I do not find it. Shall I,' she said, 'be among kings, and the cross of the Lord lie in the dust? Shall I be covered by golden ornaments, and the triumph of Christ by ruins? Is this still hidden, and is the palm of eternal life, hidden? How can I believe that I have been redeemed if the redemption itself is not seen?'
'I see what you did, O Devil, that the sword by which you were destroyed might be obstructed. But Isaac cleared out the wells stopped up by foreigners, and did not permit the water to lie concealed. So let the ruins be removed that life may appear; let the sword by which the head of the real Goliath was cut off be drawn forth; let the earth be opened that salvation may shine out: Why did you labor to hide the wood, O Devil, except to be vanquished a second time? You were vanquished by Mary, who gave the Conqueror birth. Without any impairment of her virginity, she brought Him forth to conquer you by His crucifixion and to subjugate you by His death. Today, also, you shall be vanquished when a woman discovers your snares. That holy woman bore the Lord; I shall search for His cross. She gave proof that He was born; I shall give proof that He rose from the dead. She caused God to be seen among men; I shall raise from ruins the divine banner which shall be a remedy for our sins.'
And so she opened the ground and cleared away the dust. She found three fork-shaped gibbets thrown together, covered by debris and hidden by the Enemy. But the triumph of Christ could not be wiped out. She hesitated in her uncertainty. She hesitated, as a woman, but the Holy Spirit inspired her to investigate carefully, because two robbers had been crucified with the Lord. Therefore, she sought the middlebeam, but it could have happened that the debris had mixed the crosses one with another and that chance had interchanged them. She went back to the text of the Gospel and found that on the middle gibbet a title had been displayed, 'Jesus of Nazareth, King of the Jews.' Hence, a sequence of sound reasoning was established and the Cross of salvation was revealed by its title. This is what Pilate answered to the Jews who petitioned him: 'What I have written, I have written,' that is: 'I have not written these things to please you, but that future ages may know them. I have not written for you, but for posterity,' saying, as it were: 'Let Helena have something to read whereby she may recognize the cross of the Lord.'
She discovered, then, the title. She adored the King, not the wood, indeed, because this is an error of the Gentiles and a vanity of the wicked. But she adored Him who hung on the tree, whose name was inscribed in the title; Him, I say, who, as a scarabaeus, cried out to His Father to forgive the sins of his persecutors. The woman eagerly hastened to touch the remedy of immortality, but she feared to trample under foot the mystery of salvation. Joyful at heart, yet with anxious step she knew not what she should do. She proceeded, however, to the resting place of Truth. The wood shone and grace flashed forth. And, as before, Christ had visited a woman in Mary, so the Spirit visited a woman in Helena. He taught her what as a woman she did not know, and led her upon a way which no mortal could know.
She sought the nails with which the Lord was crucified, and found them. From one nail she ordered a bridle to be made, from the other she wove a diadem. She turned the one to an ornamental, the other to a devotional, use. Mary was visited to liberate Eve; Helena was visited that emperors might be redeemed. So she sent to her son Constantine a diadem adorned with jewels which were interwoven with the iron of the Cross and enclosed the more precious jewel of divine redemption. She sent the bridle, also. Constantine used both, and transmitted his faith to later kings. And so the beginning of the faith of the emperors is the holy relic which is upon the bridle. From that came the faith whereby persecution ended and devotion to God took its place.
Wisely did Helena act who placed the cross on the head of sovereigns, that the Cross of Christ might be adored among kings. That was not presumption but piety, since honor was given to our holy redemption. Good, therefore, is the nail of the Roman Empire. It rules the whole world and adorns the brow of princes, that they may be preachers who were accustomed to be persecutors. Rightly is the nail on the head, so that where the intelligence is, there may be protection, also. On the head, a crown; in the hands, reins. A crown made from the Cross, that faith might shine forth; reins likewise from the Cross, that authority might govern, and that there might be just rule, not unjust legislation. May the princes also consider that this has been granted to them by Christ's generosity, that in imitation of the Lord it may be said of the Roman emperor: 'Thou hast set on his head a crown of precious stones.'
On that account the Church manifests joy, the Jew blushes. Not only does he blush, but he is tormented also, because he himself is the author of his own confusion. While he insulted Christ, he confessed that He was King; when he called Him king of the Jews, he who did not believe confessed his sacrilege. 'Behold,' they say, 'we have crucified Jesus, that Christians after death may rise again, and, having died, may reign!. We have crucified Him whom kings adore; Him whom we do not adore they do adore! Behold, even the nail is held in honor, and He whom we crucified to death is the remedy of salvation, and by an invisible power torments demons! We thought that we had conquered, but we confess that we ourselves are conquered! Christ has risen again, and princes acknowledge that He has risen. He who is not seen, lives again.' Now we have a greater struggle; now the battle against Him becomes more furious. We have despised Him whom kingdoms attend, whom power serves. How shall we resist kings? Kings are bowed under the iron of His feet! Kings adore Him, and Photinians deny His divinity! Emperors prefer the nail of His Cross to their own diadem, and Arians violate His power!
But I ask: Why was the holy relic upon the bridle if not to curb the insolence of emperors, to check the wantonness of tyrants, who as horses neigh after lust that they may be allowed to commit adultery unpunished? What infamies do we not find in the Neros, the Caligulas, and the rest, for whom there was nothing holy upon the bridle?
What else, then, did Helena accomplish by her desire to guide the reins than to seem to say to all emperors through the Holy Spirit: 'Do not become like the horse and mule,' and with the bridle and bit to restrain the jaws of those who did not realize that they were kings to rule those subject to them? For power easily led them into vice, and like cattle they defiled themselves in promiscuous lust. They knew not God. The Cross of the Lord restrained them and recalled them from their fall into wickedness. It raised their eyes that they might look toward heaven and seek Christ. They threw off the bit of unbelief. They took the bridle of devotion and faith, following Him who said: 'Take my yoke upon you for my yoke is easy and my burden light.' Thereafter, the succeeding emperors were Christians, except Julian alone, who abandoned the Author of his salvation when he gave himself over to philosophic error. After him came Gratian and Theodosius.
Leo P. McCauley, S. J. et al, Funeral Orations by Saint Gregory Nazianzen and Saint Ambrose (New York: Fathers of the Church, Inc., 1953), pp.325-330.


25 February 1778 Wednesday
Vases, Candelabra, Grave Stones, Sarcophagi. Tripods, Lamps and Ancient Ornaments volume I


Ancient vases of marble, excellently carved, are seen in England at Mr. Cavalier Towunley, transported in the year 1768.
To the Ill(ustrissi)mo Mr. Francesco Conte de Bressac, Musketeer of the second company of the King Most Christian, lover of the fine arts
As a sign of respect, Cavariere Gio. Batt(ist)a Piranesi D. D. D.
Cavalier Piranesi F.


25 February 1812 Tuesday



Sun rose thru a haze which soon increased and became clouds. Therm. 17°. Wind NE. Close[?] to E the clouds thickened and indicate snow or rain. Therm. rose to 30°, evening fell to 28°. Before 10 it began to snow.


25 February 2005
Re: [dis]content .1
Funny, when thinking of flaws, I'm also reminded of the 'quest for the flawless' in current popular (mostly American?) culture--the extreme makeover craze, etc. "metabolic slash delivery" indeed!
One flaw in architecture culture I'd like to see fixed is for 'history' to portray late Roman architecture and early Christian architecture within at least the same 'chapter'. The two 'styles' really played an integral role with each other, and that 'history' isn't even addressed, let alone recognized.
Anyway, since it's Breaking The Silence Day, here's to everyone now knowing that Constantine has an older half-sister via his mother. By the time they met Eutropia in Palmyra, Maximian, Helena, Theodora, Constantius and Constantine were already a tight little bunch. Theodora was immediately enthralled with Eutropia, and a wonderful 'step-mother-daughter' relationship blossomed. Ultimately, Helena and Eutropia became the best stealth operators of late antiquity. Even Constantine didn't know until he was over fifty that his step-mother was also his half-sister.
Perhaps it's also worth mentioning that many components of this convoluted blood line were architecture keen.


25 February 2005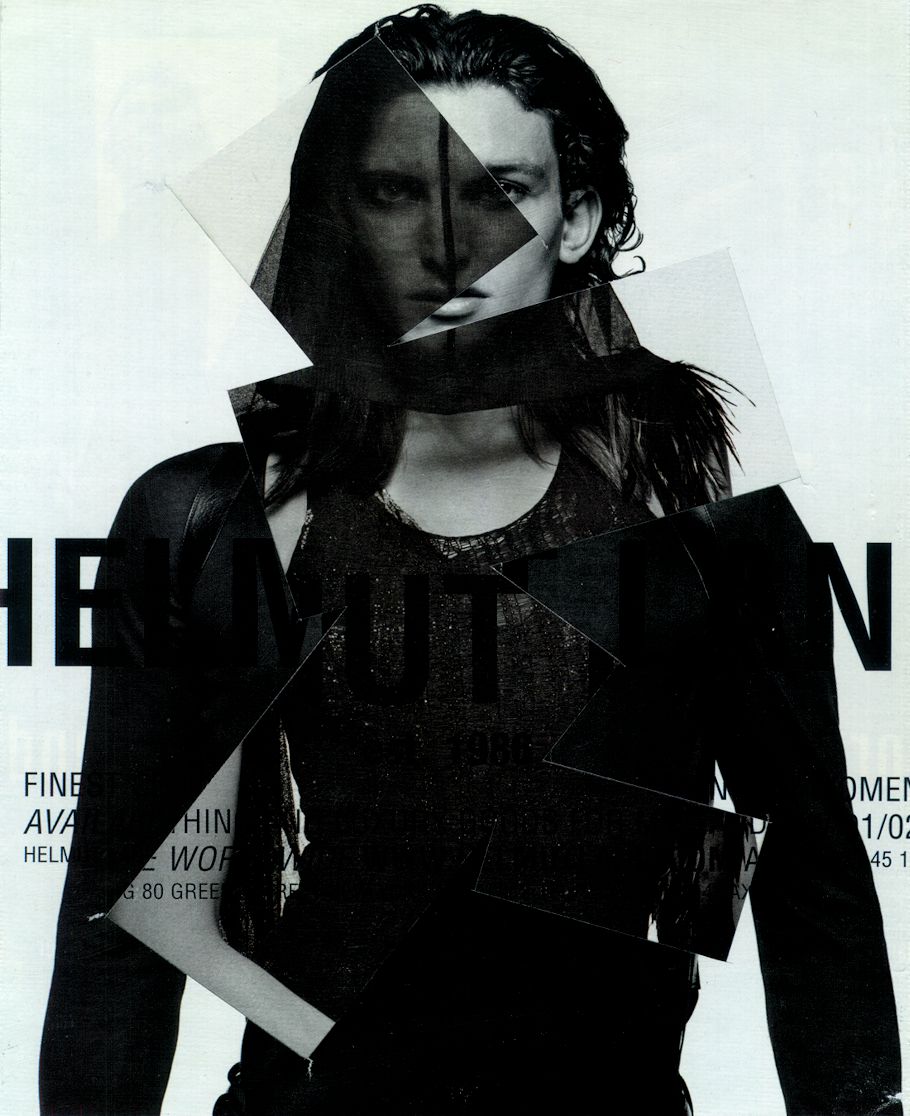 Genetic Engineering 005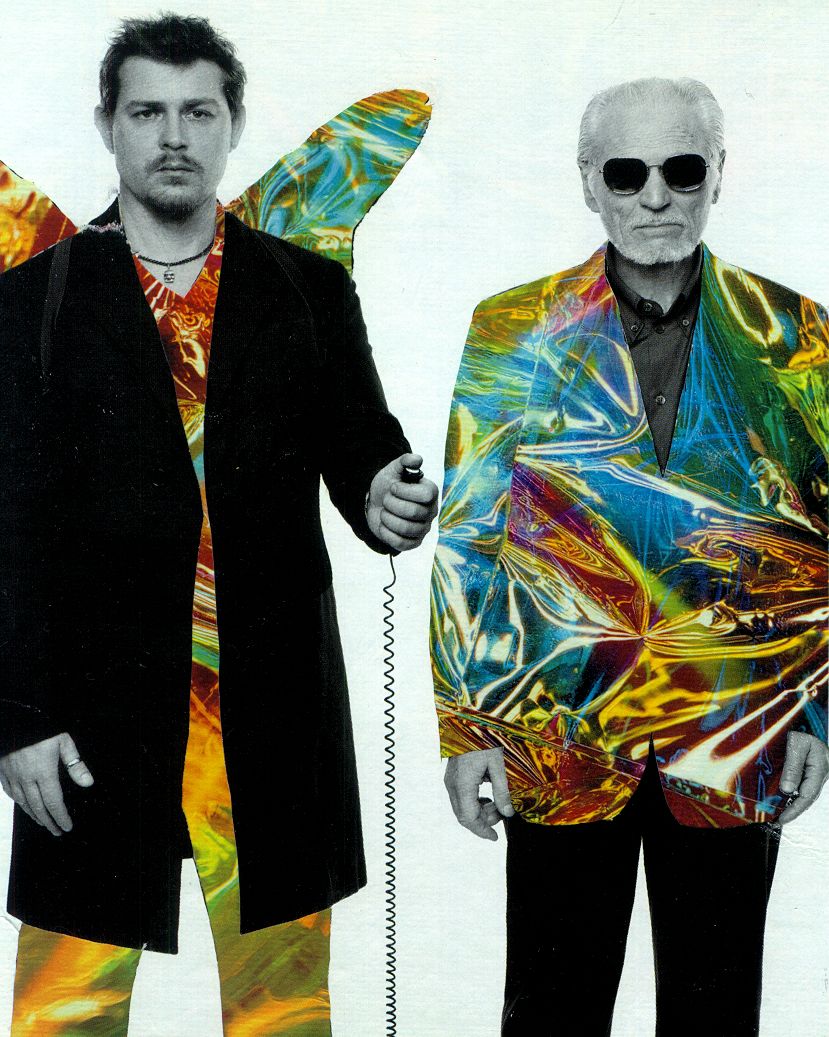 Fashion Statement 008


25 February 2019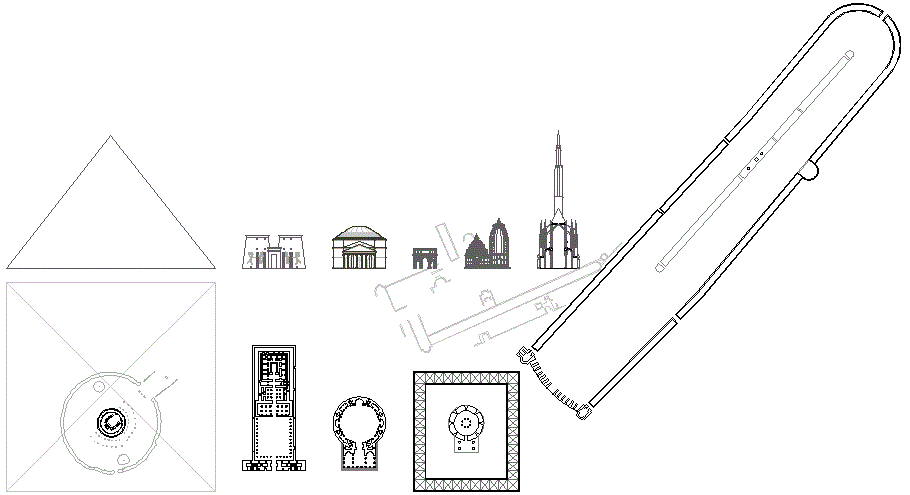 Great Pyramid Stonehenge Temple of Horus Pantheon Circus of Maxentius Tomb of Romulus Arch of Constantine Lingaraja Temple Beauvais Cathedral plans elevations


25 February 2023 Saturday
Raccolta de' tempj antichi Parti I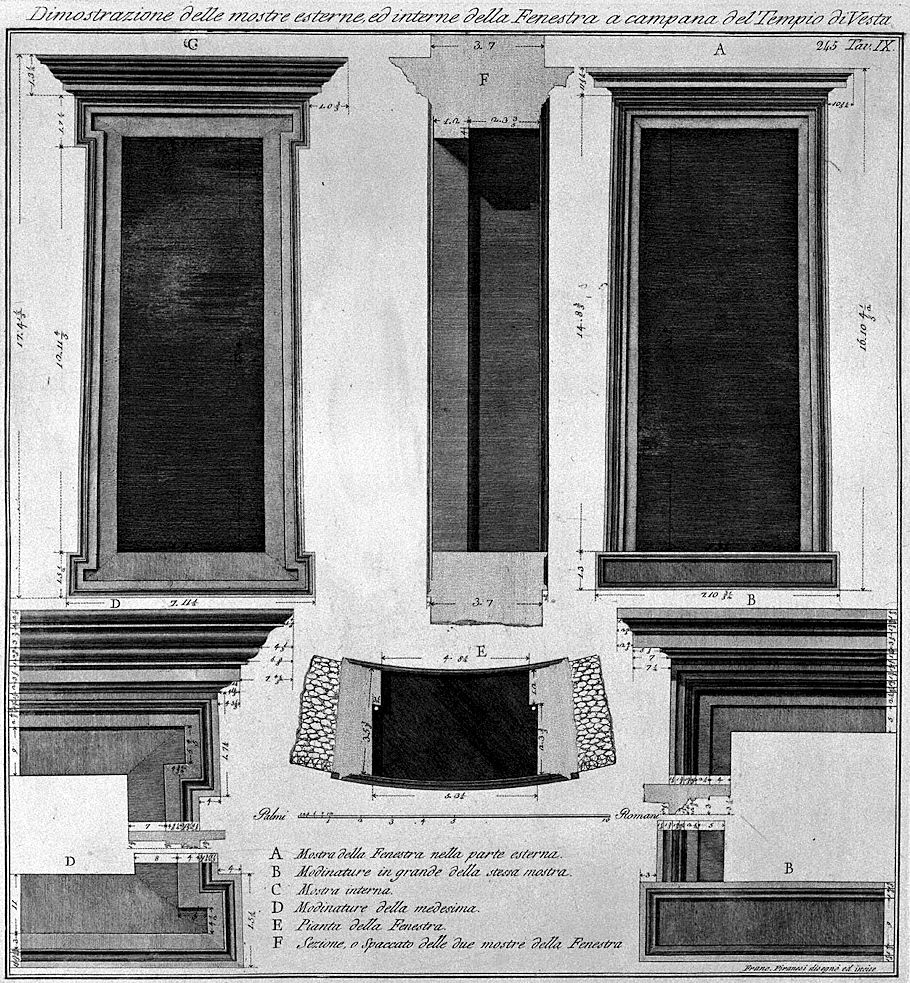 Demonstration of the external and internal views of the bell window of the Temple of Vesta.
A. Exhibition of the window in the external part.
B. Large-scale modinature from the same view.
C. Internal view.
D. Modifications of the same.
E. Plan of the window.
F. Section, or Spaccato of the two views of the window
Franc. Piranesi drew and engraved 1780

I generally start work on a day's page a day in advance, e.g., I started work on the 26 February page today. At present, it's a very consistent daily workload, a good and easy system. Hence, the potential to learn something new is there each day, a fortunate beauty of this "final project" project of mine.

So, it was 18 & 19 February when a work by Francesco really blew mw away.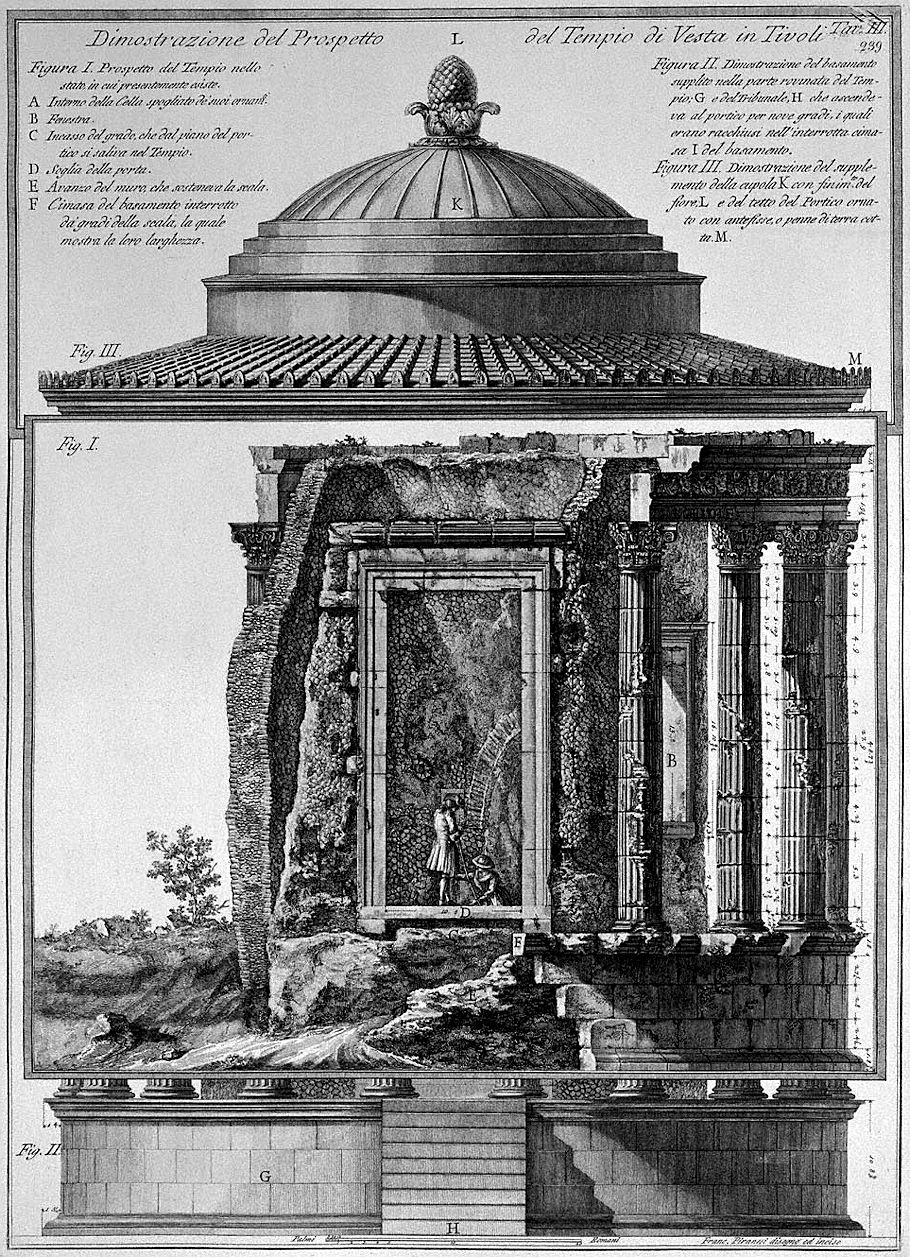 The more I looked at it, the more modern it became. An idealized past superimposed with a present ruined reality paradoxically alludes a future way of seeing.

And then this past Wednesday, I noticed, for the first time, how Piranesi very cleverly utilized the plan of the Amphitheatrum Statilii Tauri and the plan of the Colosseum to reveal the fold-joint of his two urban plans of ancient Rome. Plus, the two amphitheater plans clearly correct some very-recent-past-mistakes.