1 March 293
Establishment of the First Tetrarchy: Augustus Diocletian in Nicomedia; Augustus Maximian in Milan; Caesar Galerius in Thessalonike; Caesar Constantius in Trier.
Around the year 16 BC Emperor Augustus founded the Augusta Treverorum, later to be called Treveris, Treves, or, as Germans say, Trier, as a supply center in the tribal territory of the Treveri. Thanks to its favorable location by the River Mosel, at the intersection of Roman military roads from Gaul to the Rhine, Trier was considered a very rich city as early as 60 years later. It grew in both area and population, and amphitheater, forum, racecourse and thermal springs were all added. The Mosel was crossed by a bridge, and, from 18 AD, the inhabitants of Trier were protected by a 6.8-km city wall with gates and towers. Numerous temples served for worship of the gods. The farms of the vicinity supplied foodstuffs and raw materials for commercial production. Trier and its citizens were characterized by Roman urban culture. This period of full flower was interrupted around 275, when the Teutonic army surmounted the Roman bastions of the Rhine and destroyed Trier. As soon as 293, however, Caesar Constantius Chlorus selected Trier as his residence. After rapid rebuilding, it soon became the administrative and commercial center of an area stretching from the Rhine to the Atlantic and Morocco. Under the rule of Emperor Constantine, magnificent structures such as the palace aula, the second thermal springs and harbor warehouse were built around the year 310. The Christian community, which had been blossoming since the 3rd century, and its bishop, received a huge double church around 326. At an area of 285 hectares, Trier was the largest city north of the Alps. About 400 AD the growing threat from the Teutonics forced residence and administration to move to Arles and Milan, Having been conquered and destroyed several times the Roman city of Trier finally fell into the hands of the Franks around 475; but it survived.


1 March 1778 Sunday
Vases, Candelabra, Grave Stones, Sarcophagi. Tripods, Lamps and Ancient Ornaments volume I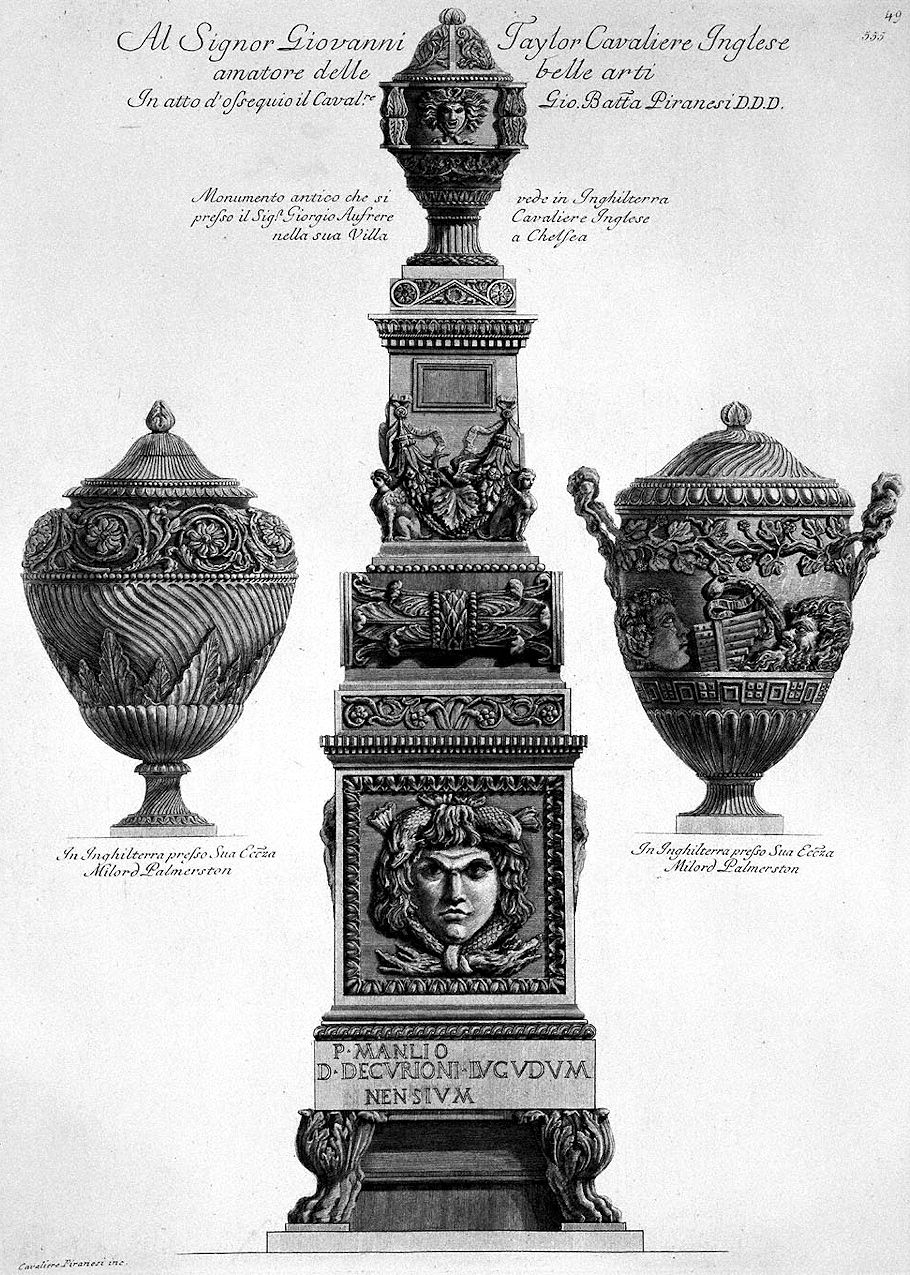 To Mr. John Taylor English Knight lover of the fine arts
In deed of respect the Caval.re Gio. Batt(ist)a Piranesi D. D. D.
Ancient monument seen in England at Mr. George Aufrere English Knight in his Villa in Chelsea
In England at His Exc(ellen)za Milord Palmerston
In England at His Exc(ellen)za Milord Palmerston
Cavalier Piranesi inc.


1 March 1812 Sunday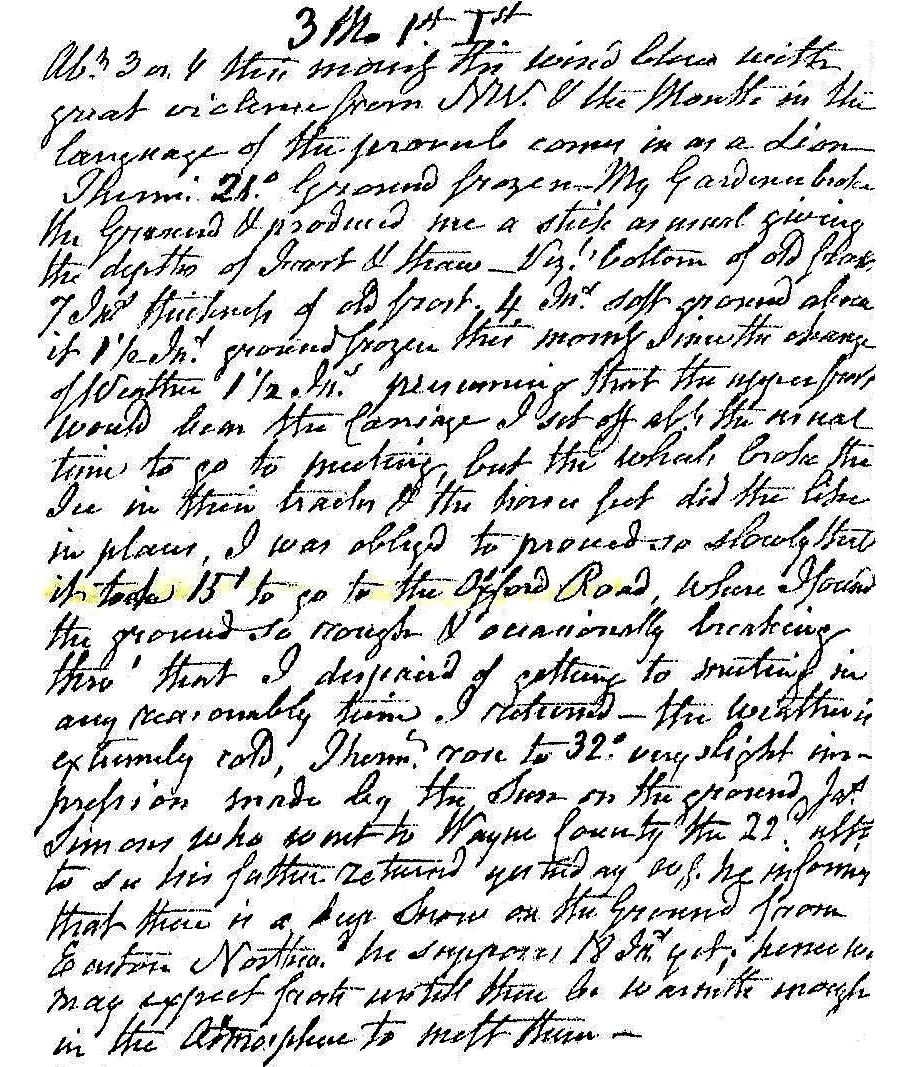 About 3 or 4 this morning the wind blew with great violence from NW, and the month in the language of the proverb comes in like a lion. Therm. 21°, ground frozen. My gardener broke the ground and produced me a stick as usual giving the depths of frost and thaw--viz. bottom of old frost 7 inches, thickness of old frost 4 inches, soft ground above it 1 inch. Ground frozen this morning since the change of weather 1 1/2 inches. Presuming that the upper frost would bear the carriage I set off about the usual time to go to meeting, but the wheels broke the ice in thin tracks and the horses feet did the like in places. I was obliged to proceed so slowly that it took 15 minutes to go to the Oxford Road, where I found the ground so rough and occasionally breaking thru that I despaired of getting to meeting in any reasonable time. I returned.
The weather is extremely cold, Therm. rose to 32°. Very slight impression made by the sun on the ground. Ja. Simons who went to Wayne County the 22nd ..... to see his father returned yesterday evening. He informs that there is a deep snow on the ground from Easton northeastward. He supposes 18 inches yet; hence we may expect frosts until there be warmth enough in the atmosphere to melt thru.


1 March 1982
The complex of buildings...


"The complex of buildings in the center of Rossi's cemetery, however, is not found in the 19th century cemeteries of the Modena/Genoa type. That idea came from another source, Giovanii Battista Piranesi's reconstruction of the Campo Marzio in Rome, as he imagined it stood in late imperial times. In Piranesi's map, a large portion of the right bank of the Tiber is occupied by a group of funerary monuments dominated by the mausoleum of Hadrian, which we now know as Castel Sant'Angelo. Hadrian's tomb sits on a square base near the river. Beyond this square is a U-shaped group of buildings marked Sepulchra. They embrace the bottom of a fan-shaped structure designated by the word clitoporticus. At the apex of the fan sits a round building called Basilica. This Basilica is part of a group of monuments labeled Bustum Hadriani, designating the place where cremation occurs. The correspondence in general layout between the Piranesi and Rossi plans is too close to be accidental. Rossi, who knew this Piranesi work perfectly well (a fragment of it appears in Rossi's drawing The Analogous City, 1976), has lifted Piranesi's vision of an Imperial ancient city of the dead within the context of late-antiquity Rome, and placed it in the middle of a 19th-century cemetery plan."
Eugene J. Johnson, "What Remains of Man--Aldo Rossi's Modena Cemetery" (1982).


1 March 2002
Philadelphia Museum of Art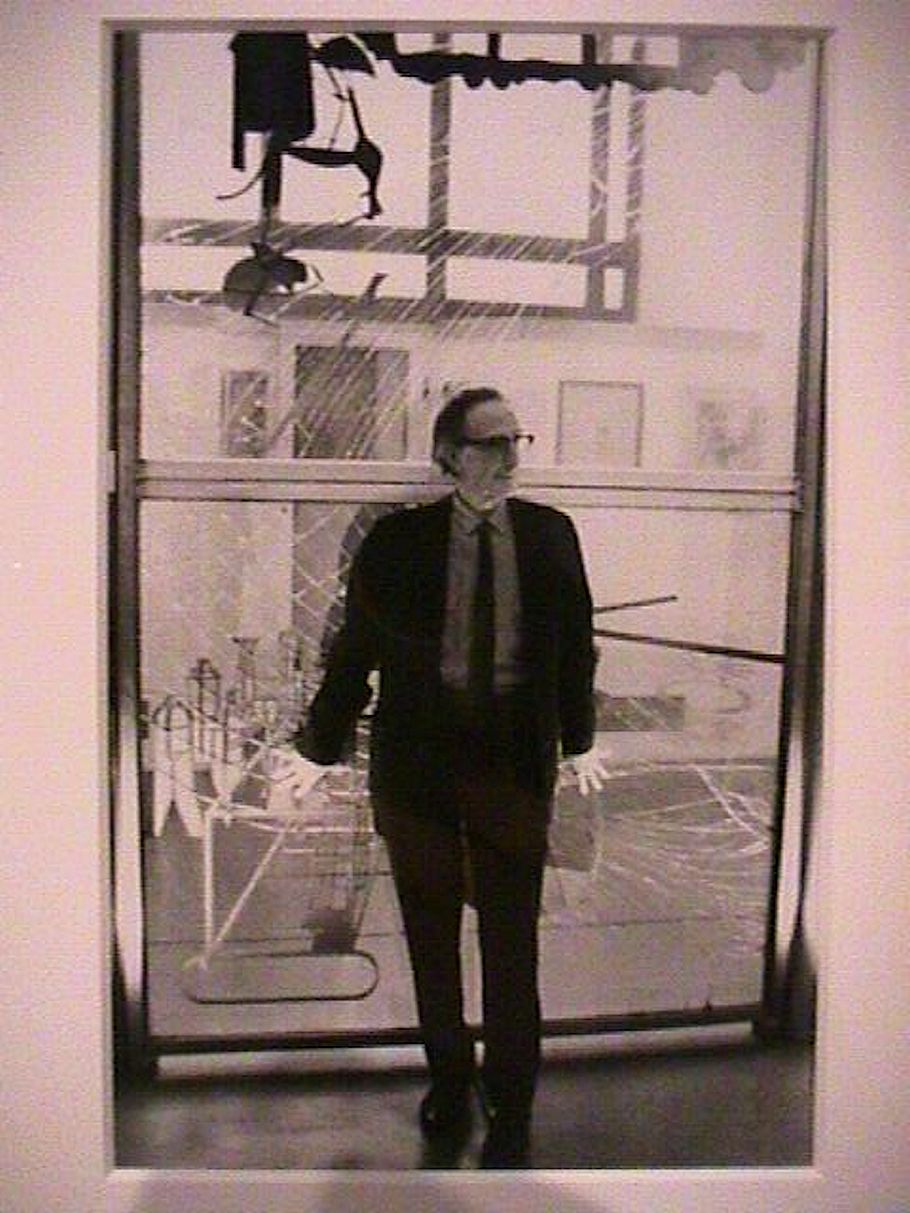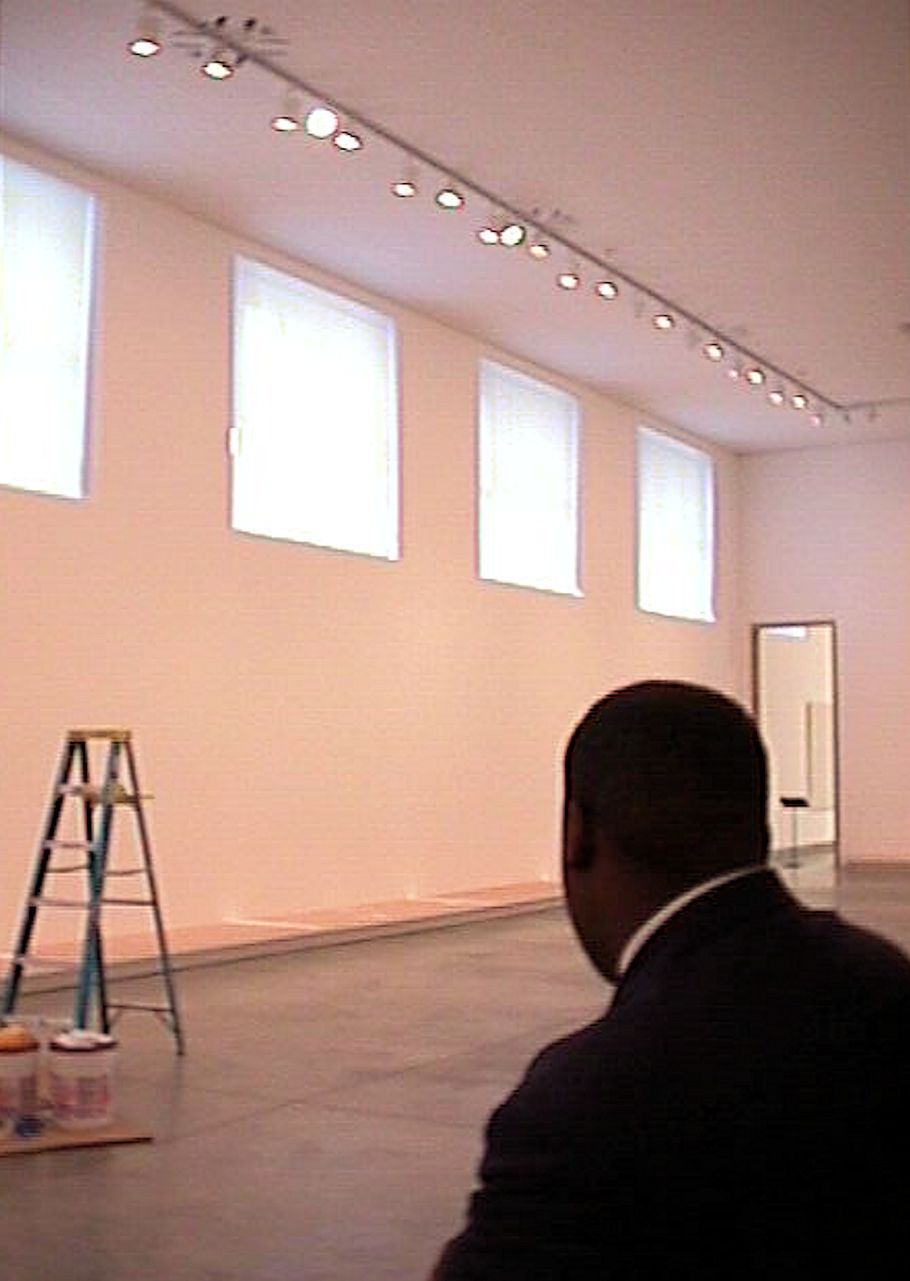 1 March 2006
Iconography, or the problem of representation
Architecture has not reached rock bottom, nor is it likely to do so too anytime soon. What is unfortunate, however, is how architects have for the most part been trained to deny a whole bunch of reality.
"This comparison is not about precedents, rather predictabilities."
Restrictions
Ackerman, in The Architecture of Michelangelo, speaks of Michelangelo demonstrating his ingenuity best when dealing with architectural projects that involved many restrictions, restrictions mostly due to the projects already having been started by others and Michelangelo then having to work with many givens. The lesson I've taken away from this is to not deny the givens and then just maybe my own design ingenuity will come forth.


1 March 2023 Wednesday
Raccolta de' tempj antichi Parti I


Temple of the Sibyl in Tivori, now the parish church of S. Giorgio
Figure I. Plan of the aforementioned Temple. In Cella of the Temple. B Pronaos. C Degrees of the Court, or Scale.
Figure II. Back elevation with substructure of square stones, which invest the mountain on the bank of the Aniene, or Teverone
Franc. Piranesi drew and engraved 1780