1 July 1775
'Piranese' [among persons seen] by Sir Roger Newdigate.


1 July 1778 Wednesday
. . . . . .


Artifacts of the Bianconi vs Piranesi 'Circus of Caracalla' affair 1772-1789

4 and 5. While Bianconi was disparaging Piranesi's Circus of Caracalla plan, Piranesi was, among other things, busy selling two of his largest museo works.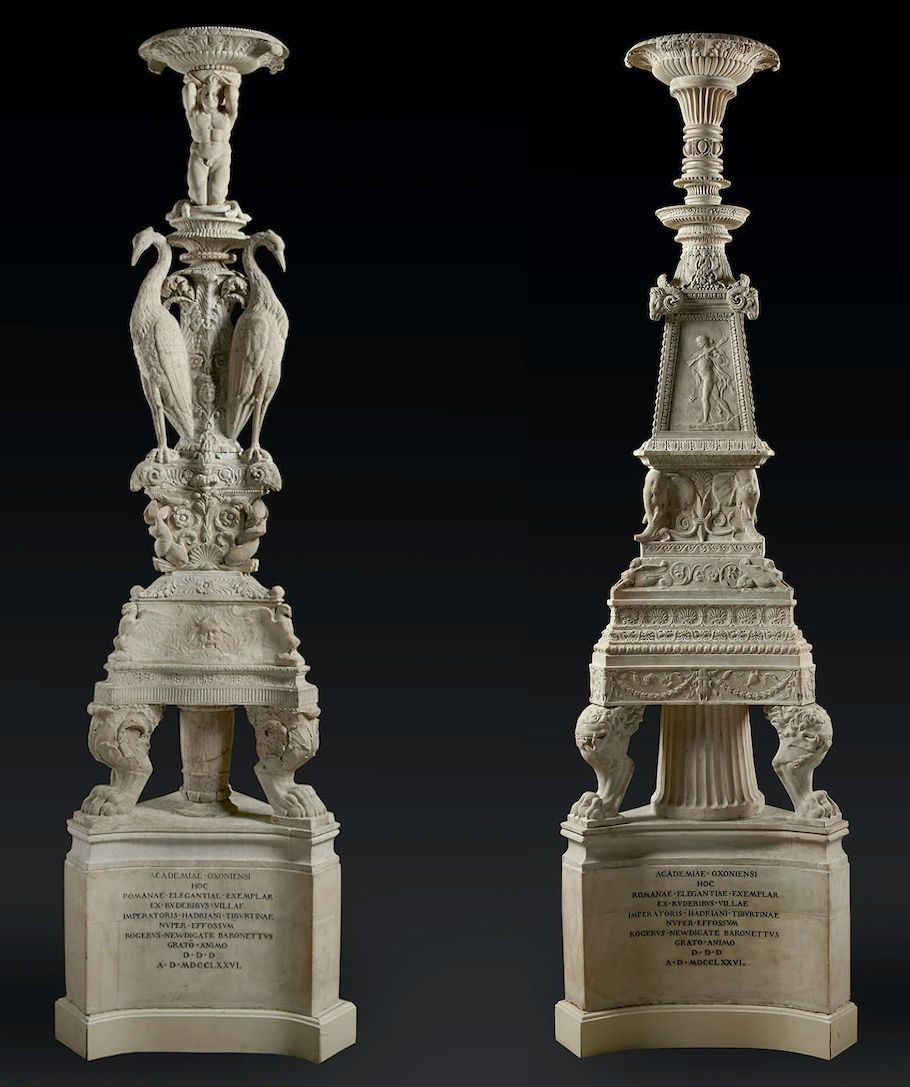 Giovanni Battista Piranesi, Two Neoclassical Candelabras, 1770-1776, after restoration. Marble. Ashmolean Museum. © Ashmolean Museum, University of Oxford.

"In 1777 Sir Roger Newdigate presented Oxford University two candelabra purchased from Piranesi in Rome. Newdigate's diaries, which have been studied but remain unpublished, show how much he saw of Piranesi during his second visit to Rome, from 23rd December 1774 to 8th March 1775 and from 29th June to 13th July. ... Newdigate's diary also contains a piece of paper in Piranesi's hand, annotated by Thomas Jenkins, explaining how the candelabra were to be reassembled on reaching Oxford."
--Francis Russell

Both candelabra where featured within Vasi, candelabri, cippi, sarcofagi, tripodi, lucerne, ed ornamenti antichi disegnati ed incisi dal Cav. Gio. Batt. Piranesi, Vol. I and Vol. II. Also featured in Vol. I of Vasi, candelabri, cippi, sarcofagi, tripodi, lucerne, ed ornamenti antichi disegnati ed incisi dal Cav. Gio. Batt. Piranesi is a plate by Francesco Piranesi, undated: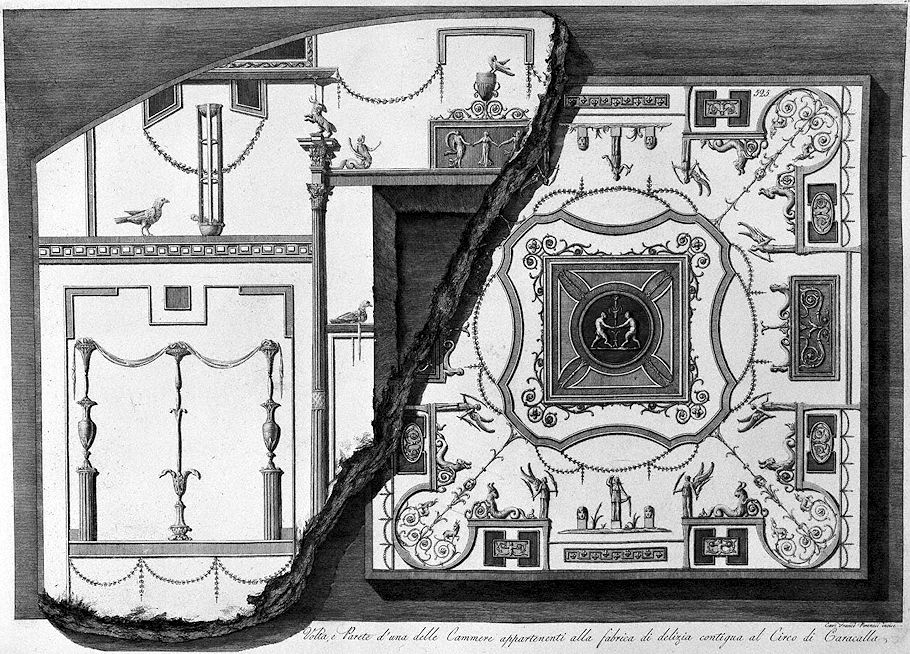 Vault and Wall of one of the Chambers belonging to the building of delight adjoining the Circus of Caracalla. Artifact No. 6.


46 y.o. Francesco Piranesi 1804
Le Antichità della Magna Grecia Parte I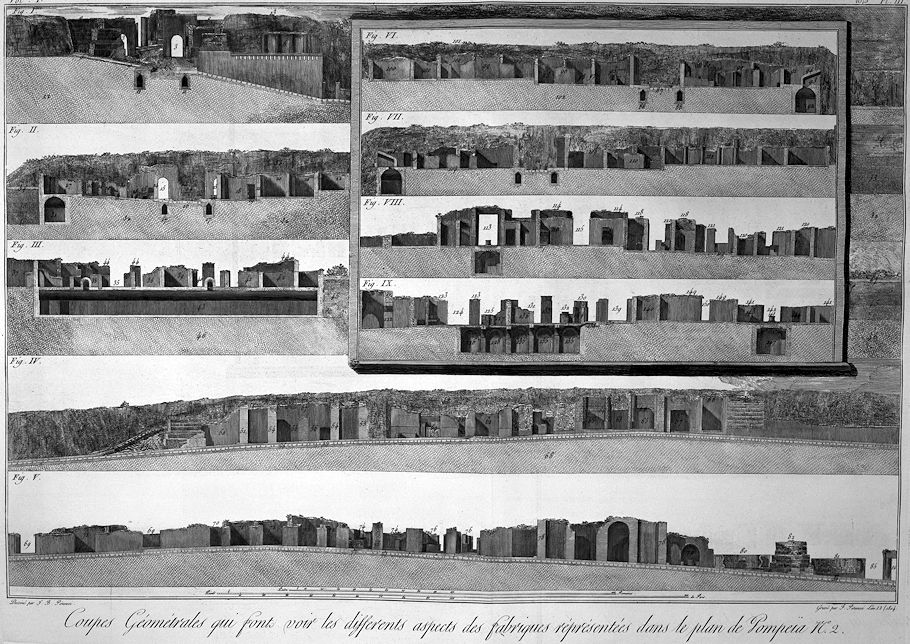 Geometric sections which show the different aspects of the structures represented in the plan of Pompeii No. 2.
Drawn by G.B. Piranesi
Engraved by F. Piranesi Year 12 (1804)


1 July 1812 Wednessday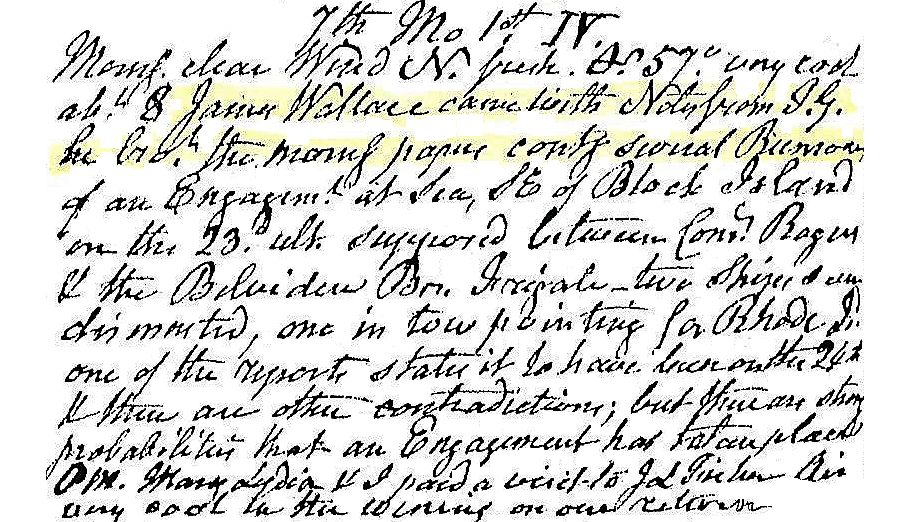 Morning clear, wind N, temperature 57°, very cool. About 8 James Wallace came with notes from T.G. He brought the morning papers containing several rumors of an engagement at sea, SE of Block Island on the 23rd last, supposed between C... Rogers[?] and the Belvideu B.. Frigate[?]--two ships I ... dismounted, one in tow pointing toward Rhode Island. One of the reports states it to have been on the 24th and there are other contradictions, but there are strong possibilities that an engagement had taken place. PM Mary, Lydia and I paid a visit to JL Fisher. Air cool in the evening on our return.


1 July 2001
Piranesi Campo Marzio in 2 states
Dear John Wilton-Ely:
After spending over ten years redrawing Piranesi's Ichnographia Campus Martius utilizing CAD, I finally (on 14 May, 1999) went to the University of Pennsylvania's Fine Arts Library to see an original Ichnographia. I had been using a poster of the Ichnographia as the source of my redrawing, but I never saw an original of the large plan. To my astonishment, I found that the plan that I had been used to looking at, and indeed the plan as it is most often published, e.g., in your The Complete Etchings, is distinctly different in certain areas than the plan within the U of P's original Campo Marzio tome. I had documented the differences in April 2000, and published the differences online at www.quondam.com.
My question to you is whether anyone else has, to your knowledge, discovered that the Ichnographia Campus Martius has two states. I have yet to come across any such record. In fact, the only reference that comes close is within your The Complete Etchings, where, within the "List of G.B. Piranesi's Published Works," by Arthur M. Hind, there is noted a later(?) edition of the Campo Marzio in Thomas Ashby's collection that has only Italian text. It would be interesting to see whether the Ichnographia within Ashby's copy is of the first or second state.
I am not going to disclose here what and where the differences within the Ichnographia are, but I will say that the plan as most often published is not the original plan. At this point, I am personally satisfied in having 'discovered' the two states of the Ichnographia, but, since I am not an academic, I am not in a position to further research when the plan was altered, nor who altered the plan, nor even why the plan was altered (-- although I do have some preliminary theories). Answers to those questions might be something you could investigate. In any case, it appears The Complete Etchings is just a tad shy of being truly complete.
Sincerely yours,
Stephen Lauf


1 July 2017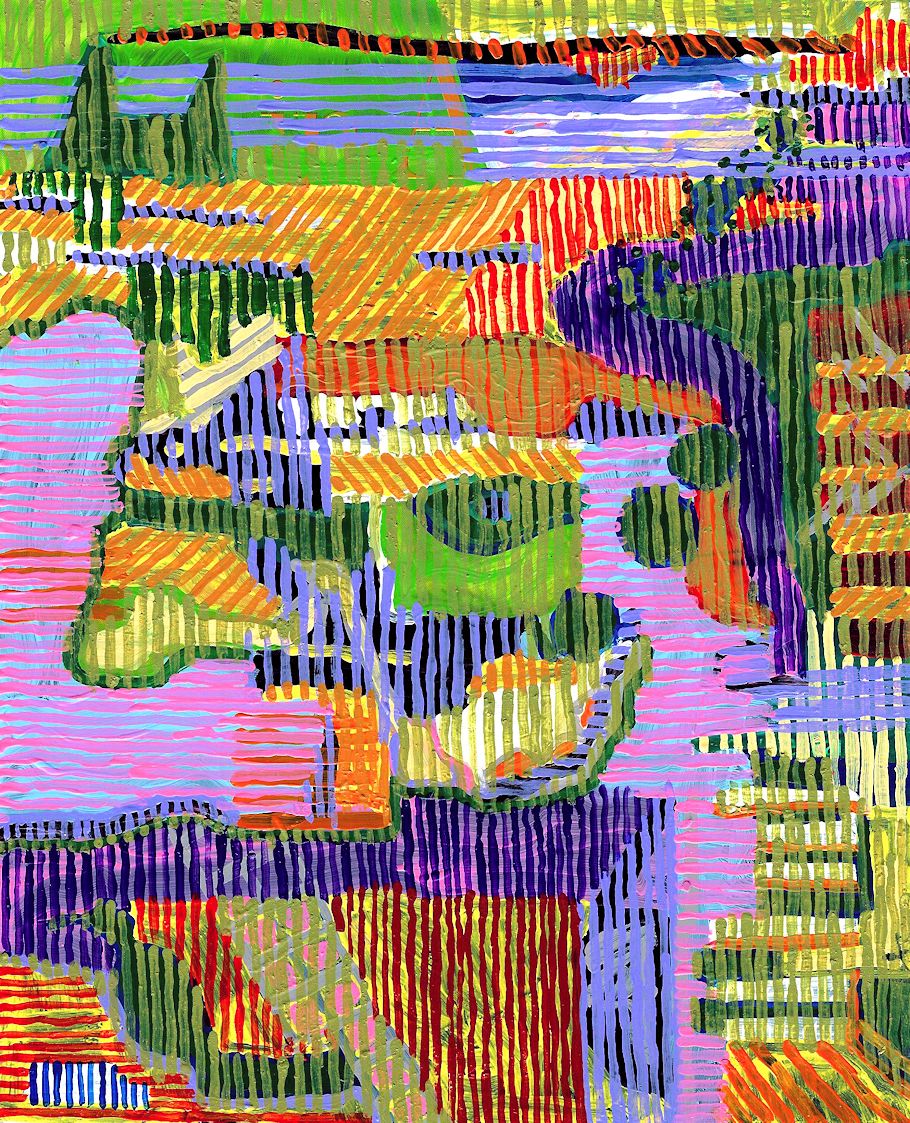 zero six one


1 July 2023 Saturday Moscow/Plokhov




"Recently, we conducted tests burning on the TPH scheme. I am very inspired!"
--Yura Plokhov


1 July 2023 Saturday Philadelphia/Lauf

Apparently, I've owned an English translation of Sergei Eisenstein's "Piranesi, Or the Fluidity of Form" since 1978, right in the middle of my Bachelor of Architecture schooling, 1975-81.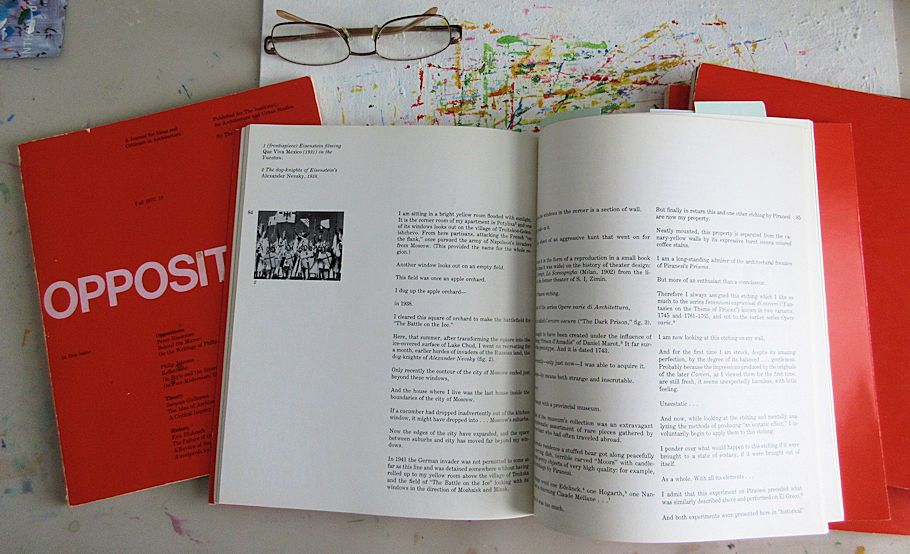 I remembered there was an early English translation of "Piranesi, Or the Fluidity of Form" in one of the Oppositions, and I found it in Oppositions 11--I own all the Oppositions except for numbers 1 and 3. To be honest, I doubt I read any of Oppositions 11 from beginning to end, including "Piranesi, Or the Fluidity of Form."
Anyway, the little bit I've now read of "Piranesi, Or the Fluidity of Form" so far, tells me to read the entire text as if I'm watching a movie. How clever, that's hyper-baroque modern, even.