99071001 Center City Philadelphia model facades 2093i01 b


1996.07.10
Palais des Congrès
Outline of the Palais des Congrès document:
1. Documentation: the building and site
2. Design analysis
3. Comparative analysis.
The first part of the design analysis addresses is the similarity between the Palais des Congrès and the Villa Savoye which discloses the architectural promenade formula. Next, the two interior forums of the Palais des Congrès are compared to the interiors of the Palace of the Soviets. Third, the stage set within the Palais is compared to the Maison Dom-ino, and call out the stage set as a paradigm of Le Corbusier's overall design message and methodology.
Within the comparative analysis, the Palais des Congrès will be collaged with other buildings, particularly with St. Pierre at Firminy-Vert.
06071001 Romaphilia Philadelphia model triangles off 2360i15 b
06071002 Romaphilia Philadelphia perspective 2348i18 b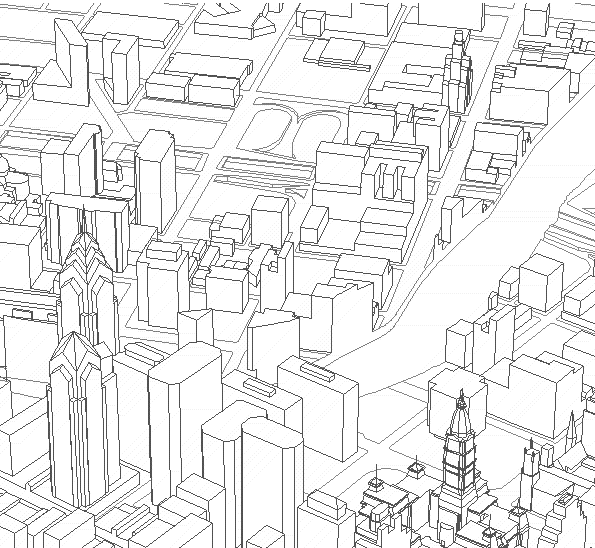 12071001 Fisher House plan dimensions corrected 2187i01
12071002 De Vore House Trenton Jewish Community Center Day Camp Trenton Jewish Community Center Bathhouse Goldenberg House Fisher House plans 217ei02


13071001 Villa Stein de Monzie site plan 2150i06
13071002 Villa Stein de Monzie model site plan 2150i07
13071003 Villa Savoye plans elevations 2156i15


2013.07.10 12:07
Why is everyone bashing OMA and Rem Koolhaas?
What the Seattle Public Library has done is add new dimensions (literally) to urban public space. If you think about it, there really are not many interior public spaces that are free to enter or free in the sense of non-commercial. Even government buildings now have layers of security that make them less openly public. Whatever the SPL may do offensively to the street it more than makes up for with the abundance of dynamic and engaging public space inside. Is there any other public space in downtown Seattle that can match?


2013.07.10 17:54
Why is everyone bashing OMA and Rem Koolhaas?
No where did I say or imply that if the inside is nice, then the outside doesn't need to be nice, thus I am not guilty of taking a cynical view of civic space. Now, after looking at large photographs (in El Croquis 134/135) of all four sides of the library, the outside doesn't look all that offensive; granted it's all large scaled, but the streets don't look like they're really suffering because of the building. So again, what the library has done is create a whole new dimension of free public space on the inside, and this is something that is increasing rare when it comes to urban public space (which is exactly why the homeless are attracted to the space--Philadelphia's downtown public library, a great beaux-arts pile, also attracts homeless people because there really is no other free indoor public space).
2014.07.10 14:24
Exhibition Review: 'Building the Picture: Architecture in Italian Renaissance Paintings'
There was an exhibit at Quondam in 2001 entitled house/museum which featured some "buildings in painting" very similar to the National Gallery exhibit.


16071001 IQ65 full plan 3392vv116

16071002 IQ60 full plan 3392vv61

16071003 IQ60/01 Campo Rovine plans 3392vv62
16071004 IQ60/02 Campo Rovine Basilica Sessorianum Mausoleum of Costantina Altes Museum Garden of Satire Museum of Shadows plans 3392vv63
16071005 IQ60/03 Campo Rovine Basilica of St. Agnes Altes Museum Garden of Satire plans 3392vv64
16071006 IQ60/06 Campo Rovine plans 3392vv65
16071007 IQ60/07 Campo Rovine Philadelphia Museum of Art Parkway Interpolation Museum Annex plans 3392vv66
16071008 IQ60/10 Campo Rovine Hotels at the Palais des Congrès plans 3392vv67
16071009 IQ60/11 Campo Rovine Parkway Interpolation Mies van der Hejduk Quondam House plans 3392vv68
16071010 IQ60/12 Trenton Jewish Community Center Parkway Interpolation plans 3392vv69
16071011 IQ60/13 Villa Rotonda site Parkway Interpolation plans 3392vv70


17071001 MVRDV The Sax Rotterdam


18071001 CCTV elevations work 2332i11
18071002 CCTV model 2332i12 b
18071003 Palazzo di Collagio conceptual elevation 2476i01
18071004 Erdman Hall plan work image 218ci01


19071001 Museum for Nordrhein Westfalen aerial perspectives 2226i40
19071002 Villa Shodhan model opaque frozen to lines 217si07
19071003 Governor's Palace model work 2177i38


21071001 mirror-copy is001-008 plans @ iiq05 2499i04