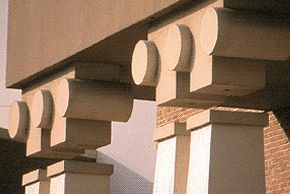 2007.08.22 13:54
Name that Architect and Building!!!
St. Louis Abbey (or the Priory Chapel)
Gyo Obata of Hellmuth, Obata & Kassabaum (HOK) with Pier Luigi Nervi, consultant
1962
the image url is a give away
...can you provide more of the building? or should we just move on?


2007.08.22 10:20
"...a shift into spontaneous mode,
...and I just got back from the bi-weekly trip to the Russian-run produce mart within the strip mall at Bustleton Ave. and Red Lion Rd.
yahspch yahspch yahspch yahspch yahspch
da da da da da
bah see vah


2007.08.22 10:13
"...a shift into spontaneous mode,
[dis]content .20
To: design-l
Subject: Re: the McMansion Effect ((space))
Date: 2003.10.05 14:47
To: design-l
Subjust: Re: test (poem?) by whomevers
Date: Sat, 17 Apr 1999 07:44:29
[architecture as interface comes with the architecture of schizophrenic interfacing...]
[buildings constantly move, doors can be windows, windows can be doors, stairs to Pilate are climbed annually on knees, walls may soon all talk, floors will mostly remain flat, ceilings with sprinklers are virtual skies that harbor emergency rain, roofs probably more than anything manifest architecture's shape, lights, camera, Africa, machines to create architecture with, furniture and painting as one, utilities that never fail (sic), plants, of course, grass gets high, sidewalk, siderun, sidecrawl, sidesit, sideroll-over, driveway complete with Jeep, garage sale as museum,..]
2003.10.05
..and then there's all the stuff that is now created and stored digitally, which sometimes gets put in digital museums.
Are the large homes and all their contents of today something like subliminal evocations of museums? "A man's home is his castle." And just look at how many actual castles and palaces are now actual museums.
"I want a McMuseum, hypersized."
Take a moment or two to count the 'collections' presently in your home.
[Could Quondam or Museumpeace get in the business of designing and executing museums for anyone that virtually wants one?]
joke from the early 1980s:
A: What comes after museum?
Q: pre-shrine
a little quondam history of the steps:

Villa Hélène
The last time I was in Rome I was staying at the Villa Hélène, Via P. Stanislao Mancini, 20, near the Tiber just a few blocks outside the Popolo Gate.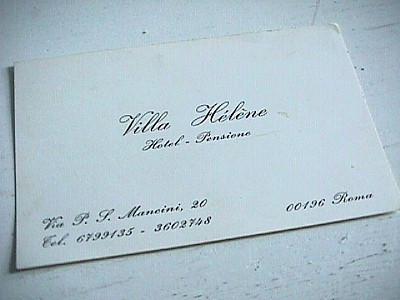 In the current Roma thread at archinect.com AP wrote:
"all the obvious stuff...also, be sure not to miss St. John Lateran, if you're into the whole church thing...beautiful church, across the street are the Scala Santa - steps that once lead to Pontius Pilate's home in Jerusalem. History suggests that Jesus scaled these steps just before his judgement. St. Helena brought 'em back to Rome, along with other relics...you can only scale the steps on your knees, typically stopping at each for prayer..."

According to Hans A. Pohlsander, Helena: Empress and Saint (1995), p. 81: "A short distance from the Basilica of St. John Lateran, in the Piazza San Giovanni, we find the Scala Santa, a building erected by Domenico Fontana under Pope Siztux V (1585-1590). It is a place of pilgrimage, where the faithful ascend the central stairs of the building only on her knees. The 28 marble steps of these stairs were salvaged from the original Lateran Palace. According to tradition they were brought by Helena from the palace of Pontius Pilate in Jerusalem. This tradition can be traced back no further than the 13th century."

You know, it really wasn't St. Helena that brought the steps to Rome because it was really Helena's granddaughter Helena, the youngest of Constantine and Fausta's children and the wife of (first cousin) Julian the Apostate. While Julian was busy rebuilding the Jewish Temple of Jerusalem, Helena had the Pontius Pilate palace steps shipped to Rome for safekeeping at the Domus Fausta, her mother's quondam palace at the Lateran.

"Never been there, but done that anyway."
2007.08.22 08:43
"...a shift into spontaneous mode,
Subject: Re: WTC Panoramas
Date: 2002.07.19 17:48
John wrote:
Some of the best coverage of WTC has been by those who are most distant from it, in the grand tradition of great art of disdainful simulacra. Anand aint bad at that Bollywooding of Hollywooding.
Steve (experimentally) adds:
But isn't it also true that India is a land full of continual ritual reenactments, as well as a land that has already been attacked, and indeed once substantially conquered by (fanatical?) Islamic expansionism?
Millions of people from India religiously step into the same Ganges all the time, while millions of people from all over the world religiously step into the same USA media flow all the time. Different wavelengths, but still big wavelengths all the same.


2007.08.21 17:05
Name that Architect and Building!!!
...you might be interested in looking through Arthur Drexler's Transformations in Modern Architecture (MoMA exhibition book, 1979). It's full of less well known 1960s-1970s buildings that look very inspiring today. Got a copy via eBay about a year ago and it's interesting to now look for images of the buildings online. I've been planning a 'reenactment' of the 1979 exhibition at Quondam for several months now. Looks like it will finally happen.


2007.08.21 15:11
the ghost thread
Subject: Mount Pleasant (and a room of ill-repute)
Date: 2002.06.18 17:49
One of the 88 Houses of Ill-Repute uploaded to day at Quondam is Mount Pleasant, a very fine Georgian Country Estate in what is today Philadelphia's Fairmount Park. In preparing this webpage I did a websearch on Mount Pleasant to see if there were any interesting facts for inclusion with the Quondam presentation. As it happens, John McPherson, the first owner of Mount Pleasant (1760), was known for having only one arm, and that a one-armed ghost is sometimes seen at Mount Pleasant. I've been at Mount Pleasant a few times myself, obviously to take pictures recently (1998), but also as a student because we once had a project, a house for a scholar, whose site was just beyond Mount Pleasant's formal garden in the back. While the gardens are 'pleasant', I kind of remember that they was also something creepy about the place. If memory serves me correctly (and here I'm going back to Spring 1977), either I or someone else in the class saw a man in the gazebo which led from the garden to the project site, and then the man, who looked like a bum (and there often are bums that live in Fairmount Park), seemed to disappear, or at least he was very quickly gone. I'm now remembering that it was me that saw this man. I was alone doing 'site analysis', and when I noticed the man was gone, I went to see where he went, and there was no trace of the man. I can even kind of remember his face--he was looking right at me when I noticed him. And now if memory serves me correctly, I noticed that the gazebo was no longer there in 1998.
At the 'ghost' website there was also a story about a room within the Philadelphia Museum of Art. For those that do not know, the PMA has a quite impressive collection of period rooms, and apparently in one of the Elizabethan rooms a German woman/visitor was slapped in the face while no one else was in the room. She reported this the a security guard, and the 'slap' was verified by a security video tape. Although the video tape verification sounds dubious, as I don't remember seeing security cameras throughout the museum, the story in general somewhat coincides with another story about a specific Elizabethan room within the museum. In the book Triumph on Fairmount there is the story that the founding director of the museum, Fiske Kimball, when he gave a tour of the period rooms, would refer to one of the Elizabethan rooms as "where Queen Elizabeth I was conceived"--apparently the walls of the room came from the house where King Henry VIII used to 'meet' Anne Boleyn.
So, is Anna Boleyn today a slap-happy ghost in Philadelphia? Or, is Henry VIII perhaps reenacting some rough sex? Or, is QEI demonstrating some pre-natal dislike of Germans? Or is all this a too weird wavelength???
2007.08.21 14:53
thesis... phenomenology
a WHOLE LOT trickier:
What are you reading?
by Wolfhilde von Schlittenfahrt, 2005.12.10 16:07
Bloomingdale's Book of Home Decorating by Barbera d'Arcy. Copywright 1973 First edition.