12 August 1778
Francesco pretty much remembers all of his father's instructions as he gives the Palace of the Caesars site a careful going over to establish his bearings and soon begin work.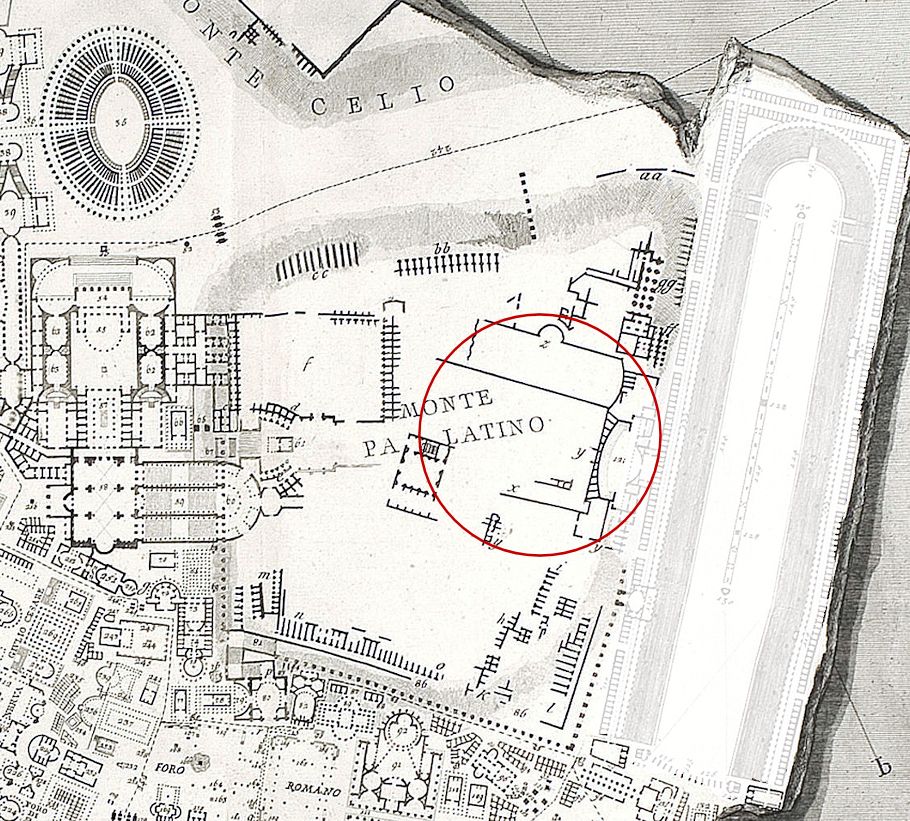 12 August 1977
We got a late start because everyone over slept and Mohammed took a late shower. Finally got to the Termini shortly before 12:00. The rest took a later bus and arrived a half hour later. Walked over to a market to pack a lunch; prices seemed ok. There was such a hassle in the store because no one knew what they were supposed to order. Mindy and Marcy got lost on the way because they got entranced looking in a shoe store.
P. and I shared lunch. We ate in the Colosseum (got there by subway). It's a great place for a picnic. Full of Kahn and Moore references, otherwise just as expected, except didn't expect lots of Japanese tourists.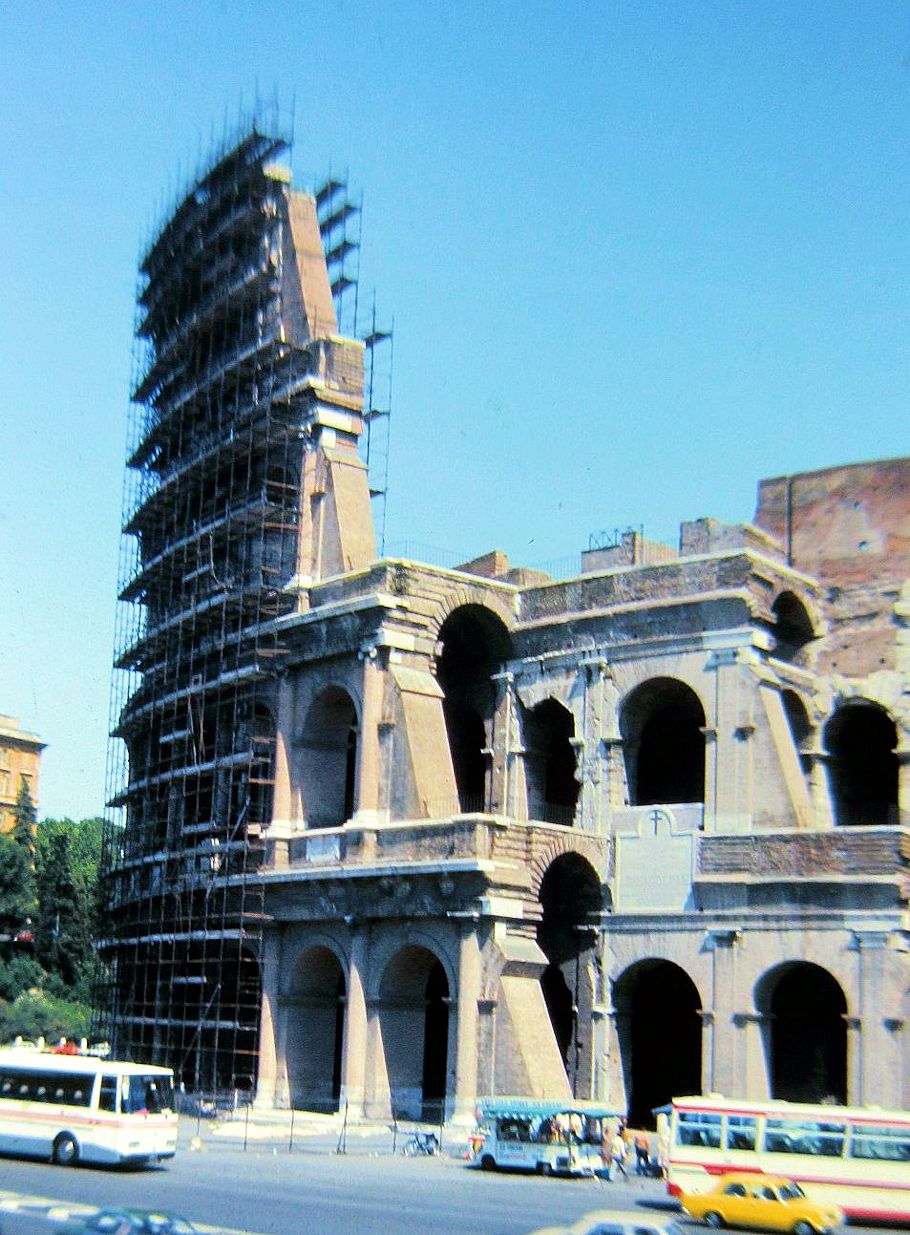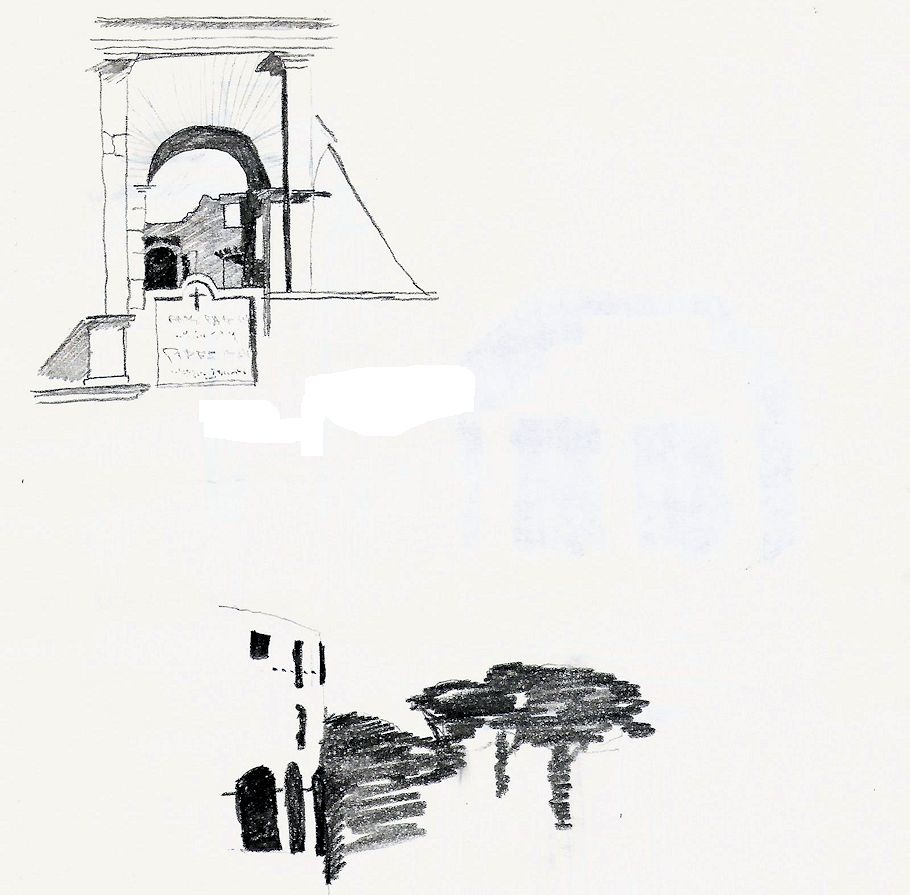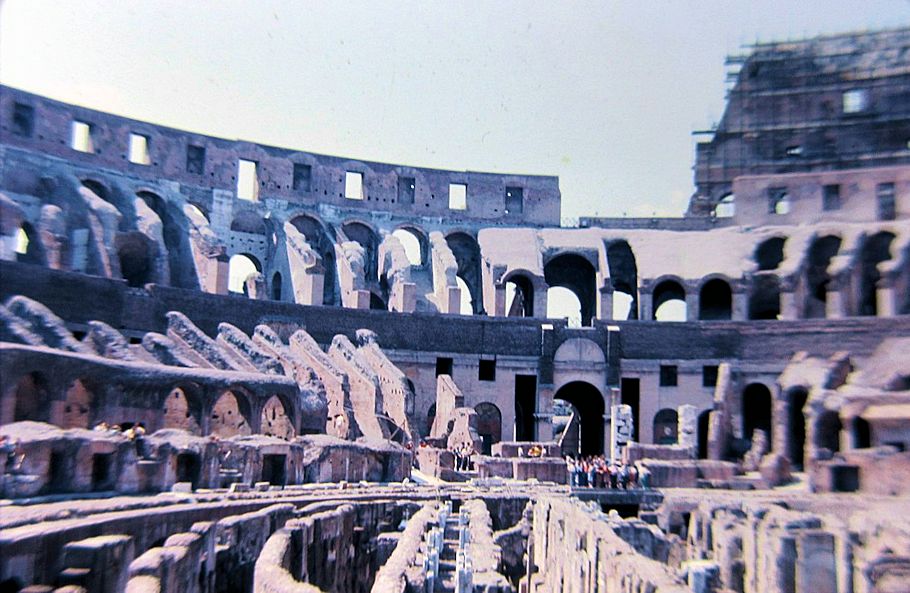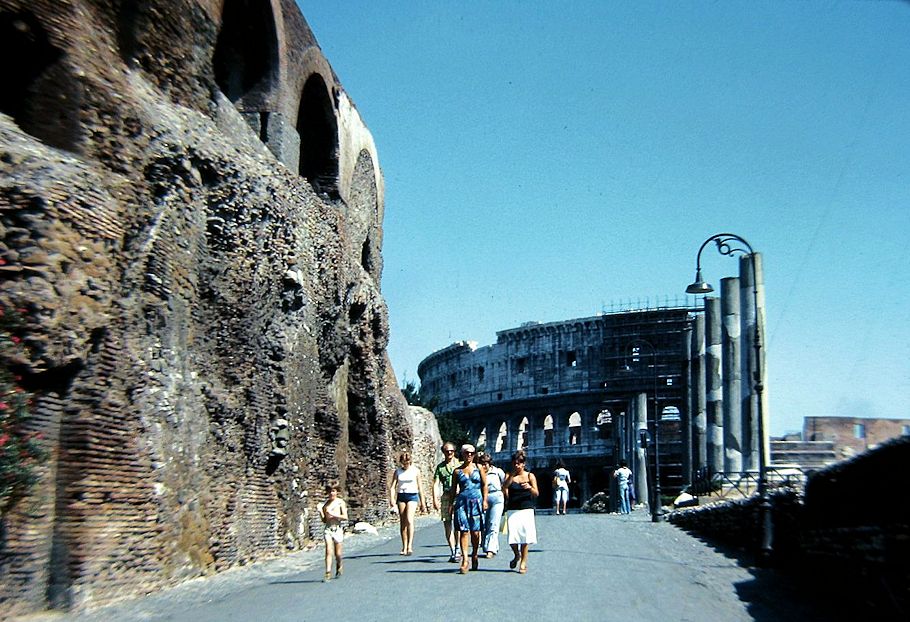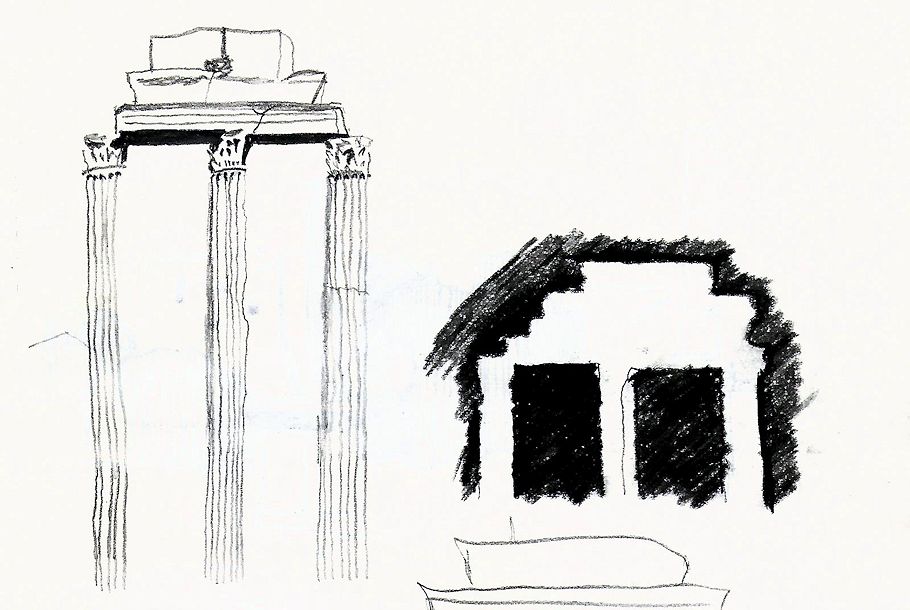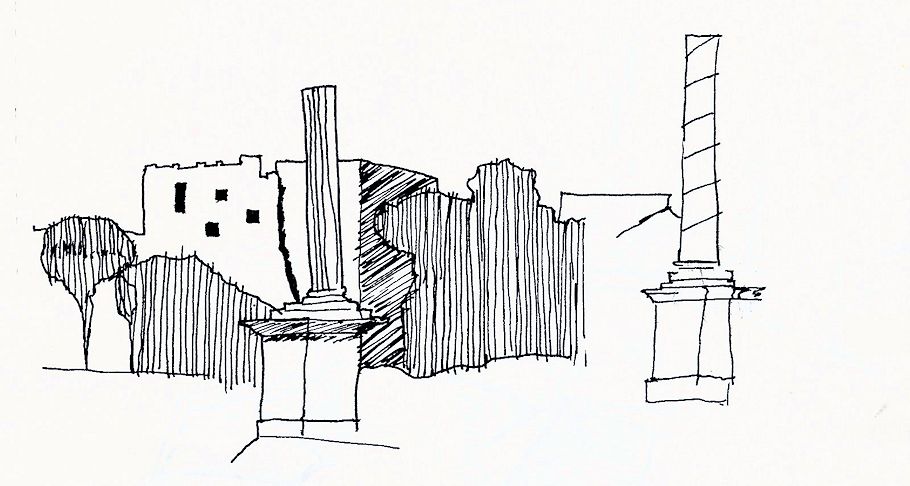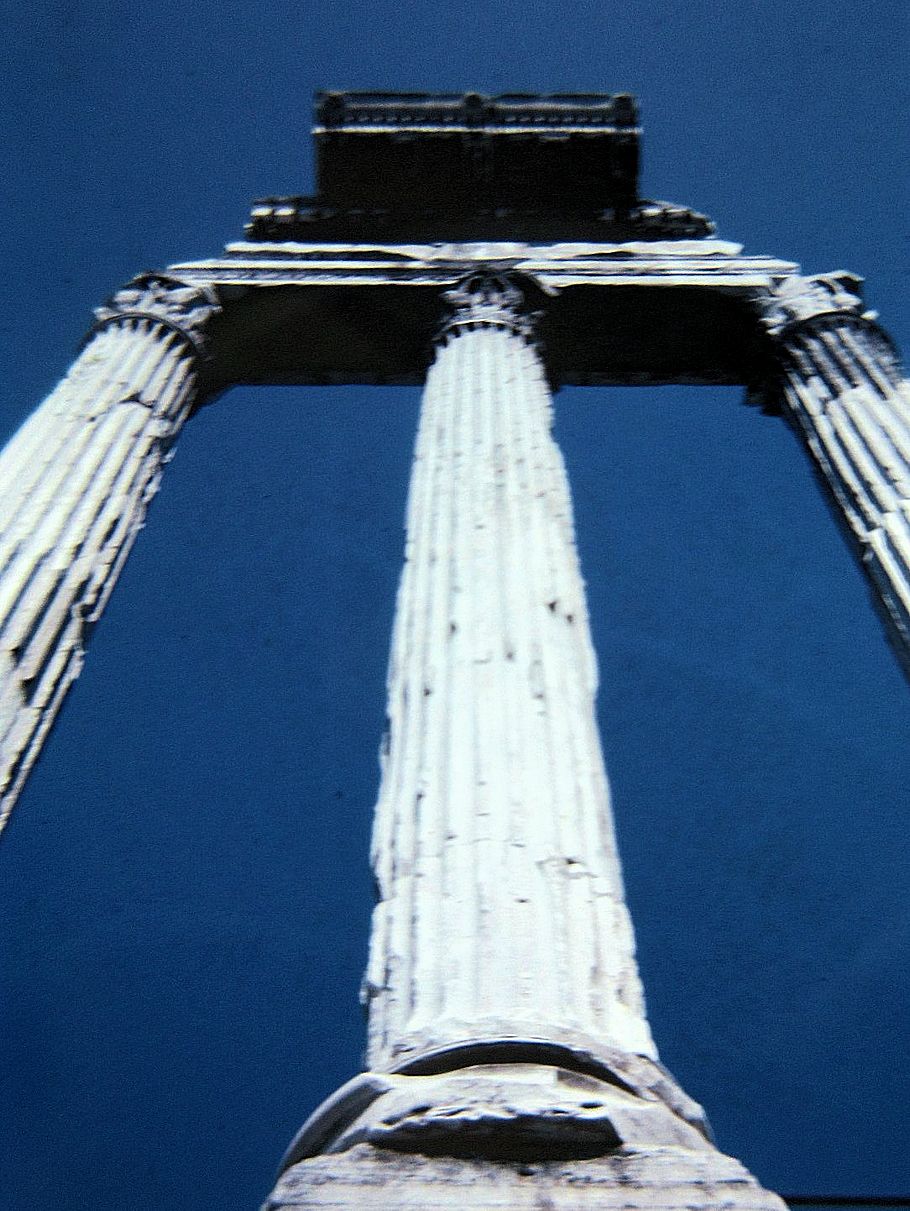 Tried my first sketch and found I can't do it for shit. This is going to be one hell of an architecture tour. J.P. can sketch great and it makes me sick. He does it so easily and finishes in no time. The Forum is where I really found out I couldn't sketch. Everything I draw looks so fucking shitty. I'll never get through the requirements, and I hate to think that people are going to ask to see the sketches back home. It will be very embarrassing. We ended our tour on the Palatine Hill in the Palace of the Caesars. The masonry structure was incredible. I want to go back alone and study it more.
J.P. and I started to get into all the structure. I was surprised to see how much he really didn't know. I made a couple of references to Kahn and I think he was offended. It's obvious Kahn took a great deal from the architecture of ancient Rome. [Kahn's work in] India doesn't seem all that great anymore; the ruins are better.
Had a great time at night. We [all] first walked to the Spanish Steps and climbed half way up. Then went restaurant hunting; went to a pizzeria down a side street. Some Texans at another table paid for our wine, and the waiter gave us two bottles of wine for free. We didn't leave the place till after twelve.
We walked back to the Spanish Steps where some probably drunk Italian Stallions were kicking empty soda cans down the steps. Went to find what Jean hid for me [a couple weeks earlier] at Quatro Fontane. I'll tell you, she is no big spender--about 11 cents in foreign currency is all she left along with a note. But the search was worth it. Came back to the Spanish Steps and met up with the rest of the crew. Also kicked cans since it was the new thing to do.
Got home at 1:30 and tired as hell but didn't fall asleep till 3:30.


12 August 1997
Redrawing History: Virtually Carved in Stone
Part I: "Redrawing History"
a. my own incentive for doing the project
b. my activity as a reenactment of a specific historical event; perhaps only true way to learn from history (Collingwood)
c. Piranesi's own reenactment (redrawing) of Roman "architectural" history
d. the question of archeological accuracy
e. Roman architecture as fertile architecture
f. Piranesi's Campo Marzio as fertilized architecture
g. Piranesi's imagination: fertilization, assimilation, metabolism
h. the Campo Marzio and virtuality
i. the Campo Marzio today
Part II: "The Ichnographia: Axes, Assemblage, Meaning"
a. the Field of Mars, so where is Mars?
b. the Triumphal Way
c. the axes of life and death
d. the axes of love and war
e. "downtown" vs. "suburbia"
f. pomp and circumstance
Part III: " Typologies of the Campo Marzio"
Part IV: "Glossary of the Campo Marzio"
Part V: "Selected Texts"


12 August 2022
At night I remembered that the Staatliche Kunstsammlungen Dresden has within its holdings a set of first state 'Ichnographia Campus Martius' prints that are still single untrimmed, unbound sheets. This seems to be a relatively rare set of Il Campo Marzio dell'Antica Roma documents in that the prints were never further processed for publication after being printed. There is no way of discerning when exactly these plans were printed except they obviously could not have been printed before 1762 nor after the summer of 1778 when the copper plates were significantly altered.




Thinking about these prints led to the realization that Piranesi's final project leaves behind a fair number of artifacts, both new artifacts and existing artifacts whose status has changed as a result of the final project.