2 January 1778 Friday
. . . . . .


2 January 1783


ICNOGRAPHY OF THE THEATER GROUND FLOOR AND STABLE SCENE
A. Orchestra area with antique yellow floor. B. dé Gradini site for Spettatoli. C. Substruction porches with steps made for the entertainment of the people, and for convenient withdrawal in the event of rain. D. Stairs, which from the level of the Portici ascend to the communication corridor at the precincts of the Gradini. E. Entrance to one of the stairs on the public road. F. Steps that served as a threshold for gates, which closed off the entrance, as can be seen from the hinges marked in them. G. Porticoes on either side, and behind the stable scene for entertaining the Nobleman and the Actors. H. Tickets to the Orchestra. I. Niches in the front of the Pulpit on the Orchestra floor, which were plastered with different marbles for the use of the Ares, and small Statues. K. Stable stage decorated with columns and niches for statues. L. Proscenj in front. M. Arches nor lateral Prascenj to let the cars pass in the Pulpit. N. Doors of the Stage from where the Actors came out. O. Site of the Pulpit. P. Supporting wall with beams from the Pulpit, which passed through the wall of the Scena, of which the receipts of the titles aa still exist. Q. Steps, who from the Pulpit put into the Orchestra. R. Actors' clothing. S. Ladders, which lead into the compartment under the Pulpit, where the Machines of the Moving Scene operate. T. Rooms intended for the construction and custody of the Machines. V. Places for Directors and Machine Operators. X. Porte de Vestiarj. Y. Arch in front of the Highway with Statues, and inscriptions. Z. Part of a private building on the side of the public road.


2 January 1812 Thursday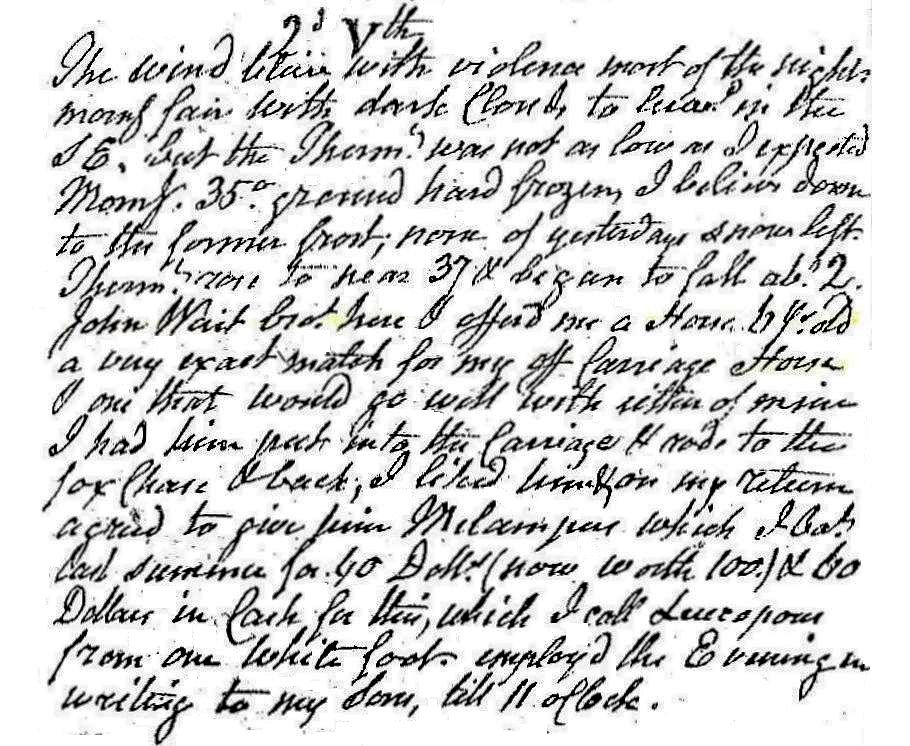 The wind blew with violence most of the night. Morning fair with dark clouds to ..... in the SE, but the thermometer was not as low as I expected. Morning 35°, ground hard frozen, I believe down to the former frost. None of yesterday's snow left. Thermometer rose to near 37° and began to fall about 2. John Wait brought here and offered me a horse 6 years old. A very exact match for my old carriage horse and one that would go well with either of mine. I had him put into the carriage and rode to the Fox Chase and back. I liked him and on my return agreed to give him M........ which I bought last summer for 40 dollars (now worth 100) and 60 dollars in cash for his, which I now call L....... from one white foot. Employed the evening in writing to my sons, till 11 o'clock.


2 January 2003
Re: Piranesi
Hi Sue,
Thanks for sending a copy of the Piranesi essay. I haven't read it all yet, but I like the fullness of the histories provided. A couple corrections are necessary, however.
The complex behind Hadrian's tomb includes the Circus Hardiani and the Circus Domitiae, which is a circus made-up by Piranesi and named for Domitia, Nero's great aunt who once owned much of the property that is delineated upon--Nero got the property and added it to the Imperial holdings. Note also that Piranesi labels the area Horti Domitiae, which was the name of the place once upon a time.
Traditionally, the Triumphal Way prepared /started in the Campo Marzio and made its way to the Triumphal Arch, where the procession entered the city proper. There are no archeological remains of the Triumphal arch/gate, thus some believe it was either closed until a triumph or that an opening in the Severian Wall was manifest with each triumph. Piranesi has the triumph preparing in the Vatican Valley, thus playing with the inverting history of the Triumphal Way when, after Christianity was Imperially sanctioned, the processions ended at St. Peter's. [The whole double sided nature of Piranesi's delineation of the Triumphal Way within the Ichnographia was addressed in "Inside the Density of G.B. Piranesi's Ichnographia Campus Martius," the paper I presented at Brussels, 1999.]
Steve


2 January 2005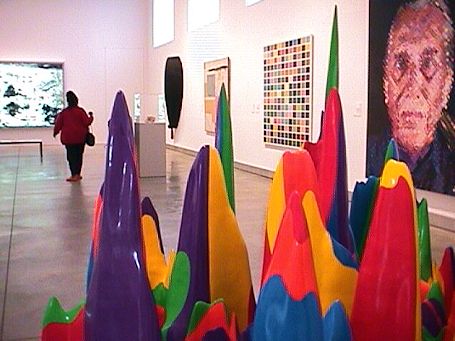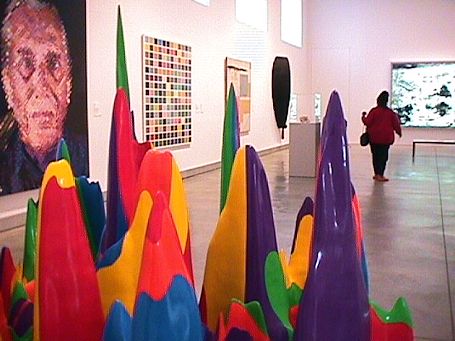 Virtual Museum 315


2 January 2023 Monday

I get to look at the beginning of 1778, now, with a much more informed and clear knowledge of the last five months of 1778--lots of artifacts and information that were not part of Piranesi's 1778 history before.

"The plan of the Certosa and the map of Francesco Piranesi" is a very appropriate history to henceforth integrate with the history of Piranesi's final project.

Ask yourself how much work Laura, Francesco and practically the whole workshop were doing in 1778 while Piranesi worked on "Caracalla," when he wasn't also battling illness and pain. Piranesi stuck with "Caracalla" because there, at least, he learned or discovered something new virtually everyday. It was the disregard for overriding symmetry that fascinated him the most. He even said it all himself, "Curious and interesting work."

"Why hasn't anyone else seen this before?"

And then there was Francesco's ecstasy over "independence," even to the point of a disregard for Italian.

Disregard for symmetry, disregard for the Italian language, were these functions of independence?