4 May 1778 Monday
Vases, Candelabra, Grave Stones, Sarcophagi. Tripods, Lamps and Ancient Ornaments volume II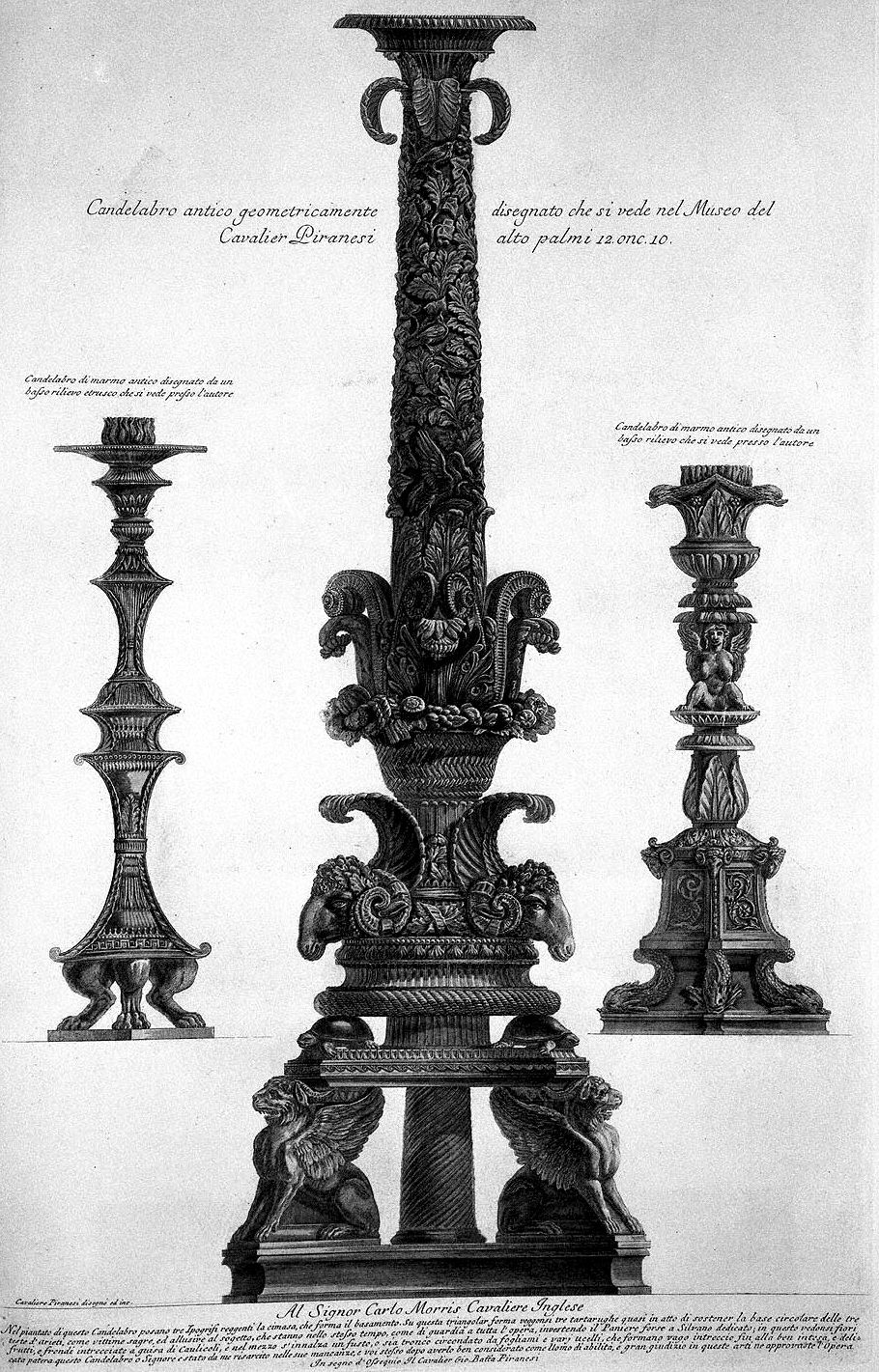 To Mr. Carl Morris, English Knight
In the planting of this candelabrum rest three Hypogriffs holding up the cymatium, which forms the base. On this triangular shape three turtles can be seen almost in the act of supporting the circular base of the three rams' heads, as sacred victims, alluding to the subject, who stand at the same time, as if on guard over the whole work, investing the basket perhaps dedicated to Silvanus; in this we see flowers and fruits; and fronds intertwined in the shape of Caulicoli, and in the middle rises a stem, or trunk surrounded by foliage and various birds, which form a vague intertwining up to the well understood, delicate patera. This Candelabrum, O Lord, has been compensated by me for its shortcomings, and you yourself, after having considered it well as a man of ability and great judgment in these arts, approved the work.
As a sign of respect Cavalier Gio. Batt(ist)a Piranesi
Geometrically designed ancient candelabrum that can be seen in the Cavalier Piranesi Museum 12 palms high. onc. 10.
Antique marble candlestick drawn from an Etruscan bas-relief that can be seen at the author's
Antique marble candlestick drawn from a bas-relief that can be seen at the author's
Cavaliere Piranese designed and engraved


25-26 y.o. Francesco Piranesi 1784
Collezione delle piu belle statue di Roma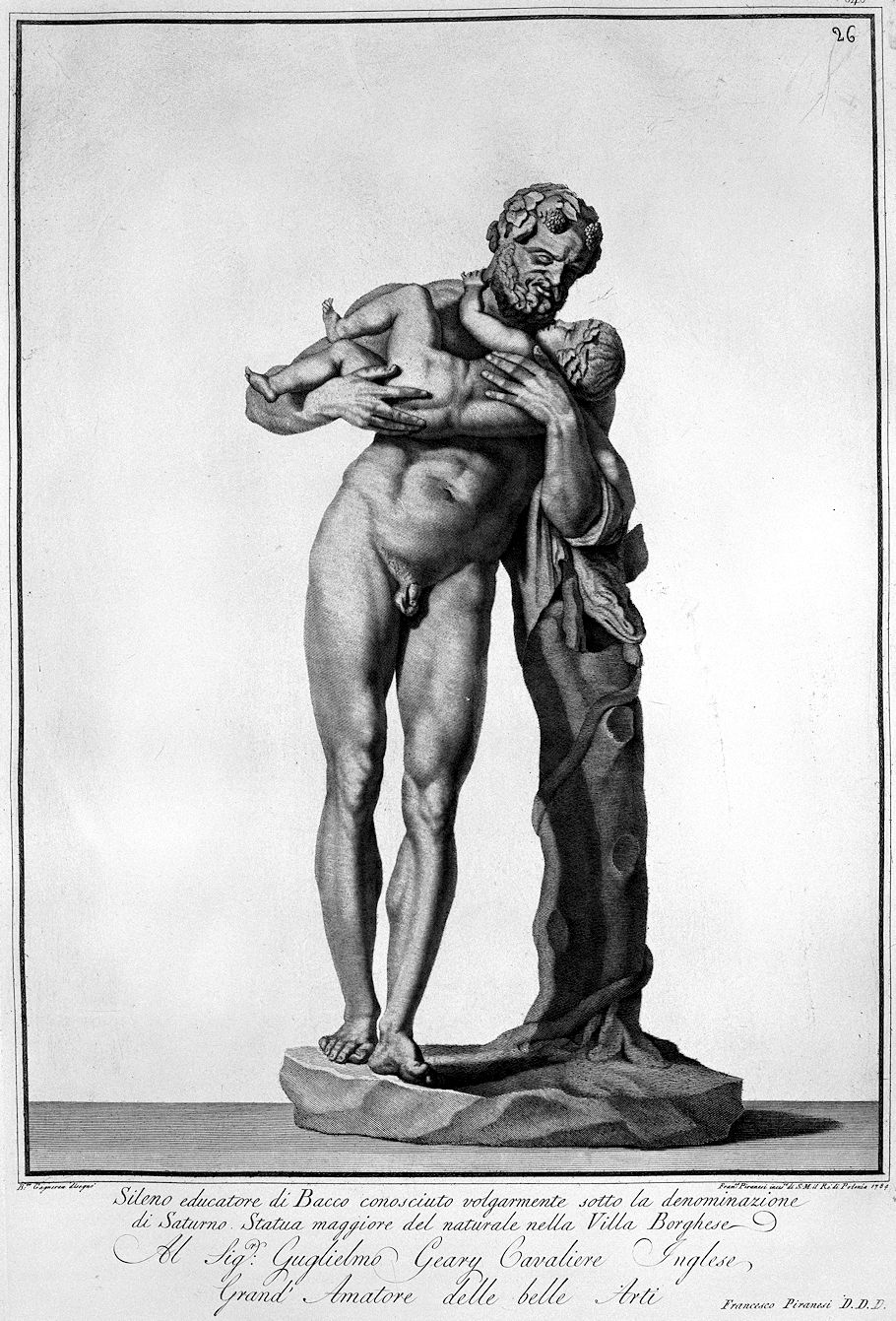 Silenus educator of Bacchus commonly known under the name of Saturn. Larger-than-life statue in the Villa Borghese
To Mr. Guglielmo Geary English Knight Great Lover of the Fine Arts
Francesco Piranesi D.D.D.
B:to Gagnerau drawn Francesco Piranesi engraved for S:M: the King of Poland 1784.


4 May 1812 Monday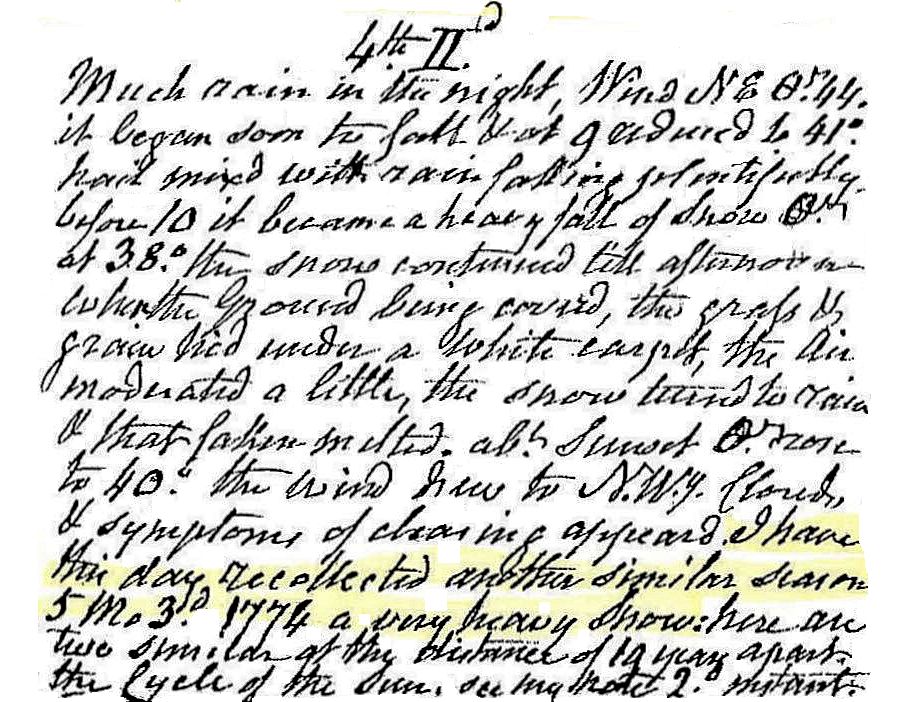 Much rain in the night. Wind NE. Temperature 44, it began soon to fall and at 9 reduced to 41°. Hail mixed with rain falling plentifully. Before 10 it became a heavy fall of snow, temperature at 38°. The snow continued till afternoon when the ground being covered, the grass and grain hid under a white carpet. The air moderated a little. The snow turned to rain and that fallen melted. About sunset temperature rose to 40°. The wind drew to NWerly. Clouds and symptoms of clearing appeared. I have recollected this day another similar season May 3rd 1774 a very heavy snow: here are two similar at the distance of 19 years apart. The cycle of the sun. See my note 2 instant.


4 May 1998
Campo Marzio: The Longest Axis
The axis begins with the Nymphaeum of Nero.
The nymphaeum is situated at the height of the Vatican Hill and overlooks the Gardens of Nero, which were in this area during the first two centuries AD.
Although there is no textual or archeological evidence for the cruciform Porticus Neronianae, Piranesi may be commenting on the original Basilica of St.Peter's constructed adjacent to this site by the Emperor Constantine c. 330 AD. The plan of the Porticus Neronianae mirrors the plan of Old St. Peter's, and is placed just to the right of the Christian basilica's actual location.
Given its phallical plan, the Temple of Mars may well be interpreted as the generative force behind the Campo Marzio's longest axis. Since "campo Marzio" actually means "the fields of Mars," the placement of a temple honoring Mars in a position of obvious importance is altogether logical. Moreover, Piranesi marks the Templum Martis and its Area Martis forecourt as the beginning point of the Triumphal Way. Overall, however, these are symbolic gestures on Piranesi's part because there is no historical evidence for this Temple of Mars, nor that the Triumphal Way ever began at this location.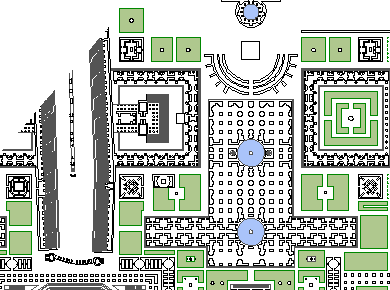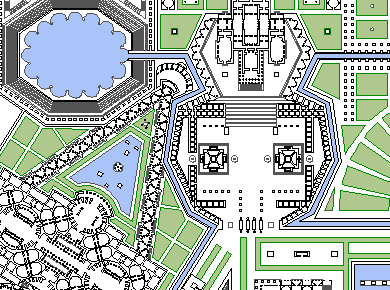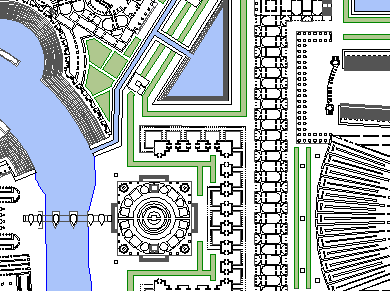 4 May 2004
Re: the design of incarceration
It's always interesting and useful to know how things happen, and it's just as interesting and useful to know how things un-happen.


4 May 2016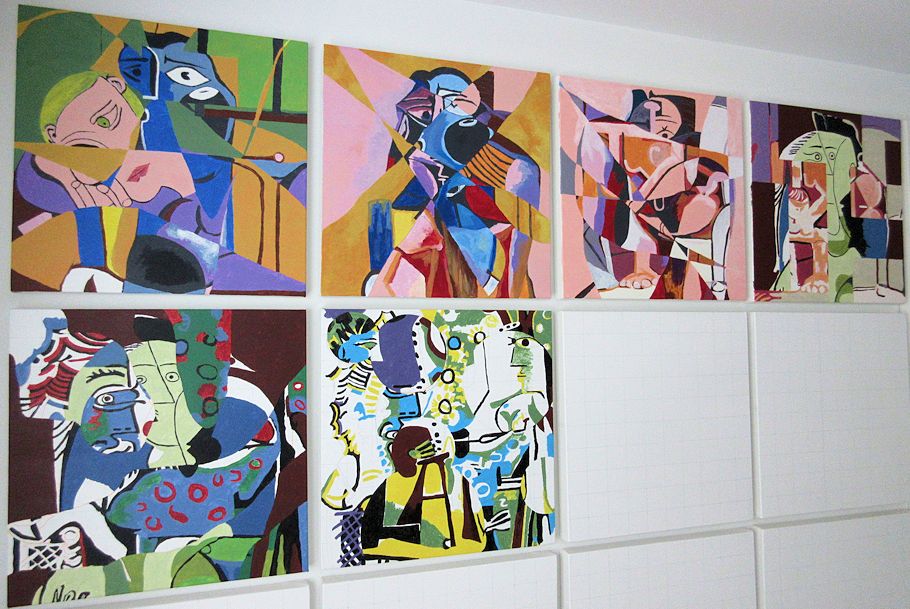 4 May 2023 Thursday
. . . . . .