18 June 1755
Piranesi, who is I think the most extraordinary fellow I ever saw, is becoming immensely intimate with me and as he imagined at first that I was like the other English who had a love of antiques without knowledge, upon seeing some of my sketches and drawings was so highly delighted that he almost ran quite distracted and said I have more genius for the true noble architecture than any Englishman ever was in Italy. ... [Piranesi] threatens dedicating his next plan of ancient Rome to me, but of this I have no certainty; and he swears whenever he can find opportunity he will thrust me into all his prints as a gentleman of that love, that taste and that genius for Ancient Architecture, who admired such things so much that he got modelers to copy them in order to instill that taste in the minds of his countrymen.
--Robert Adam


18 June 1778 Thursday
. . . . . .


1789
Descrizione dei circhi, particolarmente di quello di Caracalla e dei giochi in esso celebrati
Description of circuses, particularly that of Caracalla and the divine games celebrated in it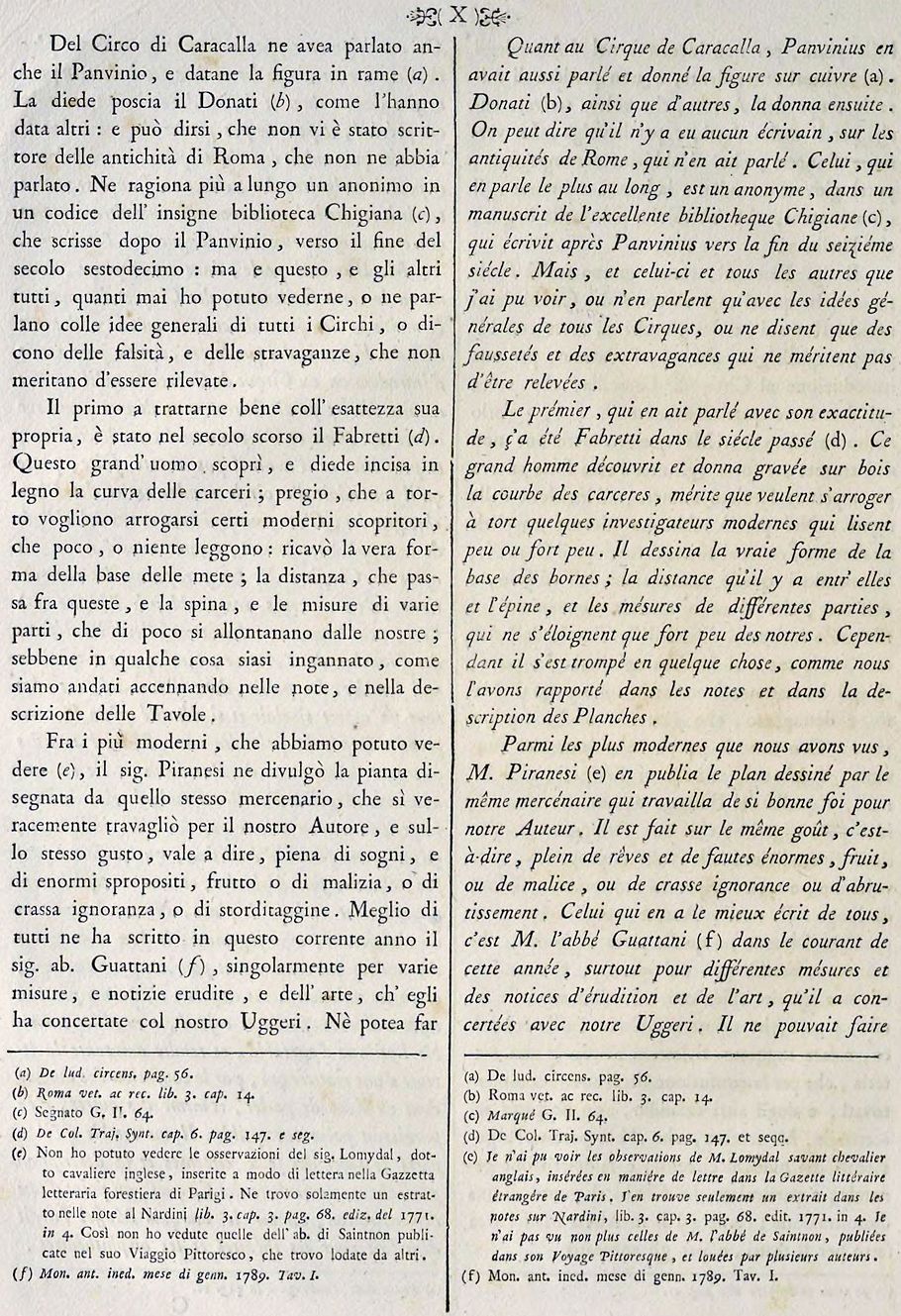 Panvinio had also spoken of the Circus of Caracalla, and dated the copper figure (a). It was later given by Donati (b), as others have given it: and it can be said that there has not been a writer on the antiquities of Rome who has not spoken of it. An anonymous man discusses it further in a codex in the famous Chigiana library (c), who wrote after Panvinio, towards the end of the sixteenth century: but this one, and all the others, how many I have ever seen, either speak of it with the general ideas of all the circuses, or they say falsehoods and extravagances that do not deserve to be disclosed.
Fabretti (d) was the first to treat it well with his own exactness in the last century. This great man uncovered and engraved the curve of the prisons in wood; merit, which some modern discoverers wrongly want to arrogate to themselves, who read little or nothing: he obtained the true form of the basis of the goals; the distance, which passes between these, and the plug, and the measurements of various parts, which are slightly distant from ours; although in something he was deceived, as we have been hinting at in the notes and in the description of the Tables.
Among the most modern, which we have been able to see (e), Mr. Piranesi divulged the plan drawn by that same mercenary, who worked so sincerely for our Author, and in the same taste, that is to say, full of dreams, and of enormous blunders, fruit either of malice, or of crass ignorance, or of lightheadedness. Best of all, Mr. ab. Guattani (f), singularly for various measures, and erudite information, and of the art, which he has concerted with our Uggeri. Nor could he do more for himself, and for the object of his work, which was to represent only the plan.


32 y.o. Francesco Piranesi 1 August 1790
Raccolta de'Tempj antichi, Vol. II.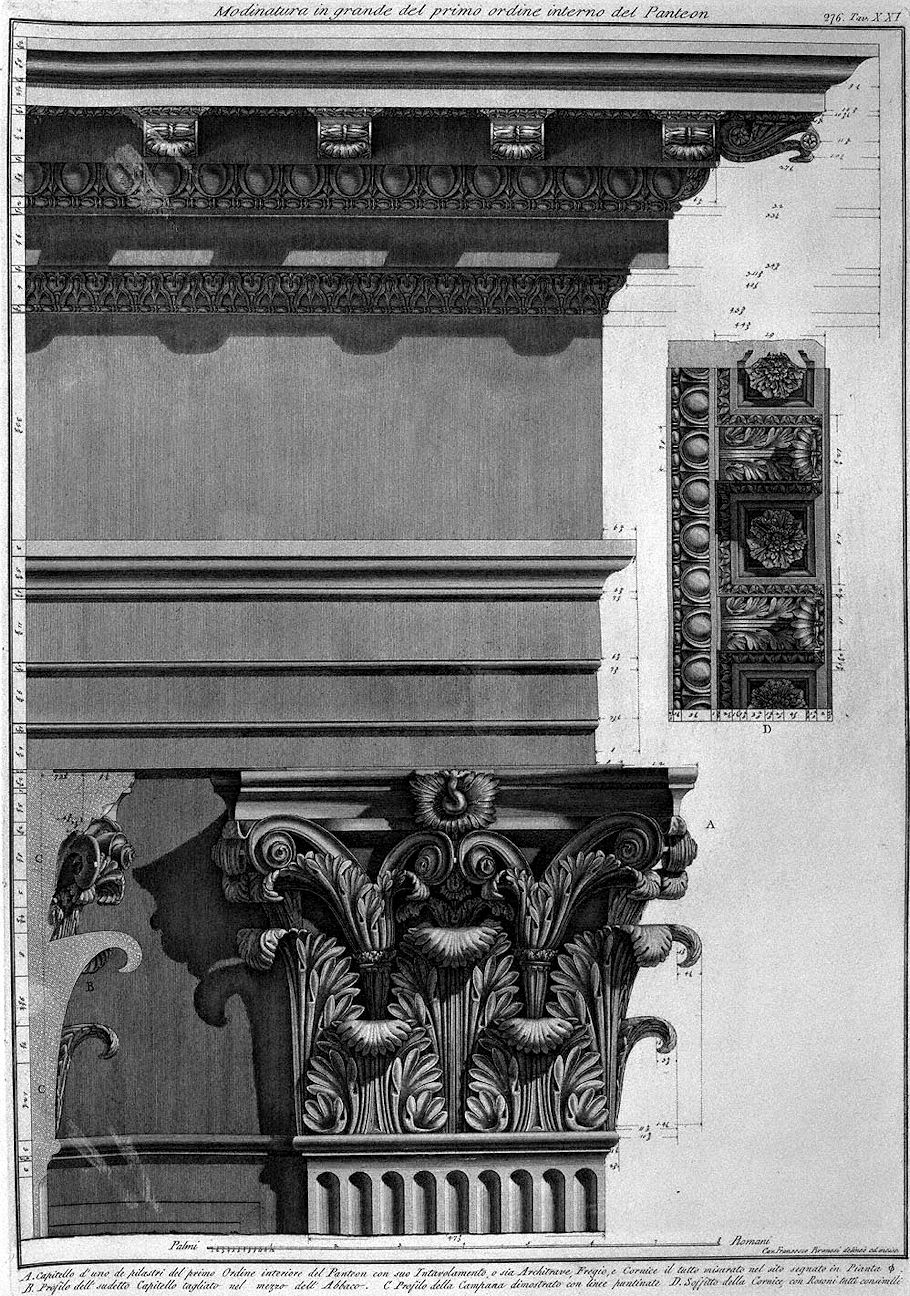 Enlargement of the first internal order of the Pantheon
A. Capital of one of the pilasters of the first internal order of the Pantheon with its Involution, or either Architrave, Frieze, and Cornice all measured in the site marked on the Plan B. Profile of the aforementioned Capital cut in the middle of the Abbacus. C. Profile of the Bell shown with dotted lines D. Ceiling of the Cornice, with all similar Rosettes
Cav. Francesco Piranesi drawn and engraved


18 June 1812 Thursday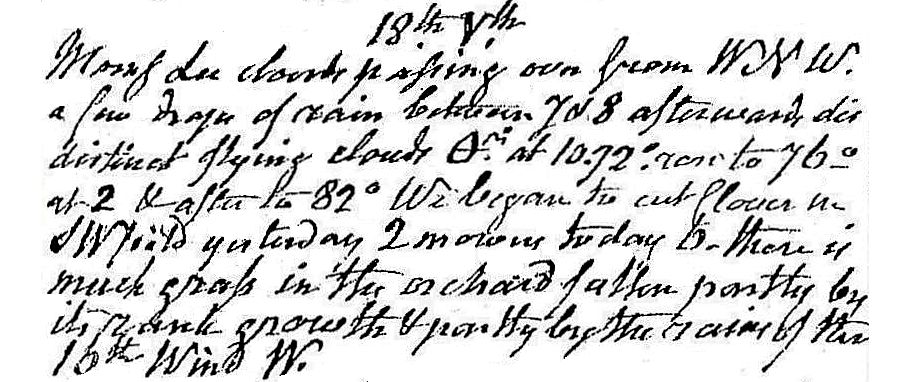 Morning ... clouds passing over from WNW. A few drops of rain between 7 and 8. Afterwards ... distinct flying clouds. Temperature at 10 72°, rose to 76° at 2 and after to 82°. We began to cut clover in SW field yesterday 2 mowers, today 6. There is much grass in the orchard, fallen partly by its rank growth and partly by the rain of the 16th. Wind W.


18 June 2017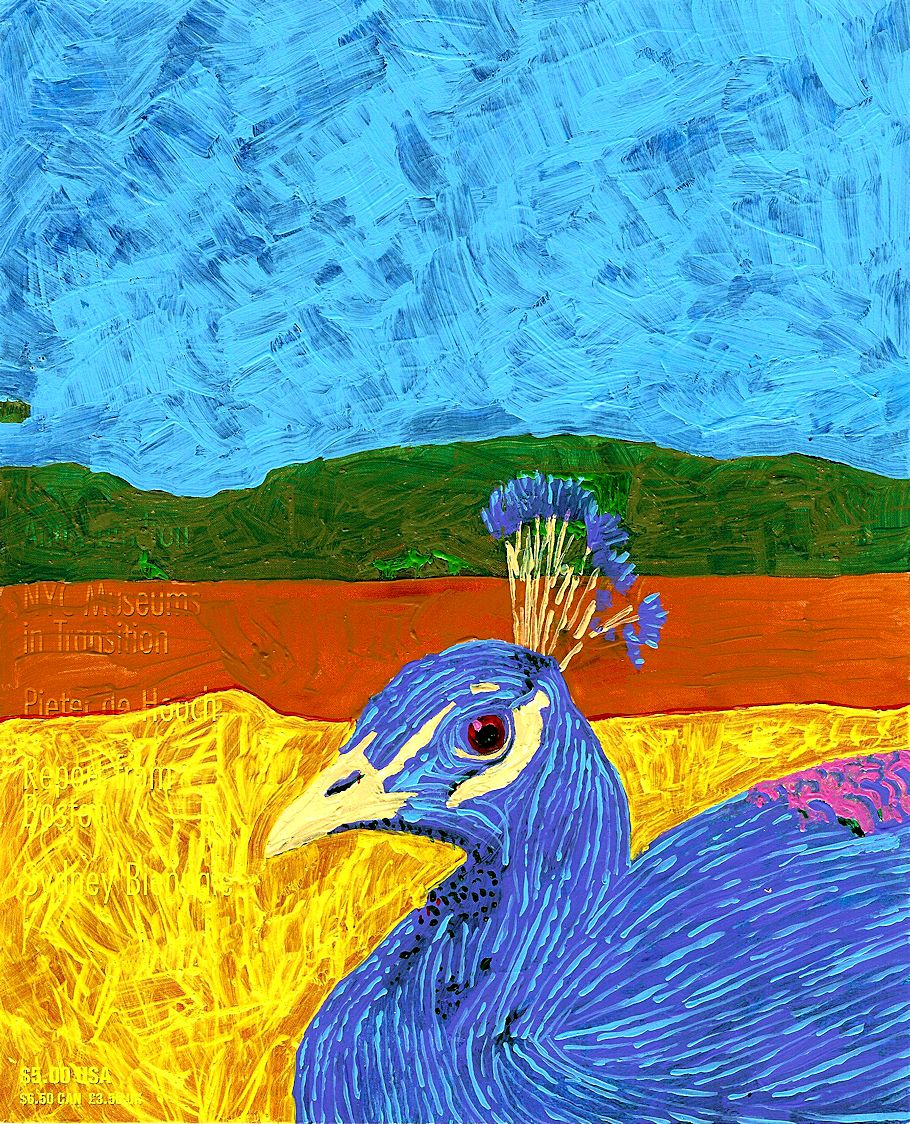 zero five zero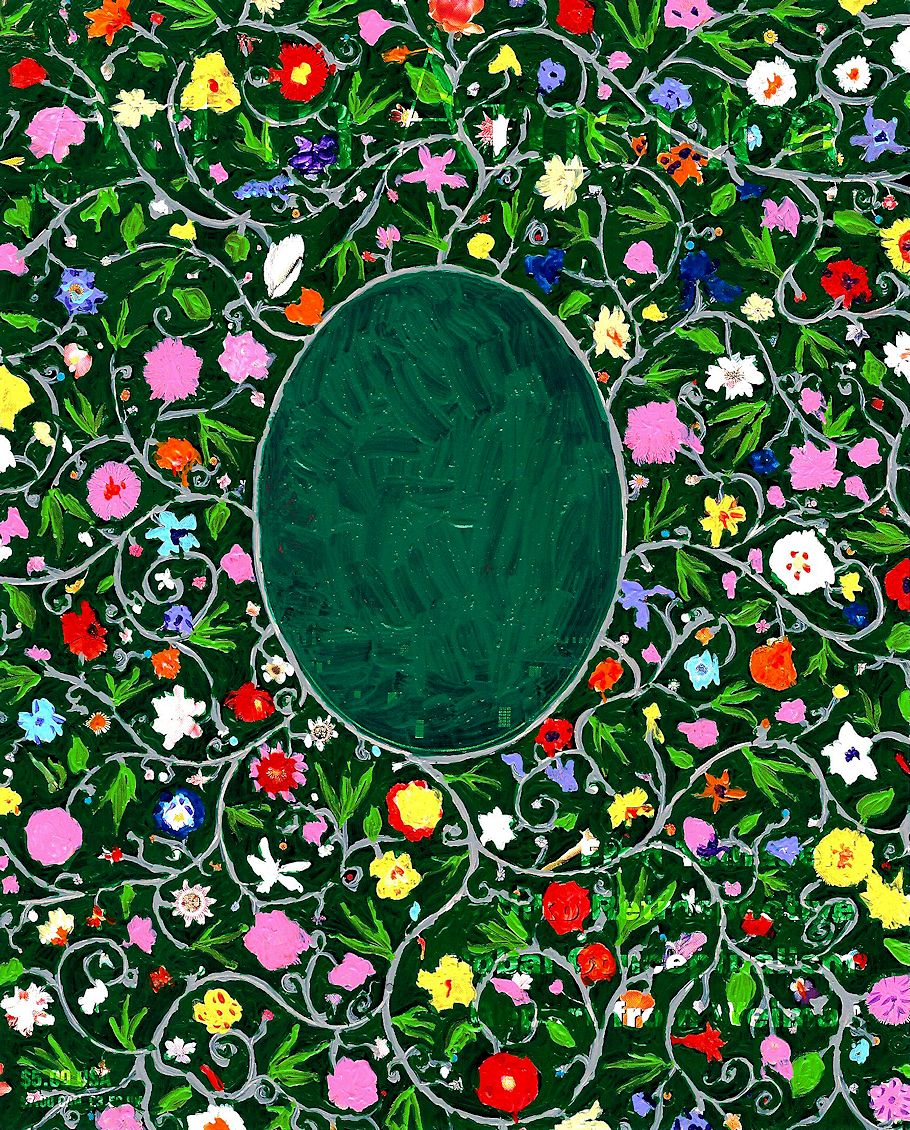 zero five one


18 June 2023 Sunday

Found one more Piranesi reference within Bianconi's Circus of Caracalla text, a footnote:
"They kept a sickle-shaped knife between the bands on their left side, probably to cut off the bands, and also the guides, and save themselves in case of misfortune. This was all the more necessary because the charioteer did not hold the reins in his hand. He had tied them and stretched them across his body, so as to need only his left hand to regulate the horses: thus he needed only to pull now one, now the other. With her right hand she holds the whip raised (a). Woe therefore to anyone thus tied up who had fallen from the cart, because he no longer had a chance without unraveling himself with braying. His posture was that of a man who, bent over and prone with his body, leaned with one foot on the parapet, and with the other, gravitating on the rear part of the cart, kept it almost balanced on the axle. So lightly, it almost balanced ran. Much can certainly be learned from the bas-reliefs."
(a) Occasionally they used one hand and the other to hold the reins, as can be seen in the bas-reliefs, and especially in one of terra cotta given in copper by Piranesi, and in the Quiriniano de' Lampadj diptych at the Gori.
This provides an indication of what Bianconi's history text may be like.

Looked through all of Descrizione dei circhi, particolarmente di quello di Caracalla e dei giochi in esso celebrati again. The index will guide the deconstruction of the text. Not sure what the list after the index is yet; it reminds me of Il Campo Marzio's 'Catalogo'.

Write a synopsis of Fea's 'Preface'.

Next feature the Bianconi/Fea 'Circus of Caracalla' images along side the Piranesis 'Circus of Caracalla' images.

"When Piranesi died in 1778 he was commemorated in only one article, G. L. Bianconi's "Elogio storico del Cavaliere Giambattista Piranesi," in the Antologia Romana of February 1779. This was sharp, not altogether accurate and surprisingly irreverent. It is still worth reading."
--Robin Middleton

Was Bianconi's "Elogio storico" a shock for Laura and Francesco?

Did Francesco, circa 1779-80, specifically show Bianconi how Piranesi's new Circus Maximus plan and all the new Campo Marzio circus plans have already been published and purchased?
And, if so...
Did Francesco then tell Bianconi that the Piranesis will remain silent as long as Bianconi remains silent?

"Laws of Silence" to the rescue.

Don't ask, don't tell . . . lol