19 September 1778 Saturday
The plan right now is to have Laura and Benedetto draw up the newly configured circus plans for the Campo Marzio, as well as draw up enlarged site plans for the urban circuses throughout the Campo Marzio. I'll design the contextual fit of each circus on the enlarged site plans. We'll start etching the new circus plans in stages as more and more of the new configuration of each circus plan becomes finalized. And, in the meantime, I'll be gathering all the various circus material at hand, and thereby start roughly composing the Ancient Circuses volume of plates.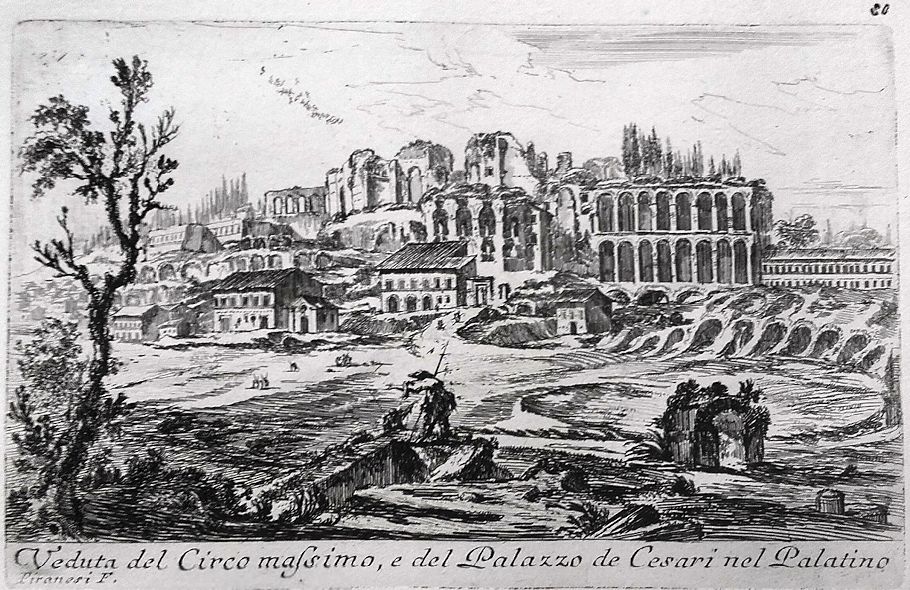 View from the south of the Circus Maximus with the Palace of the Caesars on the Palatine Hill visible in the background, 1748.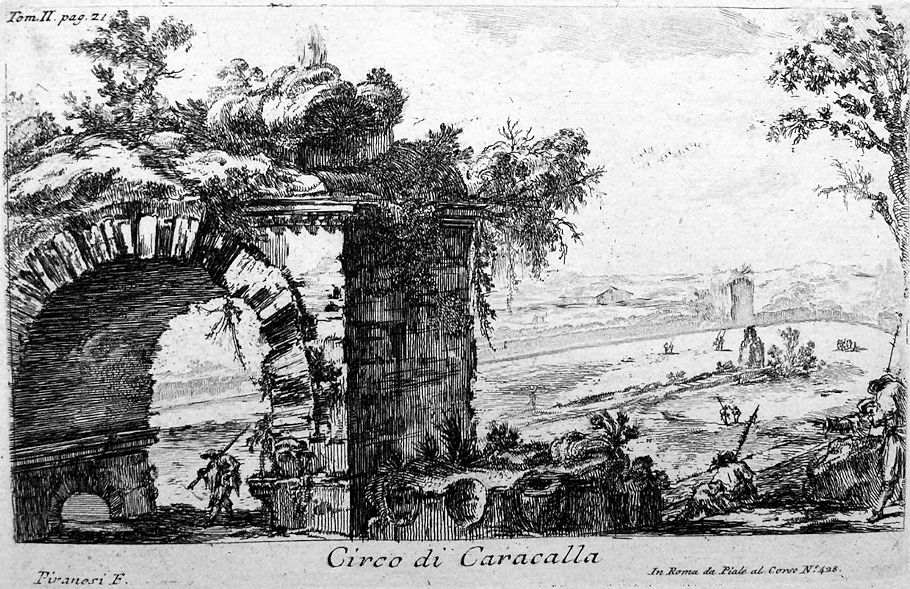 Circus of Caracalla, 1748.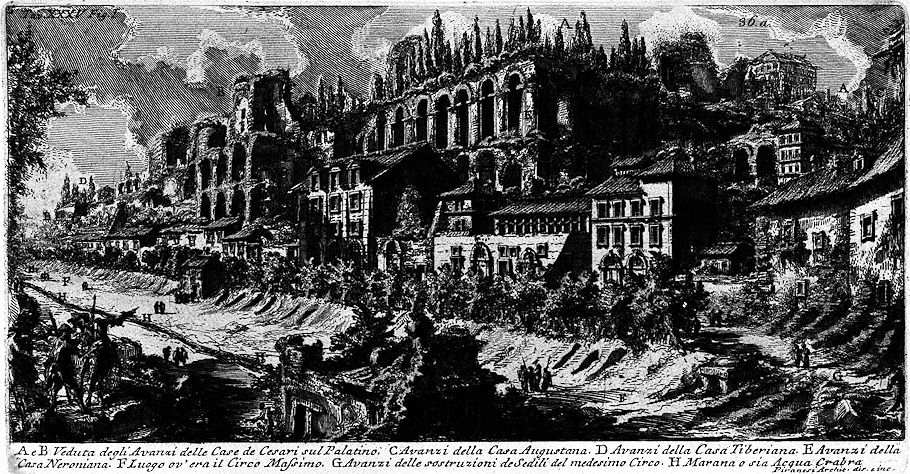 Circus Maximus with the Palace of the Caesars on the Palatine Hill, 1756.


Artifacts of the Bianconi vs Piranesi 'Circus of Caracalla' affair 1772-1789
. . . . . .


47 y.o. Francesco Piranesi 1805
Le Antichità della Magna Grecia Parte III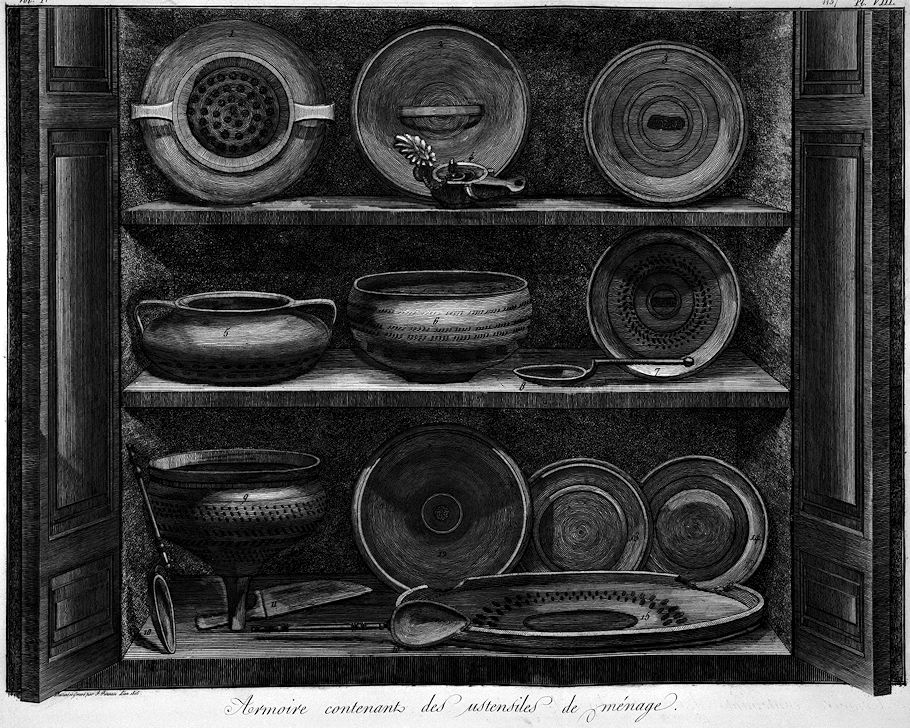 Cupboard containing household utensils.
Drawn and Engraved by F. Piranesi Year 1805


19 September 1812 Saturday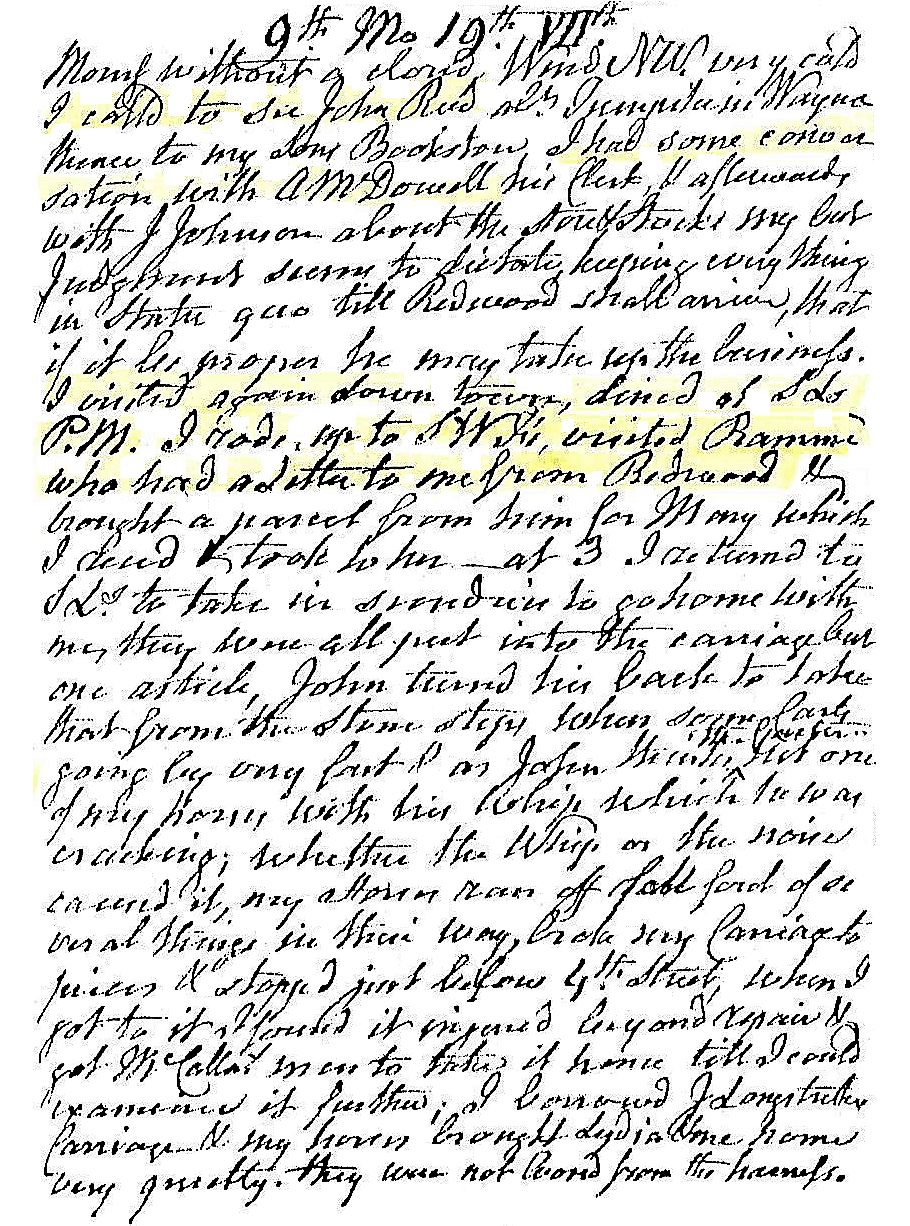 Morning without a cloud, wind NW, very cold. I called to see John Reed about turnpike in Wayne, thence to my son's bookstore. I had some conversation with AM Dowell, his clerk, and afterwards with J Johnson about the store and stock, but my judgment seems to dictate keeping everything in status quo till Redwood shall arrive, that if it be proper he may take up the business. I visit again downtown, dined at SL's. PM I rode up to SWF's, visited Ramée who had a letter to me from Redwood and brought a parcel from him for Mary which I read and took to her. At 3 I returned to SL s to take in sundries to go home with me, they were all put into the carriage but one article. John turned his back to take that from the store steps when some carts going by very fast and as John t..... the c..... hit one of my horses with his whip which he was cracking. Whether the whip or the noise caused it, my horses ran off of all f... of several things in their way, broke my carriage to pieces and stopped just before 4th Street. When I got to it I found it injured beyond all repair and got M Callot's[?] men to take it home till I could examine it further. I borrowed J Longstreth's carriage, and my horses brought Lydia and me home very quietly[?]. They were not ...... from the harness[?].


19 September 1999
horti Agrippinae
In G.B. Piranesi's Ichnographia Campus Martius, he positions the horti Agrippinae along the Tiber right where the river makes an almost ninety degree bend. Judging from the description in The Times article, it seems that Piranesi's positioning is close to accurate.


19 September 2021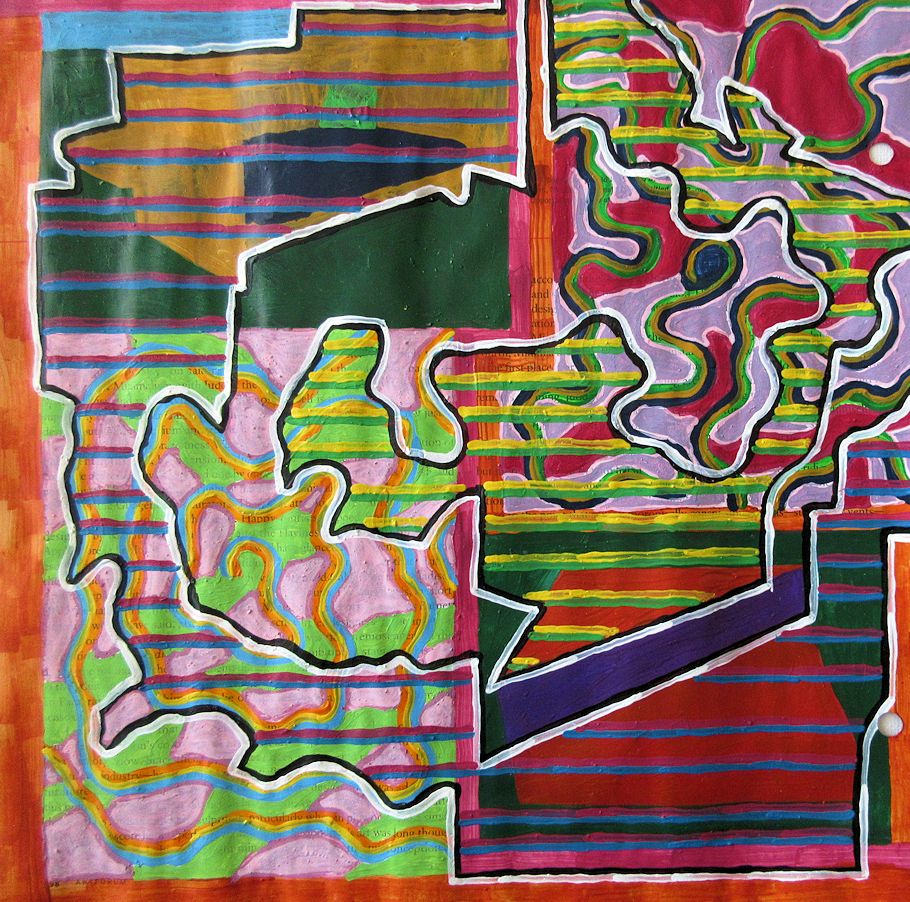 19 September 2022 Monday
That Piranesi well knew both the Circus Maximus and the so-called Circus of Caracalla since the beginning of his career in Rome is indeed remarkable, yet even Piranesi was surprised to forthwith find, within his earliest works, the alpha and the omega of Ancient Circuses. Though it remains truly unfortunate that, without knowledge of its correct identity, Piranesi was never able to fully understand just how 'omega' the "circus of Caracalla" really was, and still is today.


19 September 2023 Tuesday