Precedent XII
1997.03.20

It is obvious that Stirling cared deeply for his unbuilt works, and he was no doubt well aware of the unfortunate dormancy of architectural designs destined to exist only as drawings. It is quite natural to ponder a "what if" world when looking at the plans and elevations of buildings that were never built. Similar to Michel Foucault's "archeological" methodology, which penetrates into the past seeking thoughts that are no more but perhaps once were, Stirling unearthed a "virtual city/museum" of his own architecture within the context of eighteenth-century Rome. The scheme is like a temporal inversion of Piranesi's Ichnographia of the Campo Marzio where, instead of a past Rome that never was, the plan presents a future Rome that will never be.
Stephen Lauf, Precedent XII (Quondam: seeking precedents... ...finding inspiration exhibit, 1997.03.20).




Fathoming the Unfathomable
Stephen Lauf
1998.07.08

fathom b : intellectual grasp, penetration, or profundity : COMPREHENSION

unfathomable : not capable of being fathomed a : INCOMPREHENSIBLE, INSCRUTIBLE [all that is cryptic and unfathomable in humanity --J.L.Lowes] b : IMMEASURABLE, IMPENETRABLE

intrigue 3 : the plot of a literary or dramatic work esp. marked by an intricacy of design or action or a complex interrelation of events

Giovanni Battista Piranesi's Ichnographia Campus Martius is unquestionably a plan full of intrigue. The depth of its detail is equally matched by the depth of its meaning. To understand this plan requires total immersion, even though every aspect of the plan is already completely open to view. Therein lies the Ichnographia's greatest irony -- all the pieces are visibly in place while the overall effect remains a puzzle.

The Encyclopedia Ichnographica is the result, so far, of over a decade's worth of re-drawing and re-search, with the joint goal of both efforts being to lift the Ichnographia's shroud of puzzlement, as well as to finally place Piranesi's plan among architecture's paramount designs. Working with the Ichnographia is still rarely easy, however; the Latin labels throughout the plan do not always translate well, Piranesi's archeological inaccuracies are enduring hurdles, and the ongoing reading of both ancient and modern texts, along with reading and re-drawing the hundreds of plans within the large plan, is continually intense. Nevertheless, the Ichnographia rewards splendidly because, after the removal of many layers of incomprehensibility, Piranesi's large plan delivers numerous double narratives where inversion, if not satire, is the dominant theme. In more concise terms, the Ichnographia comes to represent Piranesi's delineation of ancient Rome's story from beginning to end.

After so many years of being intimately involved with the Ichnographia Campus Martius, it is slightly disconcerting to not know exactly when I first saw the large plan. If memory serves me correctly, my initial knowledge of Piranesi's Campo Marzio plan came with the anecdote of how a copy of the plan hung over Louis I. Kahn's office desk. Even though I now know that Vincent Scully relates this information within his book, Louis I. Kahn, I believe the account of the Ichnographiam hanging over Kahn's desk is something I originally heard in architecture school rather than read, and, since many of the mid-1970s faculty members at Temple University's Department of Architecture were either students of Kahn or had worked in Kahn's office, my assumption is reasonably sound.

Almost as a matter of course, the early years of my architectural education produced a strong personal interest in Kahn's geometric planning, specifically Kahn's unique ability of turning rigorous combinations of simple shapes into elegant plan compositions. Piecing things together, it then seemed obvious that Piranesi's plan of the Campo Marzio was a source of inspiration for Kahn's planning principles. Therefore, if I was to learn how to design like Kahn, I too needed Piranesi's plan for inspiration.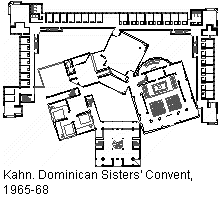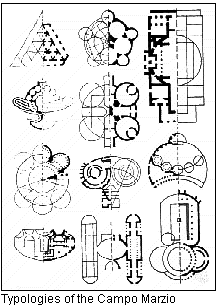 The Ichnographia remained elusive, however. My search through books and journals yielded reproductions of only portions of the plan, or reduced reproductions of the entire plan were near the point of illegibility. Over several years, I was still not able to compile a readable image of the Ichnographia, nevertheless, other factors began to broadened my comprehension of the plan. A group of diagrams labeled Typologies of the Campo Marzio, which appeared in the Summer 1978 edition of Oppositions 13, indicated that an investigation of Piranesi's plans had already occurred, yet the article [George Teyssot (Christian Hubert, trans.), "Emil Kaufmann and the Architecture of Reason: Klassizismus and 'Revolutionary Architecture'" in Oppositions 13 (Cambridge, MA: The MIT Press, Summer, 1978).] that included the 'typologies' offered no explanation of the analysis behind the diagrams. Even so, the diagrams present a clear message regarding a congruous geometry underlying the Ichnographia's individual plans. This finding registered a shift in my overall interest of the large plan so that, rather than wanting to learn about what inspired Louis Kahn's method of designing buildings and drawing plans, I became much more inquisitive as to what inspired Piranesi's distinctive ichnographic method.

The other factor that shifted my interest in Piranesi's Campo Marzio was a Stirling/Wilford building from 1979, which manifestly combined the ideas of typology and collage into a single coherent architectural design, the Wissenschaftszentrum (Science Center), Berlin. This Stirling/Wilford design is certainly a "spin-off" of Kahn's Convent for the Dominican Sisters, yet the Berlin building also clearly introduces a new motif within late 20th century architecture, namely the notion that formal abstraction can also include tectonic shapes that possess distinct architectural and typological associations. Of course, this methodology does not come without irony because the associations rendered through the Science Center design in no way relate to the building's functional program, yet the use of recognizable and comprehensible forms within a building's design still adds a potent element whereby modern architecture is able to deliver a readable message. I saw Stirling/Wilford's new approach as a further extension of the inspiration Kahn initially derived from Piranesi, and my supposition was reinforced by Charles Jencks who, as guest-editor of Architectural Design's 'Post-Modern Classicism,' [Charles Jencks, guest editor, "Post-Modern Classicism -- The New Synthesis," Architectural Design, vol. 50, no. 5/6, 1980, p. 75.] without explanation placed Piranesi's aerial perspective of the Campo Marzio next to a top view photograph of a model of the Science Center.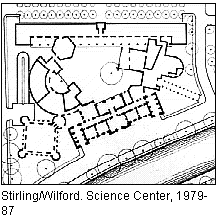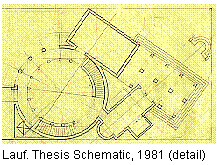 My formal architectural education thus ended in May 1981 with my designing an Institute of Contemporary Art where I explored typology and collage, and, judging from the design's schematic sketches, Piranesi influenced me more than I probably cared to admit at the time. Furthermore, as fate would have it, within weeks of my graduation I found a poster of the Ichnographia in the AIA Philadelphia Bookstore. I immediately purchased the poster, and promptly hung it over my drafting table at home.
Hadrian, Plotina, and Paulina Domitia, etc.
1998.06.02

According to the biography of Hadrian, he was a favorite of Plotina. In fact, there is some cause to believe that it was Plotina that got Hadrian named as sucessor at Trajan's deathbed. ...more symbolism along the axis of life.

Hadrian's birth mother's name was Paulina Domitia, and this fact lead to further speculation as to the meaning of the Sepulchra Familiae Domitorum at the end of the axis of death--the counter point of Hadrian's tomb. There is reference to both Hadrian's real mother and to his adoptive mother within the axes of life and death.

...sheds light on Piranesi's overall intention in (re-)designing (not reconstructing) the Campo Marzio. Piranesi was redrawing/redesigning the Campo Marzio, a redesign not at all capricious, but one based wholeheartedly on a vast amouint of historical facts. That is to say, Piranesi set out to improve the ancient Campo Marzio's "urban plan" without changing the region's existing program.

...reminded of Stirling's notion of evolutionary designing, and his statements about what could or should be considered when designing a house for K.F. Schinkel 200 years after Schinkel's birth. I am also reminded of Tafuri's wrongness in calling the Ichnographia of the Campo Marzio an "experimental design and therefore an unknown."

Piranesi operated on a few planes when generating his plan of the Campo Marzio--there is the redesigned plane, the Pagan-Christian narrative plane, and the plane of (composite?) temporal palimpsest. To make matters difficult, however, none of these planes complies completely with the other two, nor can any of the planes be viewed completely independent of the other two. In essence, Piranesi's (design) methodology emulates the very nature of Rome itself. The Ichnographia is a plan of many layers of meanings and messages which ultimately aptly represents Rome the city of many physical and historical layers.

As an archeologist, Piranesi "redraws" all the layers of Rome's ancient past. As a well educated 18th century Roman Catholic, he "drafts" the narrative of Rome's Pagan to Christian inversion (conversion), and as a highly evolved architect-designer he displays the "Eternal City" with infinite virtuality.




Koolhaas versus the Actor
2005.05.06 17:24

Stirling is a consummate reenactionary architect, and he knew it, but he put most of his clues in his architecture only--although his entry for Roma Interrotta is an overt reference to Piranesi's Campo Marzio plan and reenactionary architecturism. Just as Rossi reenacted the Bustum Hadriani with the Modena Cemetery, but it doesn't look like he ever told Tafuri about it.




'megalomaniac frustrated architect'
2009.01.14

from James Stirling, "Revisions to the Nolli Plan of Rome (The MFA Solution) and notes towards the demise of the post war planning profession" (1977):

Megalomania is the privilege of a chosen few. Piranesi who made his plan in 1762 was surely a megalomaniac frustrated architect (MFA), as also Boullée, Vanbrugh, Soane, Sant'Elia, Le Corbusier, etc., and it is in this distinguished company as an MFA architect that we make our proposal.1 The megalomaniac architect is most frustrated with regard to projects designed but not built, so the initial decision was to revise Nolli's plan incorporating all our unbuilt works. Soon we were trying to incorporate the entire oeuvre. ...

... Expediency and commercialism corrupt the possibility of quality in urban design and irrational procedures and reverse priorities seem the 'stock in trade' of the planning profession. Thus cities have lost their identity and towns people are numbed with problems of memory and their children grew up in kitschplace and junkland.


1. 'Architects used to need kings and dictators to liberate their megalomania, but now they do a better job themselves. They think that they are given large sums of money to play games with, just as a child or a Rembrandt for that matter is given a cheap box of paints. So Gropius flees Hitler and inflicts the Pan Am building on New York. Stirling inflicts the glasshouse on Cambridge. Frank Lloyd Wright's houses are notorious hell to live in. Even Saarinen foists his protégé's unbuildable Opera House on Sydney. The common factor is a complete disdain for the people who have to live with it. (God help me, I'm going to have to live with the glasshouse!) All this is in the authentic tradition of Vanbrugh and Gilbert Scott. Nothing matters to these men but their reputation in the art-histories. They are not so much undemocratic as antidemocratic: structural fascists. The astonishing thing is that Hitler was a failed painter. Stalin a failed divine. Had they been failed architects, they would have shed blood, not in rivers, but in oceans.' Hugh Brogan, The Cambridge Review, October 1968. (Such is the hysteria of some Oxbridge Dons when confronted with modern architecture. This was an early effort in the now-fashionable tirade against architects in the UK).