2002.07.08 18:44
Re: Orwellian Image
An interesting inversion of Bentham's Panopticon design, is Eastern State Penitentiary, Philadelphia (c. 1828, slightly post Bentham's Panopticon ideas/drawings). Eastern State is often hailed as the first modern prison. It's original radial cell block design accommodated many rows of individual cells where inmates were held in solitary confinement to commune with God (according to Quaker principles). Each cell had a small oculus in its vault ceiling for natural light, indoor plumbing (unlike most houses at that time), and an outdoor courtyard for daily, although still completely private, exercise. Meals were delivered to the inmates via a slot in the cell door.
The solitary confinement "experiment" failed miserably, and Eastern State soon became just like all the other prisons we know today. Seems that even when it is only God watching, it still doesn't do much good.
One could say that Freud created a whole other kind of human surveillance. I for long have thought that what really bothered Freud was knowing that his mother was not still a virgin after Freud was born. Had she remained post-natally virginal, Freud would surely have been the true Jewish Messiah. Alas, Freud never did know his mother as a virgin, so he played Almighty creator instead by dividing man into three parts, ego, id, and super-ego, just like the Christian God, Freud's real nemesis, is divided into three persons.
Inspiration for the above idea came about 20 years ago when I read an essay by Schorske in the book Fin-De-Siecle Vienna. (I don't have the book anymore because a drunk, sleepwalking friend of mine took a middle of the night piss on it back in 1987. I'm not kidding, and the next sentence will tell you why I want you to believe I'm not kidding.) The essay focused on a particular/peculiar relationship between Freud and his father--I remember something about Freud having a recurring dream where he is holding up a urinal for his father to pee in. After reading several pages of father-son, father-son, father-son, I found myself asking, "So where is the Holy Ghost?" That's when it hit that there was no Holy Ghost in Freud. My first instinct was to try and figure out how to make some good intellectual joke out of all this, and in that process is where I came up with the post-natal-virginity-envy idea. A few years later I read "Italian Freud" in October 28, within which I learned of Freud visceral 'fear' of Rome when he first went gen Italia, to Italy that it. It's only when I remember stories like this that I kind of wish I was young again.
040708a Villa Skeleton model 2344i01 b


06070801 Romaphilia Philadelphia plan 2360i12


13070801 Museum for Nordrhein Westfalen site plan roof plan 2226i15
13070802 Museum for Nordrhein Westfalen elevations 2226i16


2013.07.08 22:08
Why is everyone bashing OMA and Rem Koolhaas?
...can you at least provide examples of how an OMA building is shallow, how an OMA design is frivolous, how an OMA design is self-indulgent, how exactly their buildings are poorly planned and designed? And who exactly are the pseudo-intellectuals and decadent elites that OMA panders to?
Perhaps I'm asking too much because bashing and actual criticism are not at all the same thing. Perhaps bashing is itself (by default?) shallow, frivolous, self-indulgent shite, poorly planned and designed. Suddenly I'm reminded that we are all mirrors that have to see ourselves regardless. Wow, what a bashing concept!


14070801 New Not There City merged with Ury House and Farm Pennypack Creek Indian trails etc 2090i15


2014.07.08 13:01
Op-Ed: From (EX)CITE to (IN)CITE, reflecting on Rem's Biennale
...you say, "I've looked for something in his [Koolhaas's] buildings that would speak to me...," and you mention "how most people engage with [architecture]. I'm curious how exactly you have looked at Koolhaas' buildings, i.e., did you visit them in person or look at images of the buildings/designs? And, how exactly do most people engage with architecture?
My engagement with 'architecture' is mostly virtual (and that's really not so rare if you really think about it), and when I face to face engage with 'architecture' it's more or less as a tourist (and that's also not so rare if you really think about it). Of course, there are lots of buildings in my immediate environment, and even some significant architecture here and there, but none of it really makes me feel that if everything was beautiful then everything would be better. I will say, however, that around here you're more apt to find beauty wherever the build-up is less dense, and absolute beauty is found where there is no build-up at all.
2014.07.08.09:32
what do you all think of this? http://www.best-un-built.com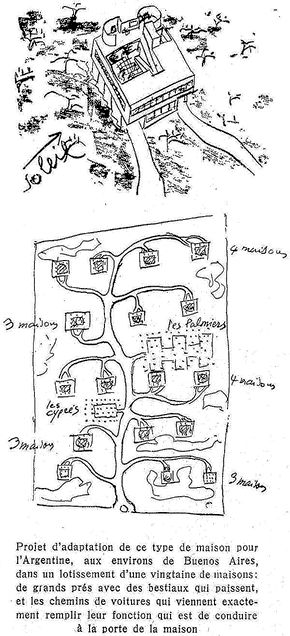 From page 28 of Le Corbusier et Pierre Jeanneret, Oeuvre Complète 1929-1934.

Raw online translation of the text in the image:
adaptation project of this type of home to Argentina, near Buenos Aires, in a subdivision of twenty houses: big pressure with cattle grazing, and the paths of cars that come exactly fulfill their function is driving at the door of the house
2014.07.08.09:50
what do you all think of this? http://www.best-un-built.com
In fact, I recently 'plunked down' plans of the Villa Savoye to where I'm living/sitting right now.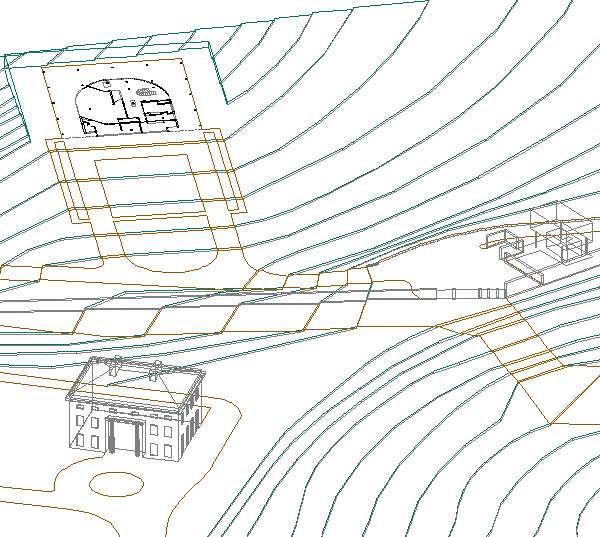 15070801 Cubist ICM horizontal NNTC plans 3392ui29
15070802 Cubist ICM vertical NNTC plans 3392ui30


16070801 IQ63 full plan 3392vv94
16070802 IQ63s04 Campo Rovine plans 3392vv95
16070803 IQ63s06 Campo Rovine plans 3392vv96
16070804 IQ63s07 Campo Rovine plans 3392vv97
16070805 IQ63s08 Campo Rovine Good-Bye House Cut & Paste Museum plans 3392vv98
16070806 IQ63s09 Campo Rovine plans 3392vv99
16070807 IQ63s10 Campo Rovine Villa Stein de Monzie in Terrain Wall House 2 in Terrain plans 3392vv100
16070808 IQ63s11 Campo Rovine Bye House Distorted Courthouse Plus Ultra Quondam Neighborhood 001 plans 3392vv101
16070809 IQ63s12 Campo Rovine Quondam Neighborhood 001 plans 3392vv102
16070810 IQ63s13 Campo Rovine Maison Millennium 001 plans 3392vv103
16070811 IQ63s14 Campo Rovine Pantheon Whitemarsh Hall Palace of Ottopia Mikveh PMP I. Kahn Collagio Wave Wall House Villa Plus Ultra Garden of Satire plans 3392vv104
16070812 IQ63s15 Campo Rovine Pantheon Minerva Medica St. Pierre Firminy-Vert Wall House 2 Garden of Satire Quondam Neighborhood 001 plans 3392vv105
16070813 IQ63s16 Quondam Neighborhood 001 plans 3392vv106


18070801 CCTV elevations work 2332i09


19070801 rem surface cubed from 01052302 2480i27
19070802 rem surface from 01052302 2480i28
19070803 rem surface from 01052302 2480i29


21070801 Maze House plans site plan 229li21