9 March 1778 Monday
Vases, Candelabra, Grave Stones, Sarcophagi. Tripods, Lamps and Ancient Ornaments volume II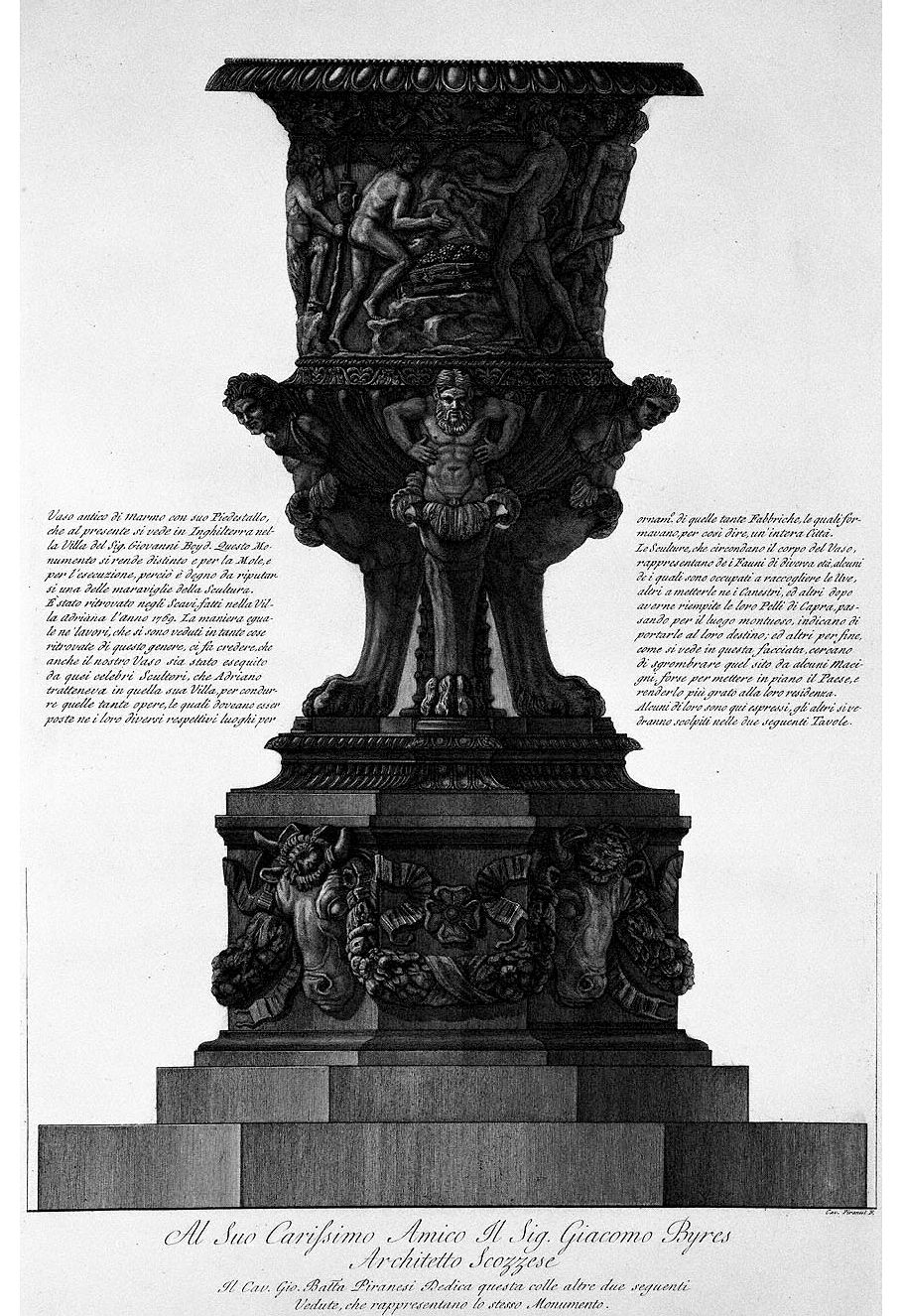 To Your Dearest Friend Mr. Giacomo Byres Scottish Architect
The Cav. Gio Batt(ist)a Piranesi Dedicates this with the other two following Views, which represent the same Monument.
Ancient vase of marble with its pedestal, which is at present seen in England in the villa of Mr. John Boyd. This Monument is distinguished both by its Molecule and by its execution, therefore it is worthy to be considered one of the marvels of Sculpture. It was found in the excavations carried out in Villa Adriana in the year 1769. The similar manner in the works, which have been seen in so many things of this kind found, makes us believe that our vase too was executed by those famous sculptors , which Hadrian kept in his Villa, to carry out those many works, which were to be placed in their different respective places to adorn those many buildings, which formed, so to speak, an entire city. The Sculptures, which surround the body of the Vase, represent Fauns of different ages, some of which are busy collecting the Grapes, others placing them in the Baskets, and others after having filled their Goat Skins, passing through the mountainous place, indicate to carry them to their destiny; and others for the end, as seen in this facade, try to clear that site of some boulders, perhaps to level the country, and make it more grateful to their residence. Some of them are here expressed, the others will be seen engraved in the following two plates.
Cav. Piranesi F.


21-22 y.o. Francesco Piranesi 1780
Raccolta de' tempj antichi Parti I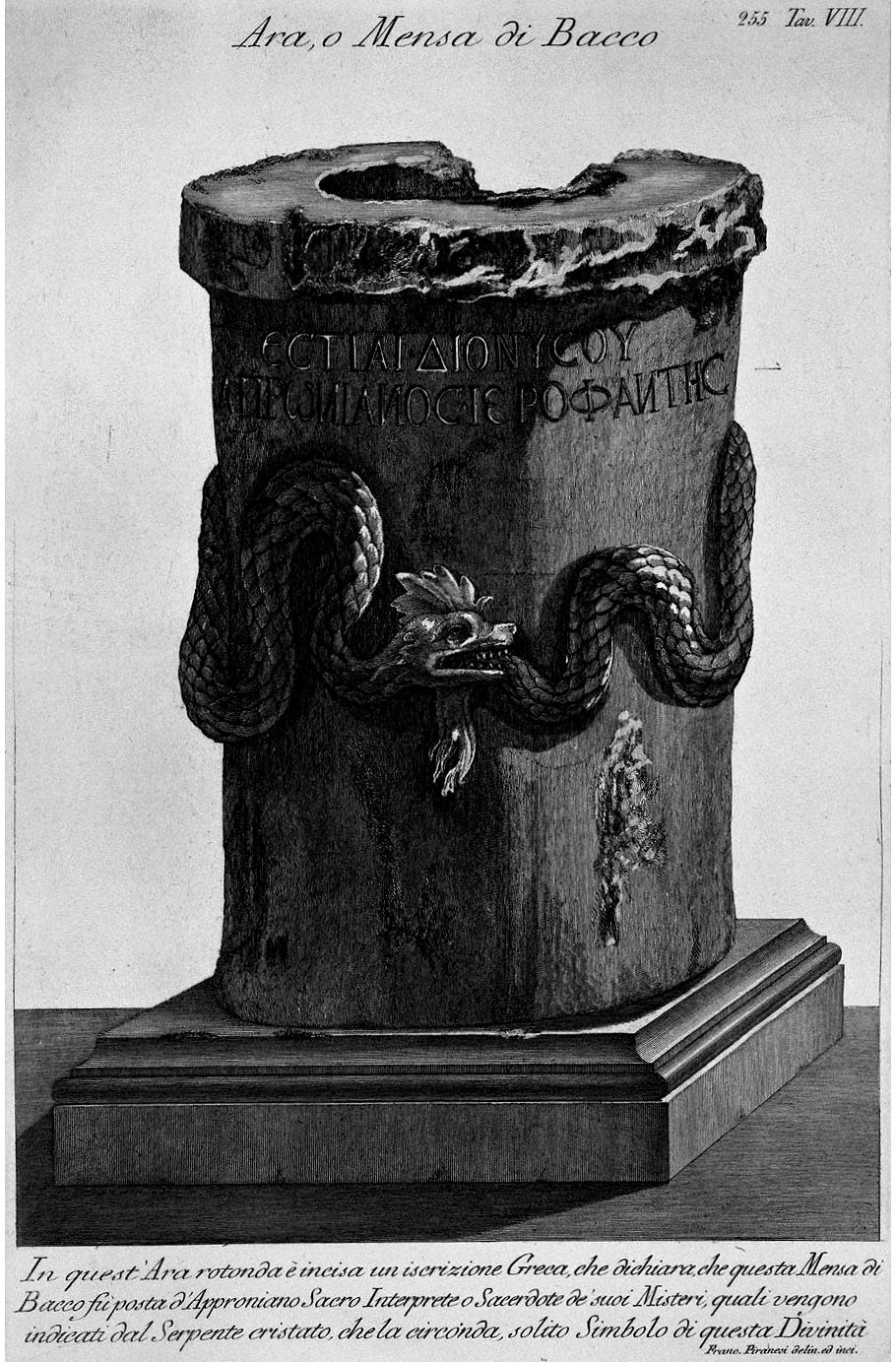 Altar, or Table of Bacchus
In this round altar is engraved a Greek inscription, which declares that this Table of Bacchus was placed by Appronianus, Sacred Interpreter or Priest of his Mysteries, as indicated by the cristed Serpent, which surrounds it. Usual Symbol of this Divinity.
Franc. Piranesi drew and engraved


9 March 1812 Monday



Morning cloudy, wind NW. Therm. 29°. Soon became clear. Snow and Hail about a 1/2 inch quickly disappeared where the sun could reach it. Therm. rose to 40°. Evening brilliant and cold.


9 March 2007
...and speaking of random tangents
I went to the Historical Society of Frankford this morning--continuing research on Ury House. It was my first time there. The Keno brothers loved it, and now I do too. I'm going back tomorrow, even.
H. Jean Crawford read a paper on "Ury House" at the Historical Society of Frankford 27 November 1936. Miss Crawford lived at Ury then (and I live there now, and there's talk of another paper on "Ury House" at the Historical Society of Frankford). Crawford's paper offers some new information, particularly regarding George Washington's visit to Ury House [sic: the dinner was at Miers Fisher's house on Mulberry Street (now Arch Street), a block north of the "executive mansion"]: "There is corroboration for this tale in the "Washington Table", which the late Mr. Samuel Parrish of New York, a great grandson of Miers Fisher, has preserved as a relic of Ury House, in his Museum at Southampton Long Island."
So I google parrish museum southampton and give them a call. Unfortunately, they don't have any of Samuel Parrish's possessions in the collection any longer, but I still have to talk with someone there that might know better. I had no idea Herzog & de Meuron were working on a design for the Parrish Art Museum. The plan...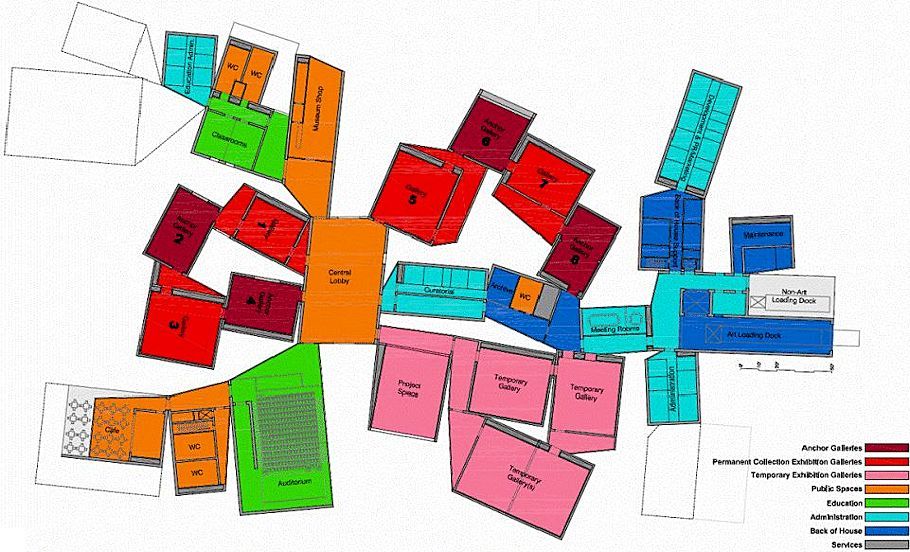 ...of the new museum design reminds me of this. And the plan also reminds me of random tangents.
Do you think Herzog & de Meuron know that the first virtual museum of architecture online emanates these days from a place once owned by Samuel Parrish's great grandfather?
Bonus question: Did you know Miers Fisher Jr.'s 30 hour St. Petersburg (Russia) wife, was also eventually a passenger on the "Boatload of Knowledge," and that Robert Owen was with her when he arrived at New Harmony, Indiana, 12 January 1826?
Hélène's life was very random tangent. Ottopian, even.
...and speaking of random tangents
And Helene Gregoroffsky Fisher died 9 April 1828 in Cincinnati, of all places.


9 March 2015
Orange County legislators fail to save Paul Rudolph's Government Center
I am not superimposing a modernist value structure on classical architecture. I am merely looking at the history of Classical architecture itself. In broad terms, each generation (and 'nationality') strove to make improvements on what was done before--sometimes in the form of refinements, and sometimes in unprecedented innovations, like the introduction of the arch and dome into the classical lexicon. The Roman circus, for example, finally reached its point of highest refinement with the Circus of Maxentius (c.309AD) which is very late considering that Rome was founded c.750BC. Come the Renaissance, when classical architecture became both a practical and academic exercise, we see all the architects trying to out do each other in style and design. Michelangelo stands out as he almost exclusively focused on the design of moldings, and the results of his constant experimentation remain unparalleled in their classical innovations, which, in turn fueled Mannerism and the Baroque. Neo-classical architecture is due largely to the 'rediscovery' of ancient Greek architecture and the publication of their details and measurements.
Classical architectural design today just doesn't seem to have any of that aliveness, rather more like rigor mortis set in.
ps. A couple of weeks ago I was looking through all the HABS collection drawings featuring architecture in Philadelphia. EKE, I thought of you and wondered whether you knew about this online resource, as there are so many measured drawings of all kinds of America architecture, full of plans, elevations and details, and how all this information could really aid in making American classical architecture more innovative if not even more American, again.
pss. Check out Gunston Hall, Virginia. I did the 'Chinese' Dining Room drawings.


9 March 2017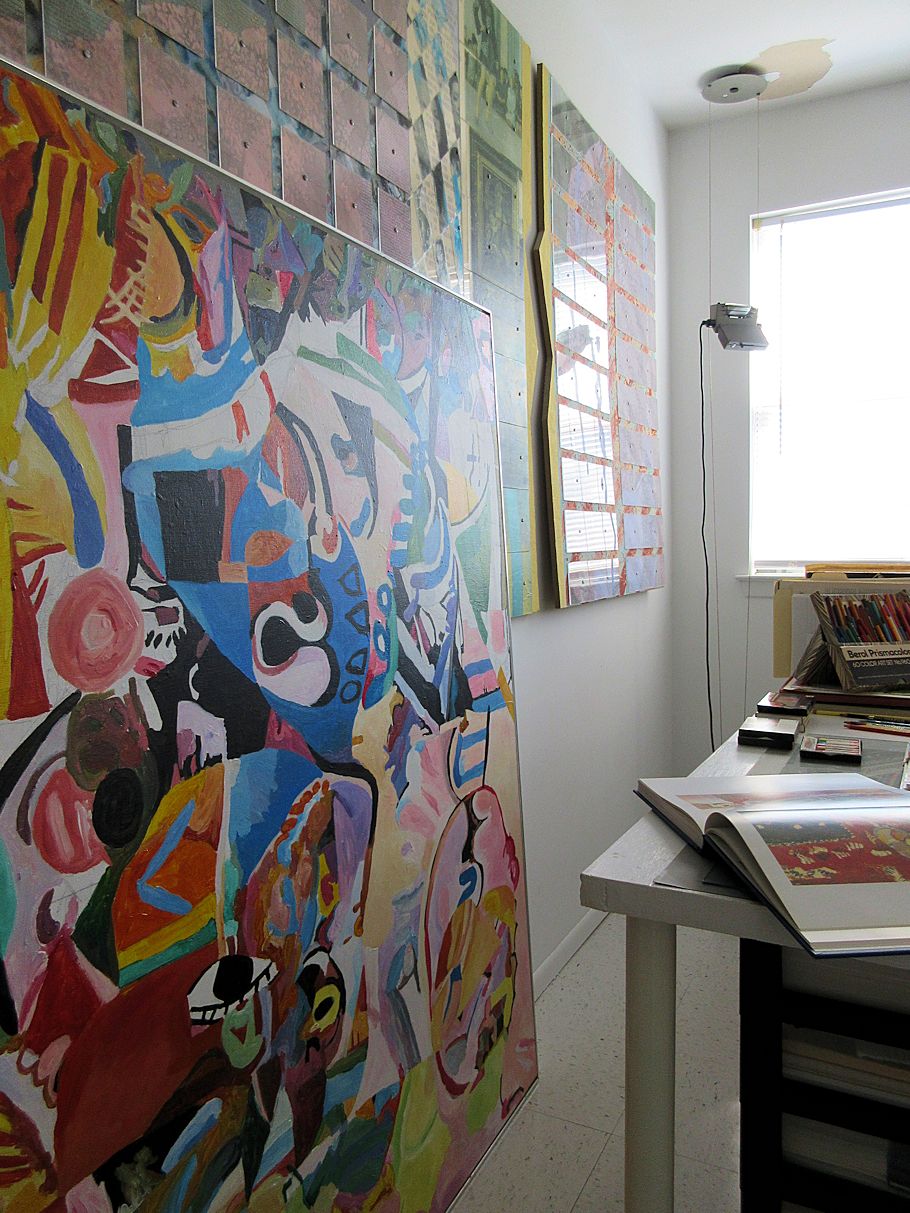 9 March 2019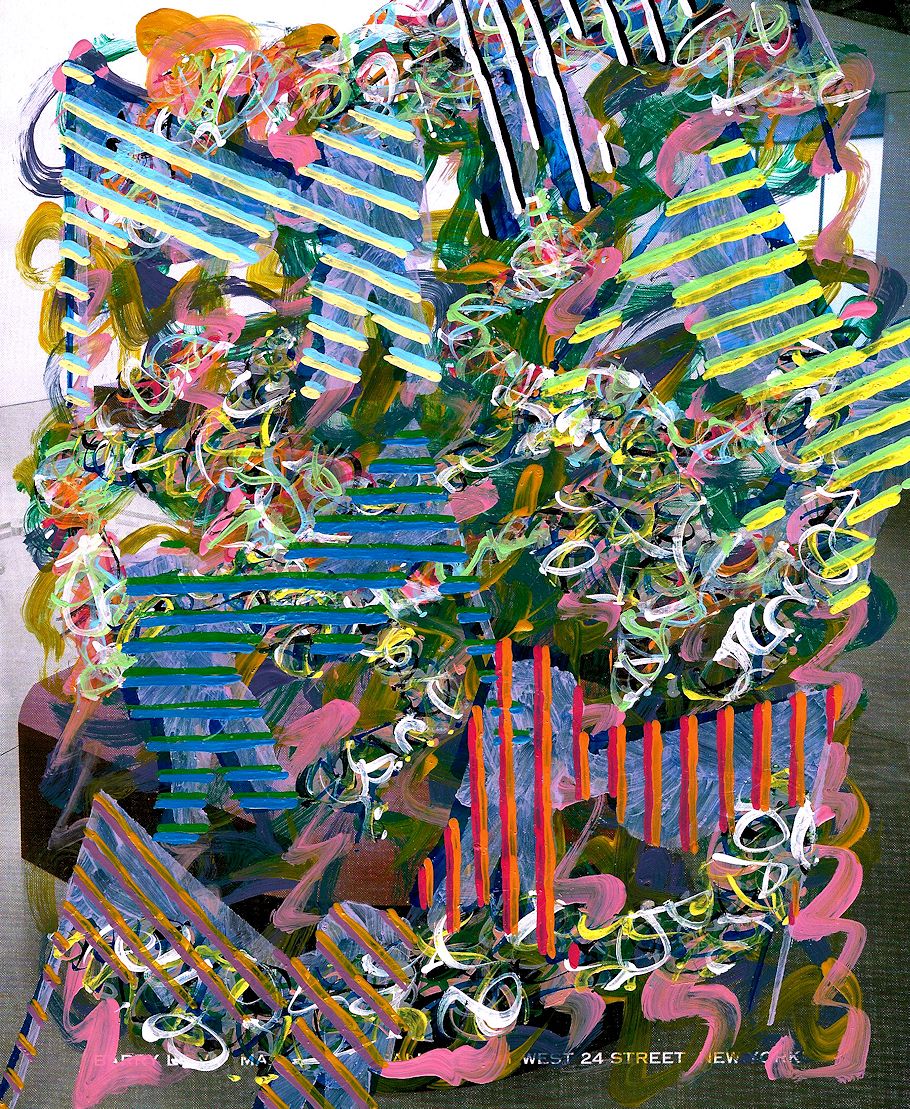 Mary Boone's 180 hours of community service hour 32


9 March 2023 Thursday
One of the 'Constantinian' cemetery churches is named for St. Laurence, of whom I know nothing about; so I looked him up in Butler's Lives of the Saints.

10 August St Laurence Martyr A.D. 258
"The Emperor Valerian in 257 published his edicts against Christians and Pope St Sixtus, the second of that name, was apprehended the year following and put to death ; on the fourth day after the faithful Laurence followed him to martyrdom."
"...though it must be regretfully admitted that good reasons have been adduced for doubting the historical reliability of such moving incidents as St Laurence's presentation of the goods of the Church, and the manner of his death."
"He was certainly buried in the cemetery of Cyriaca in agro Verano on the Via Tiburtina, where Constantine built the first chapel on the site of what is now the church of St Laurence-outside-the-Walls, the fifth patriarchal basilica of the city."
"The great devotion inspired by the memory of St Laurence in Rome is strikingly illustrated in the Life of St Melania the Younger..."

There's lots that I'll have to "dig into" later.

Coming immediately after St Laurence, in Butler's Lives of the Saints, is:

10 August St Philomena or Philumena Date Unknown
"On May 24, 1802, in the catacomb of St Priscilla on the Via Salaria Nova an inscribed loculus was found, and on the following day it was carefully examined and opened."

By 24 May 1802 Francesco and Pietro Piranesi were already in Paris for 17 months. Nevertheless, the 'story' of St. Philomena parallels Helena's finding of the true cross, and may be a politically motivated religious hoax as well.