24 March 1778 Tuesday
Vases, Candelabra, Grave Stones, Sarcophagi. Tripods, Lamps and Ancient Ornaments volume II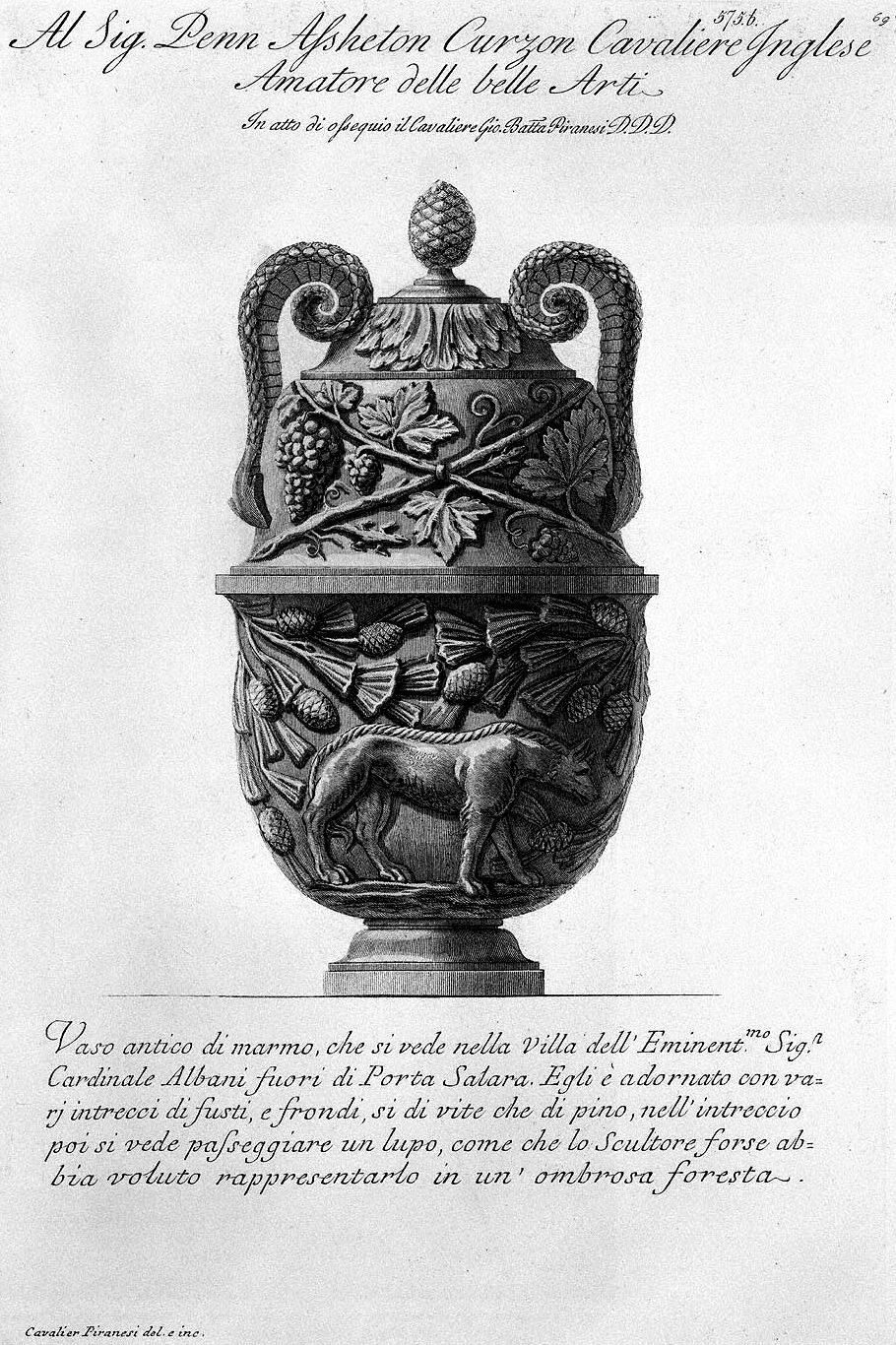 To Mr. Penn Assheton Curzon English Knight Lover of the Fine Arts
In deed of respect the Knight Gio. Batt(ist)a Piranesi D. D. D.
Ancient marble vase, which can be seen in the villa of the Eminent Cardinal Albani outside Porta Salara. It is adorned with various interweaving of stems and fronds, both of vines and of pine, in the interweaving then a wolf can be seen walking, as if the Sculptor perhaps wanted to represent him in a shady forest.
Cavalier Piranesi delineated and engraved


24-25 y.o. Francesco Piranesi 1783
Il teatro di Ercolano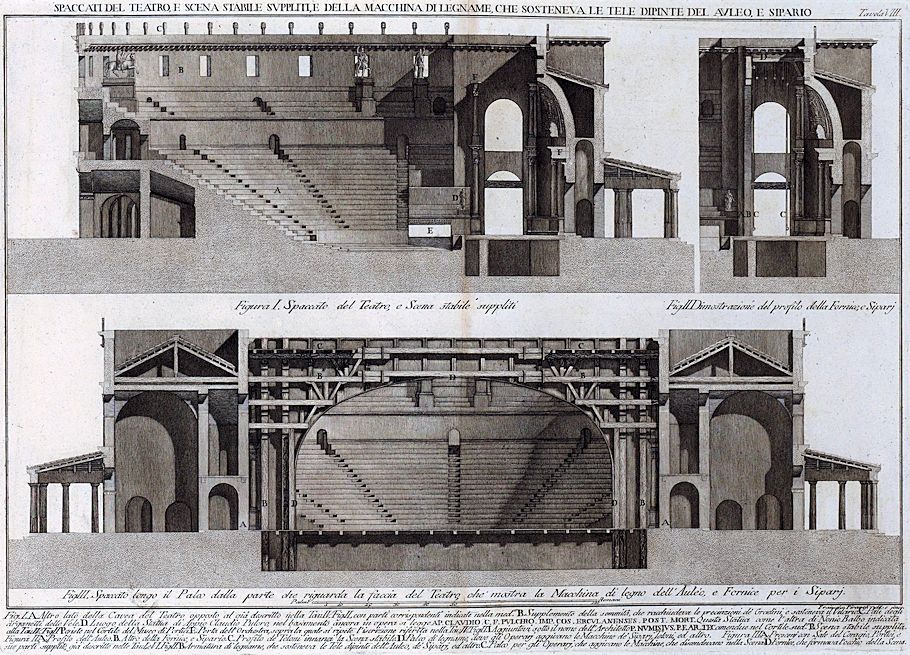 Sections of the theater, and stable scene substitutes, and of the wooden machine, which supported the painted canvases of the hall, and curtain
Figure I. Section view of the theater and substituted stable scene
Figure II. Demonstration of the profile of the Fornix, and Curtains
Figure III. Section along the Stage from the part that concerns the face of the Theater, which shows the wooden Machine of the Auléo, and the Fornix for the Curtains.
Fig. I. A. Other side of the Cavea del Teatro, opposite the one already described in Table IV. Fig. II. with corresponding parts indicated in med. B. Supplement of the top, which enclosed the precincts of the Gradini, and supported the Velario. C. Poles of the Vele winches. D. Lungo of the Statue of Appius Claudius Pulcro, AP can be read on the base still in place. CLAVDIUS. C. F. PVLCHRO. IMP. COS. ERCVLANENSES. POST. DEATH. This Statue, like the other one by Nonius Balbo indicated in Plate IV. Fig.II. P exists in the courtyard of the Museum of Portici. E. Porta dell'Orchestra, above which the inscription referred to in Table IV is repeated. Fig. II. I. Added under the name of the Architect P. NVMISIVS. P. F. AR...TEC both in the South Courtyard or P. Scena stably substituted.
Figure II. A. Profile of the classroom. B. Other of the Fornix, and Sipario. C. Profile of Teloni before the stable scene. D. Timber stage, where the Operators set up the Machines for Curtains, Telons, and more. Figure III. A. Proscenj with Sale del Coragio, Portici, and its substituted parts, already described in Tables I. and VI. Fig. II. B. Armature of wood, which supported the painted Canvases of the Auleo, dé Sipari, and other. C. Stage for the Operators, who activate the Machines, who descended into the Scene. D. Fornix, which formed the oculus of the scene.
Francesco Piranesi, delineated and engraved.


45-46 y.o. Francesco Piranesi 1804
Calcography of the Piranesis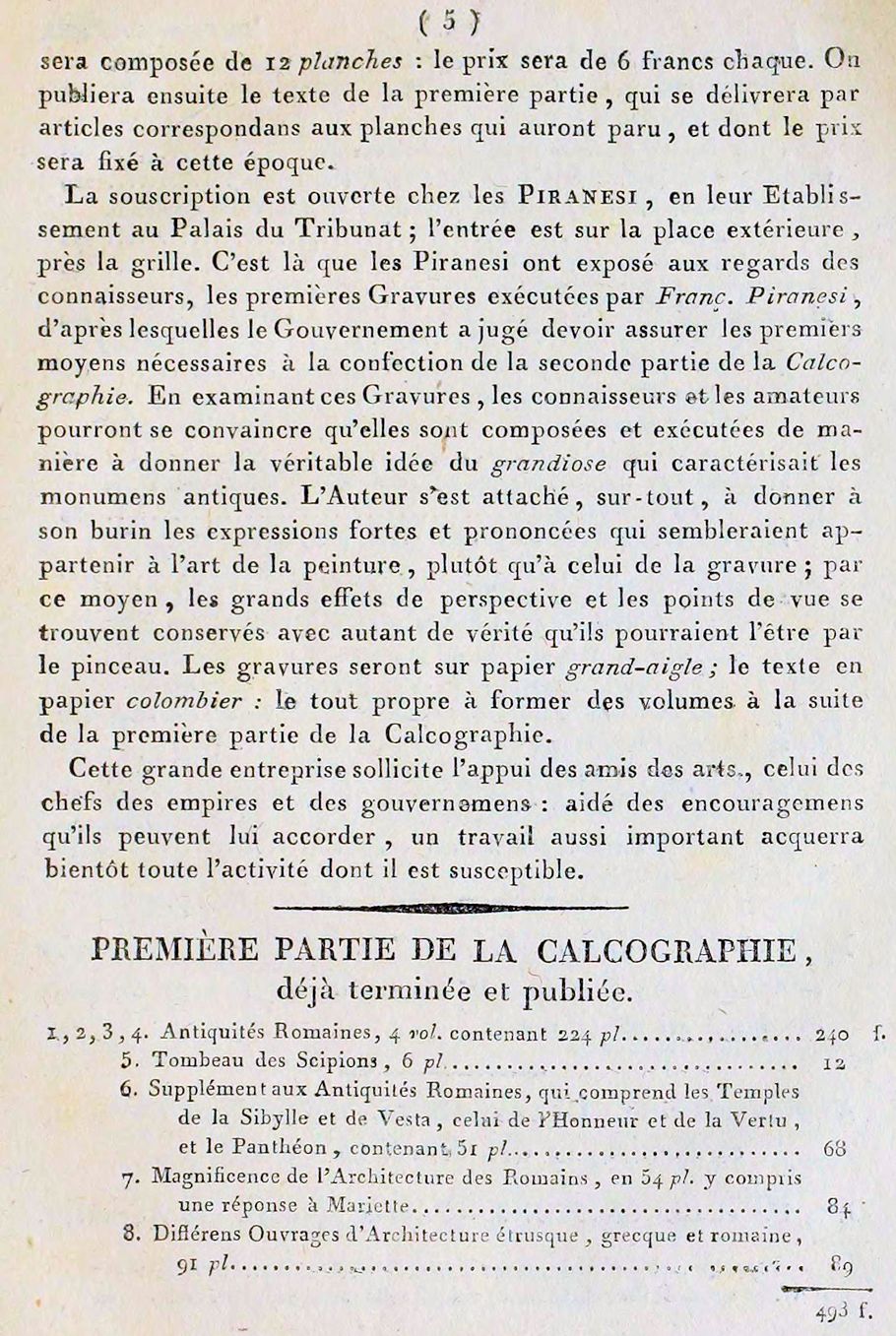 The subscription is open at the Piranesis, in their Establishment at the Palace of the Tribunate; the entrance is on the outside plaza, near the gate. This is there that the Piranesis exposed to the eyes of connoisseurs, the first Engravings executed by Francesco Piranesi, according to which the Government has judged to have to provide the first means necessary for the making of the second part of the Calcography. By examining these engravings, connoisseurs and amateurs will be able to convince themselves that they are composed and executed in such a way as to give the true idea of the grandiosity which characterized the ancient monuments. The Author has endeavored, above all, to give his chisel the strong and pronounced expressions which would seem to belong to the art of carving painting, rather than that of engraving; by this means, the great effects of perspective and the points of view are preserved with as much truth that they could be by the brush. The engravings will be on large-eagle paper; the text in dovecote paper: all suitable for forming volumes following the first part of the Calcography.
This great enterprise seeks the support of friends of the arts, that of the heads of empires and governments: aided by the encouragement they can give it, such an important work will soon acquire all the activity of which it is susceptible.
FIRST PART OF CALCOGRAPHY,
already completed and published.
1,2,3,4. Roman Antiquities, 4 vol. containing 224 pl.
5. Tomb of the Scipios, 6 pl
6. Supplement to Roman Antiquities, which includes the Temples of the Sibyl and of Esta, that of Honor and of Verlu, and the Pantheon, containing 51 pl.
7. Magnificence of Roman Architecture, in 54 pl. including a response to Mariette
8. Different Works of Etruscan, Greek and Roman Architecture


24 March 1812 Tuesday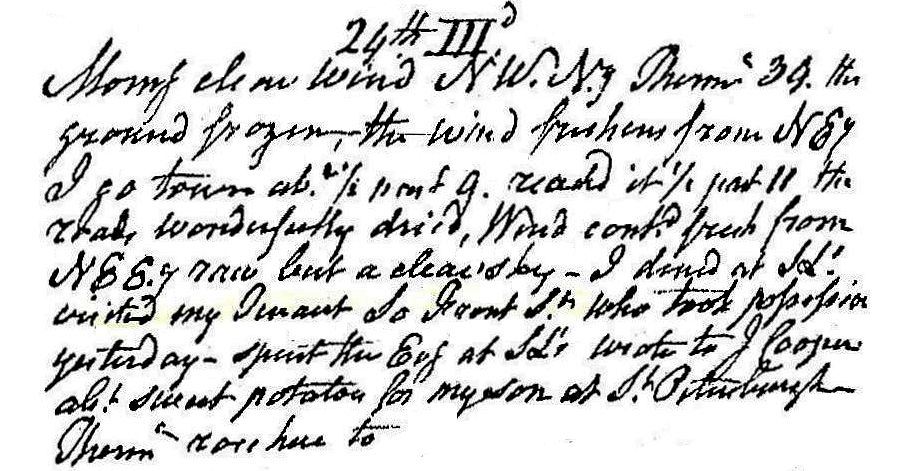 Morning clear, wind NWerly. Therm. 39°. The ground frozen, the wind freshens from NEerly. I go to town 1/2 past 9, reach it 1/2 past 11. The roads wonderfully dried. Wind continued fresh from NEEerly, raw but a clear sky. I dined at SL's. Visited my tenant South Front Street who took possession yesterday. Spent the evening at SL's. Wrote to J Cooper about sweet potatoes for my son at St. Petersburg. Therm. rose here to [blank].


24 March 2004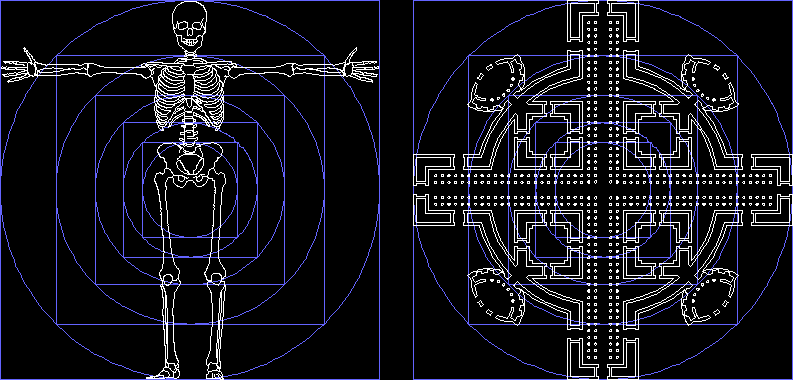 24 March 2012
Re: Traditional Architecture
In preparation for a forthcoming Quondam exhibition of "The Philadelphia School," just yesterday I began (re)reading Scully's Louis I. Kahn (1962) where we see Kahn's early 1920s Beaux Arts architectural education being somewhat of a hindrance during the 1930s and 1940s, but then significantly informing the beginnings of his mature design work from the 1950s onward. And, by the late 1950s we begin to see the influence of Piranesi's Ichnographia Campus Martius, e.g. First Unitarian Church, scheme 1, 1959; Salk Institute Meeting House, 1959; Bristol Town Hall, 1960.


24 March 2017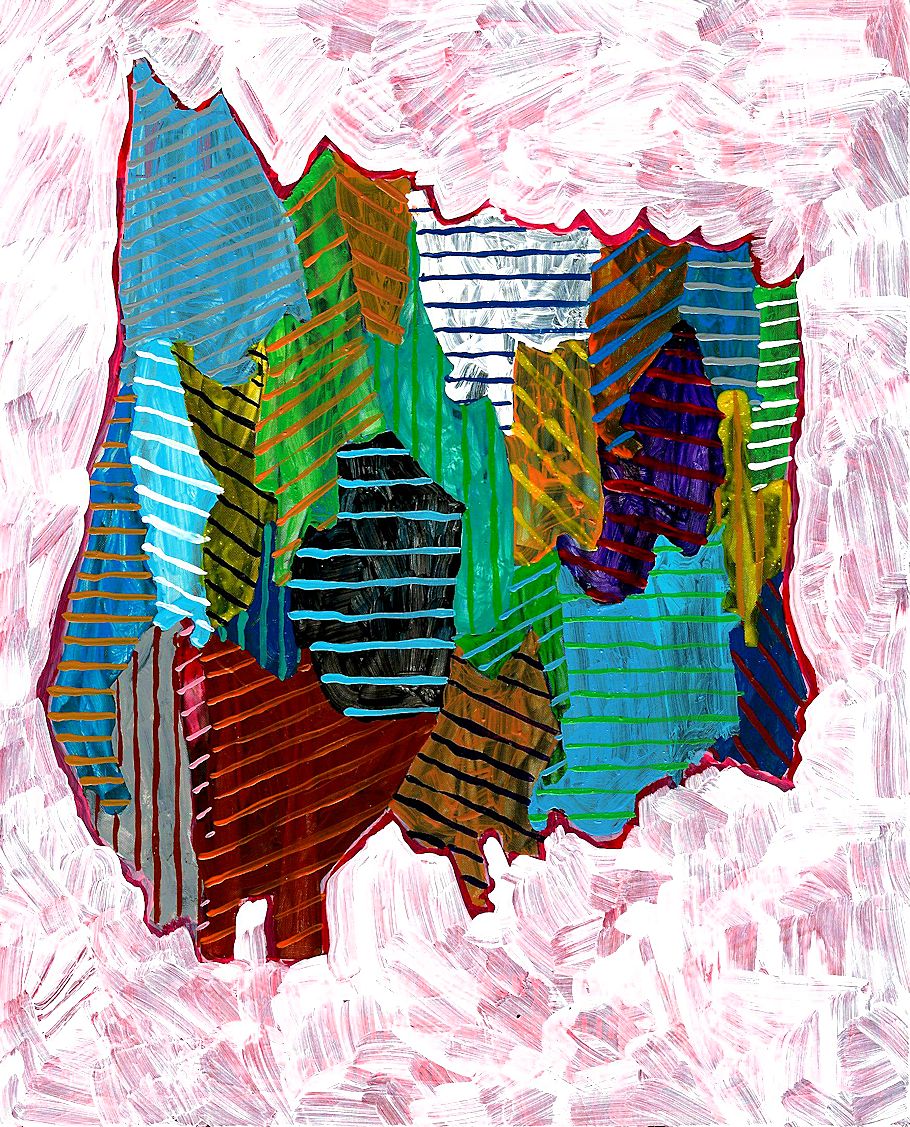 zero zero seven



zero zero eight


24 March 2023 Friday
"Beginning his studies in October 1953, Tafuri faced the disconcerting reality that the University [of Rome "La Sapienza"] remained stocked with professors appointed under the Fascist regime. Over the duration of his diploma studies, he came to openly oppose several of there. His "hit-list" included Enrico Del Debbio, Ballio Morpurgo, Vincenzo Fasolo and, most explicitly Saverio Muratori. He complained of their lack of interest in teaching, their distance from the classroom and their reliance on assistants to deliver the curriculum. He begrudged their prejudice against modern architecture: 'The operative principle was that contemporary architecture must not enter the curriculum. It was considered a heresy.'"
Andrew Leach, Manfredo Tafuri - Choosing History (2007), p. 7.

"At the Sapienza University of Rome, where Tafuri studied, Vincenzo Fasolo (1885-1969) was a prominent architectural historian. He was the director of the Istituto di Storia dell'architettura of the Sapienza University and instigated the so-called 'Roman School of Architectural History'. Fasolo was an advocate of the conservative academic circles in Rome which were marked by a proverbial aversion to modernity. For example, the first Italian translations of the historical surveys composed by Pevsner and Giedion were considered inappropriate reading material by most professors of architecture in Rome. However, while his teaching methods were severely criticized by Bruno Zevi, for example, Fasolo paradoxically saw himself as an innovator and a prophet of the modern. He did not stand for the 'false' modernity advocated by Giedion, Pevsner and some of his students, but for the truly modern presented in the great buildings of antiquity. For Fasolo, these buildings set the standard for a meta-historical canon. Every now and then, architects recognized the value of this and designed their buildings in accordance with the meta-historical canon. Fasolo claimed that only these exceptional buildings deserved the label 'modern'."
T. R. Hoekstra, Building versus Bildung. Manfredo Tafuri and the construction of a historical discipline (2005).

"It's a bit surprising that the words Circus Flaminius jam tum Apollinaris backwards [onto the Tab. VII cooper plate of the Ichnographia Campus Martius] might just be the last thing Piranesi ever etched."
Stephen Lauf, The Discovery of Piranesi's Final Project (2022.11.01).

Essentially cleaning up the Campo Marzio mess. After having made historical discoveries, it's now necesary to make changes to the narrative, in this case, the Campo Marzio narrative(s) written in my life time.

Andrew Leach provides a synoptic history of Tafuri's reading of and writing on Piranesi's Campo Marzio, pp. 234-6. It's become abundantly clear that Tafuri never actually studied Piranesi's Il Campo Marzio dell'Antica Roma, not the images and (certainly) not the texts. Piranesi never did all the things Tafuri said he did, and it was Tafuri, not Piranesi, who was incapable of knowing the Campo Marzio 'history'.

Tafuri's discrediting of the Campo Marzio is completely unjustifiable.