73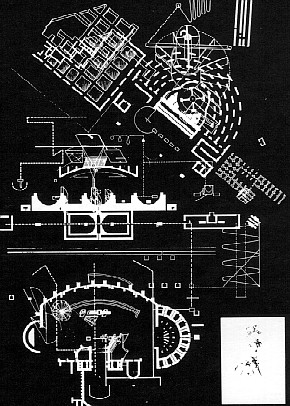 Theater plan with performance notations
2013.12.27
In the course of the "play" the most egregious "mistake/inversion" is the misplacement and disorientation of the Circus Flaminius and its actual exchange with the Theater of Balba. This "mistake" manifests a composition of inverted theaters--essentially a double inverted theater. This configuration becomes one of the Il Campo Marzio's final scenes and thus represents the double inverted "theater" of Rome's own history--the narrative of pagan Rome and the narrative of Christian Rome, and in the Ichnographia the one story is indeed a reflection of the other.





2001.11.26
Piranesi's Continual Double Theaters
The subject of double theaters starts with Bernini's play--the Baroque ending for sure--and it is Piranesi that continues this Baroque design technique. Oddly, the double theater aspect of Piranesi's design methodology has yet to be recognized by designers or design theorists or critics.

A short list of Piranesian double theaters:
1. check for possible examples in the Prima Parte.
2. the two states of the Carceri.
3. Wilton-Ely's example of mirrored precedent for one of the Carceri.
4. the overall double--Pagan-Christian--narrative of the Ichnographia Campus Martius, with the Scenographia as the empty stage set.
5. the double directional Triumphal Way.
6. the axes of life and death.
7. the axes of love and war.
8. the Mars - St. Agnes axis.
9. the theatrics of satire--Horti Luciliani.
10. the (literal) double theaters-- Marcellus and Balbi.
11. the "circus act".
12. the back versus front of the altar.
13. the two sets of cochinae--is the snail its own double theater in that it self propagates, i.e., fulfills both sex roles individually? does this relate to the intercourse building?
14. the "rise and fall" (of Imperial Rome) as delineated by the two Busti Busti.
15. it seems a case could be made regarding the working together of two mediums-- plan delineations in combination with Latin labels.