29 November 1778 Sunday
. . . . . .


29 November 1812 Sunday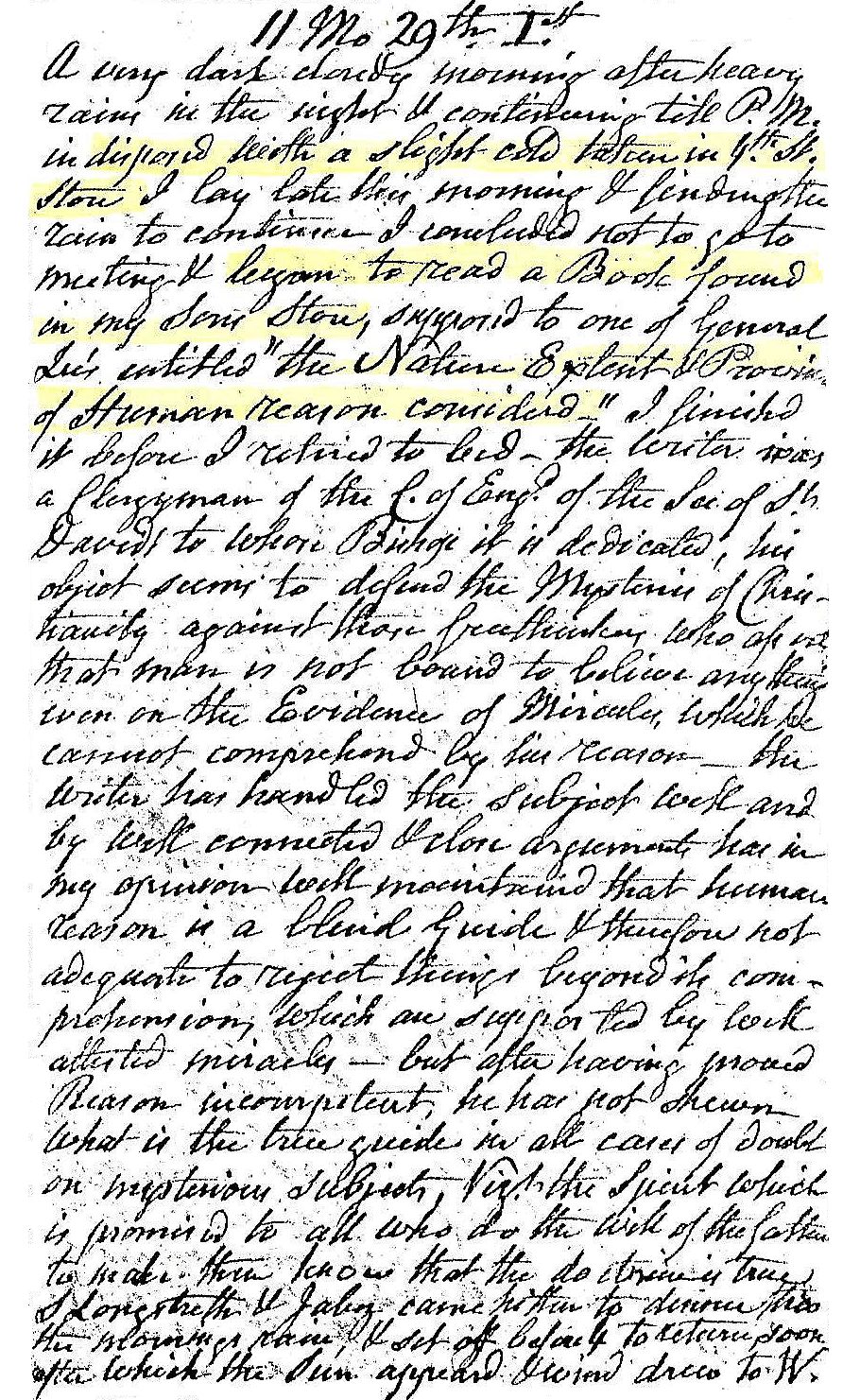 A very dark cloudy morning after heavy rain in the night and continuing till PM. Indisposed with a slight cold taken in 4th Street store. I lay late this morning and finding the rain to continue I concluded not to go to meeting and began to read a book found in my son's store, supposed[?] to one of General Lee's entitled "The Nature, Extent and Province of Human Reason Considered--" I finished it before I retired to bed. The writer was a clergyman of the Church of England of the Sec. of St. David to whose bishop it is dedicated. His object seems to defend the mysteries of Christianity, against those free thinkers who ...... that man is not bound to believe anything even on the evidence of miracles, which he cannot comprehend by his reason. The writer has handled the subject well, and by well connected and close arguments has in my opinion well maintained that human reason is a blind guide and therefore not adequate to reject things beyond its comprehension, which are supported by .... attested miracles. But after having proved reason incompetent, he has not shown what is the true guide in all cause of doubt on mysterious subjects, Nigh[?] the spirit which is promised to all that do the will of the father to make them know that the doctrine is true. S. Longstreth and Jabez came hither to dinner, thru[?] the morning rain and set off before 4 to return, soon after which the sun appeared and wind drew to W.


29 November 2007
Does research kill architectural creativity?
If you really want to be creative, just do exactly what's unexpected. Sure, study all the cases. That's how you learn what is expected. I mean, how can you do the unexpected without knowing what is expected?


29 November 2022 Tuesday
. . . . . .