16 December 1778 Wednesday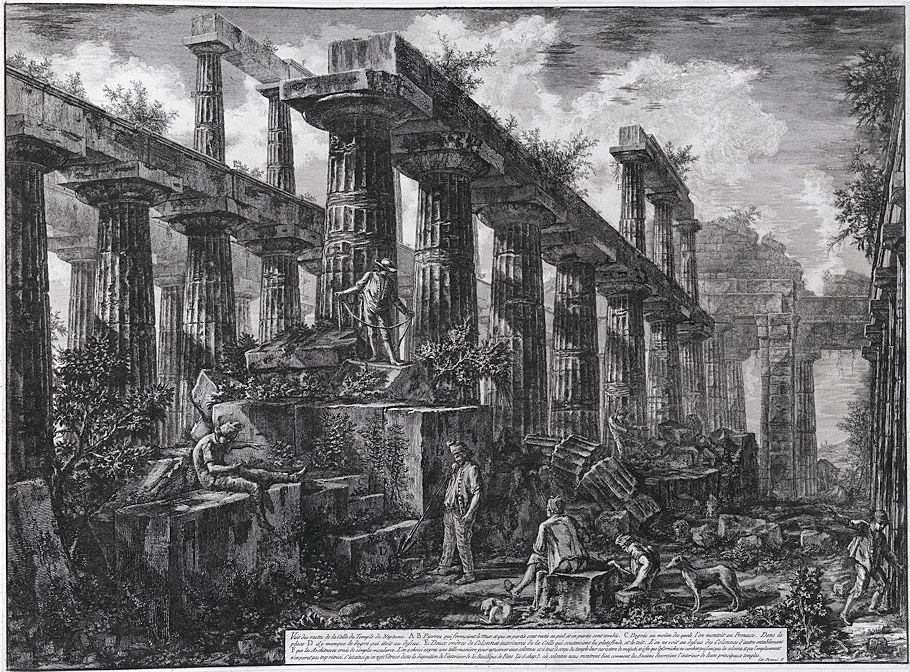 Vuë des restes de la Celle du Temple de Neptune. A B Pierres qui formoient le Mur, et qui en partie sont restés en pied, et en partie sont tombés. C Degrés au moien des quels l'on montoit au Pronaos. Dans la place D il y manque le degré qui étoit au dessus. E Deux ordres de Colonnes interieures de la Celle qui soutenoient les platsfonds, et le toit. L'on ne voit au dessus des Colonnes d'autre entablement F que les Architraves ornés de simples moulures. L'on a choisi expres une telle maniere pour conserver aux colonnes et á tout le corps du temple leur caractere de majesté, et à fin que les Corniches ne surchargeassent pas les colonnes et que l'emplacement n'en parut pas trop rétréci. C'est ainsi qu'en agit Vitruve dans la disposition de l'interieur de la Basilique de Fano Liv.6. chap.3. ces colonnes nous montrent bien comment les Anciens decoroient l'interieur de leurs principaux temples. Cav. Piranesi F.
View of the remains of the Cell of the Temple of Neptune. A B Stones which formed the Wall, and which partly remained standing, and partly fell. C Degrees at least from which one ascended to the Pronaos. In place D the degree which was above is missing. E Two orders of Interior Columns of La Celle which supported the ceilings and the roof. One sees above the Columns no other entablature F than the Architraves adorned with simple moldings. Such a way was expressly chosen to keep the columns and the whole body of the temple their character of majesty, and so that the cornices would not overload the columns and the site would not seem too restricted. This is how Vitruvius acts in the layout of the interior of the Basilica of Fano Liv.6. chap.3. these columns show us how the Ancients decorated the interior of their main temples.


16 December 1812 Wednesday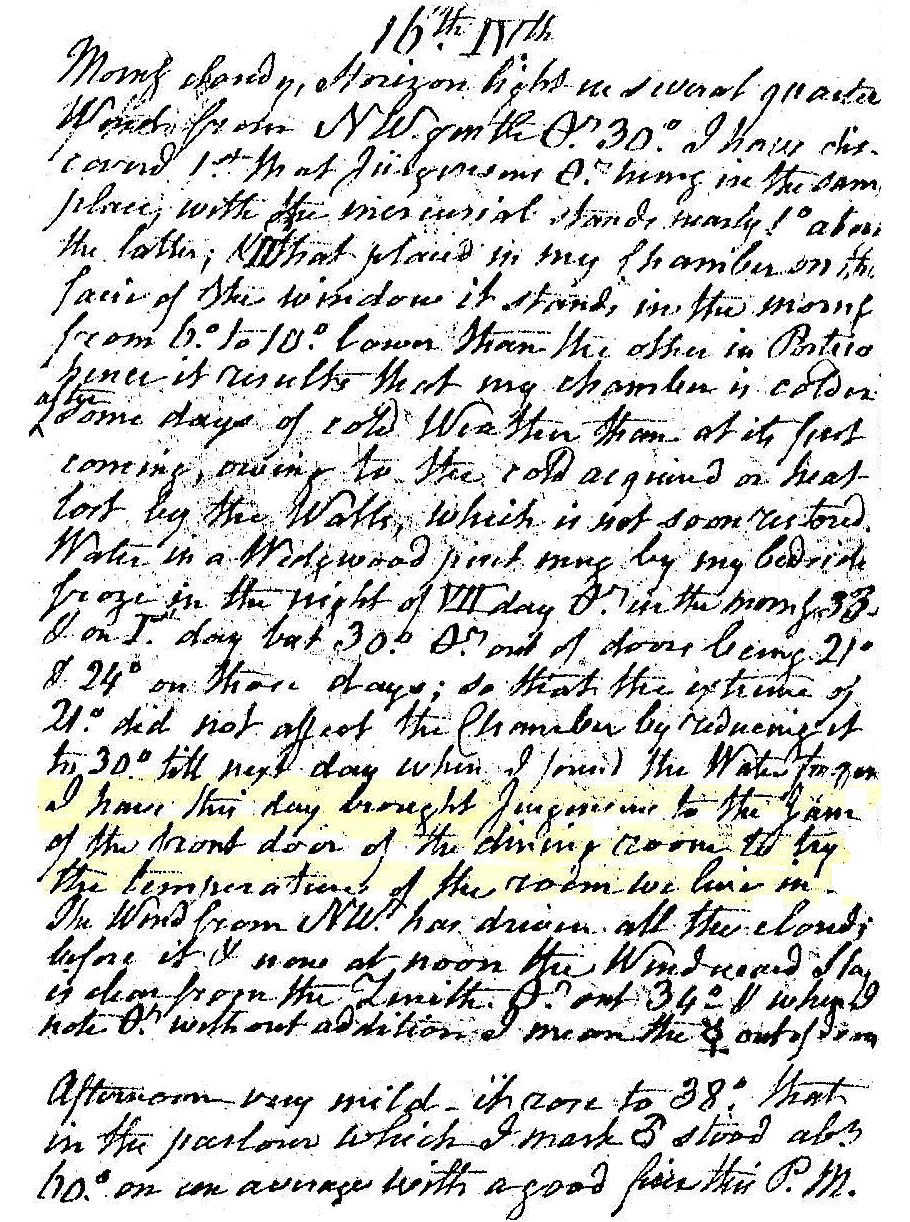 Morning cloudy, horizon high in several quarters, wind from NW. On the thermometer 30 degrees. I have discovered: 1st that Jorgensen's thermometer hang in the same place with the mercurial stands nearly 1 degree above the latter, and 2nd that placed in my chamber on the .... on the window it stands in the morning 6 to 10 degrees lower than the other in the portico. Hence it results that my chamber is colder after some days of cold weather than at its first coming, owing to the cold acquired or heat lost by the walls, which is not soon restored. Water in a Wedgewood pint jug by my bedside frozen in the night of Saturday, thermometer in the morning 33 and on Sunday but 30 degrees. Thermometer out of doors being 21 degrees and 24 degrees on those days; so that the extreme of 21 degrees did not effect the chamber by reducing it to 30 degrees by the next day when I found the water frozen. I have this day brought Jorgensen to the jamb of the front door of the dining room to try the temperature of the room we live in. The wind from NW has driven all the clouds before it and now[?] at noon the windward[?] sky is clear from the zenith. Thermometer out 34 degrees, and when I note temperature without additions I mean the [Mercury symbol] out of .... Afternoon very mild, it rose to 38 degrees. That in the parlor which I mark [Mars symbol] stood about 60 degrees on an average with a good fire this P.M.


16 December 1991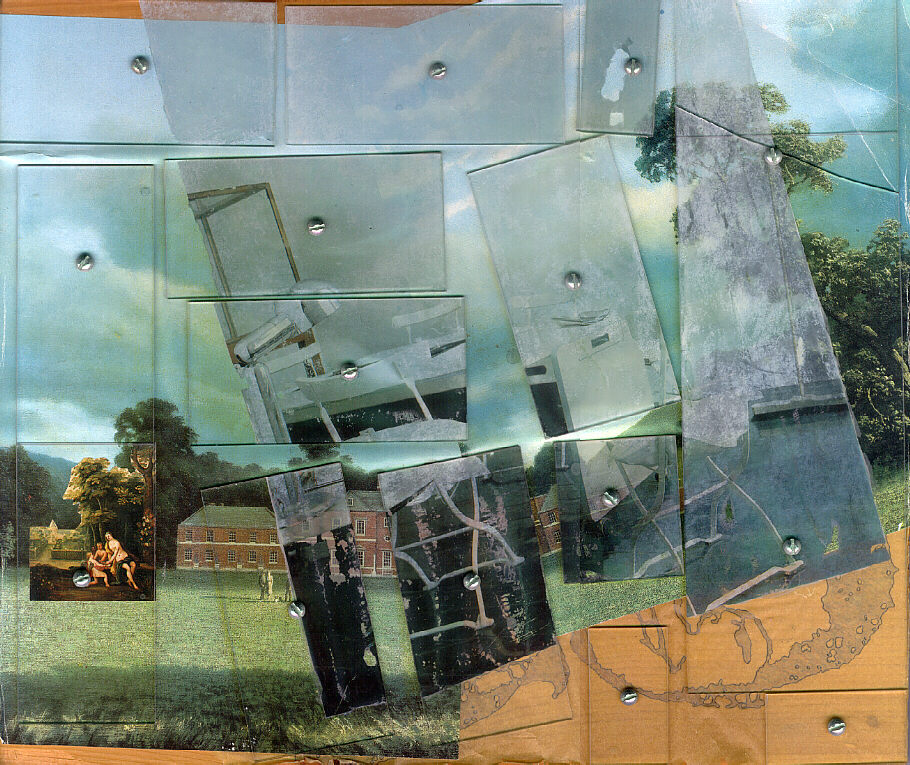 Beuys Haus


16 December 2000
architecture movements
Here's a list of just some of my favorite architecture movements:
The Altar from Pergamon to Berlin.
The Temple of Abu Simbal to higher ground.
Domitian's Naumachia dismantled to repair the fire damaged Circus Maximus.
The spiral columns from Greece to San Pietro Vaticano.
Cedar Grove from Frankford to Fairmount Park (Philadelphia).
Aldo Rossi's Teatro del Mondo floating into the Venetian lagoon.
...and my most anticipated architecture movement:
The Elgin Marbles returning to the Acropolis.


16 December 2003
recent acquisitions of the Working Title Museum
From Ottopia To Bottomopolis more travels within the domain of schizophrenia + architectures
Quondamopolis
city of once was in the future
where Undesigning Oblivion is always in style
How Much Is That Piranesi Innuendo?
fetching rough-rough stuff


16 December 2004
Fantasy Architecture?.....
The subject is fantasy, and fantasy, more or less by definition, does not come with restrictions. Even so, it is 'blurring something familiar with a vision' that was addressed, and the Princeton images indeed do that. The notion that fantasies are not necessarily dark or cautionary, nor necessarily of the future was also added before the images were presented.
fantasy 2 : imagination or fancy, esp : the free play of creative imagination as it affects perception and productivity usually as expressed in an art form or as elicited by projective techniques of formal psychology
Piranesi's Ichnographia Campus Martius is not really about fantasy, rather it is a reenactment of ancient Rome's history delineated via ancient Rome's architecture. The plans with their Latin labels within the large plan are all texts that together deliver the history of the city of Rome. Piranesi did a fantastic job of making a history lesson appear as fantasy.
Ichnographia Romaphilia
Ichnographia Romaphilia
by
John the Baptist Piranesi, Julian Abele, and James Stirling
presented throughout
Leaving Obscurity Behind
The 2005 Horace Trumbauer Architecture Fan Club Convention
28 December 2004 - 17 January 2006
Re: Ichnographia Romaphilia
While working with Piranesi the discussion is often enlightening.
"So why exactly did you produce two versions of the Ichnographia Campus Martius and keep everyone none the wiser?"
"Overall, I just wanted to see who would find the two versions first. They were found, eventually (after more than two hundred years, but it's embarrassing for all the Piranesi "scholars" because it wasn't one of them."
"Why do you think the so-called scholars failed? Why did they not see what was always right in front of them?
"Simply put, they never reenacted the source."
"Kahn reenacted the source, and he didn't see the two versions."
"Well, I'd say Kahn was busy manifesting new versions of his own."
"Perhaps it's just plain destiny that Philadelphia itself reenacts the source."
"You know, I love you guys like brothers."
"That's fine as long as you realize that we're all independent as well."
"Ha, tell that to Romulus and Remus."
Re: Who is the greatest figurative painter alive?
If critics saw better, then they'd be artists.


16 December 2017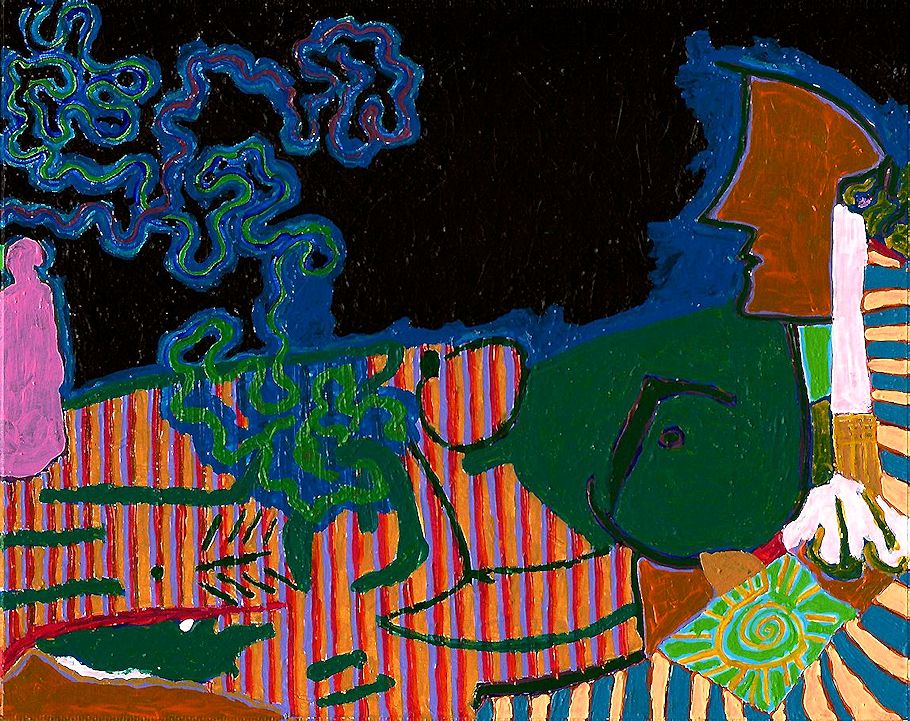 POPICA 011


16 December 2019



Hadrian's Villa Circus of Maxentius Tomb of Romulus plans images


16 December 2022 Friday

15:06 AK
Yes it's pretty wild. Almost like a great plan to populate streets :)

15:07 AK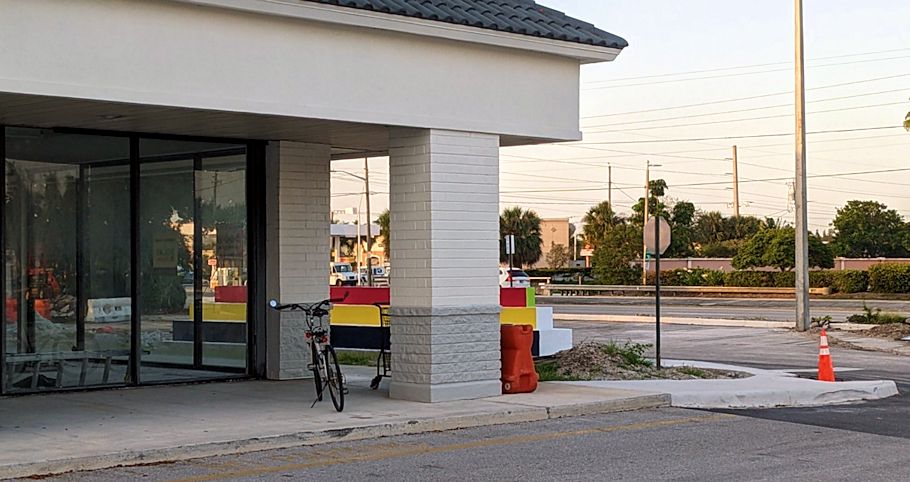 My bench project dolly coming together

15:10 SL
Bench looking good. Re: senes c i, it also has a nice elevational quality.

15:11 AK
Thank you, yes it's true about the elevation.
I'm happy I can show you my work and you are supportive-thank you.

15:19 SL
And I'm glad you're sharing. I really like the trajectory of your work. And since our zoom chat with you on a site visit, it fun for me to get a behind-the-scenes view of it all. Seeing the process of designs has always been enjoyable for me.

15:21 AK
That's great to hear.
I feel I've ended up in a strange territory. Producing these follies - between art and architecture.

15:23 SL
Architectural art, if you asked me. Yes, a new territory that you're making.

15:24 AK
I think people like James Wines, Herbert Bayer, Fischer von Erlach - who else can I copy and learn from?
More architectural art than just art.

15:27 SL
Hejduk also comes to mind, especially the pavilions.

15:27 AK
Yes for sure. I also feel like architectural art is not the right term. James Wines called it arch-art.

15:29 SL
For sure, but you can name it better than anyone. It will hit you one day. I'm sure.

15:30 SL
It's your territory to name, if you want.

15:32 SL
Just thought of encounter art architecture.

15:33 AK
I guess it is a new territory. Encounter is a good one!
I saw Herbert Bayer called a public work a walk in painting.

15:43 SL
I see the use of the word "painting too subjective. An objective name is more real/truthful (in my opinion).

15:43 AK
Yes, I totally agree.

15:46 SL
Constructive texting, I love it. Gotta attend to other things right now.



15:47 AK
Cool cool - later :)

I told JP I've thought about sending an email to the King of Sweden. Turns out he's 10 years older than me, so I don't know. Maybe ask him if he needs a spy in Philadelphia, or, better yet, see if he wants to add to his Piranesi collection. I have like a whole museum to sell. lol

Finally started reading "abracadabra, faia," and what an experience that is. Who knew in 2005 that it was like reading an influential crystal ball.

And now even Miers is daily referencing Mars.