2013
I can't tell. 3301l
program for a chronosomatic architectures museum? 4401
Casa Unbekannt 001 2412
House for Otto 3
Palais Savoye 2411
Villa Savoye
Palais des Congrès
Sober House 1
Stoner Food Restaurant
Trivilla Savoye
Headquarters of D.A.T.A.
Villa Plus Ultra
New Not There City 2413
Villa Appositional 2425
Villa Savoye
Tower of Shadows
Maison l'Homme
House 15
Wall House 2
Almost Semiquincentennial House 2426
New Not There City World Trade Center 2427
Comfort Zone Inn
[virtual] Museum Museum 2428
Altes Museum
House 10: Museum
Museum for Nordrhein Westfalen
Wallraf-Richartz Museum
Museum of Arts and Crafts
Germantown Avenue University of Architecture 2429
original Quondam collection
30th Street Station Railyard 2430
Pyramins of Giza
Housing for La Villette
Urban Components
UNEP Headquarters
Le Composites
Mirror-Copy Plans
REMs


2013.01.15 12:38
The quest for Architectural Theory
Hint (of recent architectural theory/practice): less (homogeneity) is more (diversity).


13011601 Capitoline Hill Roman Forum plan scan final registration IQ11 206fi02
13011701 IQ11 Capitoline Hill Roman Forum Danteum Basilica Maxentius/Constantine 206di05


13012001 Casa Unbekannt 001 model 2412i01
13012002 Casa Unbekannt 001 perspectives axonometrics 2412i02


2013.01.21 12:07
I can't tell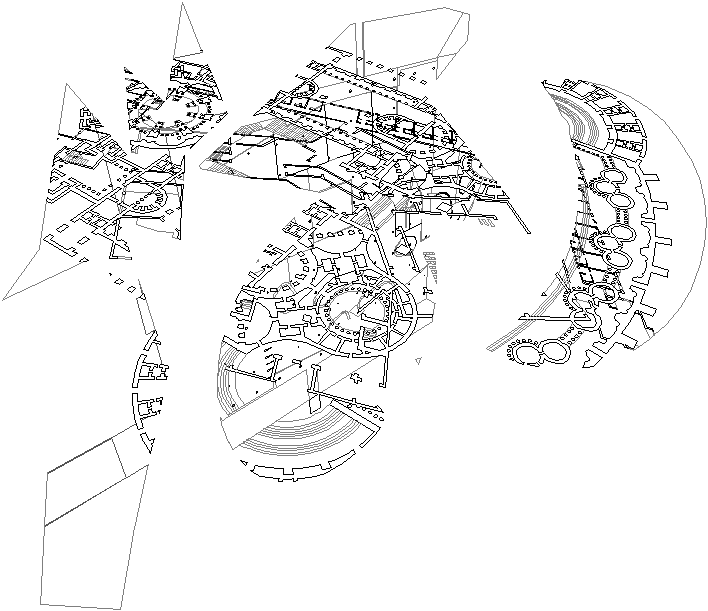 Is this 1999 Deterritorialized Baroque via Deconstructivism?
Or 1999 Reterritorialized Deconstructivism via the Baroque?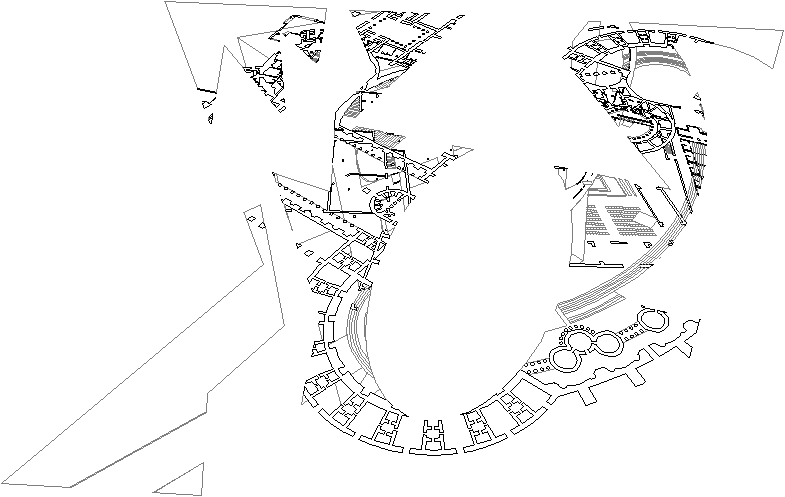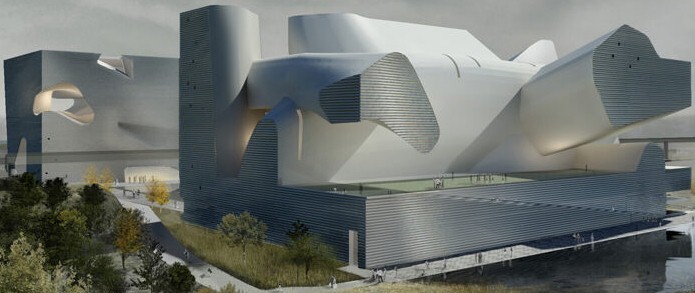 Steven Holl, Tianjin Ecocity Ecology and Planning Museums, 2013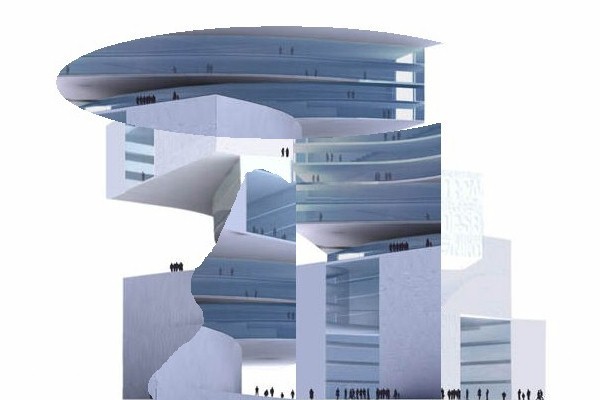 Stephen Lauf, Old School of New Thinking, scheme 1, 2007.09.22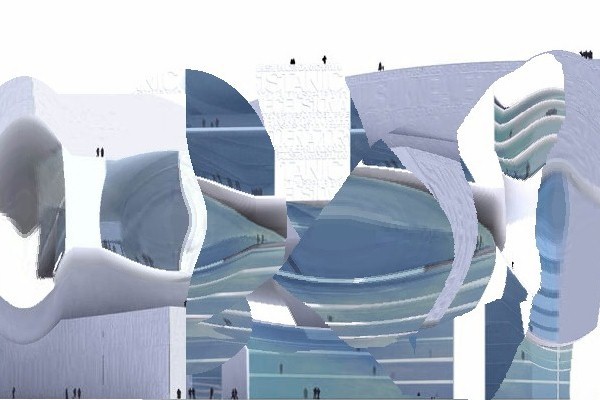 Stephen Lauf, Old School of New Thinking, scheme 3, 2007.09.22
Yes Virginia, the Pre-Raphaelites came after Raphael.
But what comes before Pre-Shrine?
Museumpeace, of course.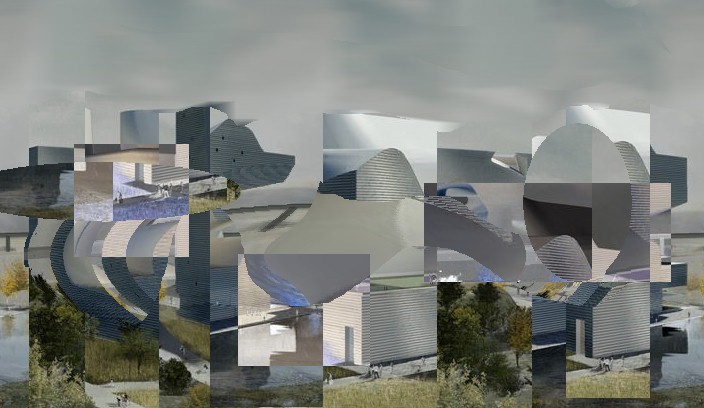 Quondam, Yin/Yang Compare/Contrast Museum/Pre-Shrine, 2013.01.21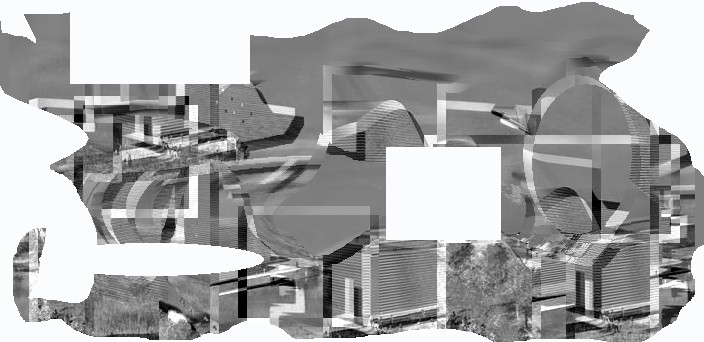 ...maybe even a floor plan.


2013.01.27 10:01
DEconstructivism and Baroque..
As to...
"However, baroque was obviously much more successfully extensive in domain and in its reign. I think deconstructivism came at a time when we had a very retrospective idea of forcing the "zeitgeist" upon itself. Very typical in our then increasingly capitalist world (I dont think it is possible to be increasingly so anymore, after the 80s and 90s of the last century). There are no more actual movements after minimalism and deconstructivism, in my opinion. We now have individual architects and architectural firms. Even in music, after atonality and minimalism, there are just composers."
... perhaps the Zeitgeist has been subsumed by the continuum.


2013.01.28 21:20
Has Richard Meier's work morphed much over the years in your opinion?
Kind of like one language fits all.


2013.01.29 09:21
Has Richard Meier's work morphed much over the years in your opinion?
Has the language morphed much? No.
Nor has the vocabulary been added to much over the years.
It's an insular language, but any program can be written in it.
It's easily enough understood by virtually anyone anywhere, but, no matter where, it's virtually always foreign.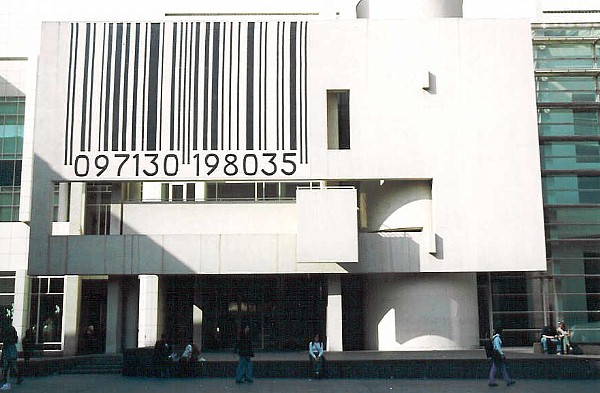 Even the tattoo is "one language fits all."


2013.01.29 15:28
Has Richard Meier's work morphed much over the years in your opinion?
"And the Lifetime Achievement Award for the Most Non-Indigenous Architecture Anywhere goes to..."


2013.01.29 09:49
Jerde-designed mixed-use destination in Moscow begins construction
Ah, the Khrushchev finally visits Disneyland style.
Overall, I think it's not Russian enough, but, who knows, maybe it's the Russians that are behind global warming, because they may well profit from it.
Bombs do not choose. They will hit everything.
--Nikita Khrushchev
If you cannot catch a bird of paradise, better take a wet hen.
--Nikita Khrushchev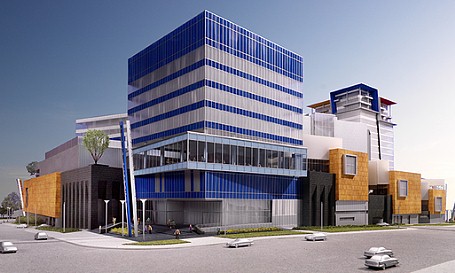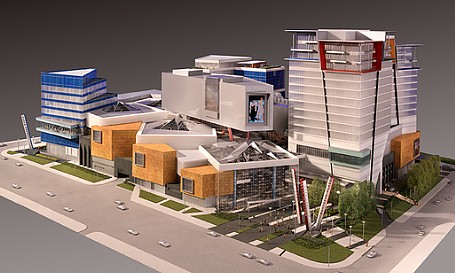 2013.01.31 16:35
Foster + Partners works with European Space Agency to 3D print structures on the moon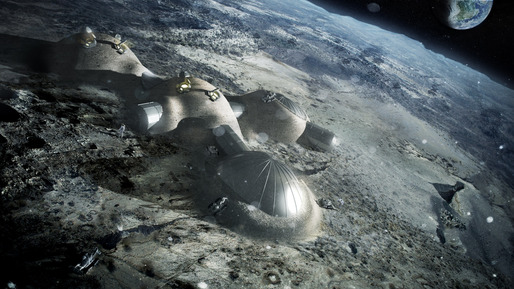 Perhaps further inspiration can be gleaned from Isamu Noguchi and Louis I. Kahn...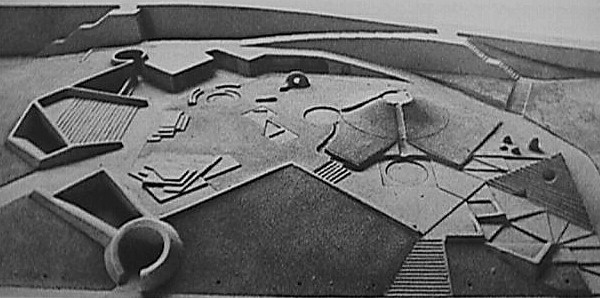 The ultimate in deterritorialization (and reterritorialization) even!


2013.02.16 15:49
16 February
Patrik Schmacher: The term 'Parametricism' implies that all elements of architecture are becoming parametrically malleable and thus adaptive to each other and to the context.
Luhmann refers to architecture within his The Art of Society where he theorizes art as a self-referential social system. He subsumes architecture within the art system. This treatment of architecture has to be rejected today. It reflects the traditional classification of architecture among the arts. It is one of the central, historical theses of the theory of architectural autopoiesis that this treatment of architecture under the umbrella concept of 'the arts' is long since an anachronism--at least since the refoundation of the discipline of Modern architecture during the 1920s.
Patrik Schumacher, The Autopoiesis of Architecture, p. 146.
Modernism: Modernist architecture was faced with a veritable explosion of the problem domain as full blown industrialization was followed by social revolution which--for the first time--introduced the masses as new clients for architecture. This explosive expansion of design tasks was paralled by new solution spaces: the ready availability of new construction methods (steel and reinforced concrete), as well as the emergence of the new design resources that were delivered by abstract art opening up a hitherto unimagined realm of creative formal invention.
Patrik Schumacher, The Autopoiesis of Architecture, pp. 291-2.
I can't tell yet if The Autopoiesis of Architecture is written parametrically, but it is certainly worthwhile when read parametrically.


13021801 Palais Savoye elevation test 2411i01


13021902 Palais Savoye plan 2411i02
13021903 Palais Savoye front elevation 2411i03


13022001 Chandigarh Capital Complex Palace of Versailles site plans superimposed 2092i07


13022003 Palais Savoye side elevation 2411i04


2013.02.28 11:49
Thread Central
Still spot reading (indexed passages, whole chapters) The Autopoiesis of Architecture, both volumes, and beginning to wonder whether these books will prove to be highly influential in subtle ways that don't even relate specifically to parametrics. The books cover a large range of topics, all delivered in condensed form, and it is this condensification that I think manifests the high potential for longevity of influence.
Bilocation can be fun. Inspiring, even.
Durand Revisted Parametrically--sometime in the 21st century?


2013.03.13
2013.03.14
Noticed a provocative similarity between
2013
Noticed a provocative similarity between one the collages produced by Libeskind* while a student at Cooper Union (c. 1969) and the plan for La Villette by Koolhaas and Zenghelis (1982).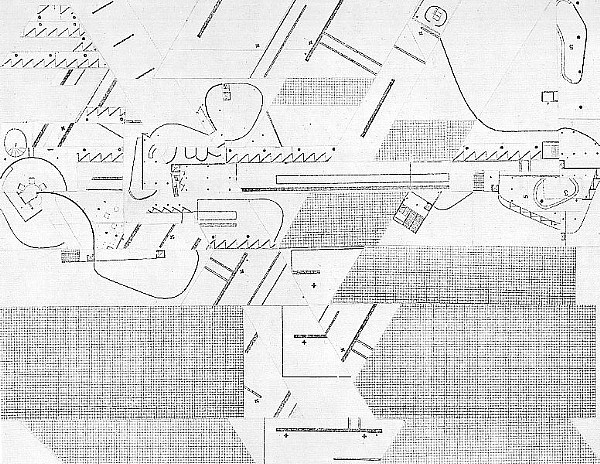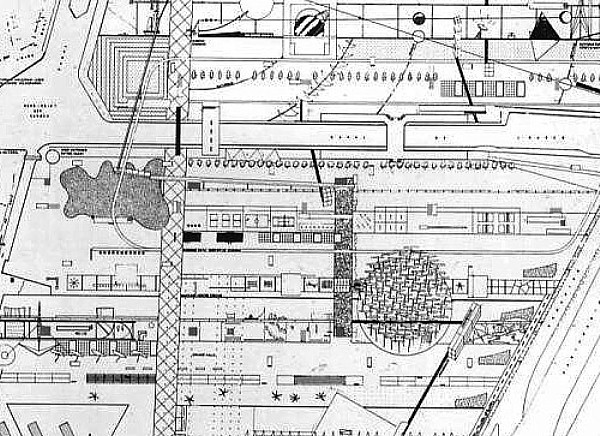 Provocative in the sense of now mentally overlapping the two design strategies, kind of like dimensionally enhancing the already multiple choices.
*Libeskind uses bits of Barcelona Pavilion, Tugendhat House (both Mies), Carpenter Center, Palais des Congres (both Le Corbusier).
Coincidently read this in The Autopoiesis of Architecture early this morning:
"...and Rem Koolhaas's Delirious New York celebrating Manhattan's 'culture of congestion' and its 'critical paranoid method' of radical programmatic and stylistic juxtaposition. The phenomena that Koolhaas found in New York--congestion and random juxtaposition--were violating the prevailing Modernist principles." (p. 130)
It seems that "congestion and random juxtaposition--were violating the prevailing Modernist principles" could be said for Libeskind's collage as well.
Maybe later today I'll take the La Villette plan and cut-and-paste it like a Libeskind collage.
While thinking of all this, I was reminded of something I wrote 2004.05.18 (for sure subliminally influenced by Koolhaas): "I like the list; like chapters, like lessons, like evolutionary stages, like different floors of a building I'd love to design, like a row of restaurants while you're perpetually hungry."
And finally, like the La Villette plan is the section of the New York Athletic Club flipped down, that tower for Dubai is an older Arab settlement flipped up.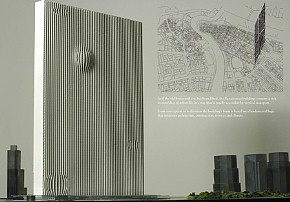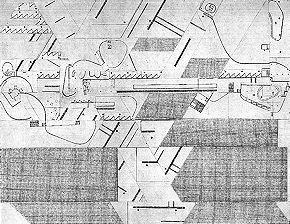 Would the Libeskind collage make for an interesting building section?


2013.03.25 12:24
24 March
Since part of New Not There City is going to periodically bilocate between the Benjamin Franklin Parkway and the Triumphal Way of the Campo Marzio...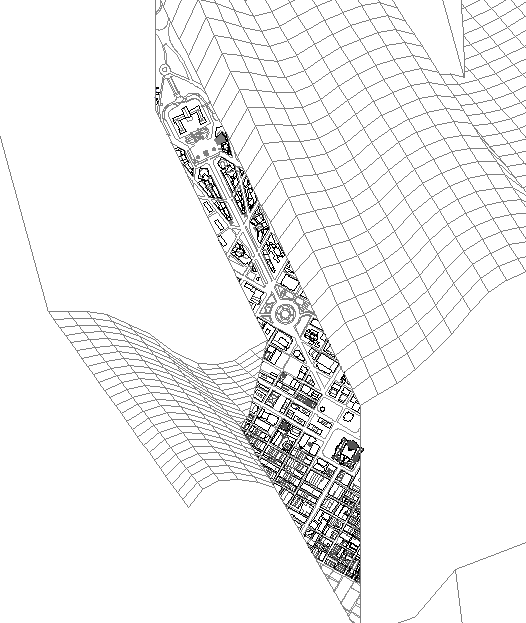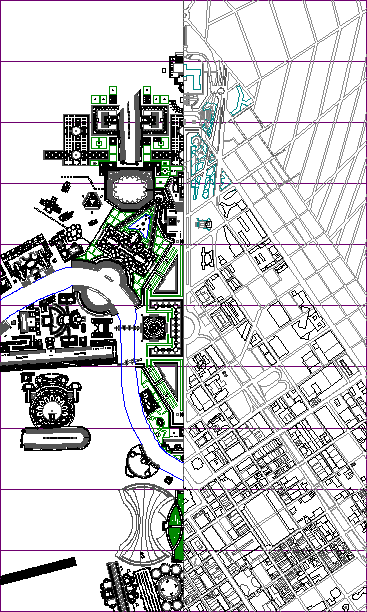 ...I was reminded of Calvino's Invible Cities and the various urban tropes written about there. So last night I began to read Invisible Cities again. I started falling asleep while reading about Chloe. Early this morning I continued...
Cities and Eyes 1
The ancients built Valdrada on the shores of a lake, with houses all verandas one above the other, and high streets whose railed parapets look out over the water. Thus the traveler, arriving, sees two cities: one erect above the lake, and the other reflected, upside down. Nothing exists or happens in the one Valdrada that the other Valdrada does not repeat, because the city was so constructed that its every point would be reflected in its mirror, and the Valdrada down in the water contains not only all the flutings and juttings of the facades that rise above the lake, but also the rooms' interiors with ceilings and floors, the perspective of the halls, the mirrors of the wardrobes.
Valdrada's inhabitants know that each of their actions is, at once, that action and its mirror-image, which possesses the special dignity of images, and this awareness prevents them from succumbing for a single moment to chance and forgetfulness. Even when lovers twist their naked bodies, skin against skin, seeking the position that will give one the most pleasure in the other, even when murderers plunge the knife into the black veins of the neck and more clotted blood pours out the more they press the blade that slips between the tendons, it is not so much their copulating or murdering that matters as the copulating or murdering of the images, limpid and cold in the mirror.
At times the mirror increases a thing's value, at times denies it. Not everything that seems valuable above the mirror maintains its force when mirrored. The twin cities are not equal, because nothing that exists or happens in Valdrada is symmetrical: every face and gesture is answered, from the mirror, by a face and gesture inverted, point by point. The two Valdradas live for each other, their eyes interlocked; but there is no love between them.
Maybe today I'll finish the planning of what the originals call Versailles Sigh, but in time will be known as Sprudelnspiegelstadt.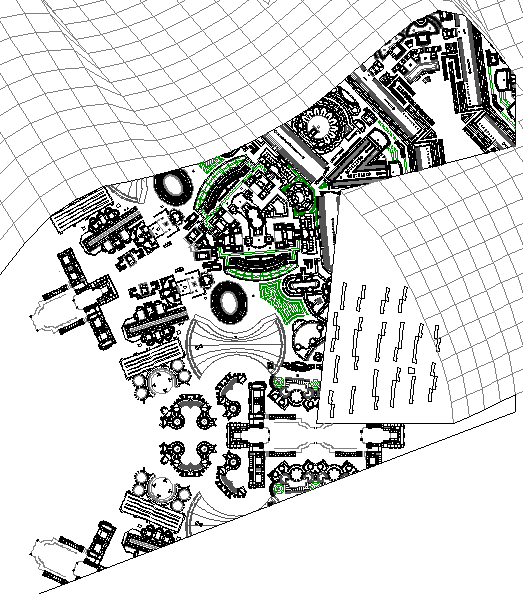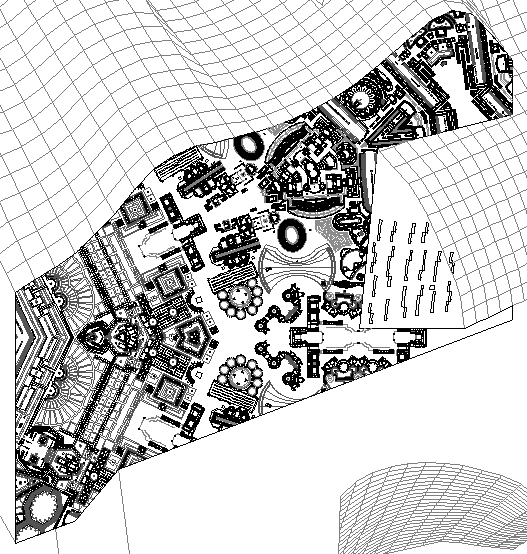 13041501 NNTC composite plan (so far) 206bi06


2013.05.14 11:39
14 May
Could the above be an outline for an architectural fiction or something? Yikes, a series of 365 architectural fictions, each entitled Calendrical Coincidence.


2013.05.14 21:31
14 May
Three other variations on the theme remain for special comment. This trio have in common the idea, typical of synthetic eclecticism, of creating a new building type by combining elements from two of the most famous buildings of antiqity, the Parthenon and the Pantheon. Thus, perhaps, something new is created, something taking of the universally acknowledged excellences of these archetypes. It is too much to say that the combinations surpass either of the paradigms, but it cannot be denied that the resulting contrasts of form are productive of novel and provocative aesthetic effects. Similar juxtapositions of well-known and heavily associated forms were a commonplace in the projects of imaginative architects at this time, such as Boullee, Gilly, and Valadier; and Robert Mills proposed a combination of a Doric colonnade and an obelisk for the Washington Monument.
Carroll L. V. Meeks, "Pantheon Paradigm" (JSAH: 1960.12, 142).
Aldo Ross's Modena cemetery design of 1971 has been one of the most widely discussed architectural projects of the past decade. Now under construction, on the basis of a revised plan of 1976, Rossi's cemetery demonstrates his use of established architectural types, in unexpected combinations, to convey specific ideas about architecture and life.
Some critics, such as Manfredo Tafuri, have taken the view that the meaning of Rossi's design cannot be verbalized. This articale seeks to demonstrate that the oposite is the case. Here, Rossi's sources and writings are explored in tandem, in order to unravel the complex message contained in his cemetery design. In particular, Rossi's debts to Piranesi, Boullee, Loos, Hannes Meyer, Le Corbusier, and de Chirico are discussed.
Eugene J. Johnson, "What Remains of Man--Aldo Rossi's Modena Cemetery" (JSAH, 1982.3, 38).
Eternal Wrest in Pieces
just thought of that while typing the above.
His book is designed as a megastructure, and we all know now their fate today.
Read together, they avail us of the opportunity to be placed both "within" and "without" at one and the same time, which none of the books on their own would allow.
Chris Fawcett, "The Rites of Criticism" (JSAH, 1980.5, 155-6).
He asserts that as early as the 18th century, Piranesi discerned that a wholly organized world is not a paradise but a nightmare. The full consequences of these contradictions, however, were not worked out until the 20th century.
I trust that Tafuri's advise will be similarly ignored.
The great value of Architecture and Utopia lies not in its political prescriptions but in its wealth of insights into the relationship between architecture and social theory since the Enlightment. Therein also lies its great frustration. The book touches on a bewildering variety of topics from Abbe Laugier to Andy Warhol until it seems less like a sustained argument than a series of brilliant asides. The pace is a rapid as the scene in Godard's "Breathless" in which the characters race each other through the galleries of the Louvre.
Robert Fishman, "Utopia and its Discontents" (JSAH, 1980.5, 153-5).


2013.05.16 11:32
FRANK GEHRY AT WORK on View in New York City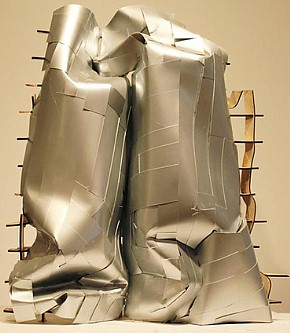 Remember Eisenman's September 2002 proposal for new towers adjacent Ground Zero?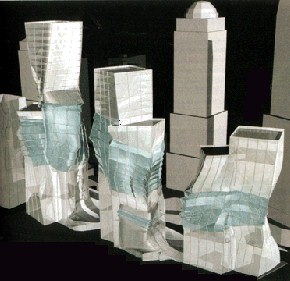 I don't have any books on Gehry post 1999, so I still have to investigate what Gehry was doing circa 2002. Actually, there is a more recent book I can get from the Free Library. I have a feeling that Eisenman was ahead of Gehry with regard to the whole crumbling/falling-down look/form.
Will history come to acknowledge the events of 9-11 as having a significant effect on early 21st century architectural form?


2013.05.16 21:19
FRANK GEHRY AT WORK on View in New York City
I used the word crumble (with a 'b'), and you used the word crumple (with a 'p'), and they are not the same thing. Yes, the crumple (ie, scrunch together) has been a part of Gehry's design vocabulary since the late nineties, but the crumble (ie, erode, fall apart) is much more recent in Gehry's work. It might well be significant that Eisenman's 2002 design is a combination of crumple and crumble.


2013.05.23 09:59
What are the cultural ingredients of architecture today?
Is FACTUM arte a possible proto-type of future architectural business? Like the architect could spec Duchamp Fountains for all the men's rooms to add some culture to the act of purgation.
Is the real value then in the 3D data file that tells the 3D printer what to do?
(Although I very much doubt I'll personally get to see it, nevertheless) Could someone that inherits all of Quondam's 2D and 3D file data someday in the future decide to 3D print it all out and thus make an actual Museum of Architecture?!?
note to self: rewrite my will to make sure I bequeath all of Quondam's data to an entity that has the money and operation to actually turn Quondam into a reality. I'm sure Disney could do it, but it would be funny to leave it all to China. Why am I leaning toward Dubai?
Next time someone asks me what I do, I'll tell them I'm very busy becoming posthumously famous.


2013.05.31 21:06
31 May
1976-89 A personal excursus of reenactionary architecturism: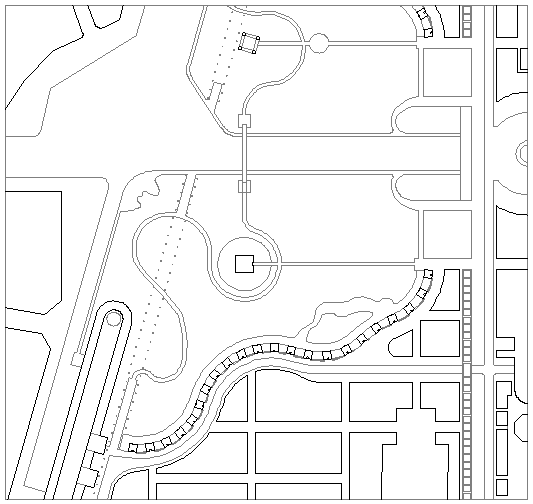 Leon Krier La Villette 1976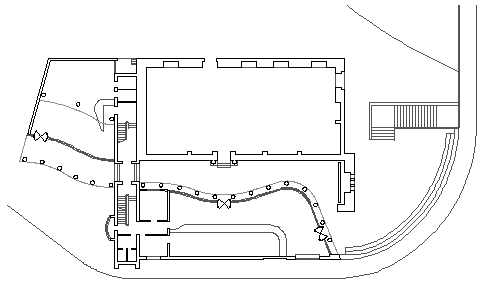 Stirling/Wilford Dresdner Bank 1977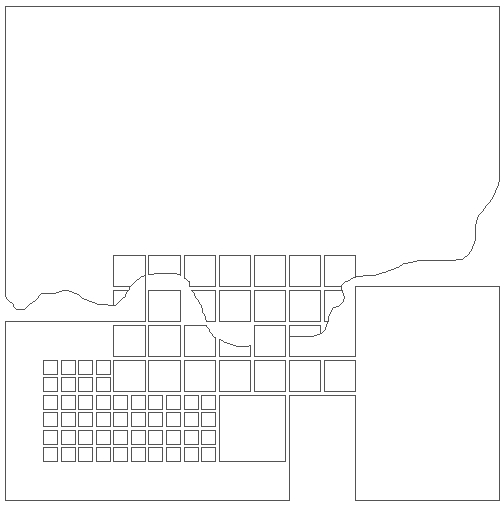 Lauf House for Karl Friedrich Schinkel 1979
a competition judged by James Stirling, not submitted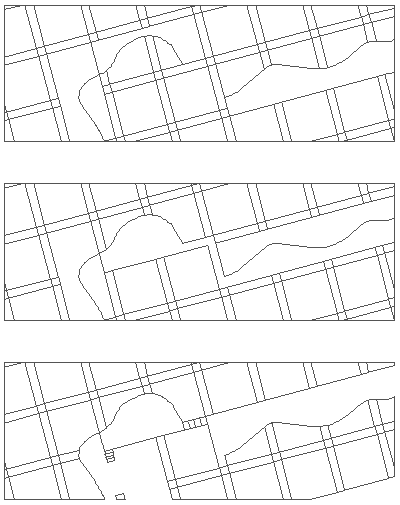 Lauf Clay Workers Co-op 1979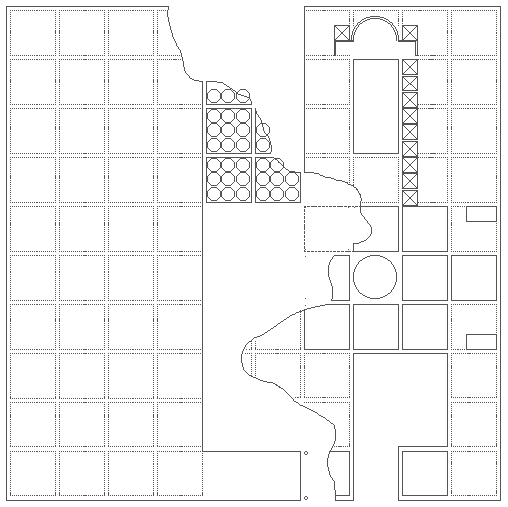 Lauf House for Karl Friedrich Schinkel 1980




Arcadia Public space planning study for Philadelphia City Planning Commission 1989


13053102 Dresdner Bank Legacy plans 223ci04



13060701 Villa Appositional plans 2425i01


13062701 NNTC composite plan 2070i22


2013.07.12 18:36
Why is everyone bashing OMA and Rem Koolhaas?
... just before I read your post above, I read (in the Labyrinth preface), "As for Kafka's precursors, Borges's erudition takes pleasure in finding them in Zeno of Elea, Kierkegaard and Robert Browning. In each of these authors there is some Kafka, but if Kafka had not written, nobody would have been able to notice it--whence this very Borgesian paradox" "Every writer creates his own precursors.""
Because of this thread I have a whole new appreciation of the Seattle Public Library--"a genuine affordment of a covered liberal space." Is this really something of a rare manifestation in today's urban realm? Can the SPL be seen as a truly new paradigm of "covered liberal space"? Is commerce-free, covered liberal space even a viable urban typology? Yes, "it needs more thought."


2013.07.12 19:37
12 July
Just read this is Maurois's 'Preface' of Borges's Labyrinths:
(Schopenhauer, Borges remarks, has already written that life and dreams are leaves of the same book: reading them in order is living; skimming through them is dreaming.) In death we shall rediscover all the instants of our life and we shall freely combine them as in dreams. "God, our friends, and Shakespeare will collaborate with us." Nothing pleases Borges better than to play in this way with mind, dreams, space and time. The more complicated the game becomes, the happier he is. The dreamer can be dreamed in his turn.


2013.07.14 11:31
Why is everyone bashing OMA and Rem Koolhaas?
Literally 10 minutes ago I read, "A book which does not contain its counterpoint is considered incomplete."* And yes, immediately after that I thought about whether I could perhaps try to write that way...
*Tlön, Uqbar, Orbis Tertius


2013.07.18 13:13
18 July
...some Borges, some Capote, some Quondam
"A labyrinth of symbols," he corrected. "An invisible labyrinth of time."
"...I questioned myself about the ways in which a book can be infinite. I could think of nothing other than a cyclic volume, a circular one. A book whose last page was identical with the first, a book which had the possibility of continuing indefinitely."
I have taken on the mysterious duty of reconstructing literally his spontaneous work. My solitary game is governed by two polar laws. The first permits me to essay variations of a formal or psychological type; the second obliges me to scarifice these variations to the "original" text and reason out this annihilation in an irrefutable manner...
Some years earlier, Lillian Ross had published Picture, her account of the making of a movie, The Red Badge of Courage; with its fast cuts, its flash forward and back it was itself like a movie, and as I read it I wondered what would happen if the author let go of her hard linear straight-reporting discipline and handled her material as if it were fictional--would the book gain or lose?
...I wonder what would happen if the architect let go of his straight-curating discipline and handled the material as if it were fictional--would the museum gain or lose?


2013.07.15 13:34
Why is everyone bashing OMA and Rem Koolhaas?
Since 2009.11.20, I like how OMA/Rem Koolhaas's Quartied les Halles (2003-04) helps me to imagine Quaestio Abstrusa Background No. 191 (2001.04.28) in 3-dimensional architectural form.


13071702 Almost Semiquincentennial House working models 2426i01 b
13071703 Almost Semiquincentennial House plan model persectives 2426i02
13071801 Almost Semiquincentennial House model perspectives axonometrics 2426i03


13071802 NNTC World Trade Center model perspectives 2427i01 b


2013.07.18 13:13
18 July
...some Borges, some Capote, some Quondam
"A labyrinth of symbols," he corrected. "An invisible labyrinth of time."
"...I questioned myself about the ways in which a book can be infinite. I could think of nothing other than a cyclic volume, a circular one. A book whose last page was identical with the first, a book which had the possibility of continuing indefinitely."
I have taken on the mysterious duty of reconstructing literally his spontaneous work. My solitary game is governed by two polar laws. The first permits me to essay variations of a formal or psychological type; the second obliges me to scarifice these variations to the "original" text and reason out this annihilation in an irrefutable manner...
Some years earlier, Lillian Ross had published Picture, her account of the making of a movie, The Red Badge of Courage; with its fast cuts, its flash forward and back it was itself like a movie, and as I read it I wondered what would happen if the author let go of her hard linear straight-reporting discipline and handled her material as if it were fictional--would the book gain or lose?
...I wonder what would happen if the architect let go of his straight-curating discipline and handled the material as if it were fictional--would the museum gain or lose?


2013.07.18 18:20
18 July
I understand you are staying at the new hotel. La Bataille. How do you find it?
Very pleasant. In a bit of turmoil because they are in the process of opening a casino. The man in charge of the casino is called Shelley Keats. I thought it was a joke at first, but that really happens to be his name.
Marcel Proust works at Le Foulard, that fine little seafood restaurant in Scheolcher, the fishing village.
Semiquincentennial: an almost novel architectonics
Miers Fisher Jr. and Helen Gregoroffsky reunited


2013.07.25 08:16
Traditional/Classical Architecture- Part 2
There's a very interesting relationship between the architecture of Strickland and Schinkel. For example, compare the (space-time) of the Neue Wache and the Second Bank of the United States. Did they know of each other's work? I have no idea, but the space-time similarities are sometimes uncanny. Did they just happen to have access to (and devour) the same books and 'magazines'?
Koolhaas/OMA has been steadily building upon the components of architecture's tradition of the last 100 years or so.
The more traditions stay the more they change the same?


2013.07.25 08:29
Charles Jencks - The Story of Post-Modernism: Five Decades of the Ironic, Iconic and Critical in Architecture
But 'the story' of Post-Modern architecture indeed comprises multiple narratives, conflicting viewpoints, and subaltern voices. From the very beginning Jencks described the language of Post-Modern architecture as schizophrenic, even.


2013.07.25 11:29
Traditional/Classical Architecture- Part 2
Personally, I would like a truly eclectic house...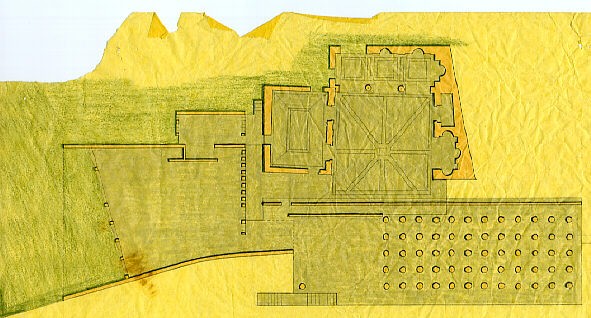 ...showing my love of all architectur[al education].


2013.07.30 14:15
30 July
Finished reading Log 28 this morning--been reading it since last Thursday. Also been thinking of starting a thread about it--Stocktaking 2013. In any case, there are many passages worth remembering and even discussing. For example (and off the top of my head), Kipnis saying very similar things vis-à-vis (a comparing of) Gehry and Schinkel; PVA lamenting 'destruction' via tweets, Lynn now working in 'isolation', Diller meeting a non-architect that took Venturi's history class and said it was the best course he ever took; AZP's personal CAD history; what Whiting described as 'evil'; etc. There's also the almost invisible veil of fear that postmodernism may not be dead.


2013.08.15 16:44
Art vs. architecture
Looks like my next project is to design a Comfort Zone Inn. Here's the program:
The Comfort Zone Inn is a behavioural state within which a person operates in an anxiety-neutral condition, using a limited set of behaviours to deliver a steady level of performance, usually without a sense of risk. A person's personality can be described by his or her comfort zones within a Comfort Zone Inn. A Comfort Zone Inn is a type of mental conditioning that causes a person to create and operate mental boundaries. Such boundaries create an unfounded sense of security. Like inertia, a person who has established a comfort zone in a particular axis of his or her life, will tend to stay within that Comfort Zone Inn without stepping outside of it. To step outside their Comfort Zone Inn, a person must experiment with new and different behaviours, and then experience the new and different responses that occur within their environment.


2013.08.17 10:17
17 August
2008.08.17 12:03 I just looked up trend spotting on google because that's what current architectural theory/history wants to be good at but isn't, and followed a link and then another link, and there it was, the conceptual model of my next building...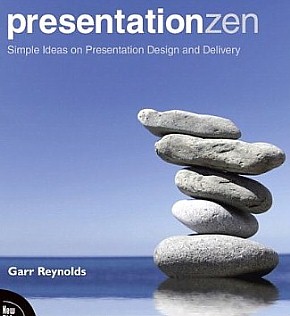 Finally got around to it 2013.07.18...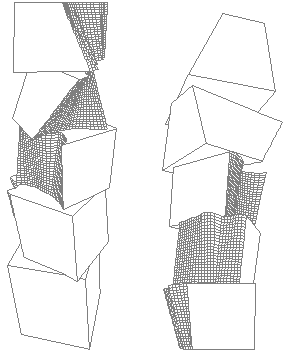 2013.08.17 14:31
17 August
To be honest, the product was not actually created with the above concept (image) directly in the fore of my mind. Seeing the presentationzen image this morning quickly reminded me of what I was doing a month ago, and then said to myself, "Aha, there's the connection!"
What impressed me about the stacked distorted 'cubes' (as tall as the quondam World Trade Center towers) was their distinct look of instability when seen from street level. An visual instability, even though the 'cubes' are stacked flatly atop each other, created by the various cantings of the various 'cube' sides.


2013.08.18 11:17
17 August
...who knows how this design might develop. Right now it's the product of about an hour's worth of design (play), and still the most unlikely of buildings, if not plain impossible. I might change the scale (x,y,z) completely and develop the design as a 10 or 15 storey building--a Pradada HQ or something (telling the client it's a stack of fancy hat boxes). Just keepin' it virtual.
Now I'm thinking of starting a whole new set of buildings with the distorted 'cubes' also rotated but stacked side-by-side.


2013.08.18 11:44
Why do you think you're creative?
I'm just starting to read a collection of critical essays on James Joyce, and so far it's interesting to see how Joyce's unique creativity seems to induce a creativity from the essayists that they might not normally have. I've sometimes noticed a similar effect when reading critical essays on Duchamp. Philippe Duboy's Lequeu: An Architectural Enigma is perhaps the apotheosis of this kind of critical effect creativity.
Is it then a fair hypothesis that one's critical deliberation of a unique creativity might well engender an as yet uncommon creativity from oneself?


2013.08.18 17:35
17 August
...citing Hejduk's Wall House 2 introduces a very interesting associational trope. Very interesting, and even opens up a whole new area of play. It also got me thinking of an enigmatic set of ten 'buildings' within Hejduk's second to last book, Adjusting Foundations (1995), here's two: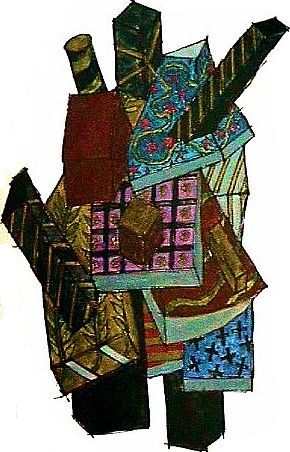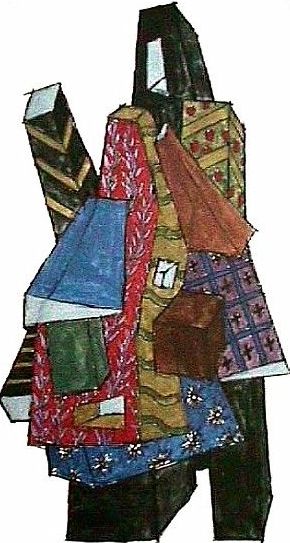 These buildings are not labeled (as to what they might be), nor are they even listed in the book's table of contents. Stacks of extra fancy hat boxes?!? A presence of architectural presents?!?


13082303 Wave Wall House 2 plans model 2410i03 b


13082804 [virtual] Museum Museum superimposed plans 2428i01
13082805 [virtual] Museum Museum schematic model 2428i02



13090303 novel architecturale plan set started 206fi03


2013.09.07 10:35
Are you into modernism or do you also like historical architectural styles?
Obviously, I'm into (creating) 'dys' architecture styles: dyskenesic architecture, dyslexic architecture, dyslalic architecture. Hopefully, I'll continue to design even more dys-architecture styles.


13091002 novel architecturale plans 206fi04


2013.09.12 10:07
12 September
...the 'novel' whose work is just beginning now
What would happen if you mix two master architects with opposing styles?... ...as a very real and indeed interactive architectural novel where characters come in and out of the "narrative" both expectedly and unexpectedly, and the "story" meanders like one of those great rivers that sometimes overflows and floods and sometimes runs dry while raindrops are eagerly awaited.
"Nolli made no attempt to rectify inconsistencies of the Bufalini map when he prepared the reduced copy."
Piranesi's resultant redrawn plans suggest a methodology whereby the fragmentary plans of Bufalini were used as kernels of ancient fact that, in turn, galvanized newly interpreted redrawings of what once was.
In rereading 2666, while reading "The Part About the Critics" I thought, "Here we have a novel about the search for an author." The love was in the search as well, and the handicap was mostly avoided until the end (of that part). Then the next part begins with making fictitious love to a poet headed for insanity.
comparative scale :: stylistic contrasts :: programmatic comparisons :: exploring architectural potentials/exercising architectural virtuality :: recombinant architectures :: an other architectural history
Perhaps all this is making its way into the 'novel' whose work is just beginning now.


12 September


2013.09.17 09:54
Video from Jacque Herzog's Columbia Lecture
In referring to the four inserted 'anchor' spaces of the Espacio Goya project, new spaces which replicate other (original) spaces throughout Spain that contain in situ murals painted by Goya, Herzog more than once used the word 'reconstituted.' To reconstitute means "to build up again by putting back together the original parts of elements." Since the original spaces are still entact, the proposed 'anchor' spaces of the Espacio Goya design are not a reconstitution. The correct word to describe the four 'anchor' spaces of the Espacio Goya is reenactment, as in, the four original spaces that contain Goya murals are enacted again at the Espacio Goya.
In separate contexts and almost just in passing, Herzog described both Stirling and Rossi as having "lost their [architectural designing] way" [as their careers matured]. This caught my attention because it is exactly the "lost ways" of Stirling and Rossi that have interested me the most over the last 30 years. Sixty years ago, many critics thought Le Corbusier 'lost his way' with Ronchamp, yet it is exacly the late (unexecuted) work of Le Corbusier that is now often a paradigm for current architectural works (including some works by Herzog and de Meuron).
Right now I'm wondering what projects will (or already do) indicate Herzog and de Meuron having lost their way. Perhaps Actelion Business Center is a leading indicator, or maybe it's the purposefully mis-described 'anchor' rooms of the Espacio Goya.


2013.09.18 11:34
18 September
What is an architectural idea? : Perhaps the real question is "What idea is an architecture?" I think that's the title of the novel I'm working on.


2013.09.19 12:27
19 September
It's only calendrical coincidence (within Quondam's own 'history') that brought these two image together: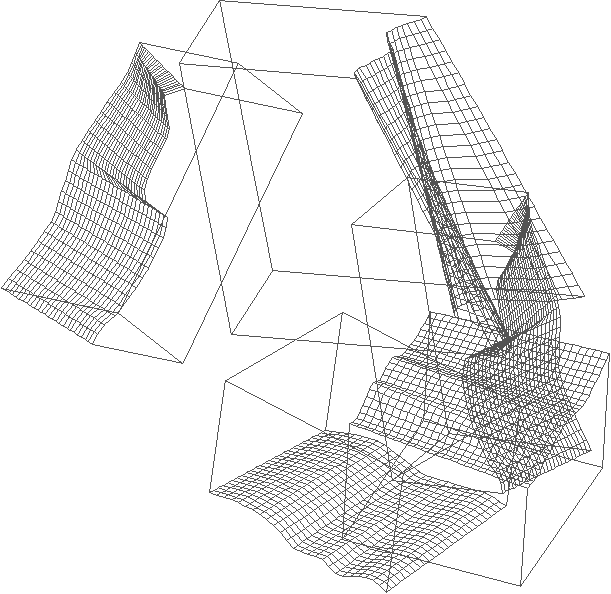 One is a 2000 wireframe axonometric view of 3-dimensionally collaged deformed cubes, and the other is the 2001 Flick House I project by OMA.
Now I'm imagining the wireframe view as a 3-dimensional sectional diagram of a some new residential project I might pursue.
I'm not really working on a novel, but I might end up having written one. The idea arose over two weeks ago:
2013.09.03
started compiling plans [from Quondam's collection] that relate to Stirling's architecture; I can see something akin to a novel coming together in terms of how all the designs/projects interrelate.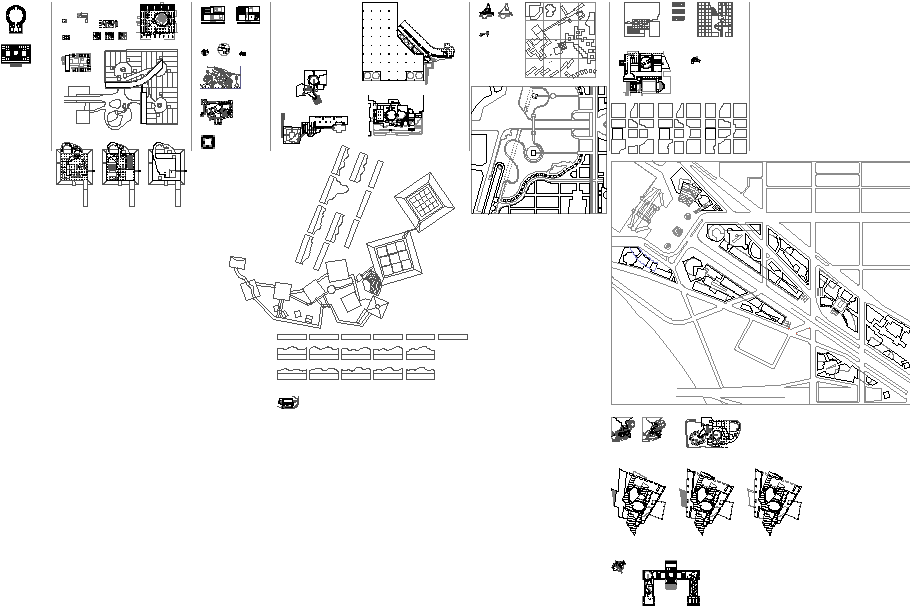 Borrowed some books (from the Free Library) about "novel writing." Read "The opposing missions of the various characters create the plot" this morning. Then thought, "Apposing missions of the various architectures creates the plot."
Herzog at Columbia said, "Stirling lost his way" and "Rossi lost his way." I ask, "Labyrinth, wo bist du?"
Most of the "characters" in almost order of appearance and only sometimes in scale to each other: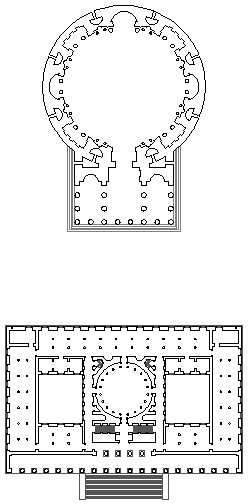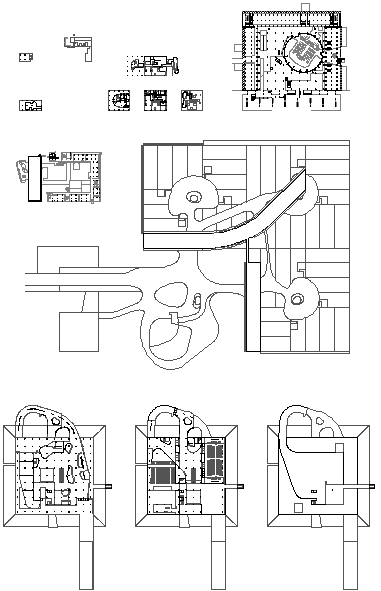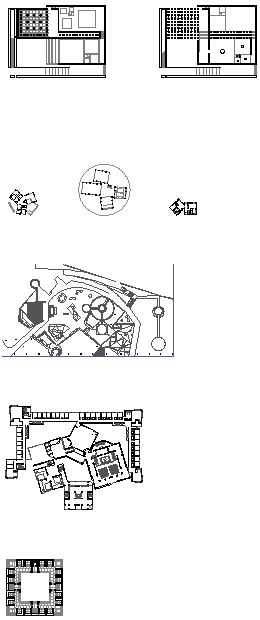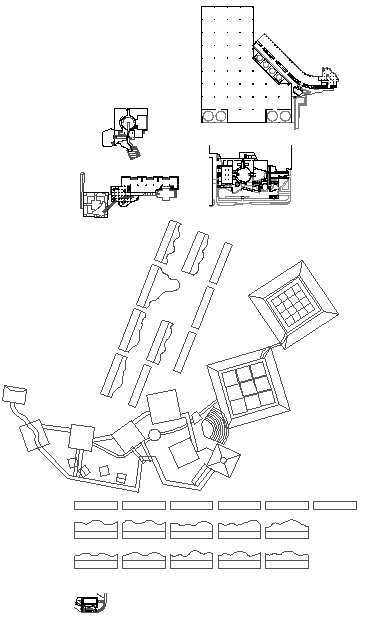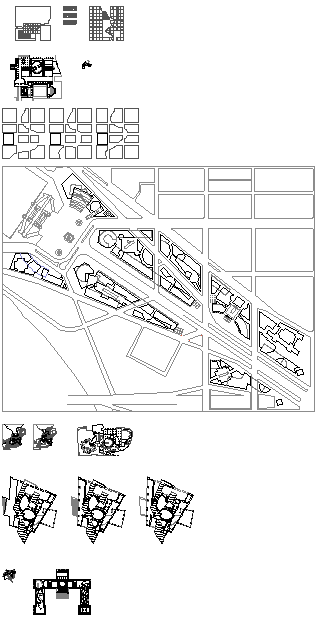 And add Piranesi's rendition of the Triumphal Way within the Ichnograpgia Campus Martius.
While composing this piece, I recognized a strong conceptional affinity between Herzog & de Meuron's 2005 Espacio Goya and Quondam's 2007 Cut & Paste Museum. Go figural.


2013.09.21 20:46
21 September
"For even in the most favorable hypothesis, the biographers of the Historia Augusta are separated from the Antonines, their great models, by an instance of some hundred and twenty-five years. Of course this is not the first time an ancient historian found himself so far, or even much further, from the figures he was seeking to portray. But the ancient world in the time of Plutarch, say, was still homogeneous enough for the Greek biographer to produce, at nearly a hundred and fifty years' distance, an image of Caesar carved in virtually the same substance as Caesar. At the period when the Historia Augusta was compiled, on the contrary, the world was so altered as to render the great Antonines' way of life and of thought virtually impenetrable to biographers already on the road leading to the Byzantine Empire. A little closer in time, but more exotic, more rapidly distorted by popular superstition, the rulers of the Syrian dynasty vanish even more utterly beneath a forest of legends. Thereafter, chances of error due to remoteness in time gradually diminish with the emperors who devour one another during the rest of the third century, but models and painters alike sink into that magma of confusion, violence, and mendacity characteristic of all periods of crisis. From one end of the Historia Augusta to the other, everything sounds as if a small group of today's men of letters, more or less well informed but mediocre, and often no more than ordinarily conscientious, were to tell us first the history of Napoleon or of Louis XVIII by means of authentic documents seasoned with prefabricated anecdotes, anachronistically tinged by the passions of our own day and age, and then, shifting to figures and events of more recent vintage, were to offer about Jaurès, Hitler, Pétain, or De Gaulle a mass of worthless gossip mingled with some useful informations, an avalanche of literature from Propaganda Bureaus and sensational revelations from the gossip columns."
Marguerite Yourcenar, "Faces of History in the Historia Augusta."
This passage seems useful in terms of thinking about a novel whose scenes and complications occur within the realm of labyrinthine architectural history, or is it within the realm of architecturally labyrinthine history?


2013.09.23 09:37
23 September
Take a look at Le Corbusier's Palais des Congrès à Strasbourg (1964), and then look at OMA's Hotel at Agadir, the Library at Jussieu, the Educatorium, and then MVRDV's VPRO--a trail of design reenactments. Maas worked on the OMA projects. Right now it looks like the novel begins at the Hotel of the Palais des Congrès. All the architects are registered there for the "Turning the Labyrinth Inside-Out" conference. None of them is confident, however, that the 'Buildings Present Themselves' portion will proceed without a variety of embarassing technical glitches.


13092301 Pantheon paradigm plans 206fi09


2013.09.28
ShowCase: Louisiana State Museum and Sports Hall of Fame by Trahan Architects
After thinking about it, I've come to realize that I like that there are "docents to explain how the form of the buIlding relates to the local rivers and streams" because the architects' conceptual intent will therefore not fade into oblivion. In fact, every visitor will thus be made aware of the design intent, and then, more likely than not, give the architecture a bit more thought. And, afterall, isn't it a better-architecturally-informed public that ranks high on most architect's wish-list?
I now also have a renewed interest in the notion of "architecture as delivery of content."


2013.09.30 09:44
30 September
"Evelyn Waugh once suggested that the term "architectural" was preferable to "creative" for describing writers because "what makes a writer, as distinct from a clever and cultured man who can write, is an added energy and breadth of vision which enables him to conceive and complete a structure.""
Inversely then, does a work of architecture comprise, or is a work of architecture capable of comprising the characteristics of a novel? I suppose that question right there sums up the rudiments of the investigation itself.


2013.10.03 21:50
Why we create
Perhaps it's just semantics, but architects for the most part design; few architects actually also create.
Although, I suppose you can call a design a creation, especially if the design is never executed into built form.
I guess the point I really want to make is that most of what architects do is not actual creation, rather virtual creation.


13101002 Maison Dom-ino Legacy plans 2140i11


2013.10.03 12:51
12 September
"The contrasting movements, outwards and inward, are easier to detect because of the external structure, but in themselves they are formal rather than structural principles of order because they work upward from specific characters and events. In this loose sense, form is inductive, working from the particular to the general, while structure is deductive, starting with a generalization or a pattern and fitting details into it.
In practice, form and structure are not mutually exclusive. . . .By creating unstable and progressive oppositions, he [Waugh] establishes a pattern in which characters compliment, contradict, and qualify one another, and he creates a form in which the process of incorporating experience and reconciling then and now, there and here, is more important than any mere succession of events.
Of course novelists can impose structure only upon material that they have formulated or are in the process of formulating. Decisions about structure, form, development, style, character, plot, and point of view take place in rapid succession if not simultaneously; each choice precludes or influences a number of other choices; and no decision can be final until the whole structure is complete."
--Robert Murray Davis


2013.10.06 11:35
6 October
Read earlier: "...locale and history have simultaneous real and fabled coordinates, anchored both in actuality and in the archetypes of innocence and experience, paradise gained and lost... ...the reader enters a fictive world with its own unique operating principles, in which past and future conjoin to form a continual present in which the extraordinary meet the commonplace to defamiliarize and release an aura of strangeness and wonder... ...traditional oppositions--realism and fantasy, fact and illusion, history and myth, reason and irrationality--coming together in a complex of significance."


2013.10.10 12:53
10 October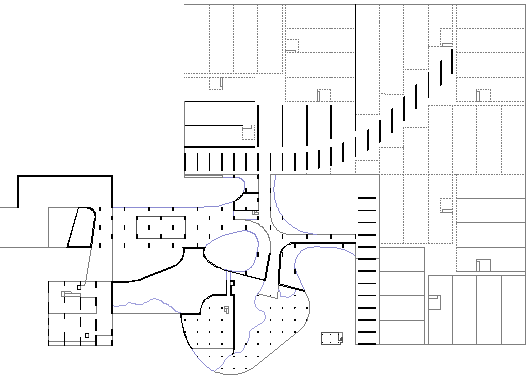 Since yesterday, I've been working on two Quondam projects simultaneously: First, there's [re]drawing the plans (above) of Le Corbusier's Electronic Calculation Center Olivetti at Rho-Milan (1963-64). Second, there's the compilation of Maison Dom-ino data (Le Corbusier, 1914) within Quondam's collection. The Maison Dom-ino plan is shown below relative to the Olivetti Center plan.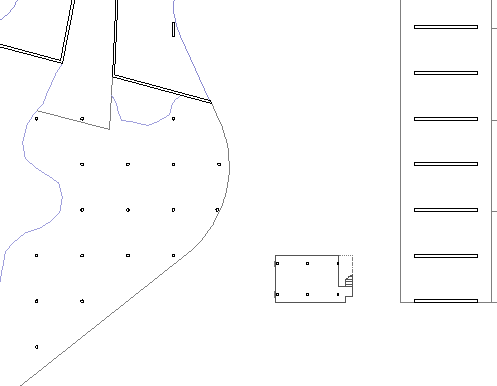 A CAD model of Maison Dom-ino has been part of Quondam's collection since 1991, and the present data compilation process is to record and exhibit how and why Maison Dom-ino is a part of Quondam's collection, and how Maison Dom-ino continues to spur on new data within the collection.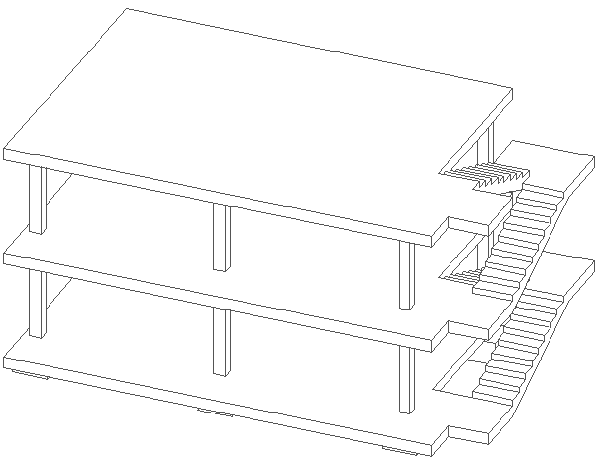 It was not until this morning, however, that Maison Dom-ino and Electronic Calculation Center Olivetti data have been combined.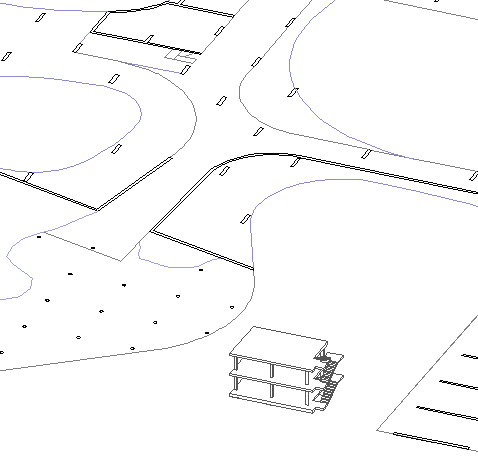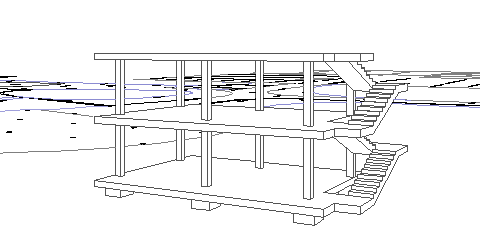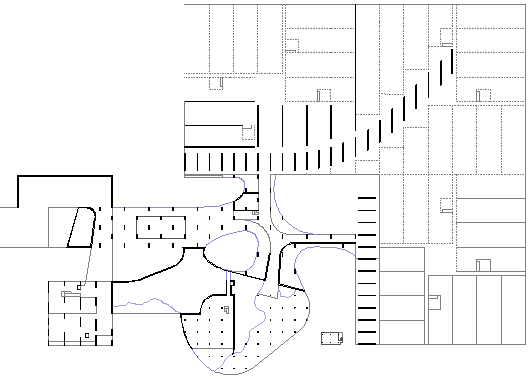 You could say Maison Dom-ino and Electronic Calculation Center Olivetti respectively represent the beginning and the end of Le Corbusier's architectural career--a span of almost exactly 50 years. Strange, too, to realize that the Electronic Calculation Center Olivetti design itself is now 50 years old, and that Maison Dom-ino will be 100 years old next year. I want to write something about how the plans seen together demonstrate an intense evolution in Le Corbusier's design thinking/ability, if not also an intense evolution of modern architecture itself. The plans more or less 'speak' for themselves, but bear in mind that the Olivetti design, for the most part, still adheres to the Maison Dom-ino paradigm of column support, slab, and independent circulation. Moreover, the Olivetti design is a composite of the various design directions the Maison Dom-ino paradigm is capable of going into.
I'll stop now, but obviously there's a lot more here to consider, not least of which is whether the past 50 years of architecture['s evolution] even relates to the Maison Dom-ino paradigm anymore.


13101201 novel architecturale plans 206fi16


2013.10.14 13:04
14 October
...through a series of juxtaposed vignettes constituting... "a kind of mosaic, or better, a revolving stage that presents a multitude of scenes and characters which, taken together convey a sense of life of a given milieu and by extension give the tone of contemporary life generally."
"I have, I am aware, told this story in a very rambling way so that it might be difficult for anyone to find their path through what may be a sort of maze. . . . And, when one discusses an affair--a long, sad affair--one goes back, one goes forward. One remembers points that one has forgotten and one explains them all the more minutely since one recognizes that one has forgotten to mention them in their proper places and that one may have given by omitting them, a false impression. I console myself with thinking that this is a real story and that, after all, real stories are probably told best in the way a person telling a story would tell them. They will then seem most real."
Ford Maddox Ford, The Good Soldier, 1915.
...the latest edition of the Museum Trip series...


13101602 IQ grid NNTC master plan 206bi08


13102701 Q Group site plan IQ3-6 2120i35



13110301 GAUA IQ03 IQ06 plans 2120i36


2013.11.04 19:29
Why won't you design what we (the public) want?
Was just inspired to write a 'historical' novel where Schinkel uses the 'influence' of the Crown Prince to get to do the designs he, Schinkel, wants. The Crown Prince figures out Schinkel's stratagem and thus starts changing his mind like every week or so as to what style a project should be designed in, just to drive Schinkel a little crazy, but also to see just how clever Schinkel can be. Schinkel, in turn, figures out the Crown Prince's stratagem and hence the architecture just starts getting more and more weird. [Wolfhilde von Schlittenfahrt, the sexy, new intern in Schinkel's office quickly becomes aware of the dueling stratagems and immediately starts 'busting' in her own stratagems.] Add to that that both Schinkel and the Crown Prince are obsessed with the life and works of Heinrick von Kleist and participate in a secret Von Kleist Society where all forms of strangeness ensue. Working title: Kohlhaas wo bist du?


2013.11.09 11:11
Why won't you design what we (the public) want?
One of the saddest things about this whole thread is the overall passivity of both sides. And one of the greatest ironies is that the 'traditionalists' want change and the 'modernists' want things to stay as they are.
What's lacking from this 'argument' is the role of mediation (starting with the printed image through to the digital) and its effect on what people like/want.


2013.11.11 13:27
atemporality at work?
t a m m u z, I did something I've never done before. I printed out your post yesterday, so I could read it more carefully later in the evening, all in the hope of then crafting a proper response. I wound up writing not much of anything, but I continually reread your post, and found more in it with each reading. It was quite stimulating, actually.
I like how our separate participation in the 2008 theory thread now seems to have been more of a spontaneous jazz riff than a tete-a-tete. And I like, too, how atemporality was a key part of the riff. (The continual re-reading of your post last night also turned out to be like listening to jazz.)
Your ATM story ultimately brought to mind the architectural legacy Ludwig II, king of Bavaria--among other things, he actually did reproduce Versailles. Economically, however, Ludwig's projects were not valorization, rather he spent all his family fortune employing artisans, thus investing everything into his kingdom, which he knew would soon come to an end because of Bismarck's looming plan of German unification. Ludwig essentially made sure his money (and there certainly was a lot of it) was spent entirely for the benefit of his kingdom. It was only after he had spent all his money that his own government then abduced him and declared him insane. It seems there may be many interesting parallels between Ludwig's architecture and the Architectural Teller Machine. Interesting too the parallel that Ludwig's Neuschwanstein and Furness's National Bank of the Republic were both completed in the same year.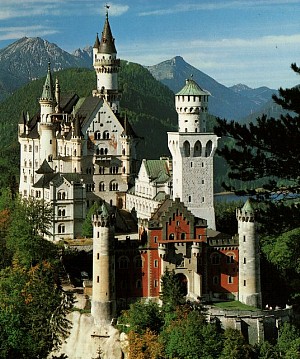 Eduard Riedel, et al, Schloß Neuschwanstein (Bavaria: 1869-1884).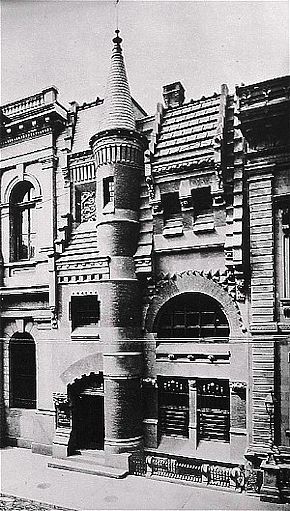 Frank Furness, National Bank of the Republic [Clearing House] (Philadelphia: 313 Chestnut Street, 1883-84, demolished).
"The city street façade can provide a type of juxtaposed contradiction that is essentially two-dimensional. Frank Furness' Clearing House, now demolished like many of his best works in Philadelphia, contained an array of violent pressures within a rigid frame. The half-segmental arch, blocked by the submerged tower which, in turn, bisects the façade into a near duality, and the violent adjacencies of rectangles, squares, lunettes, and diagonals of contrasting sizes, compose a building seemingly held up by the buildings next door: it is an almost insane short story of a castle on a city street. All these relationships of structure and pattern contrast the severe limitations associated with a façade, a street line, and contiguous row houses."
Robert Venturi, Complexity and Contradiction in Architecture (New York: Museum of Modern Art, 1966), p. 61.
ataxonomic castle jazz
alphabetical, polychromatic, numerical, calligraphic and above all of course pictorial reliant on the history of painting.
Are you familiar with Greenaway's Leonardo's Last Supper (2008) and Nightwatching (2007)? Regarding an article in Art in America (February 2009):
"Finally read the article, and yes it would have been more complete if the notion of reenactment was also addressed, as reenactment involves all the issues: reproduction, cloning, authenticity, degrees of separation, even, to some extent, space-time. I'd say the degrees of separation issue is here the most important in that, like you mention, the reproductions come extremely close to the original, and can even occupy the space of the original, but the reproductions can never be the original. I'm reminded of that aspect of calculus where the curve continues to more and more closely approach + or - 1 but never reaches the actual integer itself. [At least I hope I'm remembering correctly.]
"Bifuracted authenticity" is an interesting notion, but, in terms of authenticity, it's a little misleading--there is still really only one authentic work (the reproduction Marriage of Cana even in original context is still a reproduction). Nonetheless, it brings to mind notions of the Baroque--"Within his double theater Bernini capsulized the beginning of Western culture's new bifurcation of the real and the illusory, introduced mirroring as a henceforth dominant (post) Baroque (stylistic) theme, and, at base (or should I say at the ultimate end), inverted reality into a reenactment of its own illusory mirror (--is this perhaps also the genesis of historiography?)." Plus, the mystical notion of bilocation, or is it actually something scientific as in the space-time continuum? Is the match of the Campo Marzio Axis of Life and the Benjamin Franklin Parkway an example of "bifurcated authenticity"?
So, generally, my take on the article is that 'reenactment' is missing and really should have been included. Greenaway essentially performed two reenactments--one the reenacted natural lighting in situ, and two the reenacted lighting on the reenacted painting at another/nearby site--and Factum Arte reenacted the Marriage of Cana at its original site.
Here a Versailles, There a Versailles, Everywhere a Versailles, sigh--going Baroque in the space-time continuum!"
I have seen Greenaway's ZOO only once (like 11 years ago), and liked all the doubleness. I almost saw it a second time a couple of months ago--I borrowed a DVD from the local free library, but never got around to watching it again. Time for take two, I suppose.
anatomical ataxonomic imaginations
extreme, fertile, conceptional, assimilating, metabolic, osmotic, electro-magnetic, all-frequency
The genesis of Quondam (as a virtual museum of architecture) involved comparative architectural scale. That's not so evident within Quondam's make-up now, but if I go back to Quondam's ur-state, it was the realization that once architecture was mediated digitally via CAD, it became very easy to compare architecture(s) (within the digital realm) at "real size"--very much like having a life size museum of architecture at your finger tips. By 1992 I had a model of Hejduk's Wall House II and a model of a column of the Parthenon--each generated for completely separate reasons. Right now I'm not exactly sure why, but one day in 1993 it dawned on me to merge the two databases to see how the two architectures compared: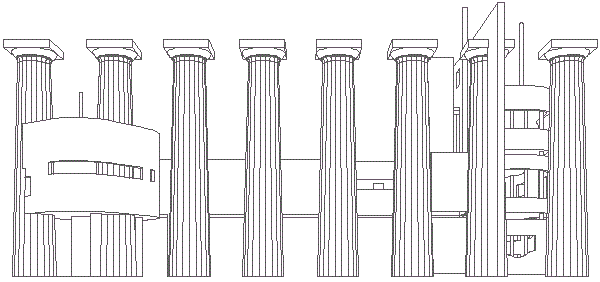 The row of columns represents the actual positioning along the Parthenon's pedimental fronts.
Beyond that, Quondam always tries to remain true to (its) virtuality.
virtual 1 : of, relating to, or possessing a power of acting without the agency of matter 2 : notably effective 3 : being functionally or effectively but not formally of its kind
More recently, I'm just beginning to think about mediation in terms of "the function or activity of an intermediate means or instrumentality of transmission." In this case, thinking about the virtual and digital as an "instrumentality of architectural transmission."


2013.11.20 18:41
20 November
Danish architecture firm BIG has won a competition to design a new Museum of the Human Body in Montpellier, France: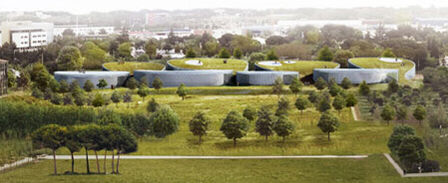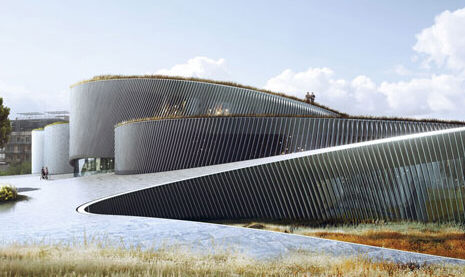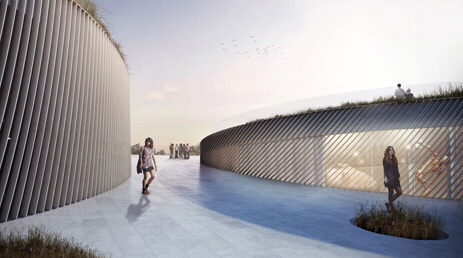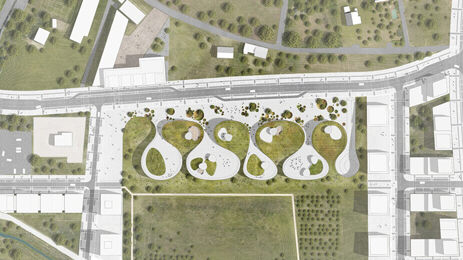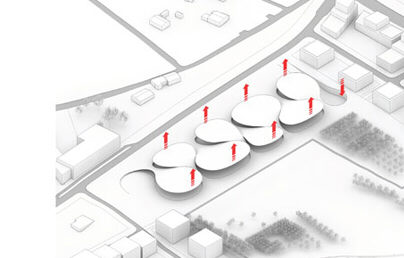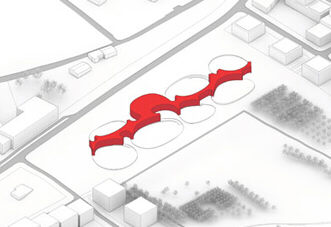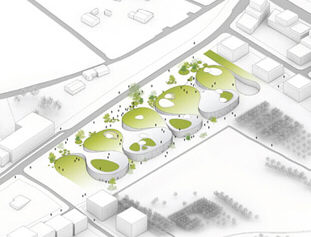 Images of the Museum of the Human Body design quickly brought to mind these images from (mostly) over ten years ago: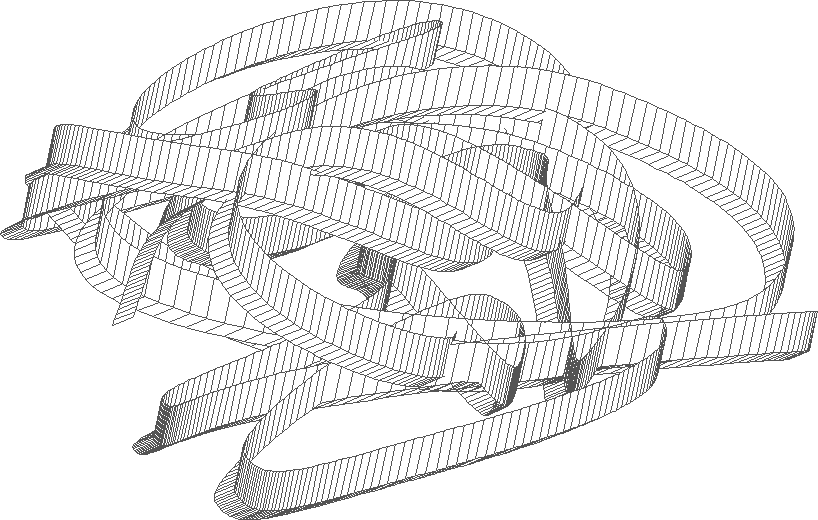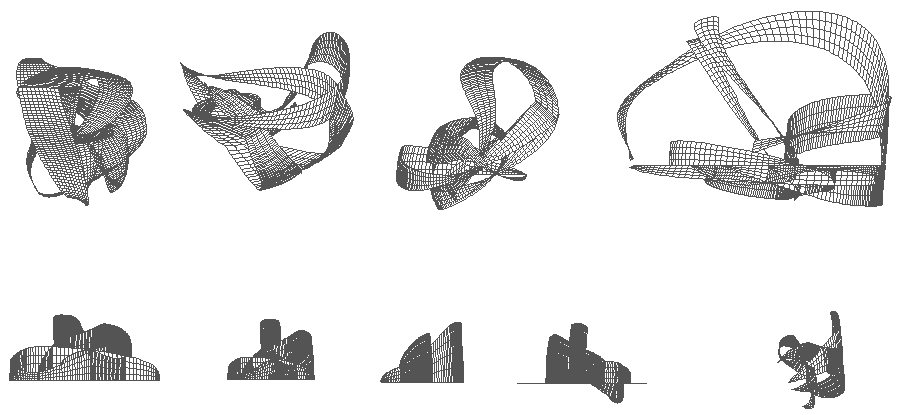 If anything, the Museum of the Human Body design provides inspiration toward the development of 'forms' into buildings, but not necessarily into museums of the human body.

In a strange way, Palladio's Villa Rotunda could be considered to already be a 'museum of the human body."




2013.11.21 21:36
21 November
Read this earlier today:
At times, too, I've had the impression that I'd manage to feel quite at home in a life of vacuity. That the relatively painless boredom would enable me to go on making the usual gestures of life. Another big mistake. Prolonged boredom is not tenable as a position: sooner or later it is transformed into feelings that are acutely more painful, of true pain; this is precisely what's happening to me.
Maybe, I tell myself, this tour of the provinces is going to alter my ideas. Doubtless in a negative sense, but it's going to alter my ideas; at least there will be a change of direction, a shake-up."
That's how part one of Houellebecq's Whatever ends. I think it's a great passage, but I found myself laughing as I typed it here. I guess because it sounds so dark, but a sad, dull dark. Does it perhaps describe archinect/forum these days? I'm laughing again.
Modeling Ichnographia Quondam is taking a lot of time, and I'm promising myself that the model will actually be used.
Remember the ideas for filling up Independence Mall. It's always fun to act on ideas that occur to you while in the shower.


2013.11.22 22:13
22 November
2013.11.22: Patrik Schumacher himself posts twice within an Archinect news item.
I'd like to see a same scale comparison of Le Corbusier's Plan Voisin and ZHA's Kartal Pendik Masterplan.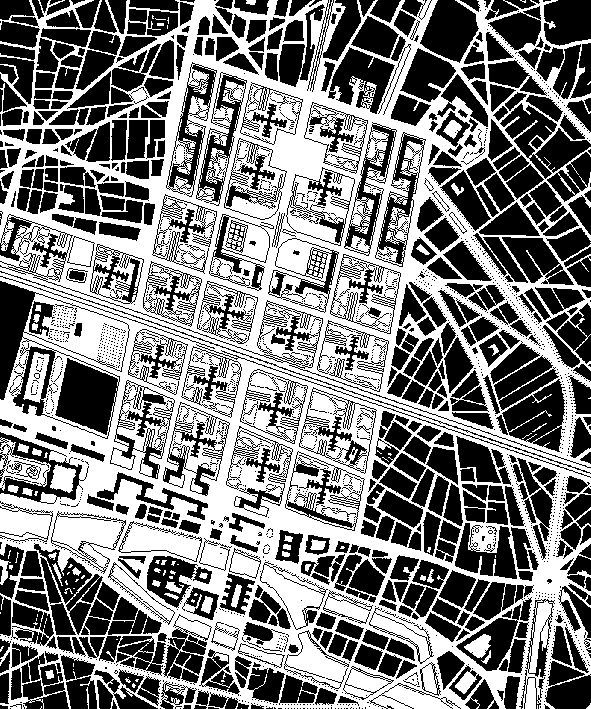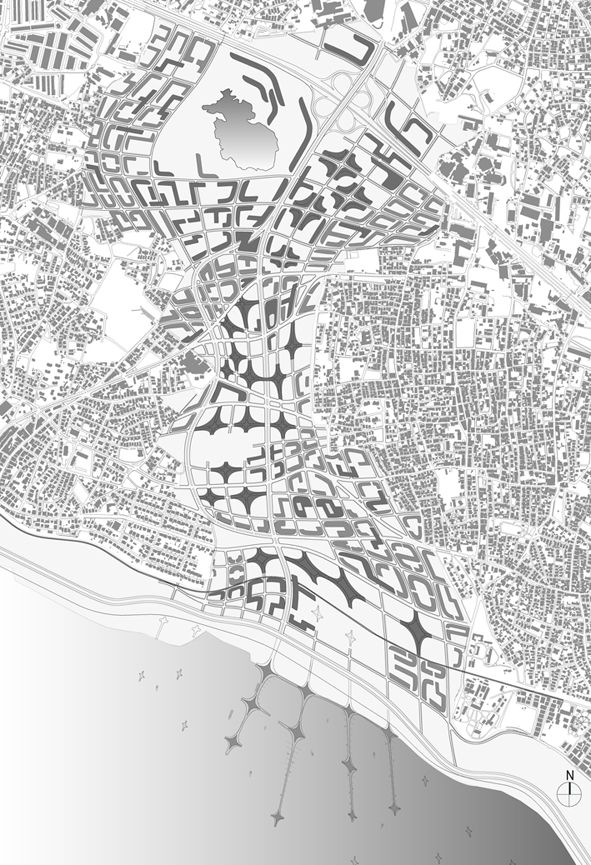 subliminal/subversive reenactment?
Still remembering 1999.08.14 at Quondam: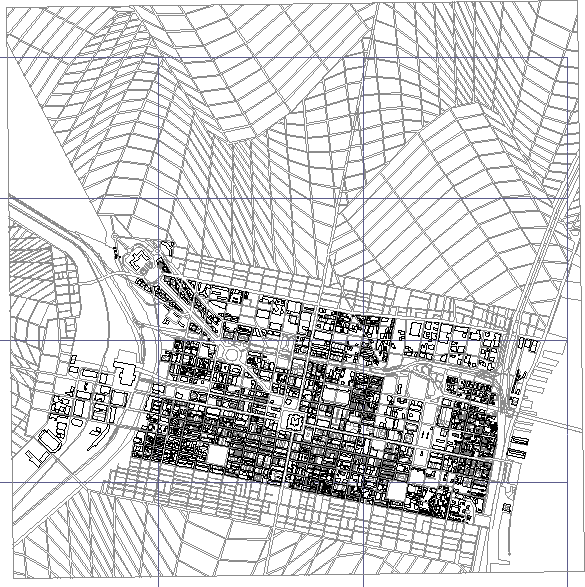 2013.12.06 10:22
How We Hate on Architecture Now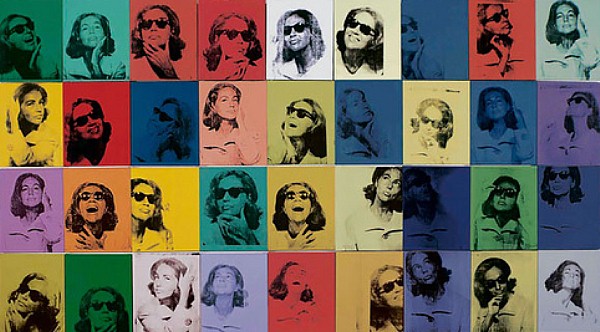 This is the concept sketch for the next stadium I design.


13120801 30th Street Station Railyard studies IQ04 IQ07 UNEP Headquarters La Villette Houseing Urban Components 2431i01 b


13121201 30th Street Station Railyard studies IQ04 IQ07 REMS masterplan 2431i11


2013.12.12 22:08
12 December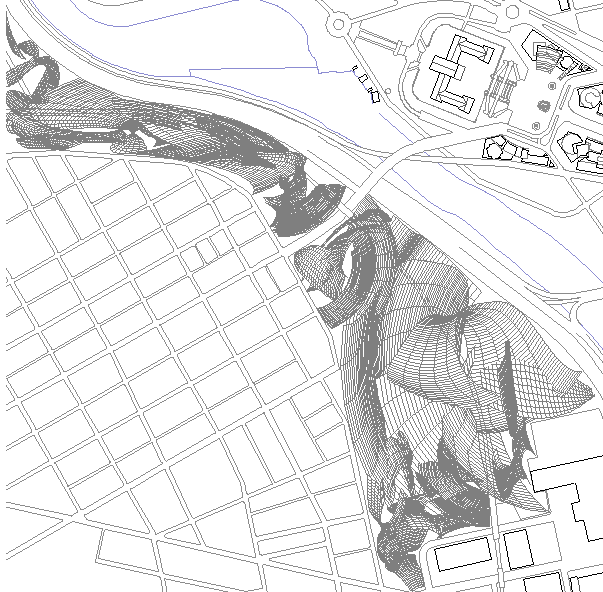 Flying carpets as masterplan?


2013.12.13 19:48
12 December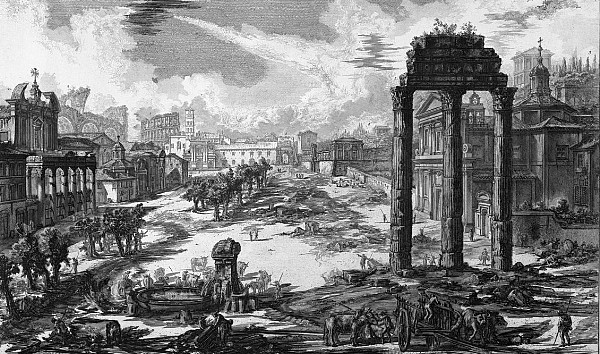 ...it looks as if the Temple of Vesta is not within the Piranesi perspective 'view' of the Roman Forum. The three columns with entablature belong to the Temple of Castor and Pollux, and the round Temple of Vesta would be right in the center of the view within the clearing in front of the two tiny figures. I'm guessing the temple base was still buried in Piranesi's time, and the few columns of the round temple that are in the Forum today are a reconstruction of 20th century vintage. Note, too, how the church facade seen through the three columns does not exist in our time.
The Roman Forum is not delineated within the Ichnographia Campus Martius, but Piranesi did draw a reconstructed plan of the Roman Forum within volume one of La Antichita Romane--that plan is nowhere close to what we know the plan to be today.
"The Vestals, priestesses of the goddess Vesta, whose temple was opposite their house, were selected among the daughters of patrician families between six and ten years of age.
They were exempt from the common law, had many privileges and great political importance, often interposing to save a life, or to restore harmony at times of crisis. They sat in seats of honour at public games and were almost the only citizens allowed to drive within the walls. Their duty was to watch by night and by day the sacred fire in the Temple, and to guard the Palladium. If the fire was allowed to go out, the Vestal in charge was scourged for her carelessness; if she violated her vow of chastity, she was condemned to be buried alive."
The place where Vestals were buried, the Campus Sceleratus, is delineated within the Ichnographia Campus Martius, but, unless you are looking at an actual engraving of the Ichnographia, you are not likely to discern its label: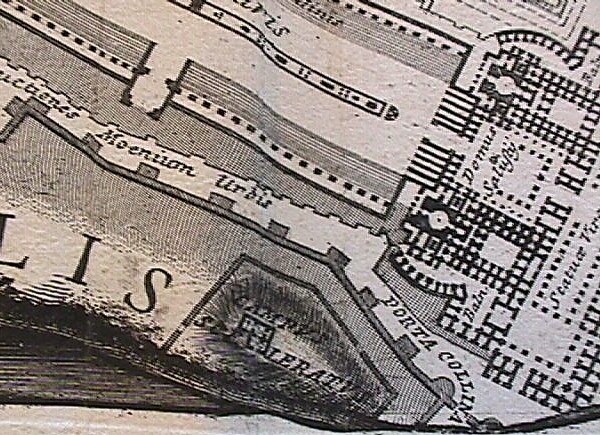 I believe that I once read somewhere that it was a criminal offense to murder any virgin in Rome, thus the quandary of how execute a fallen Vestal, hence live burial at the Campus Sceleratus.
By the way, the small exhibit at Quondam mentioned above was innuendo.
What I find interesting is that the notion of a god having sex with a virgin is at the very foundation of Christianity. Here's something a wrote just over 10 years ago:
Re: Bib. for Cyrillona's Mariology?
2003.08.09 13:32
John,
Thank you for the Graef citation. If Graef does indeed confuse Immaculate Conception with Annunciation/Incarnation, then this is one more example where such a mistake is made within modern scholarship. I have become very intolerant of this mistake after finding it several times within contemporary architectural theory texts. I even see this presence of misinformation compounded because it implicates not only authors, but editors/review peerage as well. This mistake needs broad/public attention within the realm of scholarship simply to cease the perpetuation of its existence.
It is the Annunciation, as reported by Luke 1:26-38, where a series of events are clearly described.
1. (26) The angel Gabriel is sent by God to Nazareth. The presence of an angel already constitutes a miraculous event, a theophany.
2. (27) The angel is sent to a betrothed virgin named Mary. Here Scripture clearly states that Mary is a virgin and that she is promised in marriage to Joseph.
3. (28) In greeting, Gabriel exalts Mary; "the Lord is with thee" reiterates the theophany, thus Mary's being "full of grace" and "Blessed among women" is Divinely sanctioned.
4. (29) Mary is troubled by such a greeting, signifying her overall innocence in this situation.
5. (30) Gabriel assures Mary of her safety within the theophany taking place.
6. (31) Gabriel 'announces' to Mary that she will conceive and subsequently give birth to a boy, Jesus.
7. (32-33) Gabriel Highly exalts the nature of Mary's announced offspring, indeed to the point of infinity.
8. (34) Mary exclaims confusion at the announcement, while she herself proclaims her virginity.
9. (35) Gabriel tells Mary the Holy Spirit will come upon her, the Most High will overshadow her, and the Holy One to be born will be called the Son of God. Gabriel essentially announces the soon forthcoming of the Trinity, a complete theophany.
10. (36) Gabriel then announces the Precursor, John the Baptist.
11. (37) "for nothing shall be impossible with God."
12. (38) Mary's ultimate reply, "Behold the handmaid of the Lord; be it done to me according to thy word," is extremely important on two counts. First, it is at the moment of Mary's complicity that the Incarnation (the Word becoming flesh) occurs. (Note Gabriel efficiently departs as soon as his task is complete.) Second, without Mary's complicity, the Incarnation would have been the result of a rape, not at all unlike the sexual relationship between Mars (a divinity) and Rhea Silvia (a Vestal Virgin), another reported theophany which progenerated Rome.
After the Annunciation/Incarnation comes the Visitation, where John the Baptist, when he for the first time is in the presence of the Incarnation, takes a noticeable pre-natal leap.
Piranesi further 'played' with the Pagan/Christian inversion of god and virgin via the Templum Martis/church of S. Agnese in Agone.
A lot of all the above was way in the back of my mind during the ZHA World Cup Stadium as vagina discussions. I wonder if Piranesi's spiraling mock sea-battle stadium within the Ichnographia Campus Martius, the Naumachia Domitiani, will become the inspiration for a new stadium designed within the next decade or so.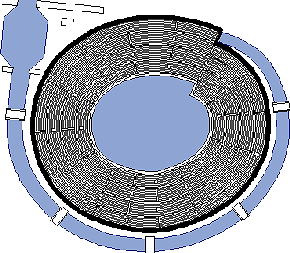 Also, I'm currently re-reading Tafuri's Architecture and Utopia, and I have a heightened awareness of the avant-garde architectural lineage that Tafuri sees the Ichnographia Campus Martius as the protogenitor of. I think it's now possible, however, to 'fabricate' a whole other avant-garde architectural lineage once one understands what the Ichnographia Campus Martius is really all about.


2013.12.18 20:24
18 December
1997: ...far more manipulative of the model and 2D data in the collection. ...collaged-distorted designs demonstrating the true possibilities of "virtual" space and museums of architecture. ...new definitions of museums are also being created in the process--a "virtual" museum can go beyond the "mission" of a real museum.
1998: Is a lot of today's built environment an unwitting form of "plug-n-play" architecture? All this reminds me of Einstein's answer to the question "to what did he himself attributed the great workings of his mind?" Einstein basically answered that he never stopped thinking like a child, meaning he never discounted self-evidence and he never took anything for granted.
2000: The Latin word 'concepto' (a verb) means: (1) to conceive, become pregnant and (2) to conceive in mind.
The Latin word 'conceptio' (a feminine noun) means (1a) a comprehending; hence concretely, a circuit, compass: the system of the universe [and here Vitruvius is cited as the source of the concrete meaning] -- (1b) a collection, reservoir -- (1c) a conception, a becoming pregnant -- (2a) a composing, drawing up of juridical formulas -- (2b) an expression
From my own experience as an architecture student and as an occasional jury member of student design presentations, the notion of formulating a 'concept' early on in the design process is an integral part of contemporary architectural education. I admit that up until five days ago, when I first read the Latin definitions above, I never connected the notion of formulating a design concept with the notion of becoming pregnant (although the connection in English is surely present in the word 'conception'). For me, concept in design meant an idea formulated from the building program and site, and this idea would both guide the design process as well as provide the design with a cohesion.
Now, knowing the Latin definitions of concepto and conceptio, I change my understanding of concept vis-à-vis designing to being metaphorically that moment when the design process becomes pregnant. And here I want to recall Saul's question "whether there are any arguments for a language of architecture that go beyond appeals to a metaphorical sense of 'language'. [What follows is not to refute Saul's quest, which I see as an insightful mind seeking an interesting and seemingly unprecedented vein of thought, but to suggest what might be the very root of the opposite of what Saul seeks--working with the logic(?) that to understand what something is not will aid in understanding what something is.]
It seems fairly clear that the notion of mentally attaining a concept is already a metaphor for physically becoming pregnant (and here I wonder whether the age old male striving for intellectual dominance is really nothing more than womb envy), hence a substantial part of design/creativity language is likewise purely metaphorical. Again, I'm not trying to suggest that a non-metaphorical language of architecture cannot be found or formulated, rather to point out that the concept of a non-metaphorical language is either: (1) already operating metaphorically in that mental conception reenacts physical conception, or (2) a non-metaphorical language of architecture is one that seeks to equal physical conception itself (i.e., to enact rather than reenact).
Last week I offered "innuendo" as a "display [that generally] deals with the 'language' and meaning of architectural planimetric forms, while specifically [displaying] the 'master key' that unlocks the long held mysteriousness of Piranesi's Ichnographia Campus Martius." Take another look at innuendo/0001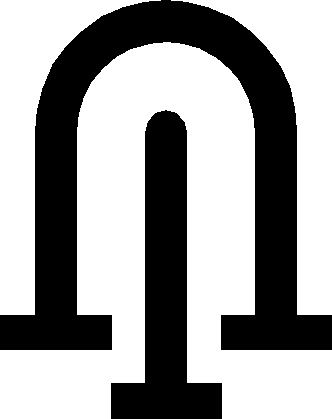 because you will see a 'building' that is both literally and figuratively conception. This tiny building is indeed one of the few plans within the Ichnographia that Piranesi does not provide with a Latin label, and that is because the building, through its plan, already speaks for itself, and, moreover, it speaks of all the 'concepts' there involved, namely, Piranesi's conception of architectural language and the very conception of Rome [Romulus] itself. Piranesi's architectural intensification here is so tight to the point that indeed the medium is the message. And I now wonder whether it might be more worthwhile to seek a language of architecture where the medium is the message, or is such a 1=1 language the same as "a language of architecture that goes beyond appeals to a metaphorical sense of 'language'?"
2004: The design you refer to, an open frame with each level a plot of landscaping with housing, is by SITE,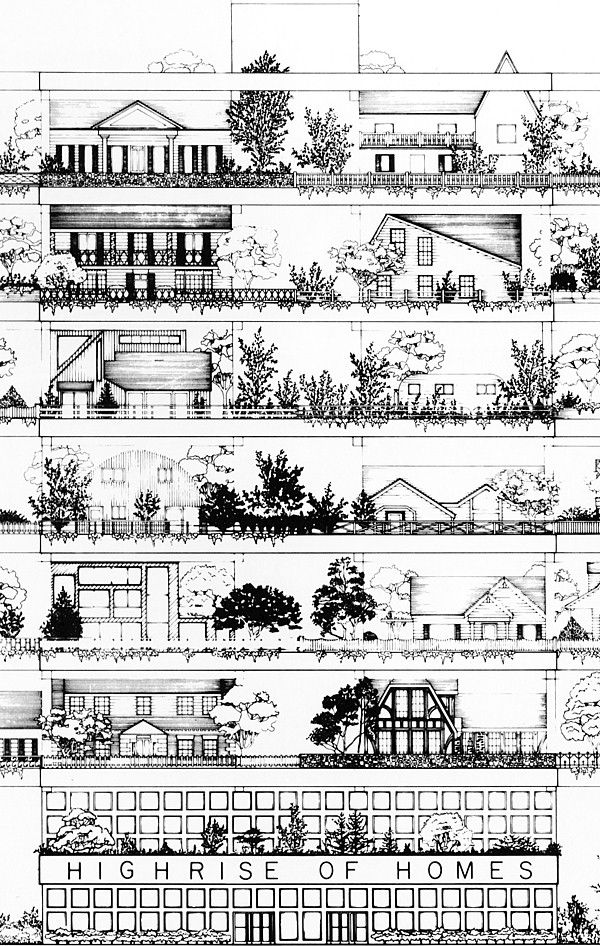 and I can see the connection with the City Tower project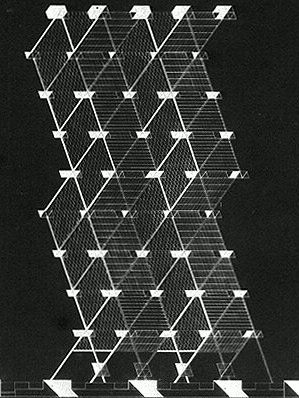 (which was a schematic proposal to replace Philadelphia's City Hall). A new physical model of the City Tower project was constructed just over ten years ago for the Kahn exhibition back then. I knew the model builders, and the design turned out to be much more subtly complex than first expected. I'd love to construct a computer model of the project, but without sufficient data, it's futile for me to attempt. Basically, it's one of those designs that is abundantly virtual in that there is no real building and even the schematics do not fully render what the real building would actually be like. Like you suggest via the SITE example, the City Tower project could wind up containing just about anything.
Anne Tyng is also a key player here, and should not be forgotten. She's the one that was most interested in numbers and geometric constructs as structural systems. Her theoretical writing (from back then) is dense and often abstruse, but perhaps worth reading again with more understanding eyes.
2013: Reading 'conceptio' (a feminine noun) means (1a) a comprehending; hence concretely, a circuit, compass: the system of the universe [and here Vitruvius is cited as the source of the concrete meaning] again today made me wonder anew as to the significance of the compass of the Ichnographia matching exactly the plan of the Porticus Neronianae.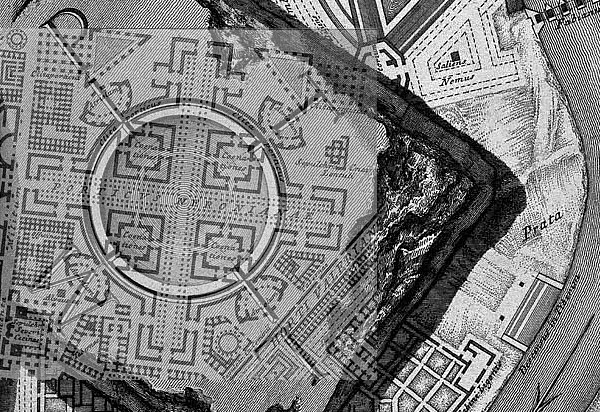 Was Piranesi covertly delineating the "system of the universe?"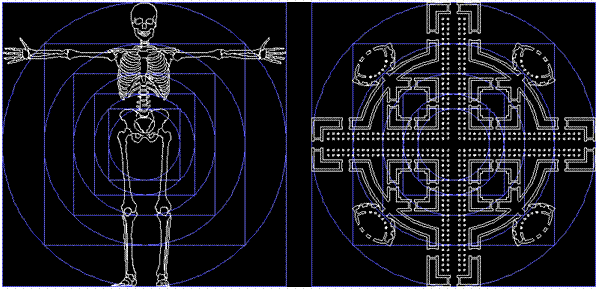 2013.12.20 18:55
20 December
This year's late Autumn is very different than last year's late Autumn--I've already had to shovel snow four times in the last two weeks. Despite the warmer temperatures, yesterday's and today's walk in the woods was still amidst a white blanket of snow--quite nice, actually. Saw a lone fawn yesterday, in the woods adjacent the cow pasture high point, the third time I'd seen it there since the controlled hunt on 4 November. I get a strong feeling that that's where the fawn last saw its mother alive. It's interesting how this animal's mind registers the spot of last sighting to then be, by default kind of, the spot of possible further sighting. A sadly innocent point of view, or is that exactly how hope operates?
Read this while having a late lunch: "Have you ever stopped to wonder anything about what you see there [ArchDaily] or on Archinect or Dezeen or ArchNewsNow or whatever blog or newsfeed you tune into (or tunes into you) every morning?" Figure out for yourself who wrote that in the book UPS delivered here today. I have to return/exchange one of the other books I received today; Project of Crisis is missing pages 123 through 154. Amazon is express shipping a new copy tomorrow. Such modern times we live in, or is it such Christmas (shopping) times we live in?
Reading over the last week and a half has been very Tafuri centric. So far finished Architecture and Utopia, "Ashes of Jefferson," (I think I'm going to read the chapters of The Sphere and the Labyrinth in reverse order) "The Boudoir in The Expanded Field," and "Manfredo Tafuri, or, Humanism Revisited." Last night I started to re-read Theory and History of Architecture. I'm reading the texts to learn/study the structure of Tafuri's history/theories, with particular focus on how Tafuri fit's Piranesi's Campo Marzio Ichnographia into his history. As I wrote a week ago, "Also, I'm currently re-reading Tafuri's Architecture and Utopia, and I have a heightened awareness of the avant-garde architectural lineage that Tafuri sees the Ichnographia Campus Martius as the protogenitor of. I think it's now possible, however, to 'fabricate' a whole other avant-garde architectural lineage once one understands what the Ichnographia Campus Martius is really all about."
At this point I'm still reading, but I'm also beginning to formulate "a whole other avant-garde architectural lineage." It's rather inspiring to even imagine a whole other architectural history of the last 250 years. Aha, working title: Architecture post Semiquincentennial.


2013.12.23 19:47
23 December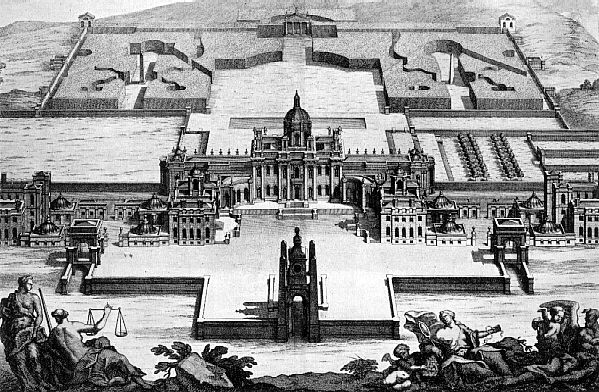 I'm now wondering whether the above image of Castle Howard from Vitruvius Britannicus (published 1715-1725) somehow inspired the architecture of Piranesi as delineated within Il Campo Marzio (1762). Remember the...
I was prompted by the "what is experimental architecture" thread to look again at "Piranesi's Campo Marzio: An Experimental Design." After reading a few pages it became evident that the essay/project could be 'rewritten' to deliver a whole other set of results, a whole other 'history.'
By covertly publishing the Ichnographia in a second state was Piranesi himself conducting an experiment to see who would ultimately discover the two different plans?
Piranesi's language of the plans relates back to the origins of Rom(ulus and Remus) itself.
"Both Piranesi's Campo Marzio and Picasso's Dame au violon are "projects," though the former organizes an architectural dimension and the latter a human mode of behavior. Both use the technique of shock, even if Piranesi's etching adopts preformed historical material and Picasso's painting artificial material (just as later Duchamp, Hausmann and Schwitter were to do even more pointedly). Both discover the reality of a machine-universe: even if the eighteenth century urban project renders that universe as an abstraction and reacts to the discovery with terror, and the Picasso painting is conceived completely within this reality.
But more importantly, both Piranesi and Picasso, by means of the excess of truth acquired through their intensely critical formal elaborations, make "universal" a reality which could otherwise be considered completely particular."
Manfredo Tafuri, Architecture and Utopia: Design and Capitalist Development, p. 90.
There is no Picasso painting with the title Dame au violon, but it is possible that Tafuri is referring to Portrait of a Girl (1914):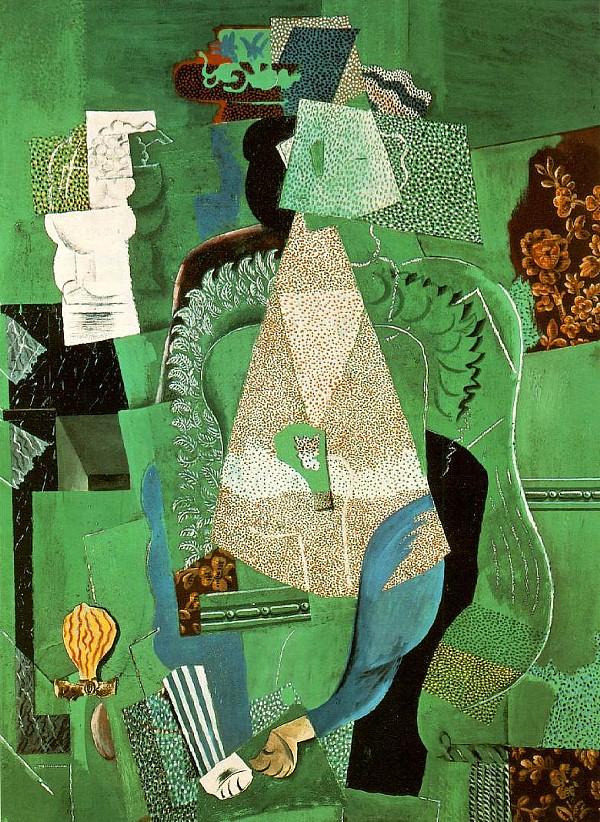 Project: redraw the Ichnographia Campus Martius following the principles of Picasso's (Synthetic) Cubism.


13122701 ICM all the non-Allen typologies plans 206fi21