2004
Villa Skeleton 2344
Villa Savoye
Good-Bye House 2345
Wall House 2
Gooding House
Mikveh PMP 2346
Mikveh Israel Synagogue
Princeton Memorial Park Tower
I. Kahn Collagio 2347
Goldenberg House
Capitol Complex of West Pakistan
Motherhouse of the Dominican Sisters
Hurva Synagogue


2004.01.04 16:01
first hand experience, you can count on it
After the murder of Julianka the gypsy, Magda tries to destroy the magical hand of Count Petofi. But the Count arrives, demanding the return of his missing hand.
episode 816:
Petofi causes Jamison to become possessed by David Collins. Nora tells Tim that Jamison took the hand from her. Tim finds that the hand has been re-attached to Count Petofi. Tim tries to make a bargain with Petofi to get revenge on Trask and Evan Hanley. Quentin brings Jamison to Petofi and begs him to save his life.


2004.01.06
epiphanies
6. Bottomopolis of Ottopia - a metabolic ichnographia in two states.
9. Bottomopolis comprises the architecture of schizophrenia + architectures.


040106a IQ study 3392ji01
040106b IQ study 2342i01


2004.01.10 14:42
in the virtual realm
etc...
Maria tells us about the symbolic role played by her sarcophagus and sepulcher within Piranesi's Il Campo Marzio, and Piranesi outlines all the mistakes made by Fasolo, Tafuri, Allen, Bloomer, and Eisenman in their respective interpretations of the Ichnographia Campus Martius.
Jim explains the letters he wrote while in Savannah jail circa 1983/4, and fondly remembers his last trip to Philadelphia.


2004.01.10
Re: interesting article
The fact that letters (of which I have some) written by Jim Williams while in jail for the murder of Danny do exist could very well engender the heretofore unexpected "sequel" to Midnight in the Garden of Good and Evil--a virtual terror castle, I'm sure--and how long was that book on the bestseller list?
from Joyce's Ulysses:
"Bringing his host down and knelling he heard twine the second bell the first bell in the transept (he is lifting his) and, rising, heard (now I am lifting) their two bells (he is knelling) twang in diphthong."


2004. 01.10 15:28
Re: J. Baudrillard's America 86...
And which 'character' of Midnight in the Garden...do you suppose was the local highend cocaine dealer? Thank God for those direct Delta flights from NYC to Savannah.
"John Berendt arrives this Thursday. Did I mention him? He wants information to tempt a publisher into agreeing to commission him to do a book on my Hansford case. Don't know how details of our contract will work out, but one must be signed before I give him pertinent facts he could find no where else."
--Jim Williams, 18 March 1985


2004.01.19 14:24
Re: From Earth to the .US footprint on the Cosmos Gosh, if all the US military bases around the world were turned into .US run tourist resorts (like DisneyWorld or Busch Gardens or Colonial Williamsburg even) US citizens could travel all over the world and still be xenophobic.
sushiland.okinawa.us here I come!


2004.01.19 14:51
Tschumi's renderings
What I see as most unfortunate is that a design (which owns as much to Terragni's Danteum as it does to Mies) to house/display revered ancient artifacts is really no different in effect than a design to house/display Prada artifacts. I suppose this is all a lesson on how to now architecturally treat "very valuable" things.
Isn't it fun living in an architectural era of render and shop till you drop?


2004.01.25 15:24
...in yesterday's dusk
On the way to TLA Video Chestnut Hill to rent Visconti's Ludwig and back.
Left St. Ambrose Parish towards St. Helena Parish, then towards Temple University's Tyler School of Art, which is part of the motherlode of Horace Trumbauer architecture, Lynnewood Hall just up the street, and right next to Elstowe, the quondam William L. Elkins Estate, now a House of the Dominica Sisters. [Otto is thrilled to hear that both St. Catherine de Ricci and Louis I. Kahn will attend the Horace Trumbauer Architecture Fan Club Convention to deliver their jointly-authored paper.] Then on to a bit of Rt. 73 to Grey Towers, the castle of Arcadia University.
Now on towards Chestnut Hill through Whitemarsh and the scant remains of Stotesbury Mansion, and glad to report ultimately finding that sculptural fountain terrace as centerpiece in the 1950s residential community.
A jammed parking lot and a long line in the store.
Up Mermaid Lane passed Cynthia's house (my 1993 portrait of her hangs over the fireplace in the family room), then all the way down Stenton Avenue, ending through St. Anthanasius, St. Helena, and finally home in St. Ambrose.
[Elapsed Time: 1 hour 25 minutes]
2004.02.13 12:44
Re: of castles, fortifications, etc.
Great stuff. I never read any books on symbolism before; I will now, however.
Lots of things zipped through my mind while reading:
Castles, Ludwig II, reenactment, Otto in a Schloss (i.e., the German for either castle or lock), schizophrenia in a lock-box.
New Jerusalem, Bryn Athyn Cathedral (or Church of the New Jerusalem), Academy of the New Church, Glencairn, Cairnwood--all local (to me) architecture built with Pitcairn (the local 'Rockefellers') money--I can't readily go to Bavaria anytime I want, but that's not case with Bryn Athyn, for a few years now I call it "a little land of reenactment."
Bryn Athyn Cathedral is indeed a true Gothic construction in that all the stones are held together with mortar and gravity alone, perhaps the only true Gothic Cathedral built entirely in the 20th century. Although still large, it is nonetheless somewhat diminutive in that its scale is something like 2/3rds or 3/5ths the average Gothic Cathedral. The overriding symbolism of this Church goes un-noticed by most--nothing in the design is straight, level or exact; column spacing is always slightly off, all walls slightly bow, there is a slight curve to everything, especially to whatever looks straight. Only God is perfect.
The administration building of the Academy of the New Church is a very early Mitchell/Giurgola building, whose design somewhat reenacts the design of Kahn's unexecuted Goldenberg House, which was to be build on a site just a couple miles down from Bryn Athyn.]
Louis Kahn's unexecuted Domincan Motherhouse of St. Catherine de Ricci is chock full of symbolism--today, 13 February, is the feast of St. Catherine de Ricci. I guess I'll visit Elstowe (for the first time) today, and then maybe go take pictures of the castle at the quondam Beaver College.
The Egyptian walls of hieroglyphics and the Berlin Wall of graffiti.
The metabolic urbanism of contemporary Israel.
The secret symbols of Piranesi's Ichnographia Campus Martius.


2004.02.14 14:07
Re: of castles, fortifications, etc.
Mecca and WTC, what a comparison. You seem to be asking (and answering) "how does one design a site of pilgrimage well?" I agree that this is an apt question for design these days. Lucky for me, I suppose, my 'pilgrimage' to the post 9-11 WTC occurred the first weekend Lower Manhattan was reopened after the attack. A true once in a lifetime event. I haven't visited the Pentagon or Shanksville yet, however.
Architect Aldo Rossi also held the lighthouse typology in high regard. If you are not familiar with his many architectural sketches (many of which are published in a fair number of books), you might find lots of inspiration related to your own work. His collecting of favorite typologies is much akin to your own collecting of the 'architecture of electricity'.
Last evening Philadelphia was witness to a great 100' to 150' column of fire. Ten minutes before 5 o'clock a small crew of water workers at the intersection of Olney and Ogontz Avenues (about 2.5 miles directly west from where I live) accidentally broke open a 20" gas main, and within a half minute there erupted an enormous explosion resulting in a tremendously powerful vertical jet of flame. Miraculously, no one was injured, and after four hours the pressure within the gas main was shut off, and the column of fire was gone.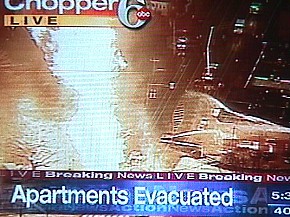 Your thoughts about the place of fiction in the reality of modern life is poignant. Late last night I watched the movie (based on the book) Remains of the Day, and it's story seems to relate to what you say.
From amazon.com: "The novel's narrator, Stevens, is a perfect English butler who tries to give his narrow existence form and meaning through the self-effacing, almost mystical practice of his profession. In a career that spans the second World War, Stevens is oblivious of the real life that goes on around him--oblivious, for instance, of the fact that his aristocrat employer is a Nazi sympathizer. Still, there are even larger matters at stake in this heartbreaking, pitch-perfect novel--namely, Stevens' own ability to allow some bit of life-affirming love into his tightly repressed existence."
What I saw in the film is that the aristocrat employer was just as oblivious as his butler, an oblivion, moreover, manifest by grandly organized pretense. In the movie, Christopher Reeves plays a U.S. Congressman from Pennsylvania. Before he visits the manor for a circa 1936 foreign affairs conference, the aristocrat and some of his compatriots wonder as to the source of the Congressman's family's wealth--"Perhaps they made their money from trolley cars." This is an obscure reference to the Philadelphia Wideners, for whom Lynnewood Hall by Horace Trumbauer was built.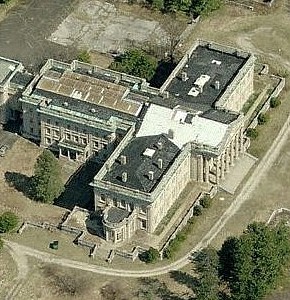 Horace Trumbauer, Lynnewood Hall (Elkins Park, PA: 1898-1900).
I spent the better part of yesterday afternoon (just across the street from the now derelict Lynnewood Hall, which was once just as grand as the Manor House in the movie) at Our Lady of Prouille, the quondam Elstowe, estate of the Elkins Family, now a retreat house run by the Dominican Sisters of St. Catherine de Ricci. I had the good fortune of speaking with Sister Caroline who is now in charge of the place. We even discussed Louis Kahn's unexecuted design for a Motherhouse which the Sisterhood had commissioned. Before going home, I went to the art library at Temple University's Tyler School of Art (which is right next to where I spoke with Sister Caroline, whose office is within what used to be the estate squash courts). Because I was looking up books about the art treasures that used to be within Lynnewood Hall (now the Widener Collection within the National Gallery, Washington DC), the librarian also brought out of the rare book room a most unexpected item--the 1946 auction catalogue of the estate of Eva Stotesbury.
Gosh, I love the reality of fabricating a novel/fiction.


2004.02.16 11:02
Re: of castles, fortifications, etc.
My Architect was not discussed, so I don't know if Sister Caroline saw the movie. What she did was explain why the Motherhouse was commissioned, and how, after repeated redesigns to fit the budget, the project was ultimately abandoned. Sister Caroline was actually more curious about "the paper" Saint Catherine de Ricci and Louis Kahn are to present in "the novel I'm working on." I plan to return to have an extended conversation with Sister Caroline, and perhaps some other Sisters as well. The Dominican Retreat House, just north of Philadelphia, now more or less acts as the Motherhouse of the Dominican Sisters.
I told her I constructed a computer model of the project on the site, and I asked about the big hillside behind where the Motherhouse was to be. She said that was "daffodil hill" because it was covered entirely with daffodils. The Dominican Sisters sold the site (at Media, southwest of Philadelphia, just north of Delaware) in 1990; it is now developed with suburban housing.
The Dominican Retreat House (the quondam Elkins Estate) comprises two Trumbauer Houses, Elstowe and Chelten House--one for the father, one for the son. Elstowe (c. 1900) is in the Italian Renaissance style, with a large powerhouse far down the valley, now a home for aged sisters. Chelten House (c. 1898) is in the Elizabethan style, with a separate stable compound and a squash court. The grounds are quite the sight/site; I look forward to going there again in the Spring. Both mansions are used to house religious retreats every weekend.


2004.02.18 14:28
Re: Kahn
I prefer what the eye really does see as opposed to photography where what is 'unsightly' is omitted.


2004.02.26 12:36
"God's Bricklayer"
I read the following for the first time last night.
"Cardinal Dennis Dougherty took off for a three-month European vacation in early May 1934. Several weeks later, a declaration of war on the movie industry in the form of a pastoral letter from the Cardinal was read in all the churches of the Philadelphia Archdiocese. Hollywood's obsession with sex and crime," said Dougherty, was a "vicious and insidious attack . . . on the very foundation of our Christian civilization, namely the sacrament of marriage, the purity of womanhood, the sanctity of the home, and obedience to lawful authority." Dougherty's archdiocese covered most of southeastern Pennsylvania, so the letter was heard by some 825,000 Catholics, almost all of whom would have been in church that Sunday, as they were every Sunday. Their marching orders were straightforward: Philadelphia Catholics were forbidden, on pain of serious sin, to go to any movies, of any kind, anywhere."
"Samuel Goldwyn made a quiet visit to the Cardinal's home and reportedly offered to do whatever was necessary to lift the ban. Dougherty was polite but said, "I am adamant. I will not lift it. That will be left to the moral judgment of your products."
the above quotations from: Charles R. Morris, American Catholic: The Saints and Sinners Who Built America's Most Powerful Church (New York: Random House, 1997).
"God's Bricklayer" entitles the chapter on Cardinal Dougherty, apparently a name the Cardinal occasionally applied to himself.
What a difference seventy years makes?
I like how John Kelly, the father of Princess Grace, called Cardinal Dougherty a "son-of-a-bitch." I like too how John Kelly's construction company built Cardinal Dougherty High School, once the largest Catholic High School in the world, and my Alma Mater.
Since most of Otto's friends are presently staying at St. Catherine (de Ricci) Hall, the quondam powerhouse of Elstowe (literally next door to Tyler School of Art), no doubt they will someday soon visit Cardinal Dougherty High School which is close by in St. Helena Parish. Ludwig, Jim, and Arcadius (elder son of Theodosius, brother-in-law and first cousin one generation removed of Maria), however, are staying at the castle of Arcadia University, the quondam Beaver College. Trumbauer and 'God's Bricklayer' are helping Otto organize all the various site-seeing tours for Otto's Lenten guests. This all works out perfectly as a preliminary run of the official tours to be part of the forthcoming Horace Trumbauer Architecture Fan Club Convention. Sam Goldwyn has agreed to surprise Dennis at one of the Thursday night dinner parties, followed by a movie (Death in Venice? High Art? Barbarella? The Player?--I mean how many times can everyone watch Titus?), of course.


040302a Benjamin Franklin Parkway/ICM plans 2093i10
040304a Benjamin Franklin Parkway/ICM plans 2093i11


2004.03.13 12:30
Re: koolhaas on charlie
Is it true that Koolhaas on Charlie Rose the other night referred to his new book Content as "disposable like a magazine" or words to that effect?
I ask because on 26 June 2002 I wrote here at design-l:
Koolhaas et al's study of shopping is nothing revolutionary as much as it is more and more hype over shopping. (NewsHours coverage is for sure a furthering of the hype.)
What the world really needs is a study on Trash, the 'art' of disposal, an analysis of all that we humans today throw away, including large parts of cities!
After having the Koolhaas et al study on Shopping since it became available, I wish I never bought it. I should have waited till I could borrow it at the library. There is not much in it that I don't find disposable.


2004.03.13 13:38
Re: to serve a larger purpose
I wonder when there is going to be an Apostate Architecture symposium.
Let's have a vote:
Do you prefer Republican Architecture or Democrat Architecture or Independent Architecture?
Is it true that someone somewhere is working a book entitled The Architecture of Taxation?
Chapter One: Money Bags
Chapter Two: Hand to Mouth
Chapter Three: The Art of Evasion
Chapter Four: Deductible Dependents
Chapter Five: Attachments
Chapter Six: Chapter Eleven
Chapter Seven: Schloss Schatzkammer 4 sale


2004.03.14 10:58
Re: koolhaas on charlie
Museums and libraries, architectures as deliveries of content.


2004.03.14 15:30
Re: koolhaas on charlie
Also, books like Harvard School of Design Guide to Shopping and Koolhaas' latest Content would have been just as effective, if not more so, had they been published electronically. It is for this reason that I feel Koolhaas' own admission that Content is disposable is nothing less than an indictment of bad design from the very start. The irony is, too, that most books today are already composed electronically, thus then printing the material is more or less a step backwards.


2004.03.14 17:50
Re: koolhaas shopping
...your input regarding the traditional/linear format of books versus the digital/hypertext format of content is worthwhile. Google, as you note, is a 'perfect' rendition/design of content delivery, yet current web site design is, in my opinion, leaning too much toward fancy interface as show. I still like basic html for formatting of hyper-content (but perhaps that's just me because its easier).


2004.03.15 18:48
Re: a (better) commercial (real estate) value
Enjoying your exchange guys.
Just thought I'd offer the titles of two books (that I'm familiar with) that somewhat relate to the topic at hand.
Richard A. Etlin, The Architecture of Death: The Transformation of the Cemetery in Eighteenth-Century Paris (MIT Press), 1984.
William N. Morgan, Prehistoric Architecture in the Eastern United States (MIT Press), 1980.
The closest cemetery to where I live is on the grounds behind St. James Methodist Church (the first church of Olney, 1818), a few blocks west on Tabor Road. The closest grave to where I live, however, is that of Father Hughes, the founding pastor of St. Ambrose Catholic Church, which is a marked by a Celtic Cross on a patch of lawn in front of the original 1923 Church/School building, right on Roosevelt Blvd., just a block and a half away.
Since 1997, there have been three murders committed within Tacony Creek Park between Roosevelt Blvd. (right at the mouth of Rock Creek) and Rising Sun Avenue. And since 1990, there have been over a dozen (or even many more) findings of remains of Santeria and/or Voodoo rituals (including sacrificed animal carcasses) in the same park area.


2004.03.16 10:20
Re: before or after the Viking invasion ?
...excerpt from the cover notes of Prehistoric Architecture in the Eastern United States:
"It is the first overview of prehistoric earth architecture in the Eastern United States, from about 2200 BC to AD 1500, and presents 82 sites which provide examples of how, thousands of years before Columbus, aboriginal architects used earth to shape their environments and landscapes from the Great Lakes to the Gulf of Mexico and from the Atlantic Ocean to the Great Plains."
...the formations of the earth architecture(s) is most times very geometric, often with groupings of stunted pyramidal mounds, and the arrangements sometimes resemble the patterns one associates with crop circles.


2004.03.21 11:35
Re: A Gathering of Planets
Dennis and Eva
Catherine de Ricci and Louis I. Kahn
Trumbauer and Mrs. Dodge
Otto and Maria
Piranesi and Melania the Younger
Ludwig and Agatha Christie (he was calling her "Clueless" behind her back)
Rubens and Bette Davis
Franciska and Philippe Le Beau (apparently he has an eye for the great grandmothers of his most recent descendants)
Napoleon and James A. Williams
Eutropia and Napoleon II (they all sang 'Happy Birthday' for him, and every time Napoleon's son introduced himself as King of Rome, Eutropia simply said, "You don't know a thing.")
Louis XVI and Marie Antoinette (when Ludwig saw Agatha mingling with Louis and Marie, he said, "Look! It's 'Clueless' with 'The DeCaps.'")
Theodosius and Aelia Flaccilla
Arcadius and Aelia Eudoxia
Honorius and Thermantia
Galla Placidia and Athaulf
Stilico and Serena
Princess Grace and Samuel Goldwyn
John Kelly and a bitch (apparently a seeing eye dog)
Rrose Selavy and Pope Celestine V
Jennewein and Lili Marlene
Franklin and Maria Popinska, a quondam Russian scientist (Otto took one look at this couple and immediately said, "Oh, Now I get it. Maria Popinska and 'Let's go fly a kite.' Ben, you're still the funniest sense of humor I know.")
Helena and Eusebius (it was obvious they were up to something)
Ambrose surprised everyone by bringing Constantina and R. David Schmitt. (Ambrose enjoyed telling everyone how he and Dave each died on a Good Friday, and Constantina--actually everyone calls he Santa Costanza these days--enjoyed telling everyone about the architectural analysis of her mausoleum that Dave conducted back when he was a student at Temple University.)


040324a Ottopia base map 1 2349i01
040324b Palace of Ottopia Ottopia1 plans 2305i02

040324c Maison Millennium 001 Palace of Ottopia 2304i04

040324d Maison Millennium 001 Ottopia plans 2304i05

040324e Maison Millennium 001 Palace of Ottopia Ottopia plans 2304i06

040324f Cooper & Pratt House plan 2246i01

040324g Palace of Ottopia Maison Millennium 001 Cooper & Pratt House plans 2246i02
040324h Ottopia Palace of Ottopia Maison Millennium 001 Cooper & Pratt House plans 2246i03

040324i skeleton within circle/square juncture 2342i04
040324j skeleton and Porticus Neronianae circle/square juncture 2342i05
040324k Ottopia skeleton/circle/square juncture plans 2349i02
040324l skeleton within Porticus Neronianae circle/square juncture 2342i06
040324m Ottopia skeleton Porticus Neronianiae circle/square juncture plans 2349i03
040324n Ottopia Palace of Ottopia Maison Millennium 001 Cooper & Pratt House skeleton Porticus Nerioaniae circle/square juncture plans 2246i04
040325a Villa Rotonda with circle/square juncture 2080i05
040325b Villa Rotonda with Porticus Neronianiae circle/square juncture 2080i06
040325d Ottopia Palace of Ottopia Maison Millennium 001 Cooper & Pratt House Villa Rotonda plans 2080i07
040325e Sober House 1 plan 2286i02
040325f Palace of Ottopia Maison Millennium 001 Cooper & Pratt House Villa Rotonda plans 2080i08
040325g Palace of Ottopia Maison Millennium 001 Cooper & Pratt House Villa Rotonda Sober House 1 plans 2080i09
040325h Ottopia Sober House 1 2286i03
040325i Ottopia Palace of Ottopia Maison Millennium 001 Cooper & Pratt House Villa Rotonda Sober House 1 plans 2080i10
040325j Ottopia plans 2235i03
040325k UNEP Headquarters Infringement Complex plans 2235i04

040326a Ottopia base map 2 2349i04
040326b Ottopia2 Schizophrenic Folds plans 2307i02


040411a SF1 Ottopia 2307i03
040411b SF1 plan 2307i04
040411c SF2 plan 2307i05
040411d SF2 Ottopia 2307i06
040411e SF1 SF2 Ottopia 2307i07
040411f SF3 plan 2307i08
040411g SF3 Ottopia 2307i09
040411h SF1 SF2 SF3 Ottopia 2307i10
040411i SF3 rotated plan 2307i11
040411j SF3 rotated Ottopia 2307i12
040412a SF1 SF2 SF3 SF3rotated Ottopia 2307i13
040412b SF4 plan 2307i14
040412c SF4 Ottopia 2307i15
040412d SF1 SF2 SF3 SF3rotated SF4 Ottopia 2307i16
040412e SF5 plan 2307i17
040412f SF6 plan 2307i18


040708a Villa Skeleton model 2344i01 b


2004.04.14 22:25
Re: "Revivalists..."
"Ludwig did not set out to copy the entire Palace of Versailles; in fact, he conceived Herrenchiemsee as something of a shell, in which only two rooms were of consequence--the State Bedroom and the Hall of Mirrors. He commissioned architect Georg Dollmann and, later, Julius Hofmann, to faithfully duplicate the center block and side wings, He eventually wished to include to longer auxiliary wings containing the chapel and court theater, but money ran short before these schemes could be executed. The king never intended that all the rooms should be completed: From the beginning, Herrenchiemsee was to be a set piece into which certain rooms were to be introduced. Their bare plaster walls, bricked up windows, and vaulted stone ceilings only served to fill out the space behind the palace's facade, providing an eerie contrast to the extravagant rooms of the piano nobile. By the fall of 1885, the palace was ready for a royal visit."
--Greg King, The Mad King: A Biography of Ludwig II of Bavaria, pp. 241-2
Earlier today, while driving to the local post office (which is within a large local shopping center, which years ago was the site of Heinz Manufacturing), I passed by what until a year or two ago was a K-Mart. For some reason the entrance to this place was wide open, and inside was an enormous, cavernous space. I thought to myself, "Gosh, the interiors of these stores are so ephemeral." Then I thought, might it not be interesting if homes were treated/designed like BIG BOX stores. Now, thinking of Herrenchiemsee, why can't all BIG BOXES look like Versailles on the outside and empty shells on the inside. Or, is that what is kind of already happening, and Ludwig was a "dreamer" just a head of his time.


2004.04.22 18:17
Re: Hey!!!
Does (any) architecture come with an owner's manual?


2004.05.04 10:28
Re: the design of incarceration
It's always interesting and useful to know how things happen, and it's just as interesting and useful to know how things un-happen.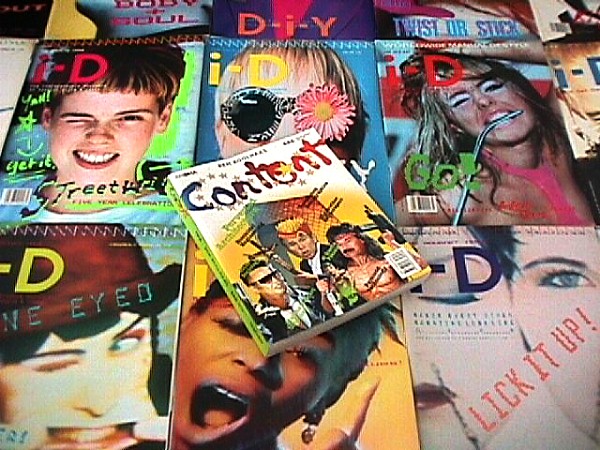 2004.05.08 15:20 Dis: content
Received Content (the new Koolhaas book) in the mail a couple hours ago. Looked through the whole thing page by page once so far. After doing that I realized that Content inside looks exactly like i-D magazine of 20 years ago. The only difference is that i-D is still better at its delivery of content.
[i-D, the worldwide manual of style, a sort of 'underground' fashion magazine that started coming out of London October 1980, and is today more a mainstream, albeit still 'avant garde' fashion magazine.]
I still have my collection of i-Ds from the mid-1980s, and I'll keep on keeping them (especially since they are still so up to date). I doubt I'll still own Content 20 years from now, however.
[reenactment note 356.38976--remember how Koolhaas' delivery of Content essentially reenacts i-D's delivery of content 20 years ago. I wonder if Koolhaas even knows he was following the "manual of style"? I seriously doubt it. Just thought of a new working title: From Euphrates Cat To Copy Cat.]
The "Editor's letter' of Content by Brendan McGetrick suggests that "remaining at home [is] torturous," thus it is obvious the editor here doesn't know that remaining at home is the grand luxury of being virtually famous.
2004.05.10 15:17
Re: ducked around ?
"Imaginative history" is a kind of virtual reality, is it not?
As much as I see the virtual domain as something other, there nonetheless remains the wide held notion that the distinction between the real and the virtual is increasingly blurred in our times.
Reenactment is a kind of "imaginative history", is it not?


2004.05.15 08:43
REPORTAGE- Rhythm & Gender
Regarding Post-Modern Architecture and it's "origin", my first thought was of Jencks' reference of Lubetkin and Tecton's Highpoint II, Highgate, 1938.
Part three of Jencks' The Language of Post-Modern Architecture (1977), offers a fairly concise 'history' of architecture's seminal works that portend or indeed manifest a post-modernist style.
Some have argued that Venturi's Complexity and Contradiction in Architecture (1966) is the primal manifesto of Post-Modern Architecture, while other's like to point out that Rossi's The Architecture of the City (also 1966) plays an equal role in shifting architecture theory/practice away from strict Modernism.
Post-Modernism in architecture was a much discussed and written about subject. Does it really matter as to what was the precise origin of the "movement"? It doesn't matter to me because official history is rarely as inclusive as it pretends to be.


2004.05.15 15:27
Koolhaas Library NY Times
Compare the new Seattle Library with Kahn and Tyng's design for a Municipal Building, Philadelphia, 1952-57 (as seen on pp. 30-31 of Louis I. Kahn: Complete Works 1935-1974).
Also look at the color sketck on page 27 which is evocative of the other recent Koolhaas architecture of irregular shape.
Is a book entitled Learning from Early Kahn Philadelphia virtually in the works?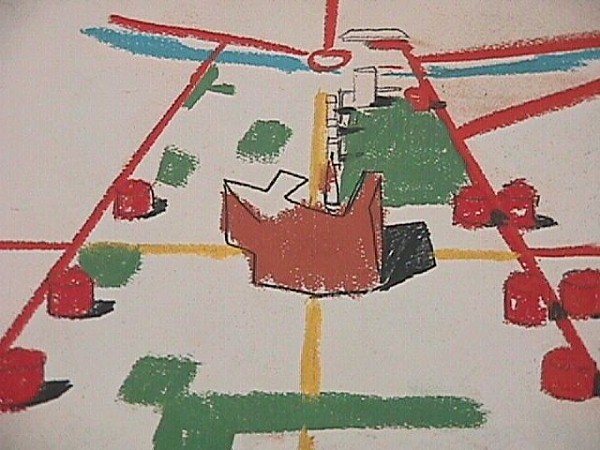 2004.05.17 11:01
Re: Papers of the HTAFCC
In 1971, soon after Otto got his first car (a VW Beetle), he took me to 'Stokesbury Mansion' (sic). He knew I really liked architecture, and he too knew good architecture when he saw it. Otto and I made many trips to Whitemarsh Hall. In fact, he was the one that helped me rip off some of the marble wall paneling that enveloped Mr. Stotesbury's bathroom. [One panel now has Anonymous Saint In Bikini While Jesus Is Walking On Water (1983) painted on it.] I have some old Super-8 movie film with Otto walking on the parapets of Whitemarsh Hall, a scene remarkably similar to Charles and Sebastian walking on the roof of Castle Howard in Brideshead Revisited.
Edward Townsend Stotesbury suddenly died in the grand foyer of Whitemarsh Hall 66 years ago yesterday. You could say that was the beginning of the end of 'the Versailles of America.'


2004.05.18 10:26
REPORTAGE- Rhythm & Gender
I like the list; like chapters, like lessons, like evolutionary stages, like different floors of a building I'd love to design, like a row of restaurants while you're perpetually hungry.
Le Corbusier is very high on my list. Go to Harvard's Loeb Library to see my analysis of his unexecuted Palais des Congrès--they were the only ones to purchase both the slides and drawings published in 1991.
Early Mies still intrigues.
Gropius never really inspired me at all.
What I find historically interesting is a comparison and contrast of Freud's first visit to Rome (gen Italia) and Le Corbusier's first visit to the Acropolis.
I'm not sure the Romans ever built in the Doric order. Composite was indeed their order of choice.
Seutonius relates how a delegtion from India came to Rome during the reign of Augustus. This makes me really wonder why the Mausoleum of Augustus in Rome and the Great Stupa in India are virtually identical in size and design.
Why do you think Piranesi first delineated all the circuses of the first printing of the Ichnographia Campus Martius in a stylized manner, and then (unnoticed for over 200 years) changed all the circuses into copies of the Circus of Maxentius in the second printing of the Ichnographia Campus Martiis? Piranesi sure knew how to paint a quaestio abstrusa!
You know how Eutropia confessed that (her son) Maxentius was a bastard soon after Maxentius died in battle against Constantine? Well, I hear Eutropia recently made another confession as to how Maxentius' real father was Diocletian!


2004.06.11 11:59
no thanks for the memories
"By the morning of 11 June the police watch on the castle had been dissolved and most of the servants had drifted away. To those who remained Ludwig railed bitterly against his uncle and talked repeatedly of suicide. 'Tell Hoppe,' he said, 'that if he comes tomorrow to attend to my hair he will find my head in the Pöllat gorge. I hope that God will forgive me this step.'
Mournfully Ludwig wandered through the castle, up and down the stairways and even through the unfinished parts where gaps were spanned by makeshift bridges of boards. It filled him with sadness to think that he must bid farewell to this temple which he had planned and created so lovingly. He lingered in the great Singer's Hall with it's murals from Parzival, and took his leave of the six Holy Kings in the empty alcove of the Throne Room. He stood in the colonnade and looked for the last time at the magnificent sweeping view over the plain of the river Lech. Occasionally he took up a book to read, then put it down again. Towards the end of the day he drank a great deal."
--Christopher McIntosh, The Swan King: Ludwig II of Bavaria, p. 191.
So, did Ludwig commit murder and then suicide two days later?
"The old man [King Ludwig I of Bavaria, and an accomplished practitioner of reenactionary architecturism himself], in his turn, felt a bond with his grandson, reinforced by the fact that the boy's birth, at Nymphenburg on 25 August 1845, coincided with the exact date and hour of his own. It was this remarkable coincidence which had prompted him to request that the name Ludwig be added to those the child had already been given: Otto Friedrich Wilhelm. The date was in addition the day of St. Louis. So the boy became Ludwig."
-ibid., p. 9.
Ludwig is presently in the midst of making plans to visit St. Louis, Missouri 25 August 2004. He's all excited because Hannibal and Twain are going with him. ]
Ludwig II's godfather is Ludwig I, and Ludwig II's godfather's godfather is Louis XVI.
One of Otto's fondest 4th of July memories is seeing fireworks over the Mississippi River at Hannibal, Missouri in 1978.
"In 1239 Baldwin II, the Latin emperor at Constantinople, made St. Louis (in gratitude for his [Crusading] largesse to the Christians in Palestine and other parts of the East) a present of the Crown of Thorns, which was then in the hands of the Venetians as a pledge for a loan of money to Baldwin, which Louis had to discharge. He sent two Dominican friars to bring this treasure to France, and met it himself beyond Sens, attended by his whole court. To house it he pulled down his chapel of St. Nicholas and built the Sainte Chapelle, which is now empty of its relic."
--from 25 August in Butler's Lives of the Saints.


2004.06.13 09:48
Happy 118th Deathday
Ludwig and Leni (Riefenstahl) are spending most of today, Ludwig's 118th deathday, at Fonthill, in Doylestown, PA. Mercer's all excited, fellow syphilitic castle-builder and all that. Leni can't wait to take pictures--Blicks von Moravia.
Then next Sunday is the wedding of Dennis and Eva at 20:57 in the intersection of Rising Sun Avenue and Tabor Road. The latest buzz is that all the weavers of "the Great Isfahan" are flying in on the carpet itself.
...the HABS/HAER link instructions to see a nice collection of interior shots.


2004.06.16 05:53
cloning architecture - a global search
I too was thinking of McMansions last night. Swarms of clones sprawling over the US suburban landscape. But notice too what these homes try so hard to reenact, essentially the 'lifestyle' of very wealthy people from quondam times.
Picking up on Helsinki's last sentence, it's interesting that the German word Schloss means 1. castle, palace; chateau, manor-house 2. lock.
On the Campo Marzio issue, I've (already) compiled a bibliography of architectural literature on Piranesi's large plan. Briefly, before Tafuri there is Fasolo in 1956 (who Tafuri in places reiterates, but he did not note any of the 1956 mistakes), and Scully on Kahn in 1962. Tafuri's Architecture and Utopia was first published in Italian in 1973, and his The Sphere and the Labyrinth was first published in Italian in 1980. Since 1980, most architectural writers have sprouted off the Tafuri branch, and there is only one architectural writer who, in 1981, began to sprout off Kahn's branch of investigation entwined with reenactment.


2004.06.20 08:27
single all-time favourite motion picture scene
I like all the scenes of symmetry The Ruling Class--the best movie utilizing schizophrenia ever?
Liz Taylor on the phone with shampoo in her hair in Butterfield 8.
(sounding like she just took a crap and then realized there's no toilet paper) Liz Taylor (from off-screen) in Who's Afraid of Virginia Woolf yelling, "Heeeey! Where the hell is everybody?"
Liz Taylor putting on eye makeup in The Driver's Seat--definitely the Ur-Linda Richards as portrayed years later by Mike Myers.
Liz Taylor playing an actrees reenacting a quondam part she played, now used as an alibi in response to the detective investigating her husband's murder in The Mirror Cracked, followed by the shock when the detective names the movie within which the just reenacted scene occurred.


2004.06.30 22:55
Modern Trajectory
Perhaps it's the line from Gordon Matta-Clark to Frank Gehry that should be more recognized.


2004.07.01 14:57
Modern Trajectory
Why not compose a modern trajectory based on individual buildings/designs and events (such as building expositions, publications, schools, symposiums, etc.) entwined with historical events, instead of dealing with architects themselves as a datum?
Is the course on architecture or is it on architects?
A Venturi and Rauch building of the 1960s, for example, is not the same as a Venturi, Scott Brown & Associates building of now-a-days. The same goes for Gehry's career trajectory. An early Mies building is not the same as a late Mies building (although most late Mies buildings are just like each other). Note what building design Kahn was working on while Wright was designing Beth Sholom Synagogue.
A chronological trajectory of buildings/designs will be much more informative than a more or less speculative list of what architect may have succeeded or followed what other architect.


2004.07.01 15:59
Modern Trajectory
MoMA also had a Japanese Design exhibition in 1954.
The Language of Post-Modern Architecture was first published in 1977.
1966: Complexity and Contradiction in Architecture - Venturi
1966: Architecture of the City - Rossi
Not only were Le Corbusier's executed works always news-worthy, but each consecutive publication of his Complete Works lead to widespread (i.e., global) emulation throughout the field of architecture.
The necessity of rebuilding Europe after W.W.II lead to an enormous proliferation of modern design.
1925: Towards a New Architecture - Le Corbusier.
The coeval-ness of Art Deco and Esprit Nouveau.
The works of Stirling and Gowen as the ultimate manifestation of Russian Constructivism.
Stalinist Architecture as the ultimate manifestation of Piranesi's Ancient Roman fantasies.


2004.07.13 16:04
Re: Julien Prévieux
Tomorrow, 14 July, like every year, is the beginning of reenactment season.
John Sebastian Matta jumped out Gordon's [studio] window tomorrow 28 years ago. That is a clue.
Prévieux Redu[x]
Who needs plans? Certainly not Gordon.


040715a Good-Bye House model 2345i01
040715b Good-Bye House perspective


040718c Mikveh PMP plan 2346i01
040718d Mikveh PMP model 2346i02


2004.07.31 10:36
Peter Eisenman: "Liberal views have never built anything of any value."
Thinking about what architectures these day are really political, I wouldn't count Peter Eisenman's among them. What I would count are "the great wall of Israel", US military bases all over the globe, any secured border checkpoints, architectures like that. Was the USSR the last great political architecture of the 20th century? Could be. And how does Communist Chinese architecture stand up these days?


2004.08.06 07:49
Transnational Spaces
Why not ask Native Americans about cultural erasure and placenessness?


2004.08.30 11:35
Re: the building as burkha
I'm curious as to how much thought, if any, has been given to the design of all the security checkpoints that will eventually be a part of all the new buildings and memorial at Ground Zero. Even without research, I imagine none of the proposed buildings and memorial will exist without many security checkpoints. Perhaps Ground Zero could be surrounded by a new and smaller version of the Berlin Wall (creating an island of Freedom Tower), thus potentially narrowing the number of checkpoints down to three--Alpha, Bravo and Charlie. Even Wall Street would have real meaning again!
Or maybe my imagination has run away and Architecture of the Divided States of America is really completely fictitious.
walls = denial = burkha = ?
Did you ever see pictures of how the first manifestation of the Berlin Wall was a continuous line of armed Communist soldiers standing abreast side by side? Remember Hands Across America? "Ich bin ein Ground Zeroed!"


040908a I. Kahn Collagio plan 2347i01



2004.10.05 14:54
critical regionalism
In September 2001, while seeing a display of quartz crystals (each labeled as to its geographic origin) compiled over 100 years ago, I thought it would be cool if the buildings of any global location started to match the formations of the local quartz. It was after seeing Harz Mountain quartz that the idea crystallized.


2004.10.12 09:50
MVRDVs Serpentine
Interesting how you mention Harvard in the early 1990s because in 1991 Loeb Library purchased drawings and slides published by Arcadia-Architectural CAD Services which documented Le Corbusier's Palais des Congres and its role in within the promenade architectural formula. [The legal fictitious name Quondam - A Virtual Museum of Architecture is owned by legal fictitious name Arcadia - Architectural Cad Services is owned by Stephen Lauf.]
You write, "'Ideas' are often amalgams of things recently seen morphed with things subconciously absorbed, melded with past innovations from the canon of well-publicized master-works." I've often wondered how many at Harvard since 1991 have "recently seen" Arcadia's Le Corbusier's Palais des Congrès à Strasbourg.


2004.10.20 23:55
Re: Pop Life: Los Super Elegantes
from: www.carolmoore.net/sfm/jdl.html
A tragic event that galvanized American Muslims and Arab Americans was the murderous attack on the Ismail al-Faruqi family last May. Dr. Ismail Raji al-Faruqi was a prominent Islamic scholar at Temple University. On May 27 a knife-wielding man broke into the Faruqi home in Cheltenham, Pennsylvania, and viciously attacked al-Faruqi, his wife, Lois, and their daughter, Anmar al-Zein. Al-Faruqi and his wife died from their wounds and the daughter survived, but required 200 stitches to close her wounds....
At about the same time, ADC published an eight-page "Special Report" on the murders, including a detailed account of the crime, its victims, and the current status of the investigation. Although nothing was missing from the house, some investigators working on the case believe the murders resulted from a bungled burglary attempt; however, the police lieutenant in charge of the investigation described the incident as an assassination, saying that "someone took it upon themselves" to kill al-Faruqi. In view of the rise of violent anti-Arab and anti-Muslim incidents in recent years, the report suggests that the murders could very well have been politically motivated. In addition, the report mentions al-Faruqi's status as a visible pro-Palestinian spokesman, notes the strength of the Philadelphia chapter of the Jewish Defense League (JDL), and cites an article about al-Faruqi's anti-Zionist positions in the Near East Report (the weekly newsletter of the America Israel Public Affairs Committee) as evidence that the professor was in the "zone of danger" described by the FBI earlier this year. The FBI, however, has not become directly involved in the case because it sees no evidence of a federal offense.
Related information from listing of History of Arabs www.dawanet.com/history/amermuslimhist.asp His murder was predicated without name by the president of Jewish Defence League one week before his death in The Village Voice, New York by claiming that within a week an outspoken Palestinian professor will be eliminated.


2004.11.19
ideas
Chronosomatic architecture: circle/square juncture plans, Washington DC 1981, chronosomatic imaginations; could be the next chapters, including architecture of the body and architecture of the theory itself; architecture of the continuum; of course, go through all the notes including BIA. "Architecture of the imagination" as in "there is an architecture to the imagination."
Design some new double basilicas; write the history; ask today's architects what the new double basilicas might be? Arab-Israeli? Catholic-Protestant? Again Latin-Greek?
Architecture is the most 'project' based of the arts. Is there such an established category as "project art"?


2004.11.25 11:51
Re: Deconstruction? no, afterlife
papers of LEAVING OBSCURITY BEHIND
Reenactionary Bilocating Architecturism
Saint Catherine de Ricci and Louis I. Kahn
Nudist Camp at the Philadelphia Museum of Art
Marcel Duchamp and C. Paul Jennewein
Learning From Lacunae
Gordon Matta-Clark
De Spectaculis II
Quintus Septimus Florens Tertullianus and John the Baptist Piranesi
The Promenade Architecturale Formula
Le Corbusier
The Marriage of Twisted and Columns
Eutropia and Pieter Pauwel Rubens
Pilgrimage, Reenactment and Tourism
Flavia Julia Helena Augusta
Here a Versailles, There a Versailles, Everywhere a Versailles Sigh
Marie Antoinette, Ludwig II, and Lucretia "Eva" Bishop Roberts Cromwell Stotesbury Dougherty
and maybe
De Spectaculis III
Guy Debord


2004.12.03 11:14
Re: Big Boxing
What is the history of the open-web joist? When was this structural floor/roofing element first used? Big Box architecture depends a lot on the open-web joist, doesn't it?
Ancient Rome had lots of (grain) warehouses in the south-west(?) along the Tiber.
It was said that one could traverse the entire Campus Martius under roof cover because of the many public porticus there. Each porticus had a different name and raison d'être, sometimes even shopping. No open-web joists, but lots of columns, e.g., the Hecatonstylon--hall of a hundred columns.


041204a Romaphilia plans 2348i06
041216a Romaphilia plans 2348i07


2004.12.16 11:36
Fantasy Architecture?.....
The subject is fantasy, and fantasy, more or less by definition, does not come with restrictions. Even so, it is 'blurring something familiar with a vision' that was addressed, and the Princeton images indeed do that. The notion that fantasies are not necessarily dark or cautionary, nor necessarily of the future was also added before the images were presented.
fantasy 2 : imagination or fancy, esp. : the free play of creative imagination as it affects perception and productivity usually as expressed in an art form or as elicited by projective techniques of formal psychology
The title Art that is Otto and Einstein at Princeton 5 March 2000 harbors 'clues'--the fantasy is immediately obvious, but don't forget the layer of symmetry Otto) and of relativity (Einstein), plus the notion of two visions joined.
Piranesi's Ichnographia Campus Martius is not really about fantasy, rather it is a reenactment of ancient Rome's history delineated via ancient Rome's architecture. The plans with their Latin labels within the large plan are all texts that together deliver the history of the city of Rome. Piranesi did a fantastic job of making a history lesson appear as fantasy.


041218a Romaphilia plans 2348i08
041218b Romaphilia plans 2348i09
041219a Romaphilia plans 2348i10


2004.12.19
idea
Porticus Circulus Quadratum, big guest house; new name for circle/square junction. Kahn, Palladio, Piranesi, Lauf reenactments; chronosomatic House?


2004.12.26 12:20
Re: cityscape collage
It started more than eight years ago when it was realized that Hadrian's Tomb and Logan Circle share the same circular footprint. Then, about two years ago, it was realized that ancient Rome's axis of life, as delineated by Piranesi, and the Benjamin Franklin Parkway share the same length and design articulation, with again Hadrian's Tomb and Logan Circle being the key register.
Now delineation of the 'bilocalopolis' begins. The Tiber and the Schuylkill flow through the cityscape. Augustine's tomb and City Hall have their similarities. Rome's Corso is now the same as Broad Street, the longest cardo in the world. X marks the spot of the first Gothic camp outside the walls of Rome and the no-man's land of the Vine Street Expressway interchanges.
I wrote something on 16 December 2004 which turns out to be a succinctly worded culmination of over 10 years of investigation, and also the touchstone for a finally foreseeable catharsis.