25 Soloist
At the heart of the matter.
A labyrinth
A corridor off which are small rooms: each room is separated by a door with a window in it. Each room has hung, suspended on the wall, a chair. A funnel­ shaped speaker extends through the roof of each room (for the transmission of sound to the outside).
The Musicians of Berlin pledge that all through the day and night there will be someone playing music, in at least one of the rooms. In fact, there is the possibility of all of the rooms being occupied by a Musician playing his or her instrument. The pieces played will always be different. One can imagine the park being filled (through the loudspeakers) with a cacophony of different compositions.
The visitors who move through the labyrinthian corridor are able to peer into the music rooms. They can see the Musicians playing but they cannot hear the music while inside the structure. The Musician receives a key from the Giver of the Keys, goes into the corridor, inserts the key into the door of one of the locked rooms, opens the door, closes it, locks it from the inside, takes down the suspended chair from its wall, sits, tunes his instrument, and begins to play. The room is filled with sound which escapes through the funnel loudspeaker into the park. The end room of the corridor is reserved for a composer who uses a synthesizer.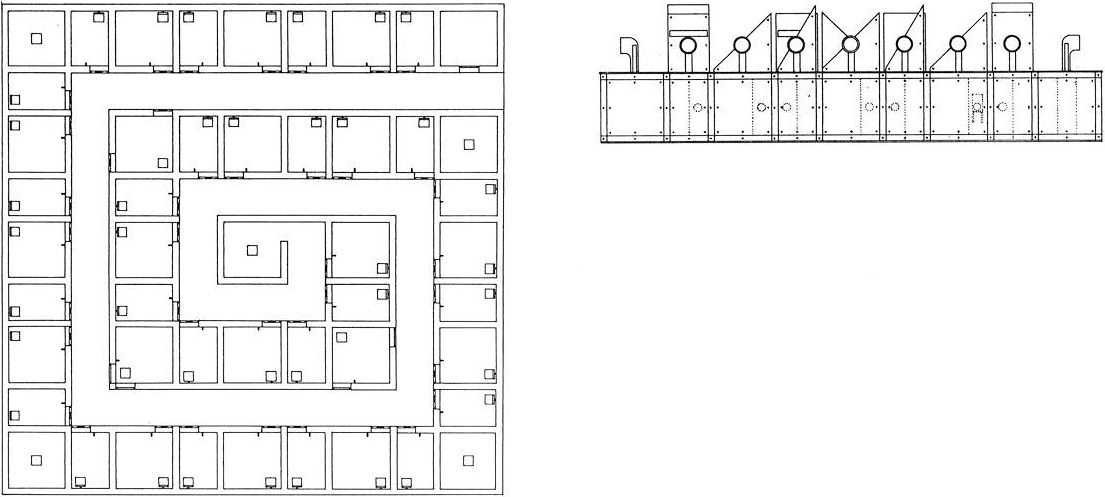 Soloist - Labyrinth